Chuck Talk Features

Personal Stories and Opinions, Chucks Fashion and Lifestyles, and Chucks in the Media
What's New At

The ChucksConnection

. ChuckTalk Archives.

New or Updated Photo Galleries with interactive slide shows:



Marvin the Martian High Top Chucks, YouTubers Wearing Chucks, Indigo High Top Chucks, Dark Atomic Teal High Top Chucks, Don't Let Me Go (The Between), Life Now, Life Then, Snoop Dogg Wearing Chucks, Sleepy Man Banjo Band, Chucks in the Theater, Sharkskin Grey High Top Chucks, The Clash Black Leather High Top Chucks, Little Kids Wearing Chucks in Ads, Gallery 1, Little Kids Wearing Chucks in Ads, Gallery 2, Older People Wearing High-Top Chucks, Kids Wearing High-Top Chucks, Alternate Lacing Photo Guides, Buff High Top Chucks, Blue Lagoon High Top Chucks, Dusk High Top Chucks, Road Trip Blue High Top Chucks, Burnt Umber High and Low Top Chucks, Apollo 3 Band, Sahara Hot Nights, CTAS Cons Black High Tops, U2, Wiz Khalifa, Wolf Alice, Yellowcard, Vivienne's Verdict, The Wallflowers, Walk the Moon, We the Kings, Tonight Alive, Ed Sheeran, Taylor Swift, The Summer Set, Gwen Stefani, Something Corporate, Squad Five-O, The Sex Pistols, Sturgill Simpson, Simple Plan, Silverchair, Silbermond, Katy Perry, Radiohead, The Ramones, Rancid, The Ready Set, The Record Company, Relient K, Rihanna, Rooney, Rush.



TV Page Features:

New listings with an article: Greenhouse Academy, The Carmichael Show, Sha Na Na, Preacher, Friday Night Lights, Sun Records, Hunter Street, 13 Reasons Why, Drake & Josh, Riverdale, Arrow, Stranger Things, The Get Down. Other recent listings are The Protected (Los Protegidos), Salvation, London Spy, Eyewitness, Freakish, Worst Year of My Life Again, Quarry, Halt and Catch Fire. Go to the Television Shows with Chucks Index Page.

New Articles or Stories:





Music Video Reviews:
Musicology, Kid in a Candy Store, Vato, Do You Love Me, Everybody's Got Somebody But Me, I Hope It Rains, Greatest Love Story, Let's Ride, I Made It, Written in the Stars, Bill & Ted vs Lewis and Clark, P.I.M.P., Young, Dumb & Broke, Kiss Kiss, Loyalty, Dark Necessities, Song To Say Goodbye, Girls @, Higher, Sir Isaac Newton vs Bill Nye, Batman vs Sherlock Holmes, Immigrants, Despacito, Beautiful, Happy, We Love Video Games, Lift Me Up, While We're Young, Movies, Sunday Candy, Wild Things, Big Fish, Tiny Dancer.




Film Reviews:

Spider-man: Homecoming, Ghostbusters (2016), You'll Be A Man (Tu seras un homme), Turbulence, Just Peck, Karla & Katrine, 25 Hill, Dear Eleanor, The Stream, Max, Max 2: White House Hero, The Curse of the Unkissable Kid, A Monster Calls, Tschick, The Muppets, Time Toys, The Great Gilly Hopkins, Teufels Kicker (Devil's Kickers), Aliens For Breakfast, A Dog Named Christmas, If There Be Thorns, Jet Boy, Glasskår. New listings: Different Drummers, Sci-Fi High, Concrete Night, Camp Cool Kids, Mamma o papà? The Wake, Don't Let Me Go (The Between), Life Now, Life Then, The Five, Mean Dreams. Go to the Films with Chucks Index Page.




Articles:

The Legend Never Dies, Chuck Taylor Sequel Flops, Halloween and Chucks, The Chucks Outlook for 2017 has been updated. Go to the Articles about Chucks Index Page.

How to Participate in Chuck Talk. Let us know what you think! We are also happy to try and answer your questions and inquiries about chucks, and listen to what you are thinking about. If you have some opinions, information, pictures, suggestions, or an article to submit, just click on the link, How to Participate in Chuck Talk to access our email address.
The Converse NBA Collection
For Fall, 2017, Converse has released a new NBA Collection of team basketball shoes. The collection has three lines, the Chuck '70 NBA Gameday, Chuck '70 NBA Legend, and the Chuck SE NBA Franchise. The Gameday series is a limited edition of only 250 pairs per team, one for each of the thirty NBA teams. The uppers are made out of real NBA jerseys, which means each shoe may look a little different depending on size and the cut of the jersey. The inside has a nice, comfortable sockliner and Converse says that the Chuck '70 is built to the specs that used to dominate the NBA. They don't have the actual look of vintage chucks , due to the lack of racing stripes, and their all white foxing and outer soles. The other bad news is that each pair is $250, and many of the editions have already sold out.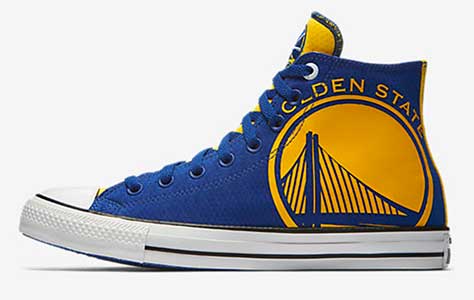 Outside view of a Golden State Warrior Chuck SE NBA Franchise high top.
The Chuck '70 NBA Legend models are dedicated to just five teams, the Boston Celtics (black and white), the Golden State Warriors (blue and white), the Chicago Bulls (black and red), The New York Knicks (monochrome black), and the Los Angeles Lakes (white and blue trim). They have leather uppers but no racing stripes on their monochrome black or all white outer foxing. These shoes price at $150. For chucks enthusiasts who want their chucks closer to their original design, there are Chuck SE NBA Franchise models which price at $90. There are currently twelve different team models available. They have print uppers and ankles patches that coordinate with their team colors. They do have the traditional toe caps and racing stripes. Consumer demand seems to be great for these basketball shoes, so if you are interested in a pair, act fast.
Updating Your Chucks Collection
Converse has recently suggested that you introduce new pairs of chucks into your regular rotation. With that in mind, let's take a look at some different colors and designs you can introduce into your shoe lineup today. Let's start with some different ideas for the Fall and Winter seasons. If you're a sports fan then you know that the NFL, NBA, and NHL seasons will be dominating your schedule in the coming months. Now is the perfect time of year to show off your team pride by adding team color chucks to enhance your game day look. For NBA fans, you may know that Converse has recently released a whole new NBA lineup of chucks. However, if you'd rather not splurge on these pre-made models, you can always create your own through the chucks customizer. Combine team colors of your favorites to create the perfect game day look.
(left) Chucks for the Oakland Raiders, Los Angeles Lakers, San Jose Sharks, and Cleveland Cavaliers (right) The chucks color possibilities are endless!
If you're not a sports fan, but you're tired of the wearing the same classic black chucks every day, try adding a pair of seasonal colors or maybe something bold and different you've never worn before. Spice it up with colors that aren't your status quo, like bright purples, golds, oranges or pinks. Try out a different design pattern like camouflage, floral, or a branded pattern like DC's Justice League to have your chucks really stand out. A true chucks super fan could have different pairs of chucks for specific outfits, and step up their game by having fully coordinated outfits that highlight the different chucks they own. Different colored shoelaces can provide another inexpensive way to sport team colors. It's easy to get to this kind of fandom through our affiliate stores or create custom made chucks on the Converse website. The possibilities are near endless and are only limited by your sense of style and creativity.
Fall 2017 Fashion Guide
Summer is over, which means the welcomed cool Fall breeze is back, and with it comes a new wardrobe courtesy of Converse. First up is the Converse Mixed Media Full Zip Hoodie, which you can get for $75 on Converse.com.. This all purpose hoodie will keep you warm and dry in the upcoming months. It comes in Black and Midnight Navy, and features a water resistant hood which will keep from getting damp in the rain like most hoodies. The Mixed Media features the Converse wordmark on the sleeve and logo on the chest. If hoodies aren't your thing, you may want to try the Converse Essentials Lightweight Star Sweater. This light, stylish sweater costs $75, and comes in Blue/Orange and Black/White. It features the Converse wordmark and signature star across the chest, and is perfect for those who want to stay warm, but think a hoodie is too much. For your legs, the Converse Mixed Media Men's Joggers may be the perfect addition to your drawer. These comfy sweats are perfect for play, relaxation, and staying warm wherever you go. The Mixed Media Joggers include front and back pockets come in Midnight Navy and Black, and run $65.
Converse sweats gear for Fall
Finally, with Fall comes a beating on your shoes courtesy of the elements. This includes rain, wind, and even snow as the leaves turn brown. In order to combat this increase in wet weather, you may want to get your hands on a pair of new, water resilient shoes. A good, fresh option in this area is the Converse One Star Counter Climates, "like a regular sneaker, but water repellent" as Converse describes them. The Counter Climate Collection offers the style you've come to expect from Converse, while including an enhanced leather outside for protection from the elements. These come in four colors: Brown, Gray, Black, and Sequoia, and cost $110 a pair. Gear up for the coming cold with Converse!
Grey Converse One Star Counter Climates Mid
Converse Public Access Episode 2 Review
Converse has recently launched a new digital show called "Converse Public Access". The show is a parody of the sometimes wacky and hilarious realm of local public access television. The show also aims to "present the voice and visions of today's youth". Each week, a new host comes on and does the show their own special way. The first episode featured Game of Thrones actress Maisie Williams, and a slew of guests playing games, talking about their lives, and parodying the random awkwardness of local public access TV. The second episode dials back on the games and randomness, and features Miley Cyrus acting as host. She has only one guest on, a young up and coming rapper named Buddy.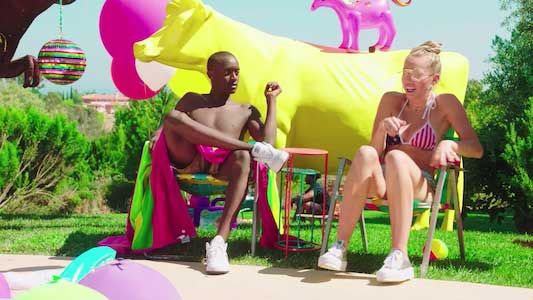 Miley Cyrus hosts this episode of Converse Public Access.
Buddy is a 24-year-old rapper from Compton, California who grew up performing in musicals such as The Wiz, Dreamgirls, and Oliver With A Twist. Miley does a great job interviewing a very talented young man who is unknown by most people, and letting them get a great sense of who he is. It's a laid back interview conducted poolside in front of a dinosaur and a cow. There are other people there with Miley and Buddy, some of which are wearing chucks. Miley is wearing a pair of silver, shiny platform chucks. This episode is much more appealing to all audiences, rather than just the irreverent loving youth like last week was. It still has a lot of charm and humor though, and Miley does a surprisingly great job interviewing. Definitely check this episode out if you have the time.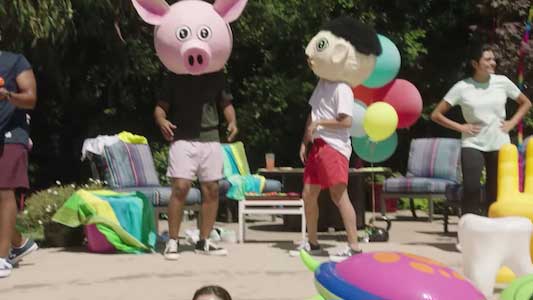 There are plenty of oddities in this episode.
The Chuck Taylor All Star Looney Tunes Collection
Converse has just released a new line of cartoon-themed chucks with print patterns containing Looney Tunes characters. For adults and bigger kids there are four different models, a Marvin the Martian high top, a Bugs & Daffy low top, and a Sylvester & Tweety high top. For little kids, the Marvin the Martian and Sylvester & Tweety high tops are available along with a Bugs Bunny grey high top. Marvin the Martian also comes in an infant/toddler model.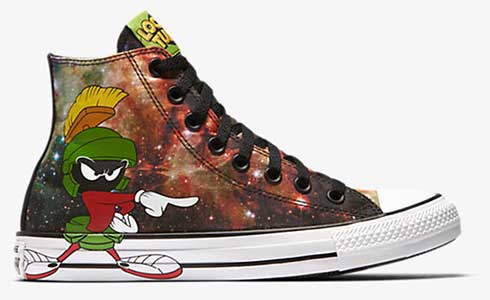 Outside view of a right Marvin the Martian high top.
The Marvin the Martian high top has an orange and black space background print, with Marvin on the outsides extending onto the white foxing, and the space dog Commander K-9 on the inside patch sides. The Chuck Taylor ankle patch is a sewn on black cirle with all the word and star in green. The toe caps and outer foxing are bright white, with black racing stripes, standard black heel patches. The back spine is all black as is the thread throughout the uppers. The shoelaces are black with a green aglet. The tongues feature a Looney Tunes patch at the top. On their backs inside the tongues, it reads "That's all folks!" The insole is green and the inner canvas is black, as are the outer soles. The Sylvester & Tweety high tops feature prints of the characters on all white chucks. The shoes price at $65 for the adult models, $40 for the kids models, and $35 for the infant toddler shoe.
Converse Public Access Episode 1 Review
Converse has recently launched a new digital show called Converse Public Access. The show is a parody of the sometimes wacky and hilarious realm of local public access television. The show also aims to "present the voice and visions of today's youth". Each week, a new host comes on and interviews, plays games, and interacts with guests of their choosing. It's an interesting concept, and you can easily tell the show is aimed at a younger demographic looking for irreverent humor. The first episode features Game Of Thrones actress Maisie Williams as host with guests Millie Bobby Brown, Flynn McGarry, Amandla Stenberg, and Syd. Each show also features all of the guests wearing some form of Converse shoe, with the first episode seeing them wear the Converse One Stars.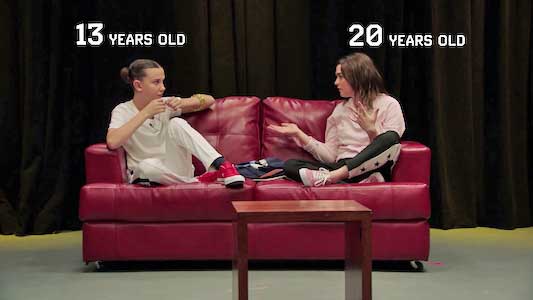 Host Maisie Williams and her first guest Millie Bobby Brown.
Your love of the show's humor will vary based on your comedic tastes. The best comparison of this show is to the surreal comedy of The Eric Andre Show, as both shows parody the ridiculousness of low budget public access television. One negative of this first episode is that there wasn't much love for the classic Chuck Taylors. All of the guests and Maisie were wearing the new line of Converse One Stars. One the one hand, it's easy to see why Converse would make the One Star the focus of this show, since that shoe has been the focus of the brand for the majority of 2017. Hopefully future episodes and hosts rock the shoe that brought Converse to the dance, and highlight chucks in a new way. Overall, a great first episode that gives an interesting glimpse as to what this show will be, and leaves the audience looking forward to what the next host will bring to the table.
The first episode of Converse Public Access focuses on the Converse One Star.
Back To School Guide for 2017
Back to school shopping is the annual chore that all families must endure during August and September. Luckily enough, the Converse store can be your one stop shop for all your back to school fashion needs. They've got the gear that will keep your wardrobe looking fresh as Picture Day comes around, starting with their T-Shirts. There are many cool and unique styles of T-Shirts available for purchase in the Converse store, such as their Elevated Chuck Patch Shirt. This shirt is the perfect way to show off your love of the classic Chuck Taylor brand for only $25. In just a few months, the cold Fall and Winter weather will set in, and it's best to get your winter clothes now. Two great options available at the Converse store are the Hybrid Bomber Jacket and the Essentials Collegiate Star Pullover Hoodie, each of which cost $80. These two jackets will keep you warm and looking good once wearing just a T-Shirt won't cut it anymore.
Left to right: Converse Essentials Collegiate Star Pullover Hoodie ($80), (Top) Converse Hybrid Bomber Jacket ($80), (Bottom) Converse Elevated Chuck Patch Shirt ($25), Converse Poly Go Backpack ($80), Converse Snapback Hat ($30)
When school starts back up, one of the essentials of your day to day life will be your backpack. A perfect addition to your new ensemble is the Converse Poly Go Backpack. This durable, and stylish pack will cost you $80, and comes in 4 colors: Gray, Black, Navy, and Sangria. This is the perfect carrier to display your love of chucks, as the iconic Chuck Taylor patch is emblazoned on the front. Another great accessory to add to your wardrobe is a snapback hat that goes with everything. The classic Converse Snapback is perfect in that regard, as it comes in White and Black and has just a simple Converse "C" on the front. This simple, yet stylish hat only costs $30.
Top: Converse One Star Classic Suede Low Top ($85); Bottom: Converse Chuck Taylor All Star x Nike Flyknit ($110)
Finally, any new school outfit would be incomplete without a new pair of shoes. A classic pair of Chuck Taylors are always a welcomed addition to the wardrobe, but if you're looking for something new and different there are a few options from the Converse store. The Converse One Star's a perfect low top option for the new year. Available in three colors, the shoe is made of suede fabric, and, as the name implies, has a single star on the side. If you're looking for something new when it comes to hightops, check out the Converse Chuck Taylor All Star x Nike Flyknit. This shoe combines the look and style of chucks with the lightweight breathability of Nike Flyknit technology. Featuring a cool woven pattern, this shoe is available in ten colors. The Converse One Star and Chuck Taylor Flyknit will cost you $85 and $110 respectively. Whether you need shirts, jackets, packs, or shoes, gear up for your return to school with Converse!
Are We All Supposed To Be "Forever Chuck"?
Since early 2017, Converse has been running their "Forever Chuck" campaign through a series of advertisements and YouTube videos. These videos illustrate how chucks in pop culture and in specific cities have helped forge the iconic status of the brand, and show that those who wear it are "Forever Chuck" (We have actually covered the first two of these videos previously here on ChucksConnection.com which you can check out here and here). The finale of this campaign sees this ideal brought together through "a visual collage of the dreams and desires that drive a diverse cast of creative collaborators". This last video focuses on the youth, and how they help shape and define the culture around chucks.
What does it mean to be "Forever Chuck"?
However, this sentiment has left some people feeling excluded, and those people have said that "Forever Chuck" only applies to millennials born in the mid to late 1990's. These people though, are missing the point of the campaign. This campaign is meant to invoke the spirit of youth, not to say that only youth matters. The goal here is not to necessarily exclude the older generation of chucks fans, but remind them of why they fell in love with the shoe in the first place. This campaign is to remind you of those carefree summers in chucks, and the ideas that were dreamed up as you and friends looked to the future. The campaign's goal is to make us all remember and reconnect with that spirit, and never let it go. We should all aim to be "Forever Chuck" because being "Forever Chuck" means that we are forever young and forever free.
For Elegant Use Only
Good condition black Converse All Stars can be worn with virtually any outfit, including a suit and tie. You probably wouldn't want to wear them to a highly formal job interview, but in terms of everyday fashion they're more than acceptable. The regular canvas All Stars are fine just the way they are, but if you're looking to step your style game up to the next level, think about investing in a pair of leather All Stars.
You still probably wouldn't want to wear the leather versions to a high stakes job interview, but just like their canvas counterparts, they break no rules in the unspoken laws of fashion. There's something about leather shoes that gives them the appearance of being upper class, defiantly not snobbish, but undeniably more sophisticated. The shoes are sort of a style dichotomy composed of youthful informality and mature elegance. These styles rarely work together, like wearing a pair of Italian loafers with cargo shorts, but black leather chucks make the unusual combinations of fashion fit together perfectly.
Leather All Stars combine the elegance of fine leather dress shoes with the youthful spirit of chucks.
Aside from their unusual but nonetheless well-designed combination of fashion, the leather All Stars also have much to offer in terms of sheer functionality. Canvas is prone to rips, has a tendency to soak through with water, has a vulnerability to stains and the ink fades. The leather is a tougher alternative, as it is much more difficult to rip. They are by no means waterproof, but are slightly more water resistant as leather is . As for stains and fading ink, leather is far more resistant to staining and fading dye can be counteracted with black shoe polish. If back isn't your color they also come in white, and are sold on the Converse and other websites for $70.
Chucks and Comics
Fans of the DC universe have always expressed the love of their favorite characters and comics through clothing, flat brimmed hats featuring the Superman "S" emblem, black shirts bearing the bat insignia of Batman, and countless pins of characters that cover the upper half of jackets and the pockets of backpacks. Converse heard their cry for the display of super heroes and thus created the limited addition All Stars featuring DC's most popular crime fighters, as well as their super-villain counterparts.
In reference to the recent Wonder Woman movie, this will focus on the Wonder Woman special edition high top. Both sides of the shoe displays a graphic of the most iconic and inspirational heroine in DC's universe. The picture appears to be lifted directly out of the pages of a comic book. On the side bearing Converse's "star" patch, there is a close of her face with her hair blowing in the breeze. The other side features her in a striking, heroic pose with a look a determination on her face and her signature golden "lasso of truth" gripped tightly in her hand. The laces, tongue and under side of the sole are black, the top of the tongue features Wonder Woman's unmistakable winged "W" crest.
Chuck Taylor All Stars featuring the most iconic female protagonist of all time
The Wonder Woman special edition, or any of the DC hero/villain special edition All Stars are a perfect choice for a comic book convention, or just as a way to show a fan's love of a particular character or comic.
New Seasonal Chucks for Summer-Fall 2017
New seasonal color chucks in sixteen colors have just been released. They come in half and whole sizes, and in high top and low cut models. The colors are: Blue (light), Brown (light), Burgundy, Cool Grey, Dark Atomic Teal, Green (pine), Grey (light), Indigo, Lemon, Light Aqua, Mediterranean Blue, Orange, Pink (neon), Pink Pow, Purple, and Sunblush, which is an off-orange color. Usually Converse is more careful/creative in their names for seasonal colors, but they only did so on a few models this time (Sunblush, Cool Grey, Dark Atomic Teal, and Pink Pow). Most of the models with basic names are very light shades of that color, indicated here in parentheses. Eight of the Fall, 2017 colors are re-releases from 2016.
Sunblush and Dark Atomic Teal high top models.
For a complete view of all the new colors in high top and low top oxford models, go to our Shoe Outlook page (always accessible through out About Chucks page. As always, if you see a seasonal color/model that you really like, we recommend you buy it right away. You may not get a second chance.
New All Star '70 Models Released
Converse has released four new models in their Chuck '70 series of Chuck Taylor All Stars. Two of the models are high tops in Jade with black trim, and Midnight Blue. The other two models are low tops in Sangria, a dark red shade, and Rose, which is a pink color.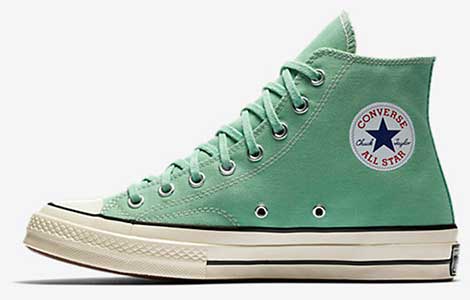 Jade and Midnight Blue All Star '70 high tops.
In January of 2014, Converse first released the Chuck '70 series of Chuck Taylor All Star athletic shoes, a line based on the manufacturing standards for chucks in the 1970s. This line of chucks restored of many of the features that were taken out of the shoes starting in the late 1980s for the purpose of cutting costs. They utilize the thicker and heightened rubber sidewalls and toe caps from the chucks of the 50s, 60s, and 70s, all cotton duck uppers, and tubular shoelaces (like the classc line available on this website. Chucks in those days were considered to be the top of the line basketball shoes, and were designed for the rigorous action of the game. A newer improvement is the incorporation of an OrthoLite foot bed to increase wearer comfort and improve support. Several of these new models come with matching shoelaces. For a complete description of the All Star '70 line of chucks see the longer feature in our articles section.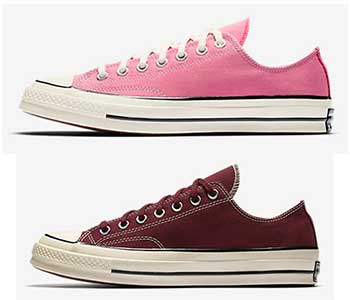 Rose and Sangria All Star '70 low tops.
Beside these new models, the All Star '70 line are available in many of the Converse core colors and are part of the design your own chucks program.
Why Do You Wear Chucks?
If asked "why did you start wearing chucks?" many people will say something along the lines of "I thought they looked cool." There's nothing wrong with that response, chucks have been an undeniably cool fashion statement since the 1920s. While some people just wear them purely for fashion, there are those who wear chucks for a more personal reason. Austin Whitehead of Philadelphia, Pennsylvania said "I fell in love with Converse the first time I saw my cousin wearing them and I literally bought the shoes off his feet. This was back in like Freshman or Sophomore year of High School. Ever since then, it's the only brand of shoes I wear or buy, besides work shoes."
Who wears the chucks in your family?
When Ariana Shields of Fort Worth, Texas was asked why she started wearing Converse, she said "Because my dad wore them when I was a kid — still does but not as frequently." Ariana's father Bradly Shields was then asked the same question, to which he said "I started wearing them in high school. I bought them because they were a good shoe for skate boarding." Other people like Jason Becker of Erie, Pennsylvania, have a less personal role model who inspired their first pair of chucks. Jason said, "Honestly man it was Bart Simpson. I know he's not actually wearing chucks, but they look pretty similar. Anyway, I got my first pair online, part of a special Simpsons edition. They were the ones that have the picture of Bart writing "I will not waste chalk on the black board."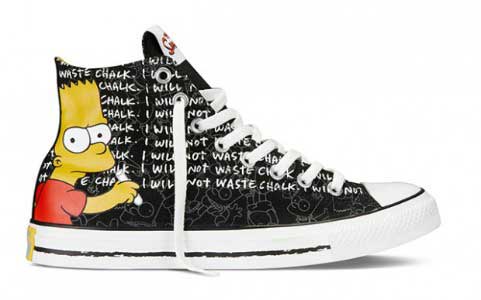 The Bart Simpson black high top.
Lisa van der Lynn of Pittsburg, Pennsylvania also had a fictional role model to influence her purchase. "I never really wore chucks before, I thought they were kind of cool, but they never really stuck out to me. Then I saw some special edition chucks All Stars with Harley Quinn and I just had to have them. I love them so much I only wear them to conventions so they don't wear out."
The Harley Quinn print high top.
Even though chucks are just plain stylish some people wear them for more than mere fashion. Whether it's due to a Converse-wearing family member or a fictitious character, chucks can have a personal touch to them.
Gamers Love Their Chucks
Now more than ever, the video game community has reached a momentous population and practically has its own culture. It's so massive that the subcultures within the main video game culture have formed rivalries with each other. Be it Xbox vs PlayStation, Call of Duty vs Battlefield, Team Fortress 2 vs Overwatch, or Mario vs Sonic the gamers of this generation has always found ways to get into heated arguments on online forums.
Despite this, there are still a few things all gamers can agree on, and style is one of them. Thick rimmed glasses, and video game themed clothing and jewelry are typically part of any gaming enthusiast's wardrobe, but more so than these are a pair of Converse. If you go to any Video Game convention, EB Games or any Game Stop, you'll very likely to find at least one person wearing a pair of chucks.
Some models of tribute chucks for the 25th anniversary of Super Mario Brothers.
When it comes to why gamers choose Converse, it really depends on who you ask. For some, they wear chucks because the characters in their favorite games also wear them, such as Zoey from Left 4 Dead or Father Gregory from the Half Life series. For others, they choose Converse because of the connotations chucks have with the geeky/hipster sides of style. In fact, it's probably safe to assume the majority of Converse owners wear them not for the athletic propose that they were originally designed for, but purely for their style. And hey, can you blame them?
Chucks and Cargo Shorts
When it comes to warm weather fashion for men, there isn't much to talk about besides cargo shorts, tee shirts, and a pair of chucks. Regrdless of your footwear preferences, cargo shorts are the pants of choice these days for men. While some don't consider them fashionable, cargo shorts are comfortable to wear and practical because you can carry everything you need in the variety of pockets. Cell phone, wallet, keys, glasses all have their place in a pair of cargo shorts so you are not stuck having to carry anything else and everything you need is right there with you.

Cargo shorts with grey, classic black, and optical white high top chucks.
In places where the weather is warm most of the year, you see guys of all ages wearing nothing but cargo shorts most of the time. Certainly it is their preference. Pair them up with a tee shirt and your favorite pair of chucks and you have a winning combination.
Cargo shorts with black, white, and natural white low cut chucks.
Although many like to wear their chucks without socks in the summer, if you do a lot of walking, wear socks. A basic pair of quarter high socks works well with high tops and no show socks worn with low tops protect your feet and will be more comfortable. This is certainly advisable if you are breaking in a new pair of chucks. The low profile of these socks allows you to show plenty of leg, basically the same look as with no socks. You can see that look in the gray high top (white quarter) and natural white low top (black no show) images above.
Wearing Chucks With A Suit?
We all know that a pair of chucks is great footwear for any casual occasion, and for many people that includes going to school or work. For some, that desire to wear their favorite high top or low top chucks extends to formal wear, a suit, or even a tuxedo. This change in attitude has taken place over the past twenty years or so to the point where you can regularly see advertisements of adults and kids wearing business suits with brand new pair of chucks, something now considered hip and fashionable. There are also many reports of weddings where the entire party is decked out in tuxedos and matching pairs of chucks.
Ads showing kids wearing suits, wedding parties wearing chucks with formal wear.
Where did trend come from? Going back in time to the 1990s, two examples come to mind. Filmmaker and comedian Woody Allen was up for an award at a formal presentation ceremony, and he wore the standard black and white tuxedo with a pair of brand new black high top chucks. The reaction at the time was, here is Allen making another funny commentary. But when you look at it, the crisp art deco look of a pair of black high top chucks — with its black canvas uppers and racing stripes contrasted with smooth white outer foxing, toe caps, stitching and shoelaces — is a perfect match to the black tuxedo jacket, trousers and cummerbund, starched white shirt, and black bow tie. Another such moment was when we saw Disney CEO Michael Eisner in a three piece suit kicking back at his desk and putting his feet up, wearing a pair of black high tops, as part of his introduction to the film The Computer Wore Tennis Shoes.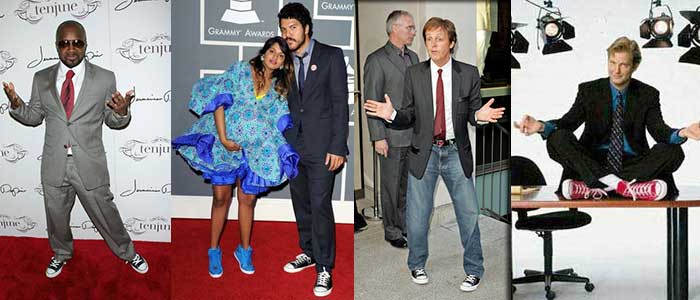 These celebrities look great wearing chucks with suits.
With today's trend of wearing sneakers all the time gaining in popularity, you will continue to see more adults wearing them with business and formal attire. As adults have footwear choices, wearing chucks with a suit has to be a conscious decision. However, it doesn't make a lot of sense to wear a fine looking suit with an old beat up pair of chucks, so the expectation is that your chucks look brand new, or close to that. If you want to sport this style, but don't want to run out and buy a brand new pair, there are a couple of ways to make a worn pair look brand new. Get yourself some Star Cleaner and use it to restore your toe caps and outer foxing to a clean state. If your shoelaces have gotten dirty, replace them with a new pair. This upgrade will cost under $15 and the cleaner will last for many cleanings of your favorite pairs of chucks. Many celebrities like this look, so why not join them?
Style of a City
Correspondent Marcus Angelo writes: Can a city have an identity? Can it have its own look, its own style? To answer this you have to ask yourself what you see when you hear the name of the city. New York. Chicago. Paris. London. Los Angeles. Now what was it that you saw? Was it a famous landmark, perhaps a sports team? When I think of L.A., the first thing that comes to mind is the people. It's the people of every neighborhood and city in the L.A. area, from South Central to Hollywood, from Malibu to the Inland Empire. The people of L.A. are like none I've ever met before. Their attitude, heart, and style is completely unique, and it's that last facet of style that is so iconic, and so indelible to the culture of the city that it is the topic of discussion for today.
Runners participate in a marathon in East L.A.
When I say "L.A. style", what do you first think of? Is it the style of a surfer on the beach in Malibu, or that of a boy trying to make a living in Compton, or maybe that of a celebrity in Beverly Hills strolling down Rodeo? The L.A. style is so unique because of how it's an amalgamation of all those parts of L.A, and that in turn lends it to be extremely versatile. Chucks are undoubtedly the perfect shoe of this look as they fit every subculture in the city. The laid back feel of surf culture, the attitude of the inner cities, and the trendsetting of the rich and famous all come together in this one shoe. You are just as likely to see a surfer in Huntington wearing chucks, as you are to see a celebrity in Calabasas wearing a pair. The shoe was made famous by hip-hop artists like Snoop Dogg, N.W.A., and Ice-T as the shoe of Los Angeles' inner cities. One could say that L.A. is to cities as to what Chuck Taylors are to shoes.
(l) Celebrities like Ashley Tisdale wear chucks daily in Beverly Hills.
(r) A breakdancer wears chucks performing in front of a crowd at Venice Beach.
The L.A. style isn't just one style, because L.A. isn't just one kind of city. L.A. isn't just a beach town, or just a sky rising metropolis, or a rich suburb. It's all of those things and more. It's a booming port, a manufacturing hub, the music capitol of the world, the home of art and culture, the place where the brightest minds go to study, and where the hardest working of us all go to make a living. The L.A. style is like the city of L.A itself: it's everything you could ever want and dream of. It takes parts from every culture, from every person, and adds to one unique experience that the city as a whole, can call its own.
Our New Cartoon Series
We invite all ChucksConnection visitors to enjoy our new cartoon series. Each month a new cartoon will be posted with a humorous look at the world of chucks and the people who wear them. For February we take a look at a love-struck young couple who met in the checkout line at a Chuck Taylor sale. You can find the cartoon by going to the monthly cartoon link on the home page or on the Books and Comics With Chucks page.
Enjoy our ChucksConnection cartoons.
We also invite you to view our other cartoon feature, The Chucks Life comic strip series which has over forty issues, and the ninth book in the Hunter & Holmes Mystery Series, Senior Year, which is a full color graphic novel. These can also be accessed from our Books and Comics With Chucks page. These days we can all use a little humor in our lives.
Gift Ideas For That Chucks Person On Your List
Finding the right gift at the right price is often difficult, especially if you are on a budget. If you know (or are) someone who is an enthusiatic fan and wearer of chucks, what do you get that person besides a new pair of chucks? These days a new pair is a big gift, with the prices ranging between $50 to $100 for most new pairs. Luckily The ChucksConnection is here to assist you with a short list of credible gifts that range in price from $2 to $20 and appropriate for people of all ages. Go to our Gifts Page to see the complete list of our recommendations.
How to Participate in Chuck Talk
Do you have some things to say about Chuck Taylors? If you have an article or other interesting information about chucks to submit to this website, please contact us at mail@chucksconnection.com.
Chuck Talk Archives

ChuckTalk articles from previous years