Chuck Talk Features

Personal Stories and Opinions, Chucks Fashion and Lifestyles, and Chucks in the Media
What's New At

The ChucksConnection

.

New or Updated Photo Galleries with interactive slide shows:



Chucks in the Theater, Sharkskin Grey High Top Chucks, The Clash Black Leather High Top Chucks, Little Kids Wearing Chucks in Ads, Gallery 1, Little Kids Wearing Chucks in Ads, Gallery 2, Older People Wearing High-Top Chucks, Kids Wearing High-Top Chucks, Alternate Lacing Photo Guides, Buff High Top Chucks, Blue Lagoon High Top Chucks, Dusk High Top Chucks, Road Trip Blue High Top Chucks, Burnt Umber High and Low Top Chucks, Apollo 3 Band, Sahara Hot Nights, CTAS Cons Black High Tops, U2, Wiz Khalifa, Wolf Alice, Yellowcard, Vivienne's Verdict, The Wallflowers, Walk the Moon, We the Kings, Tonight Alive, Ed Sheeran, Taylor Swift, The Summer Set, Gwen Stefani, Something Corporate, Squad Five-O, The Sex Pistols, Sturgill Simpson, Simple Plan, Silverchair, Silbermond, Katy Perry, Radiohead, The Ramones, Rancid, The Ready Set, The Record Company, Relient K, Rihanna, Rooney, Rush, Midnight Red, Morningwood, New Politics, Nirvana and Kurt Cobain, One Direction, Rita Ora, Outl4w, Paramore, Album Covers With Chucks, Lana Del Rey, Demi Lovato, Declan McKenna, LMFAO, Little Mix, Kesha, Kaiser Chiefs, Jakubi, Joan Jett, The Jonas Brothers, The Huntingtons, Hoobastank, Josh Groban, Selena Gomez, Fly Leaf, Fifth Harmony, Fall Out Boy, The Donnas, Donna The Buffalo, The Dingees, Demi Lovato, Lana Del Rey, Miley Cyrus, The Cribs, Cold Play, Ciara, Celebrities Wearing Red Chucks, Celebrities Wearing Black Chucks in Films, Celebrities Wearing Black Chucks, The Buttons, Bullet For My Valentine, Bruno Mars, Blondie, Blink 182, Big Time Rush, Bella Thorne, Bastille, Allstar Weekend, 5 Seconds of Summer, Hip-Hop Artists Wearing Chucks, Black and Biscuit High Top Chucks, Meg Myers, Sturgill Simpson, Wolf Alice, Jakubi, Vivienne's Verdict, Sunset Wash Brick High Top Chucks, The Record Company, Breathe Carolina.


New Articles or Stories:

(Reviews and Features are now all mobile friendly)





Music Video Reviews:
Rigamortus, Bedrock, My Life, The Way It Should Be, Stay, Ms. Jackson, Beautiful Girls, Barefoot, Seventeen, Surf's Up America, Paper Planes, Nobody's Fool, Nothin On You, Shape of You, Into You, My Favorite Part, In Too Deep, Pumped Up Kicks, I'm Just a Kid, Beverly Hills, Californication, Today, Black and Yellow, Downtown, When I Come Around, 4 Chords, Moves Like Jagger, California Love, Chief Rocka, Dang!, Mirror.




Film Reviews:

A Monster Calls, Tschick, The Muppets, Time Toys, The Great Gilly Hopkins, Teufels Kicker (Devil's Kickers), Aliens For Breakfast, A Dog Named Christmas, If There Be Thorns, Jet Boy, Glasskår, Pas de répit pour Mélanie, Victor and the Secret of the Crocodile Mansion.
New listings: Child Eater, Wee Sing in the Marvelous Musical Mansion, Ghost Squad, The Christmas Project, Morgan, The Lego Movie, Underdog Kids, Death Race, American Ultra, Regret!. Go to the Films with Chucks Index Page.




Articles:

Chuck Taylor Sequel Flops, Halloween and Chucks, The Design Your Own Chucks article has been updated. New Marketing Strategies for the Chuck Taylor is updated, Chucks in Sports. Go to the Articles about Chucks Index Page.


TV Page Features:

New listings with an article: Drake & Josh, Riverdale, Arrow, Stranger Things, The Get Down, It's Always Sunny In Philadelphia, The Mindy Project, Modern Family. Other recent listings are Hunter Street, 13 Reasons Why, Halt and Catch Fire, The Mick, Aftermath, Dead of Summer. Go to the Television Shows with Chucks Index Page.

How to Participate in Chuck Talk. Let us know what you think! We are also happy to try and answer your questions and inquiries about chucks, and listen to what you are thinking about. If you have some opinions, information, pictures, suggestions, or an article to submit, just click on the link, How to Participate in Chuck Talk to access our email address.
Wearing Chucks With A Suit?
We all know that a pair of chucks is great footwear for any casual occasion, and for many people that includes going to school or work. For some, that desire to wear their favorite high top or low top chucks extends to formal wear, a suit, or even a tuxedo. This change in attitude has taken place over the past twenty years or so to the point where you can regularly see advertisements of adults and kids wearing business suits with brand new pair of chucks, something now considered hip and fashionable. There are also many reports of weddings where the entire party is decked out in tuxedos and matching pairs of chucks.
Ads showing kids wearing suits, wedding parties wearing chucks with formal wear.
Where did trend come from? Going back in time to the 1990s, two examples come to mind. Filmmaker and comedian Woody Allen was up for an award at a formal presentation ceremony, and he wore the standard black and white tuxedo with a pair of brand new black high top chucks. The reaction at the time was, here is Allen making another funny commentary. But when you look at it, the crisp art deco look of a pair of black high top chucks — with its black canvas uppers and racing stripes contrasted with smooth white outer foxing, toe caps, stitching and shoelaces — is a perfect match to the black tuxedo jacket, trousers and cummerbund, starched white shirt, and black bow tie. Another such moment was when we saw Disney CEO Michael Eisner in a three piece suit kicking back at his desk and putting his feet up, wearing a pair of black high tops, as part of his introduction to the film The Computer Wore Tennis Shoes.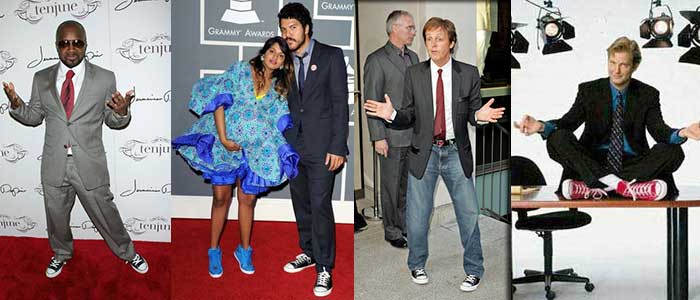 These celebrities look great wearing chucks with suits.
With today's trend of wearing sneakers all the time gaining in popularity, you will continue to see more adults wearing them with business and formal attire. As adults have footwear choices, wearing chucks with a suit has to be a conscious decision. However, it doesn't make a lot of sense to wear a fine looking suit with an old beat up pair of chucks, so the expectation is that your chucks look brand new, or close to that. If you want to sport this style, but don't want to run out and buy a brand new pair, there are a couple of ways to make a worn pair look brand new. Get yourself some Star Cleaner and use it to restore your toe caps and outer foxing to a clean state. If your shoelaces have gotten dirty, replace them with a new pair. This upgrade will cost under $15 and the cleaner will last for many cleanings of your favorite pairs of chucks. Many celebrities like this look, so why not join them?
Style of a City
Correspondent Marcus Angelo writes: Can a city have an identity? Can it have its own look, its own style? To answer this you have to ask yourself what you see when you hear the name of the city. New York. Chicago. Paris. London. Los Angeles. Now what was it that you saw? Was it a famous landmark, perhaps a sports team? When I think of L.A., the first thing that comes to mind is the people. It's the people of every neighborhood and city in the L.A. area, from South Central to Hollywood, from Malibu to the Inland Empire. The people of L.A. are like none I've ever met before. Their attitude, heart, and style is completely unique, and it's that last facet of style that is so iconic, and so indelible to the culture of the city that it is the topic of discussion for today.
Runners participate in a marathon in East L.A.
When I say "L.A. style", what do you first think of? Is it the style of a surfer on the beach in Malibu, or that of a boy trying to make a living in Compton, or maybe that of a celebrity in Beverly Hills strolling down Rodeo? The L.A. style is so unique because of how it's an amalgamation of all those parts of L.A, and that in turn lends it to be extremely versatile. Chucks are undoubtedly the perfect shoe of this look as they fit every subculture in the city. The laid back feel of surf culture, the attitude of the inner cities, and the trendsetting of the rich and famous all come together in this one shoe. You are just as likely to see a surfer in Huntington wearing chucks, as you are to see a celebrity in Calabasas wearing a pair. The shoe was made famous by hip-hop artists like Snoop Dogg, N.W.A., and Ice-T as the shoe of Los Angeles' inner cities. One could say that L.A. is to cities as to what Chuck Taylors are to shoes.
(l) Celebrities like Ashley Tisdale wear chucks daily in Beverly Hills.
(r) A breakdancer wears chucks performing in front of a crowd at Venice Beach.
The L.A. style isn't just one style, because L.A. isn't just one kind of city. L.A. isn't just a beach town, or just a sky rising metropolis, or a rich suburb. It's all of those things and more. It's a booming port, a manufacturing hub, the music capitol of the world, the home of art and culture, the place where the brightest minds go to study, and where the hardest working of us all go to make a living. The L.A. style is like the city of L.A itself: it's everything you could ever want and dream of. It takes parts from every culture, from every person, and adds to one unique experience that the city as a whole, can call its own.
Spring Style Guide
Spring is here and with that, let's take a look at what Converse has to keep your wardrobe fresh for the new season. If you're looking to change up your footwear, Converse has their seasonal color lineup of classic chucks. There are eighteen colors to choose from with many different shades of blues, greens, yellows, and pinks. These bright, pastel options are the perfect way to spice up your shoe lineup for Easter and beyond, and are a financially smart purchase at only $55.
Classic chucks in a variety seasonal colors.
While it may be warming up, there may still be some cold days this Spring. Instead of wearing your big, winter hoodie, try Converse's Essentials White Star Crew Fleece. It will keep you warm on those brisk days, while not being overly cumbersome like your winter wear. It comes emblazoned with the famous Converse Star over the heart, and the word Converse over the chest. The bright gray color works with your Springtime style, and will cost you $70.
The Converse Essentials White Star Crew Fleece.
Finally, we have Converse's Woven High Tops. These are a variation of the Chuck II model, and feature Nike Lunarlon insoles. They feature a woven exterior and woven laces that give these shoes a look different from any other Chuck Taylor out there. They come in two different color schemes: Indigo/Blue/White and Black/White/Yellow. The Indigo scheme in particular is perfect for any Spring wardrobe. The downside of these shoes is the price point, as $85 is a little steep when compared to classic chucks. Whether you are looking to ball out, or stay on the more conservative side, Converse has you covered for a number of options for Springtime fashion.
The Chuck II Woven High Tops.
The LA Style
Artist Spanto wearing a pair of red chucks.
Los Angeles has a reputation for creating some of the biggest and brightest stars in entertainment. At its core though, what is LA's own style? It's real style, not the one created by Hollywood or the perception of what LA is. Vince Staples, Spanto, and Jordan Clarkson let us get a peek at what makes the LA style and how chucks play a big role in that in a new video from Converse's Forever Chuck series.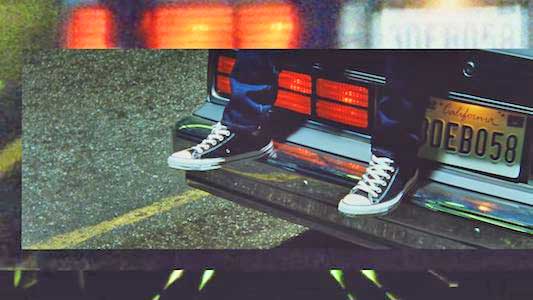 Vince Staples' classic black chucks.
Vince Staples is a rapper from Long Beach, California, Spanto is an artist from Venice, California, and Jordan Clarkson is a Point Guard for the LA Lakers. They all share a deep connection with LA and its image. Spanto and Vince speak on the pride they have for their city and their community. They say that everyone not from LA wants to dress like they're from LA. Spanto talks about how clean a Chuck Taylor is, and Vince says that it's a necessity and part of everyone's everyday wardrobe in LA. The best line from the video and the one that sums up the chuck mentality of LA is that "you can wear chucks to the beach, and you can wear chucks to a funeral". Clarkson offers the viewpoint of someone who adopted the style when he moved to LA, after he was traded from the Washington Wizards to the Lakers. Spanto closes with saying that his and Vince's aesthetic is very Los Angeles based because they "were born and raised there". The video is a perfect example of why chucks are such a culturally significant shoe. They've become integral to the identity of a whole city, and it's that identity that has made them one of the most recognizable shoes in the world.
Chucks are an integral part to the LA style.
Millie Bobby Brown on Chucks in Movies
As part of their Forever Chuck social media campaign, Converse has enlisted the help of Millie Bobby Brown from the hit Netflix show Stranger Things (where she herself wore chucks) to cover the impact of chucks in film. We're shown many characters throughout film history wearing chucks. These include Marty McFly from Back To The Future, and Allison from The Breakfast Club. Brown starts out by saying that "when you see a movie character in chucks, you know they're doing their own thing," and this sentiment is echoed by the chosen characters highlighted as both Marty and Allison are rebels who their own thing.
Millie Bobby Brown tries on some red high top chucks.
Millie also speaks with costume designer Stephanie Collie about how the styling of a movie character happens and what type of character she would put in chucks. She says that she would put a character in chucks if they're the underdog, if they're the one we, the audience, are supposed to root for. Collie says that because the costume is meant to help the audience identify with the character, and to give a glimpse as to what their dreams and desires are. This is why chucks are the perfect show for the underdog. They're the shoe of the underdog dreamers who we should root for.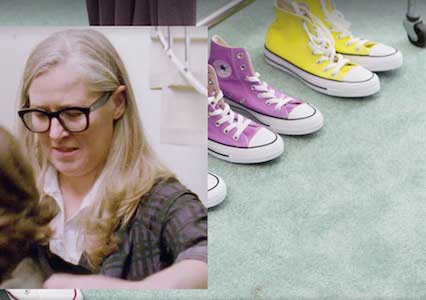 Stephanie Collie and a selection of brightly colored chucks used in her costume designs.
Brown also talks about how it's the collaboration between the actor and costume designer that brings a character's look together, and the look is what really helps an actor truly become a character. They close by saying that the character isn't really complete until the shoes are on. The video is relatively short at just under two minutes long, but it gives a cool insight into the creation of a character's look, and how chucks play a big role in defining a character's personality.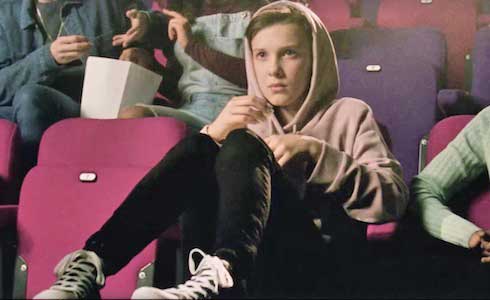 Millie watching a movie in black chucks.
A House of Chucks
Correspondent Thomas Bragg writes: "As a guest in someone else's home, usually you first greet your host or hostess, or perhaps comment on the interior decoration. In my house, there's a different sequence of events. When we have a guest or a visiting family member, the first words they often say after stepping through the front door are, "Whose cute Converse are those?"
"Chucks have been a staple in my household for generations. My father wore them when he played basketball as a teenager in the 1970s. Eight kids and four decades later, chucks have remained in the family. When I became a teenager, I fell in love with the ease and comfort of chucks, but also with their classic yet forward-thinking style. It wasn't long before they were a regular part of my wardrobe, and my siblings can attest to a similar fondness for the brand. That's how, even as we've all grown beyond our teenage years, you can still expect to see at least one pair of chucks in the entryway by the door.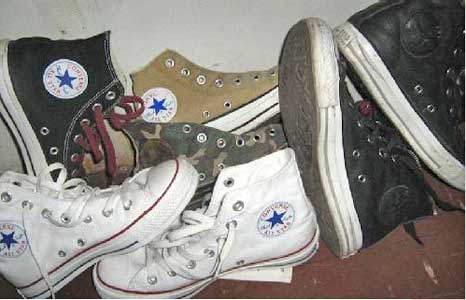 How many pairs do you have by the door?
"The prevalence of chucks in my house reflects how the brand itself has persisted across generations ever since its inception. Not only do chucks continue to stand the test of time, but they continue to pervade several aspects of society, including music, fashion, and pop culture. This level of industry dominance is indicative of a loyalty toward chucks that extends well beyond just one household (despite the fact that my family insists we are Chuck Taylor's biggest fans)."
Our New Music Videos with Chucks Page
Our collection of reviews about music videos that have chucks in them has now expanded to such a point that it was time to separate them from the Musicians Wearing Chucks page. So a new page Music Videos With Chucks has been designed and posted on our site. You can access it from the Home Page shoelaces link on the upper left, or from the Musicians Wearing Chucks page. As we are rapidly approaching one hundred reviews, it was time to organize things a little better. Now you can access the reviews by title, listed alphabetically, and by genre, listed alphabetically within each category.
Title graphic for the Music Videos With Chucks page.
Another nice feature of the new music video page are all of the section graphics. Besides the title graphic you see above, graphics were made for letter of the alphabet in the song title section and for each genre like hip-hop, rock, and pop/dance in the style section. Each graphic is made up from photos of music tribute Chuck Taylor shoe releases that celebrate various bands and artists who wore or were associated with chucks. The association of chucks with popular music styles is now an acknowledged part of our culture, and still continues today.
Converse to Introduce the Chuck Modern Shoe Line
Converse will be releasing their latest attempt to redesign the Chuck Taylor shoe starting in late February. This time their plan is to reach the Generation Z market with a series of expensive, high end sneakers, along with more moderately priced versions of this new line called the Chuck Modern. The first releases will feature the Lux, an all leather premium model, featuring embossed leather and a phylon foam sole, and priced between $130 to $140.
Since the release of the somewhat ill-fated Chuck Taylor II last year, Nike, the owners of Converse, have replaced key Converse upper management with executives from Nike. When the Chuck Taylor II was first released, sales were very good, but within a few months sales had tapered off, and by the end of the year Chuck IIs were on closeout at many retail stores. This was first reported by Bloomberg News last September, and now a new article by Chantel Fernandez posted on the Business of Fashion website talks about Converse's strategy for another new line of alternative chucks. For both articles, The ChucksConnection was asked for commentary as to why the Chuck Taylor II didn't resonate with consumers over the long run. Our response was based on two things: price and unnecessary design changes. Or, "if it ain't broke, don't fix it." (Click here to read the Bloomberg article. Click here to view the Business of Fashion article.)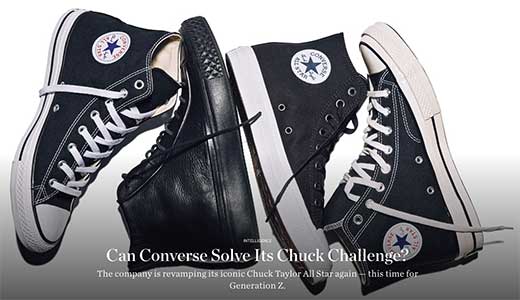 Four models of Converse black high tops: Current Classic, Chuck Modern Lux, Chuck II, and Chuck '70.
With the Chuck Taylor being their most successful product, and by far their largest revenue stream, Converse treats this product line like a Hollywood movie franchise — keep making new releases of the same thing. But upper management still doesn't seem to understand that the Chuck Taylor is successful because people like the way it already is, a lightweight, relatively inexpensive sneaker with a eye-catching art deco look that has been considered cool for generations. You have to wonder why they keep trying to mess with such successful design. Yet they continue to do so at their own peril. Their whole concept that every new line of shoes has to somehow relate to the Chuck Taylor is insulting to the memory of Chuck Taylor the man. What he did for the company was incredible while he was alive, and the design he developed still resonates today. But unfortunately he passed in 1969, so how do any of these new designs actually relate to him?
So Converse/Nike, our advice is to leave the Chuck Taylor All Star alone. It doesn't need to be continually reinvented. Consumers have over and over again proved you wrong when you tried to do this with the All Star 2000, the Chuck Taylor II, and other models that are not true Chuck Taylors yet are sold under his name. If you really want to do something for the original Chuck Taylor line, preserve its quality and design while figuring out a way to lower the price. The look of today's core chucks should be the standard along with the use of materials from chucks manufactured in the 1960-80s. Make chucks with the canvas and rubber quality of the Chuck '70, but you don't need to revert to the higher glazed foxing and very narrow lacing bed that the Chuck '70 has. Keep the current design for classic chucks of the toecaps, thinner racing stripes and foxing, and continue with the current 1990's style stitching without the third piece of canvas. If you want to add the lunarlon insole add it, but don't raise the price another ten dollars. Instead of trying to make every new shoe release somehow a version of the Chuck Taylor, be brave and issue your new lines of sneakers on their own merits.
Our New Cartoon Series
We invite all ChucksConnection visitors to enjoy our new cartoon series. Each month a new cartoon will be posted with a humorous look at the world of chucks and the people who wear them. For February we take a look at a love-struck young couple who met in the checkout line at a Chuck Taylor sale. You can find the cartoon by going to the monthly cartoon link on the home page or on the Books and Comics With Chucks page.
Enjoy our ChucksConnection cartoons.
We also invite you to view our other cartoon feature, The Chucks Life comic strip series which has over forty issues, and the ninth book in the Hunter & Holmes Mystery Series, Senior Year, which is a full color graphic novel. These can also be accessed from our Books and Comics With Chucks page. These days we can all use a little humor in our lives.
Converse Custom Pastel Collection
Converse has just announced a New Pastels for Spring line of custom made Chuck Taylor sneakers. All the models available must be custom made, which means you would pay $75 per pair for adult sizes and $50 for little kids sizes. Models you can choose include the standard canvas high and low top Chuck Taylor All Star for men, women and little kids, the shoreline slip-on for women, and the regular low top slip-on for men. Some of the colors to choose from include pure platinum, egret, khaki, dust pink, barely orange, lemon haze, and fiberglass. There are also more solid colors similar to what is available in the 2017 Fresh Colors issue discussed below. Custom designed shoes can also be made with print design uppers, with choices of dot, line, camouflage, star, and zebra pattens.
The start of a barely orange high top design.
If you want a pastel color but don't wish to pay the extra $20 for a custom design, you can always purchase one of this year's Fresh Color models which retail for $55. No matter what your preference is, you always have a lot of color choices when you want to buy a new pair of chucks.
Chucks Footprints: A Summer Abroad
Correspondent Carolina Ibarra writes: "A European summer abroad left me with tons of memories, tan lines, mosquito bites and a roughed up pair of well-loved chucks. Across the world and across cultures, wherever I went my chucks followed. They were worn down from long walks down countless airports, faded by the warm Italian summer sun, and weighed down by the salty water of the Mediterranean Sea. They were lined with the residue of summertime adventures abroad. Whatever I lived, my chucks lived it with me.
"The languages changed and the cultures transformed as I jumped from country to country. When the sun was rising over the horizon for me, it was setting back home. I was halfway across the globe a 10-hour flight away from everyone I loved and everything was different, but the chucks on my feet remained as my little piece of home. I had worn converse through the summer for as long as I could remember. The setting was different, but my shoes were the same; they fit so easily into this new world.
"Many people frame their awards or pictures or certificates for the nostalgia. I'm thinking of framing my chucks. They remind me of the time I missed my train and made an Italian friend (whom I couldn't understand) while I stood around waiting for hours until the next one. They remind me of the melting ice cream dripping all over them on hot, sunny afternoons. Now that I've returned home, I look down at them and relive my adventures.
"So, dear chucks, where shall we go next?"
The Power in The Laces
Correspondent Marcus Angulo writes: "In the summer of 2003, when I was only eight years old, I saw an old picture of N.W.A. on a documentary about hip-hop. I had just recently fallen in love with the music, which hit a certain nerve in me that other music couldn't. Hip-hop struck me at my core, and made me a believer of the spoken word. I looked up to rappers like 2Pac, Eminem, The Notorious BIG, Jay-Z, and N.W.A. like they were gods. So when I saw this picture of the world's most dangerous group, and they were all wearing Chuck Taylors, you can bet I was sold. I had to have a pair of these if I ever wanted to be like them.
"That summer I saved up my money from doing odd jobs around the neighborhood, and bought a pair of black and white high top chucks. They were the first pair of shoes I ever bought on my own, and that fact was very important to me. In keeping with the do-it-yourself nature of hip-hop, I wanted to get these chucks on my own. The first time I laced them up, I felt so powerful. I blasted "Straight Outta Compton", and ran around my room singing along, feeling like I could do what they did. This moment is where I started down the path of a career in music.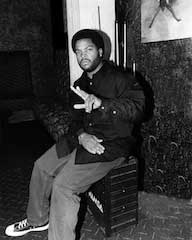 "In my brand new chucks, I wrote my first song. I wrote more and more, everyday trying to get better. It's been 13 years since I first bought that pair of shoes. In those 13 years, I have lived a lot, and written even more. In that time, I made the decision that music was what I wanted to do for the rest of my life because that feeling that I had the first time I wore those shoes, where I felt like an All-Star, was one I never wanted to give up. I'm now a 21-year-old about to graduate from Cal Poly Pomona with a Bachelor of Arts degree in Music Industry Studies, and you can bet that on graduation day that I will be wearing my Chuck Taylors. I wouldn't be here without them."
Fresh Colors for 2017 Announced
Converse has come out with nine new seasonal colors for 2017. They include Sunset Glow, which is a salmon color, Camo Green, a very grey looking color from the photos, Menta, which is a bright green color, Yellow, the return of a seasonal color from before, Soar, this year's version of a bright royal blue, Light Olive, which is a very faded green with tinges of light gray, Hyper Orange, a bright orange color similar to neon orange, Fuchsia Glow, a very light purple color, and Shark, which is dark grey. The colors are all listed as unisex and come in whole and half sizes. All colors come in both high top and low top oxford models. This year's colors do not include anything in a red shade, brown, or off white.
Hyper Orange is one of the new seasonal colors for 2017.
There are a number of seasonal models from 2016 that you still can purchase. Most of these colors will be on closeout soon. Go to our Shoe Outlook page to see the new and older seasonal colors.