Chuck Talk Features—Winter, 2019

Personal Stories and Opinions, Chucks Fashion and Lifestyles, and Chucks in the Media
What's New At

The ChucksConnection

. ChuckTalk Archives.

New or Updated Photo Galleries with interactive slide shows:



Nicky, Ricky, Dicky & Dawn, YG, Guys Wearing Red Chucks, Sabrina Carpenter, Mac Miller, Guys Wearing Black Chucks, Guys Wearing Optical White Chucks, Cobra Kai, Coolest Chucks Moments in Film, Jessie Reyez, 2018 Black High Top Chucks, 2018 Maroon High Top Chucks, Deep Blue High Top Chucks, Red Days Ahead High Top Chucks, Jessie Reyez, Graduates Wearing Chucks, Ariana Grande, SZA, Young Sheldon, Red Converse Chuck 70 Vintage Canvas High Tops, Allessia Cara, Chris Brown, Victoria Justice, Wordmark High Top Chucks, Red Stonewashed High Top Chucks, Lil Wayne, The Game, Zendaya, Vince Staples, Tyga, Kenrick Lamar, Ice Cube, Camilla Cabello, 2017 Core Red High Top Chucks, Golden State Warriors High Top Chucks, Sangria Waterproof Chuck Taylor Boots, Marvin the Martian High Top Chucks, YouTubers Wearing Chucks, Indigo High Top Chucks, Dark Atomic Teal High Top Chucks, Don't Let Me Go (The Between), Life Now, Life Then, Snoop Dogg Wearing Chucks, Sleepy Man Banjo Band, Chucks in the Theater, Sharkskin Grey High Top Chucks, The Clash Black Leather High Top Chucks, Little Kids Wearing Chucks in Ads, Gallery 1, Little Kids Wearing Chucks in Ads, Gallery 2, Older People Wearing High-Top Chucks, Kids Wearing High-Top Chucks, Alternate Lacing Photo Guides.



TV Page Features:

New listings with an article: Iron Fist, On My Block, The Temptations, Rise, Grown-ish, How I Met Your Mother, Mom, Parks and Recreation, Game of Silence, Stranger Things, Season 2, Greenhouse Academy, The Carmichael Show, Sha Na Na, Preacher, Friday Night Lights, Sun Records, Hunter Street, 13 Reasons Why, Drake & Josh, Riverdale. Other recent listings are: Deadly Class, Nicky, Ricky, Dicky & Dawn, Single Parents, Cobra Kai, Young Sheldon, Fargo, Goosebumps, Puzzle Play, The Protected (Los Protegidos), Salvation, London Spy, Eyewitness, Freakish, Worst Year of My Life Again. Go to the Television Shows with Chucks Index Page.

New Articles or Stories:





Music Video Reviews:
Sugar, We're Goin' Down, Blackjack, Song About You, Take It Off, Best Day Ever, One Sweet Love, Christmas Everyday, Good Form, Walk My Way, She's Kinda Hot, Ric Flair, Trust My Lonely, Africa, Black Magic, Friends, Cruisin' for a Bruisin', Hollaback Girl, Lucky You, When Can I See You Again, Fatlip, Campfire, Side Effects, Brand New, High Top Shoes, I Love LA, Say Amen, Corner Store, 2002, Old Friends, Sunflower, Hey Up There, Rise, One More Light, What Lovers Do, Mi Gente, Good Girls, Babylon, Fall, Come Over, Broken Clocks, Numb, Silver Platter, All the Kids Are Depressed, What I Miss the Most, Teen Spirit, Us, Shadows of a Rising Sun.




Film Reviews:

Different Drummers, The Bye Bye Man, Rockaway, Kin, The Loved Ones, The House With a Clock In Its Walls, Breaking Brooklyn, Jurassic World: Fallen Kingdom, Boarding School, Summer of 84, The House of Tomorrow, To All The Boys I Loved Before, Ready Player One, Robo-Dog: Airborne, Blood In, Blood Out, All Summers End, The Bachelors, Creed. New listings: Getting Even, Goosebumps 2, F.R.E.D.I., Lucas, Roma, Welcome to Germany, Age of Summer, The Christmas Chronicles, A Christmas Prince: The Royal Wedding, Blöde Mutzel, A Very Serious Person, Olli in der Unterwelt. Go to the Chuck Taylor in Films Index Page. Go to the Videos and Short Films with Chucks page.




Articles:

Chucks and the Hip-Hop Culture has been added to the Marketing Strategies for Chucks article. The first Shoe Outlook for 2019 is now online. The Chucks Sightings page, Chucks Appearances in Commercials and Unusual Places and the Core Chucks page have been updated. The Honor Roll for Actors Wearing Chucks in Films and Television Shows has been updated with the addition of Paul Rudd, Evan Rachel Wood, Chris O'Donnell, and Brandon Tyler Russell. Go to the Articles about Chucks Index Page.

How to Participate in Chuck Talk. Let us know what you think! We are also happy to try and answer your questions and inquiries about chucks, and listen to what you are thinking about. If you have some opinions, information, pictures, suggestions, or an article to submit, just click on the link, How to Participate in Chuck Talk to access our email address.
Black History Month Chucks
February is Black History Month, and Converse has issued new models of chucks to celebrate the occasion. The new Black History Month collection contains two new chuck 70s high top sneakers. Both sneakers contain African pattern print and patchwork. The official Nike website describes the new pair and design as, "inspired by an assortment of national African patterns, brought together onto modernized prints in a theme of Afro-futurism in sport."
One of the new pairs has a fully covered upper African pattern, with colors of teals, yellow, pink and black. The pair has a black, glossy midsole with the same color for the toe with a yellow outsole. The pair also has a 'BHM' emblem on the top of the tongue. The other pair contains African pattern patchwork on the heel, collar, and toe with the rest of the upper canvas being a solid black color. It has a white midsole with a yellow outsole. Both sneakers feature the classic Converse symbol that is known with chucks.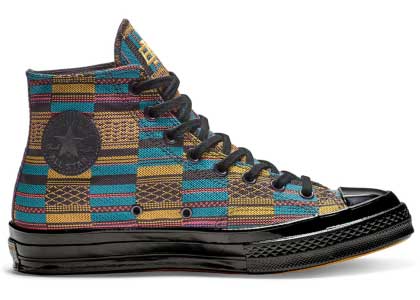 Chuck Taylor 70 BHM Patchwork High Top.
These pairs of chucks are a part of the larger Black History Month collection that Nike unveiled that also featured Nike Kyrie "BHM," Nike LeBron 16 "Equality," and Nike PG 3 "BHM," among many other sneakers. These sneakers were released on January 21st, and go for around $100.
A Love for Chucks
Valentine's Day is coming up, which means it is time to get a loved one a gift to show your love. What is better than a pair of chucks? Luckily, Converse has their own Valentine's Day collection.
If you are looking for something a bit different for this holiday, there are the white Chuck Taylor All Star fringe leather high tops. It indeed is a statement chuck and is the most unique out of the Valentine's Day collection. One of the other All Star pairs is has an iridescent black look, and the last pair is a red monochromatic low top chuck. Each pair also has a gold metallic heart pendant.
Converse Valentine's Day Collection.
A perfect pair would also one of the Converse x Play Comme des Garcons Chuck Taylor All Star high tops. It is one of the most popular collaboration chucks in recent memory, and we have covered the pairs previously on the site. The pairs are an off-white color with the signature Comme des Garcons heart logo which makes perfect sense for Valentine's Day, while the other pairs are black and white and black polka dot pair. It is a perfect pair if you want something for Valentine's day, but also a high end, favorite sneaker. If you want to go more of a traditional style, a perfect pair would be either a core red or pink Chuck Taylor All Star, in high tops or low tops.
Chucks Are For Everyone
For any chucks fans, it's no secret that chucks are not for one specific group or culture. Part of the popularity of the sneakers is the amount of acceptance they have throughout cultures, style, and people. The Chuck Taylor All Star (the first chucks) was initially designed to be a basketball shoe, but now is typically viewed as a leisure and everyday wear shoe. No matter if you associate the sneakers with basketball, punk music or a child, chucks are meant for everyone. Maybe that's one of the reasons why Chuck Taylor All Stars were Instagram's fifth most shared shoes.
Jesse, from Ohio, says, "I love chucks because they are for everyone, it feels good to wear something that is all in compensating and is for everyone. I see everyone in chucks. I have five pairs now. I suppose it's a good idea to get two more to have one for every day of the week now."
Yellow high top chucks.
Bartosz Kiełbaszewski from Poland went into detail about his love of his favorite chucks. "I wear chucks cause they look really cool and they are pretty comfy. My favorite chucks are of course yellow ones; I don't wear any other shoes, even during winter. I used about eight pairs during the last ten years (I wear them to their death), and some of my friends ask me if it's the same pair I'm wearing since 2008. I'm using inserts to prevent foot damage, cause chucks aren't that health friendly, but I don't mind that now. I just hope I can wear them forever."
New Seasonal Chucks
There are four new chucks for 2019, with vibrant and unique colors that will surely be a match for chuck lovers, especially for women. Two of the new seasonal Chuck Taylor All Stars are high tops, coming in Bold Citron and Moody Purple colors. The Bold Citron offers a unique color that is more mustard than lemon. The color will pair well with black clothing better than a brighter yellow would. The Moody Purple color is less vibrant and more subtle, giving an almost grape look to them, and can match with complementary outfits.
Moody Purple and Bold Citron high tops, Teal Tint and Pink Foam low tops.
The other two models are Chuck Taylor All Star low tops in Teal Tint and Pink Foam. These chucks have a more subdued and faded look to them that should have good fan appeal. Both colors are good beach colors. The teal tint color is nearly a light blue. The pink foam color is perfect for younger people but is still great for older people who want a new color that makes a statement. All these pairs of chucks have the same components that are commonly found with All Star high top and low top chucks, a padded insole, rubber toe cap, canvas upper and the Converse license plate logo on the heel of the shoe. The high tops have single color ankle patches. The new pairs of chucks can be found through Converse's website or local retailers like Tilly's or Nordstrom, as well as many other online sites. The price should range from around $50-60. For other seasonal colors visit our shoe outlook page.
Happy New Year!
As 2019 begins, we start by wishing all of our site visitors a happy new year and remind you of the many things you can expect from The ChucksConnection in the new year. We will continue to keep you informed of new models and colors of chucks as they become available and provide frequent information about your favorite pairs of chucks in core colors. Chucks are recognized these days as cool footwear for people of all ages, from toddlers to seniors. Your chucks are now considered appropriate wear at all kinds of events and activities — from casual to formal — at home, out in the community, and at work. We encourage you to stay laced in chucks as much as you can in the new year.
Enjoy wearing chucks in the new year like these people do.
We will continue to report on people wearing chucks in the media, as seen in films, television series, music videos, and worn by celebrities and others in the news. Our Chuck Taylor in Films page currently lists over 850 films, with several hundred of those films reviewed and more to come in the new year. Our All Star Television Shows page lists over fifteen dozen series, many with photos or feature pages. Our Music Videos With Chucks page now lists over 200 songs in different popular musical styles and our Musicians Who Wear Chucks page lists over 200 bands and recording artists who wear chucks in their daily lives and on stage. We will keep on adding to our galleries containing thousands of photos of chucks and people wearing them.
For your personal needs, The ChucksConnection will continue being a great source for shoelaces to wear with your chucks and provide you with links to buy new pairs of chucks or pairs of chucks used in our photo galleries. If you love your chucks like we do, drop by chucksconnection.com often for the latest information and features about your favorite sneakers.
New "My Half" Chucks
Wearing chucks every day causes wear and tear to them no matter what, so even if your sneakers are taken care of, they will eventually deconstruct. The new Feng Chen Wang and Converse collaboration are made to do just that, deconstruct. The new "My Half" collection designed by Feng Chen Wang was previewed at her Shanghai Fashion Week show. Without a doubt, the new chucks are one of the most creative and unique designs in recent sneaker memories. The collaboration will feature high top and low top versions of Chuck 70s sneakers with a new twist.
New Black and White High Top "My Half" Chuck 70s.
The low top versions will come with a functioning strap across tongue and laces, as well as an open back to give the look of a sandal. The pair come in a red/white, black/white, blue/white and all white colorways. One high top pair gives a rope lacing system in the back of the shoe at the heel with either a black, blue or military green half tied to a white chuck 70s sneakers to give the look of deconstruction. The other high top pair is a unique exoskeleton like canvas to give the appearance of deconstruction. The pair come in a pink/white, black/white, and green/white colorway. The pair also comes with a pair of Feng Chen Wang socks sown inside the sneaker. The new "My Half" chucks are set to be released sometime in 2019.
Chucks Could Be Back In The NBA With Kelly Oubre Jr.
For most die-hard chucks fans, the history of chucks and basketball is a story they know all too well. Chucks became the premier basketball shoe for over five decades when Chuck Taylor designed the shoe himself to perform better on the court and put his signature on the ankle patches. Since the 1980s, chucks became less of a basketball shoe and more of a skate or just casual sneaker. However, it looks like chucks may be back in the NBA as Converse signed newly acquired Memphis Grizzlies player, Kelly Oubre, Jr. Oubre reportedly had discussions with several shoe companies after his deal ended with adidas, including Puma (who recently signed rookies, Marvin Bagley, and DeAndre Ayton) and New Balance (who recently signed Kawahi Leonard), until he ultimately decided to sign a multi-year deal with Converse.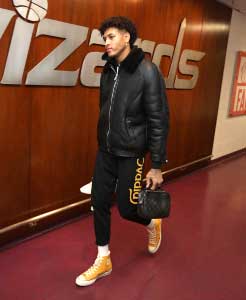 Kelly Oubre, Jr. wearing orange high top chucks.
In an interview with ESPN, Oubre said, "It's not necessarily someone trying to come in and disrupt the game, or someone trying to step onto the scene as newcomers again. [Converse] started this, and it's cool to be a part of something with the exclusivity to work with this company, start a partnership and a foundation." While the CMO of Converse, Sophie Bambuck, told ESPN, "It just felt like the right time for us to re-energize the brand, dimensionalize the brand and bring a different point of view to our consumer around basketball. Kelly felt like the right person to do that with, not only as an athlete, but as a person."
Oubre is one of the most standout athletes when it comes to fashion and becoming the only NBA player wearing chucks in a game can bring recognition to himself, the brand, and whatever edition of chucks he decides to wear. Oubre will be wearing Nike's basketball shoes until a design is made for the court. When the model is finally done, there will likely be many chuck fans excited to see an athlete wearing their favorite sneakers in the NBA again.
Shrimps Collaborates with Converse
The British label, Shrimps, has collaborated with Converse to make two new pairs of sneakers, with one of the pairs being a new Chuck 70 high top. The new pair of Chuck 70 high tops are covered with a doodle of faces print all over the canvas uppers, bubblegum pink shoelaces and faux fur on the strip of the heel.
New Converse x Shrimps Chuck 70 High Top.
The artist behind the chucks, designer, and founder of Shrimps, Hannah Weiland spoke with Nylon.com about making a collaboration with Converse: "I had so many pairs of Converse growing up—my brothers and sisters and I would all wear them," This isn't the first time Shrimps has done a collaboration with Converse, as they worked on a pair for a London Fashion Week show, "We didn't sell those shoes, so this time around, we really wanted to make them available to our Shrimps and Converse customers. It's a really fun, ongoing collaboration. I love everything the Converse brand stands for, and this time it was really exciting to add in a few jersey pieces."
All the sizes for all the collaboration are in women's sizes, so be aware of that while purchasing. The chucks go for about $110 currently. The other Shrimps and Converse sneaker pair is an all-pink Converse One Star low top with their famous roses prints. The collaboration also includes a pullover hoodie, women's long sleeve t-shirt, long sleeve top, and women's open-hemp pants.
These Boots Are Made For Hiking
The new Chuck 70 Teck Hiker is a unique combination of style and comfort. The new pair of chucks is a change in an already classic design. Many admirers of chucks are used to the Chuck '70s as one of the most popular sneakers out, but this new pair adds durability and is perfect for the harsh weather conditions.
With a look that is a combination of hiking boots and classic chucks, these new pairs are a unique take on high tops and boots; it's no question that these chucks were made for wearing outside. The revamped Tech hikers are detailed on Converses' website as "durable woven upper and a cushioned design for an extra layer of comfort that adds to the trekking feel of these bold boots." With rope laces, Gore-Tex waterproof material and elastic straps over the tongue, it certainly adds some new elements and make the chucks feel very similar to hiking boots without taking too much away from the original design of the chuck 70s sneakers.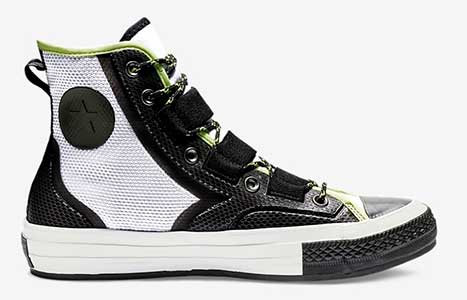 Chuck 70 Tech Hiking Boots in White/Black/Lime, and Grey/Black.
The Chuck 70 Tech Hiker's come in a good amount of variety of color combinations including a red and blue design, grey and black, Mason and herbal, teal and orange, and a white, blackand green design. All the pairs of the Chuck 70 Tech Hikers are in high tops. The price is a bit higher than a regular pair of chucks but less than most hiking boots, typically sitting at around $110. So if you are in the market for some chucks to fight the cold and snowy weather, these are perfect. Alternatively, if you are trying to find some more stylish looking hiking boots, for a fraction of premium hiking boots cost, the new Teck Hiker chucks might be the perfect pair for you.
The Commitment Is Key
An essential part of why chucks have been so popular for so long is the loyal fanbase that surrounds it. Chucks are not just a popular choice among a "punk rock" crowd, they are beloved worldwide, with fans with serious dedication.
There's Finn, a loyal fan from New York who has been wearing chucks for most of his life: "I started wearing them because when I was a kid, my feet were too big to shop in the kid's section like other kids in my class. It sucked being a little kid with grown-up sized feet. But everything got better when I discovered the world of chucks. Any color, any size, any style, I could count on Converse to have it for me. The only downside was that my mom didn't like paying $50 to $80 a pair, so I nagged Grandma instead. She caved in and got me a pair of brown high tops, my very first pair." And Finn is attempting to add to his already impressive collection: "Over a decade later, I've collected about 150 pairs from this brand. I neglect to keep a proper count because I keep ordering these shoes monthly and I have parcel forwarding mailboxes in other countries that I send international finds to. My goal is to out-shoe the world record holder for the most Converse. 2000 more shoes to go!"
Derick Lehman's red high top Chuck Taylor All Stars.
Derick Lehman from Indiana has continued the themes of dedication to the brand with his love of chucks: "I love the individuality of Chuck Taylor's, the nearly infinite colors and styles. They are ever-changing, yet classic. I wear them every day." And Lehman has his favorites as well: "I tend to wear my red or navy ones the most often, but that's only because they match the most shirts. I'm not sure I have a favorite pair. I try to pair them with my shirts. I have a little over 50 pairs." Conor from Virginia has had a love for chucks from a young age starting with a red pair as a kid: "I wear chucks because I love the style. It's the perfect in-between from wearing like Jordan's and Dad shoes. Vans are in the same category of that perfect in-between, but when I got my first pair of real shoes when I was little they were red chucks. Then I stopped wearing them, but now I'm back. Vans didn't do what I wanted."
Chucks for Anyone
Chucks are some of the most popular sneakers of all time, and with that comes stories of what they mean to the people that wear them. These are some of the stories of loyal chuck wearers who wear black low cut chucks.
Talking to Colton, a chuck fan due to the meaning behind Machine Gun Kelly's music and symbolism he uses with chucks. "The reason I wear chucks is that one of my favorite musicians wears them and pretty much based his movement behind them. That musician is Machine Gun Kelly. When I put chucks on, I feel like I can do anything, whether it be skating, running a game of basketball or just the right thing to top off an outfit. Chucks are for people who don't care about sneaker cleanliness, and the dirt is what gives them their personality. Not the colorway or the price tag, but the person who puts them on. That's why I wear chucks."
A pair of black chucks from Colton.
Then there is Izabella, who has worn chucks her whole life. "I love chucks because they embody everything about what it means to be an individual. From different colors to patterns and even Fandom designs there is no shortage of ways to find that perfect pair of shoes to express yourself. No matter what outfit I am wearing, I know I can throw on my chucks and pull the look together!"
There's also Justin, a fan of chucks from England. "Chucks are huge here, they have always just fit the style I was wearing when I grew. I would wear a pair of black chucks to match what I was wearing, and as my outfits changed, the chucks stayed. I'll always wear them." The look of chucks will never go out of style, and the stories that the fans have with them will continue to carry their legacy and popularity for years to come.
Indoor Activities With Chucks
With winter coming up, rain and snow are becoming more frequent. With that in mind, you may have to start playing your favorite sports and working out inside where it's warm and dry from now on. This offers chuck lovers the chance to put their All Stars to use playing and working out indoors. We all know that the Chuck Taylor All Star was originally a basketball shoe designed by player/spokesperson Chuck Taylor. It was an immensely popular choice amongst collegiate and pro players throughout the 1950's, 60's and 70's, but fell by the wayside with the rise of Nike, Adidas, and Jordan in the 80's and 90's. However, the Chuck Taylor is still a viable basketball shoe for anybody playing a pickup game down at the rec center. Why buy an expensive pair of new basketball shoes when you can wear the same classic pair you wear everyday? If the shoes worked for players like Wilt Chamberlain and Bob Cousy as they won NBA Championships, then they'll work for you down at the local rec center or gym.
A classic that can still be played on the court today. Chucks make for an ideal weightlifting shoe.
Over the years, chucks have been adopted by other indoor sports that are a far cry from their basketball origins. The best example of this has been the appropriation of the Chuck Taylor All Star into weightlifting culture. Chucks have been a favorite of weightlifters for their classic style and flat, un-padded sole, which was difficult to find for a time in this age of ultra padded and contoured soles. This is a key aspect for many lifters choosing a shoe as padded soles disperse and displace energy, which impedes the force applied to the ground when lifting. The connection between a weightlifter and the ground must be solid so the body can tell where to implement the right amount of force, and padded soles in modern shoes simply don't allow that kind of connection. In recent years many companies have been offering minimalist soles much like the Chuck Taylor, but for many lifters, the simple chuck is still king in gyms across the country, proving that the simple things are sometimes the best option. So this winter, make sure to keep a pair of chucks in your gym bag and on your feet as you take your physical exercise and recreation indoors.
Updating Your Chucks Collection
Converse has recently suggested that you introduce new pairs of chucks into your regular rotation. With that in mind, let's take a look at some different colors and designs you can introduce into your shoe lineup today. Let's start with some different ideas for the Fall and Winter seasons. If you're a sports fan then you know that the NFL, NBA, and NHL seasons will be dominating your schedule in the coming months. Now is the perfect time of year to show off your team pride by adding team color chucks to enhance your game day look. For NBA fans, you may know that Converse has recently released a whole new NBA lineup of chucks. However, if you'd rather not splurge on these pre-made models, you can always create your own through the chucks customizer. Combine team colors of your favorites to create the perfect game day look.
(left) Chucks for the Oakland Raiders, Los Angeles Lakers, San Jose Sharks, and Cleveland Cavaliers (right) The chucks color possibilities are endless!
If you're not a sports fan, but you're tired of the wearing the same classic black chucks every day, try adding a pair of seasonal colors or maybe something bold and different you've never worn before. Spice it up with colors that aren't your status quo, like bright purples, golds, oranges or pinks. Try out a different design pattern like camouflage, floral, or a branded pattern like DC's Justice League to have your chucks really stand out. A true chucks super fan could have different pairs of chucks for specific outfits, and step up their game by having fully coordinated outfits that highlight the different chucks they own. Different colored shoelaces can provide another inexpensive way to sport team colors. It's easy to get to this kind of fandom through our affiliate stores or create custom made chucks on the Converse website. The possibilities are near endless and are only limited by your sense of style and creativity.
Gift Ideas For That Chucks Person On Your List
Finding the right gift at the right price is often difficult, especially if you are on a budget. If you know (or are) someone who is an enthusiatic fan and wearer of chucks, what do you get that person besides a new pair of chucks? These days a new pair is a big gift, with the prices ranging between $50 to $100 for most new pairs. Luckily The ChucksConnection is here to assist you with a short list of credible gifts that range in price from $2 to $20 and appropriate for people of all ages. Go to our Gifts Page to see the complete list of our recommendations.
Videos and Short Films with Chucks
We have started a new feature on The ChucksConnection that addresses videos and short films where actors wear chucks. These films are normally seen on websites like YouTube and Vimeo and made by amateur or aspiring filmmakers. Too short to be included on our Chuck Taylor in Films page and not released to the public through paid streaming, DVD or BlueRay, these videos and films are free for viewing, and we provide links to them on our new Videos and Short Films with Chucks page.
Check these out on our new page.
Like our other media pages, Videos and Short Films with Chucks is a work in progress. If you know of a video or short film that qualifies for this new page, send us the information and link to films@chucksconnection.com.
How to Participate in Chuck Talk
Do you have some things to say about Chuck Taylors? If you have an article or other interesting information about chucks to submit to this website, please contact us at mail@chucksconnection.com.
Chuck Talk Archives

ChuckTalk articles from previous years