Your Sneakers or Your Life
Sneakers and team jackets are hot, sometimes too hot. Kids are being mugged, even killed for them. Who's at fault?
In America's cities, kids are killing kids over sneakers and other sports apparel favored by drug dealers. Who's to blame? Is it the shoes?...Money, it's gotta be the shoes! — Mars Blackmon, to Michael Jordan, in a Nike commercial.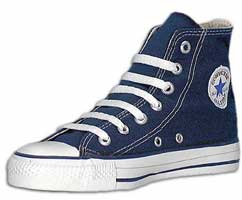 Thinking about ripping someone off to get a pair of fancy, overpriced sneakers?
Just remember this little rhyme:
Why become a con — and deal with a jailer. . .
When you can wear the Con — made by Chuck Taylor!
For 15-year old Michael Eugene Thomas, it definitely was the shoes. A ninth grader at Meade Senior High School in Anne Arundel County, Maryland, Thomas was found strangled on May 2, 1989. Charged with first degree murder was James David Martin, 17, a basketball buddy who allegedly took Thomas's two week old Air Jordan basketball shoes and left Thomas's barefoot body in the woods near school.
Thomas loved Michael Jordan, as well as the shoes Jordan endorses, and he cleaned his own pair each evening. He kept the cardboard shoe box with Jordan's silhouette on it in a place of honor in his room. Inside the box was the sales ticket for the shoes. It showed he paid $115.50, the price of a product touched by deity. "We told him not to wear the shoes to school," said Michael's grandmother, Birdie Thomas. "We said somebody might like them, and he said, 'Granny, before I let anyone take those shoes, they'll have to kill me.' "
Michael Jordan sits in the locked press room before a workout at the Chicago Bulls' practice facility in suburban Deerfield, Illinois. He is wearing his practice uniform and a pair of black Air Jordans similar to the ones young Thomas wore, except that these have Jordan's number, 23, stitched on the sides. On the shoelaces Jordan wears plastic toggles to prevent the shoes from loosening if the laces should come untied. Two toggles come in each box of Air Jordans, and if kids knew that Jordan actually wears them, they would never step out the door without their own toggles securely in place. The door is locked to keep out the horde of fans, journalists, and favor seekers who dog Jordan wherever he goes. Jordan needs a quiet moment. He is reading an account of Thomas's death that a reporter has shown him.
For just an instant it looks as thought Jordan might cry. He has so carefully nurtured his image as the all-American role model that he refuses to go anywhere, get into any situation, that might detract from that image. He moves swiftly and smoothly from the court to home to charity events to the golf course, all in an aura of untarnished integrity. "I can't believe it," Jordan says in a low voice. "Choked to death. By his friend." He sighs deeply. Sweat trickles down one temple.
He asks if there have been other such crimes. Yes, he is told. Plenty, unfortunately. Not only for Air Jordans, but also for other brands of athletic shoes, as well as for jackets and caps bearing sports insignia — apparel that Jordan and other athlete endorsers have encouraged American youth to buy.
The killings aren't new. In 1983, 14-year-old Dewitt Duckett was shot to death in the hallway of Harlem Park Junior High in Baltimore by someone who apparently wanted Duckett's silky blue Georgetown jacket. In 1985, 13-year-old Shawn Jones was shot in Detroit after five youths took his Fila sneakers. But lately the pace of the carnage has quickened. In January, 1988, an unidentified Houston boy, a star athlete in various sports, allegedly stabbed and killed 22 year old Eric Allen with a butcher knife after the two argued over a pair of tennis shoes in the home the youths shared with their mothers. Seven months later a gunman in Atlanta allegedly robbed an unnamed 17-year-old of his Mercedes-Benz and Avia high tops after shooting to death the boy's 25-year-old friend, Carl Middlebrooks, as Middlebrooks pedaled away on his bike. Last November, Raheem Wells, the quarterback for Detroit Kettering High, was murdered, allegedly by six teenagers who swiped his Nike sneakers. In Baltimore last summer 19-year-old Ronnell Ridgeway was robbed of his $40 sweatpants and then shot and killed. In March, Chris Demby, a 10th grader at Franklin Learning Center in West Philadelphia, was shot and killed for his new Nikes.
In April, 1989, 16-year-old Johnny Bates was shot to death in Houston by 17-year-old Demetrick Walker after Johnny refused to turn over his Air Jordan high tops. In March, Demetrick was sentenced to life in prison. Said prosecutor Mark Vinson, "It's bad when we create an image of luxury about athletic gear that it forces people to kill over it."
Jordan shakes his head. "I thought I'd be helping out others and everything would be positive," he says. "I thought people would try to emulate the good things I do, they'd try to achieve, to be better. Nothing bad. I never thought because of my endorsement of a shoe, or any product, that people would harm each other. Everyone likes to be admired, but when it comes to kids actually killing each other" — he pauses — "then you have to re-evaluate things."
We certainly do. In a country that has long been hung up on style over substance, flash over depth, the athletic shoe and sportswear industries (a projected $5.5 billion in domestic sales of name brand shoes in 1990; more than $2 billion in sweatpants, sweatshirts and warmup suits) suddenly have come to represent the pinnacle of consumer exploitation. In recent months the industries, which include heavyweights Nike and Reebok as well as smaller players Adidas, Asics, British Knights, Brooks, Converse, Ellesse, Etonic, Fila, L.A. Gear, New Balance, Pony, Puma, Starter and numerous other makers of sports shoes, caps and jackets, have been accused of creating a fantasy-fueled market for luxury items in the economically blasted inner cities and willingly tapping into the flow of drug and gang money. This has led to a frightening outbreak of crimes among poor black kids trying to make the mark by "busting fresh" or dressing at the height of fashion.
In some cities muggings for sportswear are commonplace — Atlanta police, for instance, estimate they have handled more than fifty such robberies in the last four months. Yet it is not only the number of violent acts but also the seeming triviality of the booty than has stunned the public. In February, 19 year old Calvin Wash was about to cross Central Park Avenue on Chicago's West Side when, according to police, two youths drove up in a van and demanded that he give them the Cincinnati Bengal jacket he was wearing. When Wash resisted, one of the youths is alleged to have fatally shot him in the back — through the A in "Bengals."
Chicago police sergeant Michael Chasen, who works in the violent crimes division in Area Four, which covers four of Chicago's 25 police districts, says his districts have about 50 reported incidents involving jackets and about a dozen involving gym shoes each month. "When you really think about the crime itself — taking someone's clothes off their body — you can't get much more basic," he says.
But, of course, these assailants aren't simply taking clothes from their victims. They're taking status. Something is very wrong with a society that has created an underclass that is slipping into economic and moral oblivion, an underclass in which pieces of rubber and plastic held together by shoelaces are sometimes worth more than a human life. The shoe companies have played a direct role in this. With their million-dollar advertising campaigns, superstar spokesmen and over-designed, high-priced products aimed a impressionable young people, they are creating status from thin air to feed those who are starving for self-esteem. "No one person is responsible for this type of violence," say Patricia Graham, principal of Chicago's Simeon High, one of the city's perennial basketball powers. "It's a combination of circumstances. It's about values and training. Society's values are out of sync, which is why these things have become important."
"The classic explanation in sociology is that these people are driven by peer pressure," say Mervin Daniel, a sociology professor at Morgan State. "What is advertised on TV and whatever your peers are doing, you do it too." Most assuredly, the shoe industry relies heavily on advertising; it spends more than $200 million annually to promote and advertise its products, churning out a blizzard of images and words that make its shoes seem preternaturally hip, cool and necessary. Nike alone will spend $60 million in 1990 on TV and print ads that have built such slogans as "Bo knows," and "Just do it," and "Do you know? Do you know? Do you know?" into mantras of consumerism.
What is baffling, however, is the strength of certain sporting products as icons for drug dealers and gangs. In Boston the Greenwood Street gang wears Green Bay Packer gear, the Vamp Hill Kings wear Los Angeles Kings and Raider gear, and the Castlegate gang wears Cincinnati Reds clothes. "The Intervale gang use all Adidas stuff, exclusively — hats, jackets, sweatpants, shoes," says Bill Stewart III, the probation officer at the Dorchester District Court in Boston, one of the busiest criminal courts in the nation. "They even have an Adidas handshake, copying the three stripes on the product. They extend three fingers when they shake hands."
Stewart knows how certain young drug dealers feverishly load up on the latest models of sneakers, tossing out any old ones that are scuffed or even slightly worn and replacing them with new pairs. "I was in a kid's apartment recently and there were about 50 pairs of brand-new sneakers, all top of the line stuff — Adidas, Reebok and so forth," he says. "I asked the kid's mother how he came into all this stuff. She said she didn't know."
The use of Major League Baseball hats by gangs has prompted some high schools around the nation to ban them from school grounds, and expensive gold chains, major league or major college team jackets, and other ostentatious, potentially troublesome items have also been prohibited. "When I look around sometimes, I think I'm in spring training in Florida," says Stewart.
When informed that baseball caps are being used by gangs as part of their uniforms, Major League Baseball public relations director Richard Levin seemed shocked. "I'm not aware of it at all, nor would I understand why," he said. "Obviously, we don't support it in any way."
Could any respectable U.S. corporation support the use of its products in this way? Absolutely not, said most shoe company executives contacted for this article. You better believe it, said a number of sports apparel retailers, as well as some of the more candid shoe executives.
Among the retailers is Wally Grigo, the owner of three sportswear shops in and near New Haven, Connecticut. Last August, Grigo put a sign in the front window of his inner-city store that reads, "If you deal drugs, we don't want your business." "Unfortunately, it'll probably have to stay up forever," says Grigo. "I was doing, I'd say, $2,000 a week in drug money sales that disappeared after the sign went up. Our industry is sick, addicted to drug money sales. We're going through the first phase of addiction, which is total denial."
Before he had put up the sign, Grigo had been told by sales reps from two sportswear companies that he should "hook up" with the local drug dealers to expose the companies' new products to the neighborhood clientele. After the sign went up, Grigo says, the rep from the smaller company returned and said, "Wally, we're thinking about giving you the line. But, you know, I can't do anything until you cut out the crap and take that sign out of your window. The bulk of our business is done with drug dealers. Wake up!"
Grigo was so stunned that he thought of wearing a wire to record the rep making similar statements. He didn't do so, though, figuring the company's officials would dismiss any evidence by saying the rep was a loose cannon. But Grigo says the companies know what's going on, because the reps are "in the trenches, and they go back and report."
Grigo doesn't want to publicly state the names of the suppliers, for economic reasons. "I'm not afraid of the drug dealer," he says. "But the shoe companies could put me out of business anytime, just by canceling my credit."
One obvious question: How does Grigo, or anyone, know when a drug dealer and not a law-abiding citizen is making a buy? "Hey, spend 10 minutes in any city store," says Grigo. "When an 18 year old kid pulls up in a BMW, walks down the aisle saying, 'I want this, this, this and this,' then peels off 50's from a stack of bills three inches thick, maybe doesn't even wait for change, then comes back a couple weeks later and does the same thing, hey . . . you know what I'm saying?"
And what about all those good guys advertising the shoes? What about Nike's Jordan and Spike Lee, the gifted filmmaker and actor who portrays Mars Blackmon, the hero-worshiping nerd in the company's Air Jordan ads? Are they and other pitchmen at fault, too?
"Maybe the problem is those guys don't know what's going on," says Grigo. "There are stores doing $5,000 to $10,000 a week in drug money, all over. Drug money is part of the economic landscape these days. Even if the companies don't consciously go after the money, they're still getting it. Hey, all inner city kids aren't drug dealers. Most of them are good, honest kids. Drug dealers are a very small percent. But the drug dealer, man, they set the fashion trends."
Liz Dolan, director of public relations for Nike, hits the ceiling when she hears such talk. "Our commercials are about sport, they're not about fashion," she says.
But the industry's own figures make that assertion extremely questionable. At least 80% of the athletic shoes sold in the U.S. are not used for their avowed purpose -- that is, playing sports.
Dolan sighs. She says that all of Nike's athlete-endorsers are quality citizens as well as super jocks. "We're not putting Leon Spinks in the commercials," she says. They she says that the people who raise the alarm that Nike, as well as other sports apparel companies is exploiting the poor and creating crime just to make money are bizarre and openly racist. "What's baffling to us is how easily people accept the assumption that black youth is an unruly mob that will do anything to get its hands on what it wants," she says, excitedly. "They'll say, 'Show a black kid something he wants, and he'll kill for it.' I think it's racist hysteria, just like the Charles Stuart case in Boston or the way the Bush campaign used Willie Horton."
Lee also says he has heard such panic before. "Everybody said last summer that my movie Do the Right Thing was going to cause 30 million black people to riot," he say angrily. "But I haven't heard of one garbage can being thrown through a pizzeria window, have you: I want to work with Nike to address the special problems of inner city black youths, but the problem is not shoes."
Lee is particularly irate because he has been singled out by New York Post sports columnist Phil Mushnick as being untrue to the very people Lee champions in his films. In Mushnick's April 6 column headlined, "Shaddup, I'm Sellin' Out . . . Shaddup," he sharply criticized Lee for leading the hype. The caption under four photos — one of Lee; the others of soaring pairs of Air Jordans — said, "While Spike Lee watches Michael Jordan (or at least his shoes) dunk all over the world, parents around the country are watching their kids get mugged, or even killed,m over the same sneakers Lee and Jordan are promoting." In his column Mushnick said, "It's murder, gentlemen. No rhyme, no reason, just murder. For sneakers. For jackets. Get it, Spike? Murder."
Lee wrote a response in The National, the daily sports newspaper, in which he angrily accused Mushnick of "thinly veiled racism" for going after him and other high-profile black endorsers and not white endorsers like Larry Bird or Joe Montana. Lee also questioned Mushnick's sudden "great outpouring of concern for Afro-American youths," Lee wrote. "The Nike commercials Michael Jordan and I do have never gotten anyone killed. . . . The deal is this: Let's try to effectively deal with the conditions that make a kid put so much importance on a pair of sneakers, a jacket and gold. These kids feel they have no options, no opportunities."
Certainly Lee is right about that. Elijah Andersen, a University of Pennsylvania sociologist who specialized in ethnography, the study of individual culture links the scourge of apparel-related crimes among young black males to "inequality in race and class. The uneducated, inner city kids don't have a sense of opportunity. They feel the system is closed off to them. And yet they're bombarded with the same cultural apparatus that the white middle class is. They don't have the means to attain the thins offered and yet they have the same desire. So they value these 'emblems,' these symbols of supposed success. The gold, the shoes, the drug dealer's outfit -- those things all belie the real situation, but it's a symbolic display that seems to say that things are all right.
"Advertising fans this whole process by presenting the images that appeal to the kids, and the shoe companies capitalize on the situation, because it exists. Are the companies abdicating responsibility by doing this? That's a hard one to speak to. This is, after all, a free market."
But what about social responsibility? One particularly important issue is the high price of the shoes -- many companies have model retailing for considerably more than $100, with the Reebok Pump leading the parade at $170. There is also the specific targeting of young black males as buyers, through the use of seductive, macho-loaded sales pitches presented by black stars.
"You can quibble about our tactics, but we don't stand for the drug trade," says Dolan. She points out that Nike's fall promotion campaign will include $5 million worth of "Strictly pro-education, stay-in-school" public service commercials that will "not run late at night, but on the same major sporting events as the prime-time ads." Nike is not alone in playing the good corporate citizen. Reebok recently gave $750,000 to fund Project Teamwork, a program designed to combat racism that is administered by the Center for the Study of Sport in Society at Northeastern University.
Nevertheless, certain products wind up having dubious associations — some products more than others. John Hazard, the head buyer for the chain of City Sports stores in Boston, says, "We used to have brawls in here, robberies, a tremendous amount of stealing. But we cut back on 90 percent of it by getting rid of certain products. We don't carry Adidas, Fila, British Knights. Those things bring in the gangs.
"There's a store not far away that carries all that stuff. They have after-hours sales to show the new lines to big drug dealers. They even have guys on beepers, to let them know when the latest shoes have come it. It would be nothing for those guys to buy 20, 30 pair of shoes to give to all their 12 year old runners."
He thinks for a moment. "I don't know if you can really blame the shoe companies for what happens. Not long ago there was a murder, a gang deal, here in Boston. The cops had the murderer, and they were walking him somewhere. It was on TV. The murderer was bent over at first, and then the cops stood him up, and -- I couldn't believe it -- all of a sudden you could see he was wearing a City Sports T-shirt. There's no way you can control what people wear."
John Donahoe, manager of a Foot Locker store in Chicago's Loop, agrees. "Right now, this is the hottest thing we've got," he says, holding up a simple, ugly, blue nylon running shoe. Behind him are shelves filled with more than 100 different model or color variations. "Nike Cortez: $39," he says. "Been around for 20 years. Why is it hot now?" He shrugs, "I don't know."
Assistant manager James Crowder chimes in helpfully. "It's not the price, or who's endorsing it. It's just. . . what's happening."
Keeping up with what's happening has shoe manufacturers scrambling these days. "It used to be you could have a product out and fiddle with it for years, to get it just right," say Roger Morningstar, the assistant vice-president of promotions at Converse. "Now, if you don't come out with two or three new models every month, you're dead."
At home I go to my closet and pull out my own meager assortment of sports shoes -- nine pairs, all told. A pair of ancient turf football shoes, some nubbed softball shoes, a pair of old running shoes, a pair or original, hideous Air Jordans, kept for historical reasons, a pair of Avia volleyball shoes, worn-out, though they were never used for their intended purpose, two pairs of low cut tennis shoes (or are they walking shoes?), a pair of Nike cross-training shoes (though I don't cross-train or even know what it means) in bad shape, a pair of sweat stained, yet still awe-inspiring high top basketball Reebok Pumps, a Christmas gift from by sister and brother-in-law. I pick these up. They are happening.
There are three colors on them, and the words "Reebok Basketball" are stitched in the tongue, right below the wondrous pump itself, colored orange and pebbled to resemble a basketball. On the bottom of the shoes are three colors of textured rubber. And there is an indented section in the heel with clear plastic laid over four orange tubes, and embossed with the word "Reebok Energy Return System." On the back of the high tops there is the orange release valve that, when touched, decompresses the whole shebang.
The shoes haven't changed my hoops game at all, though they are comfortable, unless I pump them up too much and my toes slowly go numb. While I could never bring myself to pay for a pair out of own pocket, I will admit that when I opened the shoe box on Christmas Day, I was thrilled by the sheer techno-glitz of the things. It was identical to the way I felt when, at the age of eight, I received a Robert the Robot.
But can promoting athletic shoes possibly be wrong in a capitalist society? Reebok chairman Paul Fireman was recently quoted as describing the Pump as "a product that's aspirational to a young person" -- that is, something to be desired. He added, if prospective buyers couldn't afford the shoes, "That's the place for a kid to get a job after school." What, indeed, is the point of ads if not to inform the public of products that it may or may not need, but that it may wish to buy? Should we demand that the sports shoe industry be held to a higher standard than, say, the junk food industry? The advertising community itself thought so highly of Nike's "Bo knows" spot with Bo Jackson and Bo Diddley that Advertising Age named Jackson its Star Presenter of 1989.
What are we looking for here, anyway? "Responsibility," say Grigo, the New Haven store owner. "Have Spike Lee and Michael Jordan look at the camera and say, 'Drug dealers, don't you dare wear my shoes!' Put anti-drug labels on the box. I already do at my stores."
"Everybody wants us to do everything," says Nike's Dolan. "It's naive to think an anti drug message on the shoe box is going to change anyone's behavior. Our theme is 'Just Do It' because we want people playing sports, because they'll need more shoes. The healthier people are, the more shoes we'll sell."
Trouble is, young black males -- a significant portion of the market are not healthy right now. In fact 23% of black males between the ages of 20 and 29 are under the supervision of the criminal justice system -- incarcerated, paroled, or on probation. According to a 1989 study in the Journal of the American Medical Association, a black male is six times more likely to be a homicide victim than a white male. Writes Washington Post Columnist William Raspberry: "The inability of so many young black men to see themselves as providers, or even as necessary to their families, may be on explanation for their irresponsible behavior." Marc Mauer, of the Sentencing Project, a non-profit group concerned with disparities in the administration of criminal justice says, "We now risk the possibility of writing off an entire generation of black men."
Obviously we are talking about something bigger than shoes here. Jordan sits up straight in his chair. It's time for practice to start. "I'd rather eliminate the product [the shoes] than know drug dealers are providing the funds that pay me," he says.
Of course drug money is, to a troubling extent, supporting the product, as well as other brands of sneakers and sports apparel. And kids are being killed for them. So what should the shoe companies, the schools, the advertising industry, the endorsers, the media, parents — all of us — do about it?
Do you know? Do you know? Do you know?
—by Rick Telander
This was a Sports Illustrated cover story in 1990.