Chuck Talk Features

Personal Stories and Opinions, Chucks Fashion and Lifestyles, and Chucks in the Media
What's New At

The ChucksConnection

.

New or Updated Photo Galleries with interactive slide shows:



YouTubers Wearing Chucks, Indigo High Top Chucks, Dark Atomic Teal High Top Chucks, Don't Let Me Go (The Between), Life Now, Life Then, Snoop Dogg Wearing Chucks, Sleepy Man Banjo Band, Chucks in the Theater, Sharkskin Grey High Top Chucks, The Clash Black Leather High Top Chucks, Little Kids Wearing Chucks in Ads, Gallery 1, Little Kids Wearing Chucks in Ads, Gallery 2, Older People Wearing High-Top Chucks, Kids Wearing High-Top Chucks, Alternate Lacing Photo Guides, Buff High Top Chucks, Blue Lagoon High Top Chucks, Dusk High Top Chucks, Road Trip Blue High Top Chucks, Burnt Umber High and Low Top Chucks, Apollo 3 Band, Sahara Hot Nights, CTAS Cons Black High Tops, U2, Wiz Khalifa, Wolf Alice, Yellowcard, Vivienne's Verdict, The Wallflowers, Walk the Moon, We the Kings, Tonight Alive, Ed Sheeran, Taylor Swift, The Summer Set, Gwen Stefani, Something Corporate, Squad Five-O, The Sex Pistols, Sturgill Simpson, Simple Plan, Silverchair, Silbermond, Katy Perry, Radiohead, The Ramones, Rancid, The Ready Set, The Record Company, Relient K, Rihanna, Rooney, Rush, Midnight Red, Morningwood, New Politics, Nirvana and Kurt Cobain, One Direction, Rita Ora, Outl4w, Paramore, Album Covers With Chucks, Lana Del Rey, Demi Lovato, Declan McKenna, LMFAO, Little Mix, Kesha, Kaiser Chiefs, Jakubi, Joan Jett, The Jonas Brothers, The Huntingtons, Hoobastank, Josh Groban, Selena Gomez, Fly Leaf, Fifth Harmony, Fall Out Boy, The Donnas, Donna The Buffalo, The Dingees, Demi Lovato, Lana Del Rey, Miley Cyrus, The Cribs, Cold Play, Ciara, Celebrities Wearing Red Chucks, Celebrities Wearing Black Chucks in Films, Celebrities Wearing Black Chucks, The Buttons, Bullet For My Valentine, Bruno Mars, Blondie, Blink 182, Big Time Rush, Bella Thorne, Bastille, Allstar Weekend, 5 Seconds of Summer, Hip-Hop Artists Wearing Chucks, Black and Biscuit High Top Chucks, Meg Myers, Sturgill Simpson, Wolf Alice, Jakubi, Vivienne's Verdict, Sunset Wash Brick High Top Chucks, The Record Company, Breathe Carolina.


New Articles or Stories:





Music Video Reviews:
Do You Love Me, Everybody's Got Somebody But Me, I Hope It Rains, Greatest Love Story, Let's Ride, I Made It, Written in the Stars, Bill & Ted vs Lewis and Clark, P.I.M.P., Young, Dumb & Broke, Kiss Kiss, Loyalty, Dark Necessities, Song To Say Goodbye, Girls @, Higher, Sir Isaac Newton vs Bill Nye, Batman vs Sherlock Holmes, Immigrants, Despacito, Beautiful, Happy, We Love Video Games, Lift Me Up, While We're Young, Movies, Sunday Candy, Wild Things, Big Fish, Tiny Dancer.




Film Reviews:

Ghostbusters (2016), You'll Be A Man (Tu seras un homme), Turbulence, Just Peck, Karla & Katrine, 25 Hill, Dear Eleanor, The Stream, Max, Max 2: White House Hero, The Curse of the Unkissable Kid, A Monster Calls, Tschick, The Muppets, Time Toys, The Great Gilly Hopkins, Teufels Kicker (Devil's Kickers), Aliens For Breakfast, A Dog Named Christmas, If There Be Thorns, Jet Boy, Glasskår. New listings: Different Drummers, Concrete Night, Camp Cool Kids, Mamma o papà? The Wake, Don't Let Me Go (The Between), Life Now, Life Then, The Five, Mean Dreams. Go to the Films with Chucks Index Page.




Articles:

The Legend Never Dies, Chuck Taylor Sequel Flops, Halloween and Chucks, The Chucks Outlook for 2017 has been updated. Go to the Articles about Chucks Index Page.


TV Page Features:

New listings with an article: The Carmichael Show, Sha Na Na, Preacher, Friday Night Lights, Sun Records, Hunter Street, 13 Reasons Why, Drake & Josh, Riverdale, Arrow, Stranger Things, The Get Down. Other recent listings are The Protected (Los Protegidos), Salvation, London Spy, Eyewitness, Freakish, Worst Year of My Life Again, Quarry, Halt and Catch Fire. Go to the Television Shows with Chucks Index Page.

How to Participate in Chuck Talk. Let us know what you think! We are also happy to try and answer your questions and inquiries about chucks, and listen to what you are thinking about. If you have some opinions, information, pictures, suggestions, or an article to submit, just click on the link, How to Participate in Chuck Talk to access our email address.
Back To School Guide for 2017
Back to school shopping is the annual chore that all families must endure during August and September. Luckily enough, the Converse store can be your one stop shop for all your back to school fashion needs. They've got the gear that will keep your wardrobe looking fresh as Picture Day comes around, starting with their T-Shirts. There are many cool and unique styles of T-Shirts available for purchase in the Converse store, such as their Elevated Chuck Patch Shirt. This shirt is the perfect way to show off your love of the classic Chuck Taylor brand for only $25. In just a few months, the cold Fall and Winter weather will set in, and it's best to get your winter clothes now. Two great options available at the Converse store are the Hybrid Bomber Jacket and the Essentials Collegiate Star Pullover Hoodie, each of which cost $80. These two jackets will keep you warm and looking good once wearing just a T-Shirt won't cut it anymore.
Left to right: Converse Essentials Collegiate Star Pullover Hoodie ($80), (Top) Converse Hybrid Bomber Jacket ($80), (Bottom) Converse Elevated Chuck Patch Shirt ($25), Converse Poly Go Backpack ($80), Converse Snapback Hat ($30)
When school starts back up, one of the essentials of your day to day life will be your backpack. A perfect addition to your new ensemble is the Converse Poly Go Backpack. This durable, and stylish pack will cost you $80, and comes in 4 colors: Gray, Black, Navy, and Sangria. This is the perfect carrier to display your love of chucks, as the iconic Chuck Taylor patch is emblazoned on the front. Another great accessory to add to your wardrobe is a snapback hat that goes with everything. The classic Converse Snapback is perfect in that regard, as it comes in White and Black and has just a simple Converse "C" on the front. This simple, yet stylish hat only costs $30.
Top: Converse One Star Classic Suede Low Top ($85); Bottom: Converse Chuck Taylor All Star x Nike Flyknit ($110)
Finally, any new school outfit would be incomplete without a new pair of shoes. A classic pair of Chuck Taylors are always a welcomed addition to the wardrobe, but if you're looking for something new and different there are a few options from the Converse store. The Converse One Star's a perfect low top option for the new year. Available in three colors, the shoe is made of suede fabric, and, as the name implies, has a single star on the side. If you're looking for something new when it comes to hightops, check out the Converse Chuck Taylor All Star x Nike Flyknit. This shoe combines the look and style of chucks with the lightweight breathability of Nike Flyknit technology. Featuring a cool woven pattern, this shoe is available in ten colors. The Converse One Star and Chuck Taylor Flyknit will cost you $85 and $110 respectively. Whether you need shirts, jackets, packs, or shoes, gear up for your return to school with Converse!
Are We All Supposed To Be "Forever Chuck"?
Since early 2017, Converse has been running their "Forever Chuck" campaign through a series of advertisements and YouTube videos. These videos illustrate how chucks in pop culture and in specific cities have helped forge the iconic status of the brand, and show that those who wear it are "Forever Chuck" (We have actually covered the first two of these videos previously here on ChucksConnection.com which you can check out here and here). The finale of this campaign sees this ideal brought together through "a visual collage of the dreams and desires that drive a diverse cast of creative collaborators". This last video focuses on the youth, and how they help shape and define the culture around chucks.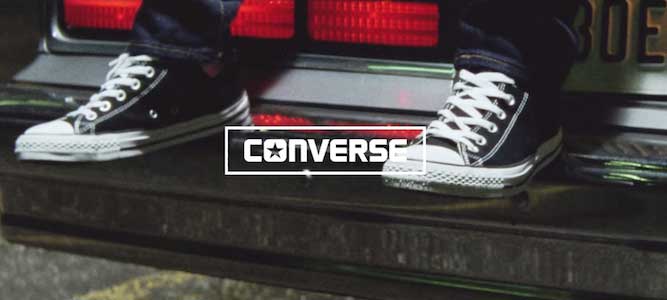 What does it mean to be "Forever Chuck"?
However, this sentiment has left some people feeling excluded, and those people have said that "Forever Chuck" only applies to millennials born in the mid to late 1990's. These people though, are missing the point of the campaign. This campaign is meant to invoke the spirit of youth, not to say that only youth matters. The goal here is not to necessarily exclude the older generation of chucks fans, but remind them of why they fell in love with the shoe in the first place. This campaign is to remind you of those carefree summers in chucks, and the ideas that were dreamed up as you and friends looked to the future. The campaign's goal is to make us all remember and reconnect with that spirit, and never let it go. We should all aim to be "Forever Chuck" because being "Forever Chuck" means that we are forever young and forever free.
Counterfeit Converse
With almost every valuable name brand fashion product on the market today, there are imitators out there who are looking to make a quick buck off another brand's success. Unfortunately, the respected Converse All Stars have fallen victim to these insidious hucksters; some of the fake All Stars are so fake it's painfully obvious, others are so detailed it's hard to tell without close examination. On the more positive side of things, there are a few tell tale signs that give away an imposter. Indeed, like a professional jeweler can spot a fake diamond, you can spot fake chucks by keeping these tips in mind.
First, take a good long look at the packaging. It goes without saying, that if they come in a box that doesn't bear the unmistakable Converse logo, you have reason for suspicion. Next, look for all the little details that give chucks their unmistakable look: their toe caps and racing stripes, their stitching, the circular Converse All Star Chuck Taylor ankle patch on high tops and the embroidered square license plate patch on the tongues of low tops, correctly proportioned diamond-studded rubber toe caps and side walls, and the outer soles have that very distinctive pattern of diamonds, crosses, bars, and dots and another distinctive Converse All Star logo. You should also look for a certificate of authenticity inside the tongues, and a Converse shoe logo on the insoles of the shoe.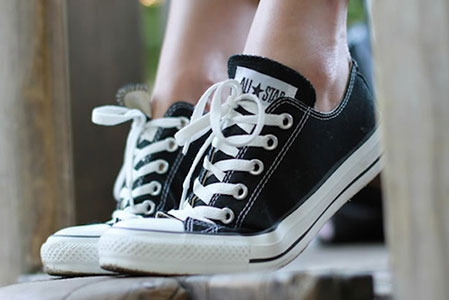 It's obvious which shoes are the real deal and which are the imposters.
You also need to take into account the place you purchased them and the price. If you bought them from a reputable retail store you have nothing to fear. But online shoppers need to be cautious, especially if they were being advertised abroad. As for price, look at the official Converse website and compare the price to the one posted officially. With some vigilance and a keen eye, you can avoid falling victim to those jealous of Converse's success.
Sleek Feet
If standard canvas All Stars aren't quite doing it for you, then a pair of leather ones can definitely up your game. But if you need something even more sleek and flashy, then patent leather Converse All Stars might just be what you're looking for. They have all the qualities that make Converse All Stars what they are known and loved for and more. They take the leather game to the next level with a shiny black finish, that gleams in the light and grabs your attention.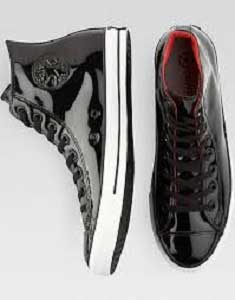 The shiny reflective finish makes these an instant classic.
The normally rubber toe caps are made out of the same shiny black leather, and the ankle patch is replaced by an engraved indent of the patch pattern, like you see on monochrome black high tops. They come in black and white, black bearing the reflective shiny surface and white being standard white leather but nonetheless attractive. These shoes pose the sleek shiny appearance of a pair of fine Italian shoes with their reflective finish, but also display a sense of Converse street-wise style.
For Elegant Use Only
Good condition black Converse All Stars can be worn with virtually any outfit, including a suit and tie. You probably wouldn't want to wear them to a highly formal job interview, but in terms of everyday fashion they're more than acceptable. The regular canvas All Stars are fine just the way they are, but if you're looking to step your style game up to the next level, think about investing in a pair of leather All Stars.
You still probably wouldn't want to wear the leather versions to a high stakes job interview, but just like their canvas counterparts, they break no rules in the unspoken laws of fashion. There's something about leather shoes that gives them the appearance of being upper class, defiantly not snobbish, but undeniably more sophisticated. The shoes are sort of a style dichotomy composed of youthful informality and mature elegance. These styles rarely work together, like wearing a pair of Italian loafers with cargo shorts, but black leather chucks make the unusual combinations of fashion fit together perfectly.
Leather All Stars combine the elegance of fine leather dress shoes with the youthful spirit of chucks.
Aside from their unusual but nonetheless well-designed combination of fashion, the leather All Stars also have much to offer in terms of sheer functionality. Canvas is prone to rips, has a tendency to soak through with water, has a vulnerability to stains and the ink fades. The leather is a tougher alternative, as it is much more difficult to rip. They are by no means waterproof, but are slightly more water resistant as leather is . As for stains and fading ink, leather is far more resistant to staining and fading dye can be counteracted with black shoe polish. If back isn't your color they also come in white, and are sold on the Converse and other websites for $70.
Higher Than High Tops
Punks, goths and other alternative subcultures have included Converse All Stars in their fashion arsenal for as long as these groups have existed. Converse recognized this and produced a version of their legendary footwear that seems to cater to the fashion sense of the females in these groups, with their introduction of the knee high Converse All Stars. This isn't to imply that the knee high chucks can't be worn by people of other social groups, but the punk/goth subcultures seem to prefer them more so than the others. Their appeal to the goth/punk cultures could have possibly stemmed from their previous preferences of knee high leather combat boots. With their existing fashion choices already in mind, Converse fused together the favorite foot of the alternative cultures and produced this half sneaker-half boot hybrid.
As the name implies, these boots go almost all the way up to the knees for most people. They have a zipper located directly above the heel that zips up to the very top making them easier to put on. They come in classic black, white and red. These models are called extra-high or x-hi. The unmistakable star patch, usually located on the inside of the ankle is now located farther up around mid-calf. They are a great choice in terms of fashion especially when worn in conjunction with a skirt or shorts to show off the entirety of their length.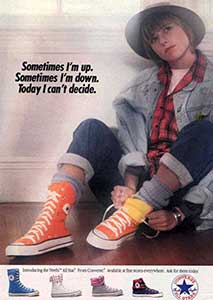 Extra high black chucks; knee high ad from the 1980s.
Knee-high chucks were first made in the USA during the 1980s. The original models had twelve pairs of eyelets that could be laced half way up to your knee. They also had a fold down position, and extra snaps were placed on the sides of the shoe to hold the canvas in place when you laced up in the fold down position. The traditional side patch was placed higher on the shoe, and there was a smaller interior patch in each shoe that was revealed when it was folded down. Many of the models featured a pattern or alternate color interior. Knee-high chucks were revived in 2003 by Converse and have been made in both canvas and leather models, some based on the traditional knee-high and others emulating the monochrome look.
All Star Preservation
Converse All Stars are undoubtedly fashionable and perfectly complement almost any outfit. Unfortunately, they have a tendency to fall apart as a result of excessive use. For many, Converse with faded ink, torn fabric and other tell-tale signs of usage can be considered to be appealing as the damage they bear gives a sense of character and love of the shoes. Even with the charm of well-worn chucks, excessive damage and usage ultimately makes the shoes unusable. But there are a few steps and precautions that can be taken to ensure a long life of service.
First, think about the situation they're being worn for. A walk to class or to the office is well suited for chucks, but for something such as a hike on rugged terrain or an extended period of running like in a marathon, an alternative shoe more suited to the task might be a better choice. This isn't to say chucks aren't up to these activities, they are in fact more than capable, but the stress inflicted on the shoes will almost certainly shorten their duration of use. It's also worth considering what kind of environment they're being exposed to when they are being worn. They were originally designed to be worn on a dry basketball court, so ideally a dry, level environment is where they are best used. Wearing them through water, mud and snow has the potential for future problems such as fading ink. These environments also have immediate damages like mud and dirt staining the fabric and rubber toe caps, and water soaking through the fabric poses the threat of foot odor.
Just a few precautions can make a pair of chucks last for years.
Finally, if you want a pair of chucks to last as long as possible, don't wear them every day. Sure they look good, and sure they're appropriate for almost any occasion, but constantly wearing them will undeniably shorten their life span and leave the wearer with a pair of unwearable shoes. If you can't resist the urge to wear them on a daily basis, try getting multiple pairs. This way, you can enjoy the style of Converse while insuring they live as long as possible.
Knights in Shining All Stars
Converse All Stars have always had an association with many different cultures such as metal heads, punk rockers and the video game community. However, they also hold popularity with a group not many are familiar with: renaissance fair attendees. The renaissance fair aka reenactment in question is an event known as the Pennsic War, and has a population in the thousands, all people at the fair wear medieval clothing from any and all civilizations of the time. While some strive for historical accuracy, a decent amount modern day attire is worn in conjunction, including chucks.
Zarlose, real name Zack Tylor, portrays the character of a Sottish highlander, and in addition to his kilt he wears a pair of grey high tops. When asked how long he had attended Pennsic and how was introduced to the event, he responded "I've been coming here for the past six years, this makes my seventh. I first started getting into it from my roommate who brought a bunch of Pennsic people over for a party and it really sparked my interest." He was then asked why he incorporates chucks into his outfit when many other historically accurate footwear is available, Zack said "Well, I have some half decent boots that fit the time, but chucks are just more comfortable, I mean like it's important to have a closed toe shoe that's not very pricey and you don't have to constantly maintain like polishing and shining my boots."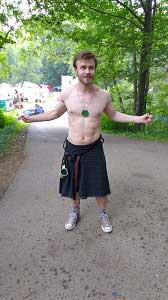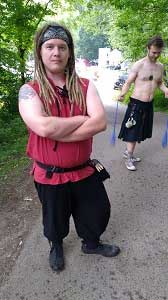 (left) Scottish Highlander Zach strikes an interesting pose in a pair of grey high tops.
(right) This 16th century pirate managed to get a hold of low top black All Stars several centuries before they were invented.
Brody Evens, another patron of the event, has a Pennsic persona that depicts a late 1600's pirate, who wears black, low top All Stars whenever he's not wearing his knee-level brown boots. Brody described his preference to chucks as "They're just easier on your feet compared to those boots, don't get me wrong, the boots go well with my pirate outfit but after a whole day of walking around in them your feet get sore. Chucks are so much more cushioned and have noticeably more support." Even though chucks are a couple centuries out of Penssic's portrayed time periods, the comfort and practicality they provide is well worth sacrificing a bit of historical accuracy.
The Character of Converse
Generally speaking, when shoes are worn to the point where they get rips and holes they are considered ugly and are thrown out, unfit even to be donated to charity. Converse All Stars are a different story entirely, and a beat up pair of chucks can really tie the right kind of out fit together.
Fresh out of the box, chucks already have a distinct retro appearance, so when holes, fading ink and extensive use take their toll, the retro flare to them is amplified. Each rip has a story of a past adventure, the faded and frayed fabric tells a tale of experience. Artwork on the rubber toe caps from a sharpie marker also adds to their charm. All of this comes together and gives the shoes a sense of strong character. It's comparable to a pair of beat up work boots, the more scratches and stains shows work ethic and unique personality.
A well-worn pair of chucks perfectly complements the "grunge" style, and goes incredibly well with a pair of faded and thread-bare blue jeans that are ripped at the knees, a faded band T-shirt and a jacket covered with pins of every shape and size. The late Kurt Cobain is the ultimate example of this sense of style, as well as punk rock in general. The shoes might be beat up, but their state of disrepair shows the love the wearer has for the shoes.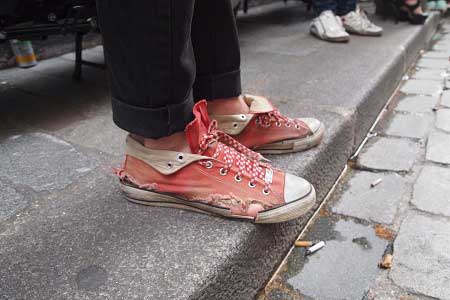 More damage means more character.
It's a sad day when a pair chucks become so worn out that they become unusable, some wearers make temporary repairs with superglue and duct tape to extend usage, but it's only prolonging the inevitable. But even after they are thrown out, a wearer of chucks can take comfort in the fact that, even though the journey of their previous pair is over, the journey of their next is about to begin.
Chucks and Comics
Fans of the DC universe have always expressed the love of their favorite characters and comics through clothing, flat brimmed hats featuring the Superman "S" emblem, black shirts bearing the bat insignia of Batman, and countless pins of characters that cover the upper half of jackets and the pockets of backpacks. Converse heard their cry for the display of super heroes and thus created the limited addition All Stars featuring DC's most popular crime fighters, as well as their super-villain counterparts.
In reference to the recent Wonder Woman movie, this will focus on the Wonder Woman special edition high top. Both sides of the shoe displays a graphic of the most iconic and inspirational heroine in DC's universe. The picture appears to be lifted directly out of the pages of a comic book. On the side bearing Converse's "star" patch, there is a close of her face with her hair blowing in the breeze. The other side features her in a striking, heroic pose with a look a determination on her face and her signature golden "lasso of truth" gripped tightly in her hand. The laces, tongue and under side of the sole are black, the top of the tongue features Wonder Woman's unmistakable winged "W" crest.
Chuck Taylor All Stars featuring the most iconic female protagonist of all time
The Wonder Woman special edition, or any of the DC hero/villain special edition All Stars are a perfect choice for a comic book convention, or just as a way to show a fan's love of a particular character or comic.
New Seasonal Chucks for Summer-Fall 2017
New seasonal color chucks in sixteen colors have just been released. They come in half and whole sizes, and in high top and low cut models. The colors are: Blue (light), Brown (light), Burgundy, Cool Grey, Dark Atomic Teal, Green (pine), Grey (light), Indigo, Lemon, Light Aqua, Mediterranean Blue, Orange, Pink (neon), Pink Pow, Purple, and Sunblush, which is an off-orange color. Usually Converse is more careful/creative in their names for seasonal colors, but they only did so on a few models this time (Sunblush, Cool Grey, Dark Atomic Teal, and Pink Pow). Most of the models with basic names are very light shades of that color, indicated here in parentheses. Eight of the Fall, 2017 colors are re-releases from 2016.
Sunblush and Dark Atomic Teal high top models.
For a complete view of all the new colors in high top and low top oxford models, go to our Shoe Outlook page (always accessible through out About Chucks page. As always, if you see a seasonal color/model that you really like, we recommend you buy it right away. You may not get a second chance.
Athletic Empire
In modern times, the people who wear Converse All Stars are mostly average people who wear them for style. All Stars have a place in the outfit of any cultural group; from rappers to metal-heads. If asked "who is Chuck Taylor?" many will say he was the designer or the original owner of the company.
The truth is, Chuck Taylor was a basketball player who, in 1923, liked the basic design of All Stars so much that he became a spokesperson for the Converse company. This was the beginning athletic empire of Converse, as they gradually became the most popular basketball shoe of all time. In 1932, a patch was added to the ankle of the shoe that bore the name of Chuck Taylor. His continuous work promoting the shoe among basketball players made their popularity even more wide spread. In celebration of the 1936 Belin Olympics, Converse produced a patriotic white high top All Star series with red, white and blue trim. After World War II, the Converse empire still reigned supreme and continued to rise. In the 1950s and 60s, Chuck Taylor All Stars were the shoe of choice for most professional, college, and high school basketball players and continued to be the shoe of choice for the Olympic games.
Chuck Taylor giving a basketball clinic, late 1950s.
Unfortunately this success wasn't destined to last much longer. In 1967, just one day before his 68th birthday, Chuck Taylor died of a heart attack. Chuck Taylor's death also resulted in the gradual end of the Converse empire, as contending athletic shoe companies jumped into the market with new designs and technologies. Although their reign as premiere basketball shoes had ended, chucks were soon reborn as a cultural icon, a status they continue to have today.
New All Star '70 Models Released
Converse has released four new models in their Chuck '70 series of Chuck Taylor All Stars. Two of the models are high tops in Jade with black trim, and Midnight Blue. The other two models are low tops in Sangria, a dark red shade, and Rose, which is a pink color.
Jade and Midnight Blue All Star '70 high tops.
In January of 2014, Converse first released the Chuck '70 series of Chuck Taylor All Star athletic shoes, a line based on the manufacturing standards for chucks in the 1970s. This line of chucks restored of many of the features that were taken out of the shoes starting in the late 1980s for the purpose of cutting costs. They utilize the thicker and heightened rubber sidewalls and toe caps from the chucks of the 50s, 60s, and 70s, all cotton duck uppers, and tubular shoelaces (like the classc line available on this website. Chucks in those days were considered to be the top of the line basketball shoes, and were designed for the rigorous action of the game. A newer improvement is the incorporation of an OrthoLite foot bed to increase wearer comfort and improve support. Several of these new models come with matching shoelaces. For a complete description of the All Star '70 line of chucks see the longer feature in our articles section.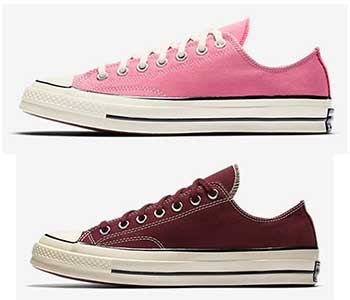 Rose and Sangria All Star '70 low tops.
Beside these new models, the All Star '70 line are available in many of the Converse core colors and are part of the design your own chucks program.
Chucks in Animation
In the world of animation, a character's outfit tends to become part of their identity. Unlike in live action film and television, animated characters often wear the same clothes all the time. These outfits tend to become such an integral part of their character, that they get wrapped into the character design trademarks. This means that animated clothes tend to not have brand logos or insignias, and tend to be very generic. However, this doesn't stop animators from using elements of the brands they know and love, especially when it comes to chucks.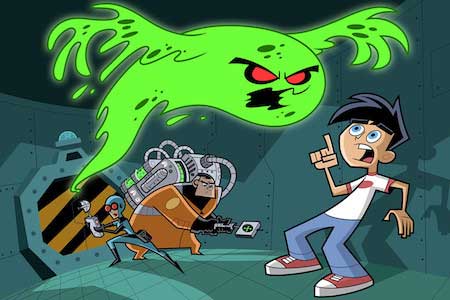 Tina Belcher wears shoes that use the toe cap, laces, and soles of chucks. Danny Phantom's shoes use the chucks toe cap and laces.
Characters like Tina from Bob's Burgers, Sheen from Jimmy Neutron, Danny from Danny Phantom, and countless others all wear shoes that carry the characteristics and features we know from chucks. Iconic aspects of the shoe like color scheme, the ankle patch, the stripe, and the rubber toe cap are often used to convey the appearance of chucks, while features like the logo patch are often omitted. These animators want to use chucks to make their characters relatable. As we covered in our "Chucks In Film Feature with Millie Bobby Brown", characters are often dressed in chucks because the shoe is often associated with the relatable underdog, and those who wear them are characters the audience wants to root for.
Many of the characters from the film Sing! (2016) wear a version of chucks that do not carry the logo patch, but use every other aspect of the shoe.
This sentiment is just as true in animation as it is in live action film and TV, however there are those pesky copyrights and licensing issues. These issues are more prevalent in the animation medium because of merchandising. Animated shows and films tend to be aimed at kids, which means that copious amounts of toys and merchandise are to be created after release. If animators were to draw their characters wearing actual Chuck Taylors with the All Star logo, they'd have to pay to use it on merchandise. The solution to this is to use some combination of the elements of chucks listed above, while omitting others. This bypasses copyright infringement, while still maintaining the look and feel of chucks that characters sometimes need. It's a testament to the brand recognition and iconic look of chucks that even without everything put together, the audience can still know a Chuck Taylor All Star when they see one.
Retro Rock and Roll with John Varvatos
Black high top Converse All Stars have been without a doubt a timeless tradition since 1949. Even with a flawless reputation, a few stylish improvements can make them even better. Cue the John Varvatos split seam studded high top. This series of All Stars retains the overall look and feel of traditional black high tops, but gives more detail and texture with a retro "rock and roll" appearance.
As the name suggests, there are rows of metal studs that connect the seams over top of the heels and on the outsides of the laces, whereas classic All Stars would simply be held together with rows of stitching. The retro rock and roll look is further reinforced by the primary material being leather instead of canvas. The use of leather instead of canvas makes them more durable, reducing the risk of rips and tears. The Varvatos' outsole is also slightly altered with the use of translucent rubber with the unmistakable "All Star" visible on the bottom.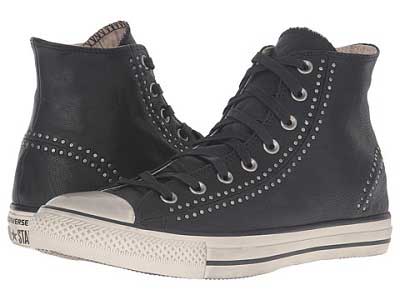 John Varvatos X Collection Split Seam High Tops.
This particular series comes in black for wearers preferring a look akin to classic black All Star high tops. The other color option for those seeking a slightly more modern appearance come in a auburn shade referred to as the "Dark Chocolate" color. Classic black canvas high top All Stars are always a good choice, but the John Varvatos split seam studded high tops provide a look even more retro and "rock and roll" themed. The studded models are only the tip of the Varvatos iceberg. The John Varvatos All Star painted nylon low top offers a similar retro feel to it with a well-worn appearance right out of the box. The John Varvatos Chuck II coated leather high top is another retro-like model with many of the same features as the studded models. These models don't come cheap however, retailing between $110 to $250.
Space Age Shoes
The Converse All Star Flyknit high top series is a fusion of technological practicality in footwear and the undying look of Converse All Stars. These All Stars incorporate everything an active wearer could possibly desire. The basic design is ultra-lightweight and hugs the foot, effortlessly surpassing heavier and unwieldy tennis shoes, they feel as if a wearer isn't wearing them at all. At the same time, the Flyknits provide a level of support equal to bulky tennis shoes, thanks to an interior lining composed of impact absorbing Lunarlon.
Its lightweight and supportive soles aside, the upper Flyknit fabric parts of the shoes really give them the technological edge. Flyknit is remarkably breathable; the air flow to the feet vents off moisture keeping the feet cool and dry which can reduce undesirable foot odor.
The Converse All Star Flyknit High Top.
These shoes also offer more than utility, the style they provide combines modernism with an eternal tradition. They have all the qualifications of classic All Stars: white rubber side walls, the Chuck Taylor "Star" logo, and the basic shape. They take these cherished aspects and add an appearance that looks like they've been knitted, hence the name Flyknit, as well as replacing the solid white rubber toe cap with one made of mesh fused with rubber. They come in a multitude of colors including indigo, green, black, white and many more. All in all the Converse Flyknit All Stars are made for those who seek a shoe that doesn't sacrifice form for function.
The Modern Celebrity
When Converse All Stars were still gaining momentum as a style rather than an athletic shoe, there were celebrities of each generation who wore and made them cool for different subcultures. John Lennon and Hunter S Thompson made chucks cool for hippies. Band members of the Sex Pistols as well as the late Kurt Cobain wore them, and gave rise to their use with punks. In modern times, Converse All Stars have no exclusive associations with particular cultures and been spotted on the feet of actors and musicians from all walks of life.
Snoop expresses his preference for Converse.
Snoop Dog is a modern day celebrity who has a known preference for Converse, as he's worn different styles and colors of high top all stars in music videos, ceremonies and photoshoots. The shoes aren't the only Converse product he's adopted into his style; he's been photographed in hats and shirts bearing the Converse logo. Snoop Dog's preference for Converse would suggest that chucks are now part of the hip-hop style. Other rappers like Kid Cudi and Lil Wayne wear chucks in various photos and music videos.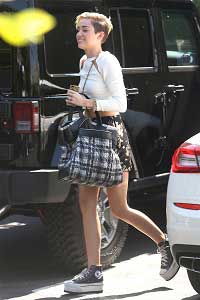 Justin strikes a pose in optical white chucks. Miley Cyrus wearing platform high top chucks.
However, in today's media, chucks are universal. This point is made abundantly clear from the sometimes loved sometimes hated teenage heartthrob Justin Bieber. He's worn them for concerts, music videos and interviews. Despite the public having mixed feelings about him, his appearance in Converse shoes has caused them to be adopted into the style of pre-teen girls. On the topic of young and controversial celebrities in chucks, Miley Cyrus has also been spotted wearing platform black high top chucks, as well as many pairs and colors of regular chucks. Just like Bieber's loved/hated status, Cyrus's controversy is part of her appeal. Many of her fans like to wear chucks. Converse sneakers are now an unmistakable accessory in the wardrobes of many cultures and lifestyles that are the polar opposite of each other. Despite their obvious differences, the one thing they can agree on is chucks.
Stars and Bars
The appearance of the classic high top Converse All Star has strong and long standing associations with each generation of American youth since the 1920's. They began with basketball culture, were mainstream in the 50s and 60s, and were popular with the counter culture in the 70s, 80's and 90's. Today they're seen in almost every fashion subculture. With all of their different cultural associations over the years, it is not surprising to find out that Converse shoes were used by the U.S. military during World War II.
Working out with explosives and chucks.
When America entered the war, the government called upon many major industries to manufacture military equipment for training and combat. Car companies made tanks and airplanes, and Converse began engineering footwear for military use. Their most notable contribution to the war effort was the adoption of high top Converse sneakers as the official military training sneaker, designated as the 50475 series. They were usually worn for physical training, came in white or black and were worn with running shorts and t shirts. The workout routine they were used for usually involved agility-focused physical activities akin to those performed in basketball: running, jumping and other quick paced workout routines. While they excelled in boosting a recruit's maneuverability on the training yard, combat drills called for combat attire with a pair of boots replacing the high tops.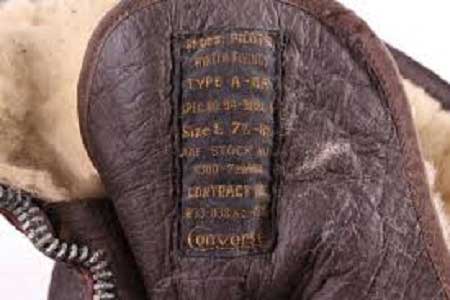 The A6-A series boots along with a close up of their inscription.
Even though the iconic high-top sneaker never made it off the training field, Converse produced another line of footwear in 1944 for aerial combat in the U.S. Army Air Corps. Designated as A6-A series, these flight boots were made of leather with heavy interior insulation. The boots were paired with an electrically heated flight suit, the two provided much needed warmth for Army Airmen in the frigid skies. The A6-A series of flight boot replaced the older A-6 standard model which had a serious design flaw that could have had catastrophic consequences. If the pilot had to bail out and deploy his parachute, the zip-up A-6 standards had a tendency to fall off a pilot's feet from the jerk of the parachute deploying. After parachuting from several thousand feet up, an airman in sock-feet could break an ankle when he lands, or at the very least be trapped in enemy territory without a pair of shoes. Converse fixed this problem with by adding leather straps to the A6-A's design, stopping them from falling off.
Why Do You Wear Chucks?
If asked "why did you start wearing chucks?" many people will say something along the lines of "I thought they looked cool." There's nothing wrong with that response, chucks have been an undeniably cool fashion statement since the 1920s. While some people just wear them purely for fashion, there are those who wear chucks for a more personal reason. Austin Whitehead of Philadelphia, Pennsylvania said "I fell in love with Converse the first time I saw my cousin wearing them and I literally bought the shoes off his feet. This was back in like Freshman or Sophomore year of High School. Ever since then, it's the only brand of shoes I wear or buy, besides work shoes."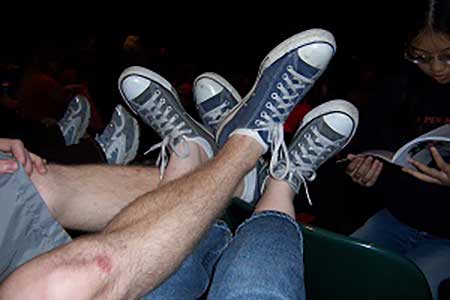 Who wears the chucks in your family?
When Ariana Shields of Fort Worth, Texas was asked why she started wearing Converse, she said "Because my dad wore them when I was a kid — still does but not as frequently." Ariana's father Bradly Shields was then asked the same question, to which he said "I started wearing them in high school. I bought them because they were a good shoe for skate boarding." Other people like Jason Becker of Erie, Pennsylvania, have a less personal role model who inspired their first pair of chucks. Jason said, "Honestly man it was Bart Simpson. I know he's not actually wearing chucks, but they look pretty similar. Anyway, I got my first pair online, part of a special Simpsons edition. They were the ones that have the picture of Bart writing "I will not waste chalk on the black board."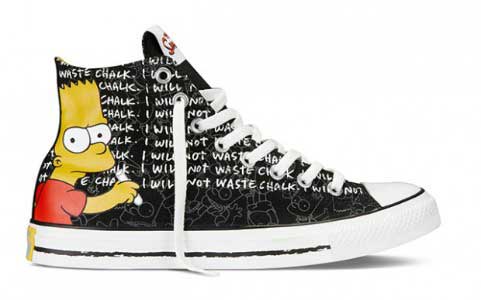 The Bart Simpson black high top.
Lisa van der Lynn of Pittsburg, Pennsylvania also had a fictional role model to influence her purchase. "I never really wore chucks before, I thought they were kind of cool, but they never really stuck out to me. Then I saw some special edition chucks All Stars with Harley Quinn and I just had to have them. I love them so much I only wear them to conventions so they don't wear out."
The Harley Quinn print high top.
Even though chucks are just plain stylish some people wear them for more than mere fashion. Whether it's due to a Converse-wearing family member or a fictitious character, chucks can have a personal touch to them.
Cool for The Summer
It's officially summer, and with the heat comes an opportunity to switch up your footwear. This summer, Converse has got you covered with options for any warmer weather function and festivity. One of those major summertime festivities is the Fourth of July. A holiday that celebrates the signing of the Declaration of Independence deserves the ultimate display of patriotism with the Chuck Taylor Americana. With BBQ's, fireworks, and good times on the docket, no shoe will better show off your love for your country and give you the freedom to have fun than these $60 high tops. The Chuck Taylor All Star has a rich history of being the quintessential American shoe, so there is no better footwear for the Fourth than these chucks.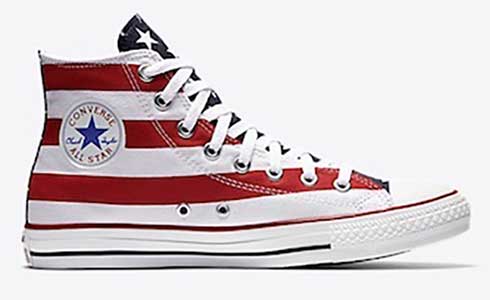 Nothing is as American as a Chuck Taylor emblazoned with Old Glory.
Summer isn't just about BBQ's and fireworks though. It's also about spending time with the kids as they enjoy their summer vacation. That can mean taking them to a thrilling theme park, or just spending a day at your local park. A perfect pair of chucks for either of these fun days out are the Chucks Taylor Looney Tunes High Top. These colorful shoes also go for $60, and contain all the classic Looney Tunes characters you love while giving off a fun summer vibe that your kids will love.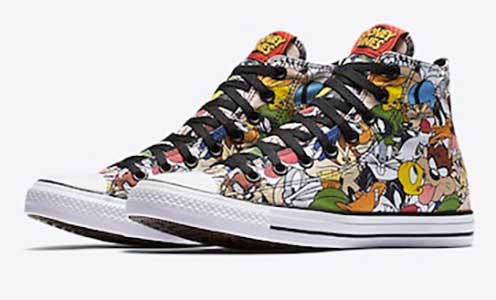 These Looney Tunes chucks are a fun look to rock while spending the summer with your kids.
So this summer, whether you spend your days cooking burgers on the grill, spending time with your kids, or just heading to the beach to catch some rays, there is most definitely no better shoe to wear than the Chuck Taylor All Star.
Converse All Star Tekoa Boots
Converse All Stars are truly an all American classic; there's nothing to complain about regarding their style. They're comfortable, allow greater movement of the foot, and they're reasonably affordable especially when compared to a pair of the latest trainers. These are features that anyone can find appealing about shoes, but like any canvas shoe, Converse All Stars have one major Achilles' heel — water. They might look cool, but their canvas can very quickly get soaked through and make for some uncomfortable walking.
The solution to this problem is the waterproof Converse All Star Tekoa boot. In a genius combination of form and function, these boots keep the basic design of classic All Stars, but instead of being built with water absorbing canvas, they're made of leather treated with a water repellent and thicker rubber soles. These boots are able to keep the elements and the water out while simultaneously allowing ventilation. The tongue is also more stationary and doesn't slide around. The traction has also been improved upon with deeper treads on the bottom of the sole for superior traction regardless of the weather conditions. They are available in three colors: black and white, solid black and black and brown.
Waterproof Tekoa boots combine form and function.
The next time you know you're in for a rainy day, don't worry about choosing between wet chucks and ugly rain boots. Try out a pair of Converse All Star Tekoa boots, and walk through the weather with Chuck Taylor style.
The Legend Never Dies
Check out this new article about chucks in our articles section.
Light Colored Low Top Chucks Are Great Summer Wear
The change from spring to summer involves switching to a practical outfit for the heat. Many choose flip flops or sandals, but if you're looking for something more functional and fashionable, the best choice for you is a pair of light colored, low top Converse sneakers.
In terms of functionality, the low tops outshine flip-flops in pretty much every situation except for going to the beach and swimming pools. But whenever you have to walk long distances, a pair of flip-flops become uncomfortable, they break if the heel gets stuck on something, fall off and are completely useless for running or jogging. Not to mention, it's really easy to stub your toe without a shoe to cover them up. Low top chucks are cool and breathable, the lighter color also assists in reflecting off heat. More importantly, they stay on your feet when you run or jog and they don't break if you catch your heel on something. These chucks are also appropriate in almost every summer social situation you might find yourself in, unlike flip flops; at a bar or night club your toes are going to get stepped on if you're in a pair of sandals, some establishments like restaurants or stores might even have a rule against wearing flip-flops.
Left to right: optical white low cuts, different shades of blue, white high tops at the beach.
In terms of fashion, there is literally nothing that stands out on a pair of flip-flops. Low top chucks have the classic Converse style, a distinct retro appearance that perfectly complements any summer outfit. If lighter colors aren't your style, then the darker ones do the job almost as well while still providing all the fashion chucks are known and loved for. (If you prefer high top chucks, they also can work for you.) When choosing your summer outfit, light colored low tops are always the way to go if you're looking for a balance between fashion, function and comfort. Core colors are optical white and natural (unbleached) white, and there are many seasonal issues in bright and pastel colors appropriate for summer wear.
Good Ol' Boys and Good Ol' Chucks
Chucks have been a timeless fashion statement spanning back all the way to 1920s, when they first gained popularity from basketball player Chuck Taylor. Chucks have stood strong since then, and have been worn by countless people for their athletic value or purely for style. Most of these people are kids, teens or young adults, however, some of the most devout wearers of Converse sneakers are fully grown, fully functional adults. For many of these older converse enthusiasts, they started wearing them when they were young and fell in love with the shoes, and so they continued to wear them well into adulthood.
When asked, "Why and when did you start wearing Converse?" James Shields, 55, of Dallas Texas replied "They were the only thing available, for sport shoes I mean. I was just a kid at the time, it was around 1973 or maybe 74. They were kinda like the Model-T car of the athletic shoes you know? They were like, the first of their kind. Everybody had them, they came in any color you wanted just as long as that color was black or white." Carl Barry, 43, of Altoona Pennsylvania responded "Dude I can't even remember when I got my first pair. It was like mid 1980-something. I don't even know. My first pair was the white high tops, I wanted them in yellow but the store didn't have them in stock, so I took a can of yellow spray paint to them. When the paint dried, they got all stiff and rigid. For a little while, I thought they looked really cool but after some time the paint began chipping off and I left a trail of paint chips everywhere I walked."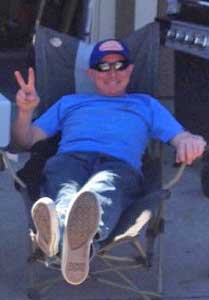 James Shields and other baby boomers still like to wear chucks.
When John Ullman, 47, of Altoona Pennsylvania was asked, he responded with a more personal answer. "Aw man I remember the EXACT day I got my first pair of Chuck-Ts. It was 1980 and I got them for my 10th birthday. At first I was mad, I mean, what ten year old kid wants a pair of shoes for their birthday? But they really started to grow on me. A ton of the other kids at school wore them too, and it made me feel like fit in. Since then, when a pair wears out I immediately get new ones. I dunno, I guess they make me feel like a kid again." While the younger generations wear chucks like they're a new fashion statement, the old timers are truly the ones who know what's up. They weren't even the generation who started the Converse craze, but they did pass the torch to an eager generation of millennials.
Dancing in Chucks
Most people wear Converse purely for fashion, or for their athletic value. However, a pair of chucks have more to offer than just sports and style, they are also outstanding dance shoes. Think about it, they are so simple, yet very robust. Essentially, they are like ballet shoes with a rubber sole, allowing greater movement of the foot and toes inside the shoe and thus better balance.
Elizabeth Rankin, a ballet dancer, revealed exactly why she wears chucks while dancing. "Chucks are more rigid than normal ballet shoes, the rubber parts in the front are have much more support and its way easier to go on point. The fuzzy parts on the [inner] sole allow you to slide around too. Almost everyone in my 12th grade ballet class used them for practicing, then switched to our normal shoes for performances." Converse now even makes a couple models of low cut ballerina Chuck Taylor All Stars.
A high top chuck paired with a traditional ballet shoe.
Break dancer Ross Kirby, described how he incorporates chucks in his dance routine. "They're really light on your feet, you know? Not bulky and awkward like a pair of tennis shoes with that super thick sole, they're flat and level. The felt on the soles makes it easier to preform things like the moonwalk, or really any move that involves a lot of foot work."
Break dancer wearing chucks for his performance.
Be it ballet or break dancing, a good pair of chucks can do it all. With their light weight, felt inner soles and foot-freeing design, they can help a ballerina go on point or help a break dancer moonwalk.
Chucks in Cuba
Cuba has had an antagonistic history with the United States due to its embrace of Communism during the Cold War. Many Americans viewed Cuba the same way they viewed the Soviets; hostile and ready to launch a warhead at any given moment. However, since the Cuban Missile Crisis ended, Cuban-U.S. relations have slowly healed, and now U.S. tourists are allowed to visit.
Jody Shields and her daughter Lizzie recently visited Cuba, and were surprised to see that Converse Chuck Taylors, even with their distinct American design, are quite fashionable in post-Cold War Cuba. "I first noticed Converse in a shop window close to the market," Jody explained. "The shop was pretty high end, selling fine leather hand-made handbags, chucks and other shoes. When I went inside the shop was completely empty aside from the cashier. I think this shop was meant for tourists since the prices were so high." After seeing the chucks for sale, they began noticing chucks all over the place. Many of the chucks seen were worn by tourists, mostly Americans, Germans and French. All of them were younger people in their twenties, but a few locals wore them as well.
A pair of chucks are quite pricey in Cuba.
One of these native Cubans in Converse was Renee, a tour guide at Ernest Hemmingway's house. According to her, "The young people love Converse, but they are impossible to afford. I got mine from saving the tips I make." Due to their high cost, those who wear chucks treasure them and regard them as the height of fashion. With the Cold War over, American culture has slowly worked its way into Cuba along with the tourists. Sure the Cubans might have been our bitter rivals, but through tourism, our American culture and even our chucks have found their way into Cuban life.
New Summer Chucks for Kids
Kids love wearing chucks from a very early age, and Converse has issued some fun new models of chucks for the upcoming summer months. Before we look at the new models, let's take a minute to discuss what is actually meant by chucks for kids. These are released in three size types, chucks for infants and toddlers (sizes 1C-10C), little kids (10.5C - 3Y) and big kid/youth (3.5 - 6Y). The C refers to a narrow width shoe meant for small feet, and the Y is for youth sizes, sometimes referred to as pre-school, slightly wider but not yet the D width, which is the standard width for chucks in adult sizes (2-17 US). You can download sizing charts and sheets to determine the proper size for your kid if you are not sure. The longest foot length is 9 2/3 long for a youth size 6. Your child would normally switch over to adult sized chucks by the time he/she is in middle school, if not before.
The most popular models of chucks for kids are the same as for adults, in the perennially popular core colors. For little kids black, navy, optical white, red, and pink high tops and low cut chucks are available in toddler, little kid and youth sizes. In 2017, summer seasonal issues for kids include their Americana collection which has a number of flag based patterns in high and mid high models. Like core chucks these are unisex in design and come in little kid and big kid sizes.
Simple Step Americana high top, Americana Street mid high top.
Another pattern out this summer is called the gamer camo print high top, which is meant for boys but could also be worn by girls.
Black and bright blue Gamer Camo Print high top.
Gamers Love Their Chucks
Now more than ever, the video game community has reached a momentous population and practically has its own culture. It's so massive that the subcultures within the main video game culture have formed rivalries with each other. Be it Xbox vs PlayStation, Call of Duty vs Battlefield, Team Fortress 2 vs Overwatch, or Mario vs Sonic the gamers of this generation has always found ways to get into heated arguments on online forums.
Despite this, there are still a few things all gamers can agree on, and style is one of them. Thick rimmed glasses, and video game themed clothing and jewelry are typically part of any gaming enthusiast's wardrobe, but more so than these are a pair of Converse. If you go to any Video Game convention, EB Games or any Game Stop, you'll very likely to find at least one person wearing a pair of chucks.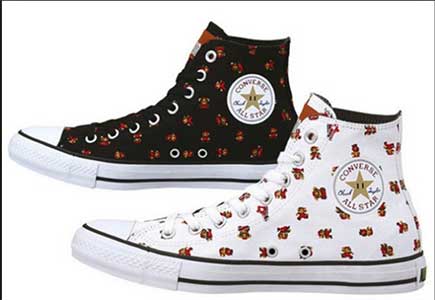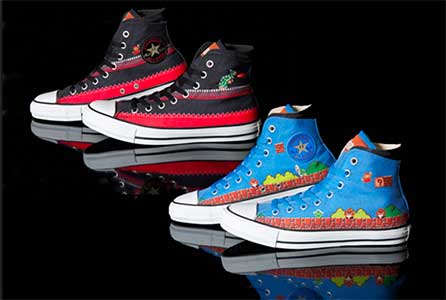 Some models of tribute chucks for the 25th anniversary of Super Mario Brothers.
When it comes to why gamers choose Converse, it really depends on who you ask. For some, they wear chucks because the characters in their favorite games also wear them, such as Zoey from Left 4 Dead or Father Gregory from the Half Life series. For others, they choose Converse because of the connotations chucks have with the geeky/hipster sides of style. In fact, it's probably safe to assume the majority of Converse owners wear them not for the athletic propose that they were originally designed for, but purely for their style. And hey, can you blame them?
Chucks and Cargo Shorts
When it comes to warm weather fashion for men, there isn't much to talk about besides cargo shorts, tee shirts, and a pair of chucks. Regrdless of your footwear preferences, cargo shorts are the pants of choice these days for men. While some don't consider them fashionable, cargo shorts are comfortable to wear and practical because you can carry everything you need in the variety of pockets. Cell phone, wallet, keys, glasses all have their place in a pair of cargo shorts so you are not stuck having to carry anything else and everything you need is right there with you.
Cargo shorts with grey, classic black, and optical white high top chucks.
In places where the weather is warm most of the year, you see guys of all ages wearing nothing but cargo shorts most of the time. Certainly it is their preference. Pair them up with a tee shirt and your favorite pair of chucks and you have a winning combination.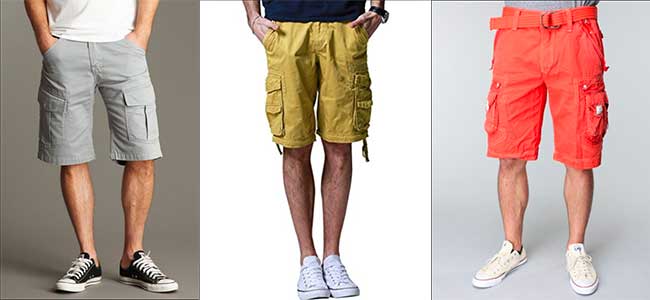 Cargo shorts with black, white, and natural white low cut chucks.
Although many like to wear their chucks without socks in the summer, if you do a lot of walking, wear socks. A basic pair of quarter high socks works well with high tops and no show socks worn with low tops protect your feet and will be more comfortable. This is certainly advisable if you are breaking in a new pair of chucks. The low profile of these socks allows you to show plenty of leg, basically the same look as with no socks. You can see that look in the gray high top (white quarter) and natural white low top (black no show) images above.
Channeling Creativity with Chucks
Correspondent Connor Shields writes: The way I see it, a pair of chucks has always been a way to express yourself. They stand out from say, a pair of Air Jordan's, because chucks have that distinct retro look to them which has remained unchanged since their creation in the early 1900's. Even with their unmistakable design, wearers of chucks take it upon themselves to make them more personalized, myself included.
With my first pair, I saw the white rubber toe-caps as a blank canvas begging me to draw on them with marker. I let my imagination run wild, inking them up with video game logos and emblems such as the Left 4 Dead "hand" logo, the Fallout title, and the tri-force from The Legend of Zelda. This is embarrassing to admit, but I also drew on my chucks to cheat on my French 101 final in high school; I wrote French phrases on the white side walls and toe guards as a cheat-sheet on my feet. I totally got away with it too, as quoted from the Shawshank Redemption, "how often do you look at another man's shoes?"
For others, a pair of customized chucks was a way to express one's interest in music; such was the case for my friend Kirk: "So I can remember exactly when it was, what color they were, and why. At that point in my life I was going to concerts all the time. The lead singer or guitarist of one of my favorite bands at the time, Escape the Fate, had them. I marked up my first pair with a BRIGHT neon orange marker. I wanted everyone to see I had them. Used them for everything from practicing the moon walk for a play to wearing them in mosh pits. They were so worn down by the end they were almost nothing besides strips of neon orange fabric and duct tape."
Monochrome black high tops with an added Americana design.
For me, I marked up my current pair of chucks with Americana designs. I did this to remind me; no matter what country I go to, no matter what path I walk, no matter how far from home I am, I can look down at my chucks and remember who I am and where I call home.
Wearing Chucks With A Suit?
We all know that a pair of chucks is great footwear for any casual occasion, and for many people that includes going to school or work. For some, that desire to wear their favorite high top or low top chucks extends to formal wear, a suit, or even a tuxedo. This change in attitude has taken place over the past twenty years or so to the point where you can regularly see advertisements of adults and kids wearing business suits with brand new pair of chucks, something now considered hip and fashionable. There are also many reports of weddings where the entire party is decked out in tuxedos and matching pairs of chucks.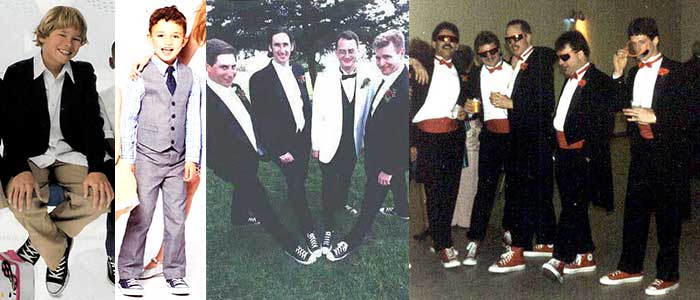 Ads showing kids wearing suits, wedding parties wearing chucks with formal wear.
Where did trend come from? Going back in time to the 1990s, two examples come to mind. Filmmaker and comedian Woody Allen was up for an award at a formal presentation ceremony, and he wore the standard black and white tuxedo with a pair of brand new black high top chucks. The reaction at the time was, here is Allen making another funny commentary. But when you look at it, the crisp art deco look of a pair of black high top chucks — with its black canvas uppers and racing stripes contrasted with smooth white outer foxing, toe caps, stitching and shoelaces — is a perfect match to the black tuxedo jacket, trousers and cummerbund, starched white shirt, and black bow tie. Another such moment was when we saw Disney CEO Michael Eisner in a three piece suit kicking back at his desk and putting his feet up, wearing a pair of black high tops, as part of his introduction to the film The Computer Wore Tennis Shoes.
These celebrities look great wearing chucks with suits.
With today's trend of wearing sneakers all the time gaining in popularity, you will continue to see more adults wearing them with business and formal attire. As adults have footwear choices, wearing chucks with a suit has to be a conscious decision. However, it doesn't make a lot of sense to wear a fine looking suit with an old beat up pair of chucks, so the expectation is that your chucks look brand new, or close to that. If you want to sport this style, but don't want to run out and buy a brand new pair, there are a couple of ways to make a worn pair look brand new. Get yourself some Star Cleaner and use it to restore your toe caps and outer foxing to a clean state. If your shoelaces have gotten dirty, replace them with a new pair. This upgrade will cost under $15 and the cleaner will last for many cleanings of your favorite pairs of chucks. Many celebrities like this look, so why not join them?
Style of a City
Correspondent Marcus Angelo writes: Can a city have an identity? Can it have its own look, its own style? To answer this you have to ask yourself what you see when you hear the name of the city. New York. Chicago. Paris. London. Los Angeles. Now what was it that you saw? Was it a famous landmark, perhaps a sports team? When I think of L.A., the first thing that comes to mind is the people. It's the people of every neighborhood and city in the L.A. area, from South Central to Hollywood, from Malibu to the Inland Empire. The people of L.A. are like none I've ever met before. Their attitude, heart, and style is completely unique, and it's that last facet of style that is so iconic, and so indelible to the culture of the city that it is the topic of discussion for today.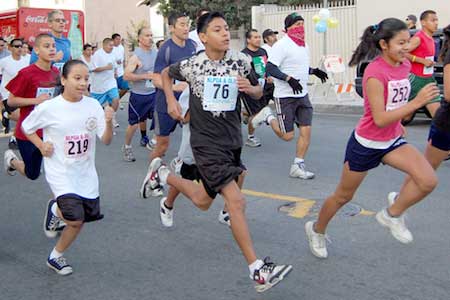 Runners participate in a marathon in East L.A.
When I say "L.A. style", what do you first think of? Is it the style of a surfer on the beach in Malibu, or that of a boy trying to make a living in Compton, or maybe that of a celebrity in Beverly Hills strolling down Rodeo? The L.A. style is so unique because of how it's an amalgamation of all those parts of L.A, and that in turn lends it to be extremely versatile. Chucks are undoubtedly the perfect shoe of this look as they fit every subculture in the city. The laid back feel of surf culture, the attitude of the inner cities, and the trendsetting of the rich and famous all come together in this one shoe. You are just as likely to see a surfer in Huntington wearing chucks, as you are to see a celebrity in Calabasas wearing a pair. The shoe was made famous by hip-hop artists like Snoop Dogg, N.W.A., and Ice-T as the shoe of Los Angeles' inner cities. One could say that L.A. is to cities as to what Chuck Taylors are to shoes.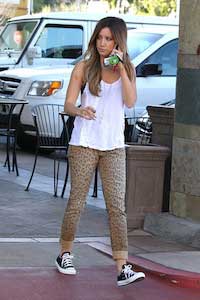 (l) Celebrities like Ashley Tisdale wear chucks daily in Beverly Hills.
(r) A breakdancer wears chucks performing in front of a crowd at Venice Beach.
The L.A. style isn't just one style, because L.A. isn't just one kind of city. L.A. isn't just a beach town, or just a sky rising metropolis, or a rich suburb. It's all of those things and more. It's a booming port, a manufacturing hub, the music capitol of the world, the home of art and culture, the place where the brightest minds go to study, and where the hardest working of us all go to make a living. The L.A. style is like the city of L.A itself: it's everything you could ever want and dream of. It takes parts from every culture, from every person, and adds to one unique experience that the city as a whole, can call its own.
The LA Style
Artist Spanto wearing a pair of red chucks.
Los Angeles has a reputation for creating some of the biggest and brightest stars in entertainment. At its core though, what is LA's own style? It's real style, not the one created by Hollywood or the perception of what LA is. Vince Staples, Spanto, and Jordan Clarkson let us get a peek at what makes the LA style and how chucks play a big role in that in a new video from Converse's Forever Chuck series.
Vince Staples' classic black chucks.
Vince Staples is a rapper from Long Beach, California, Spanto is an artist from Venice, California, and Jordan Clarkson is a Point Guard for the LA Lakers. They all share a deep connection with LA and its image. Spanto and Vince speak on the pride they have for their city and their community. They say that everyone not from LA wants to dress like they're from LA. Spanto talks about how clean a Chuck Taylor is, and Vince says that it's a necessity and part of everyone's everyday wardrobe in LA. The best line from the video and the one that sums up the chuck mentality of LA is that "you can wear chucks to the beach, and you can wear chucks to a funeral". Clarkson offers the viewpoint of someone who adopted the style when he moved to LA, after he was traded from the Washington Wizards to the Lakers. Spanto closes with saying that his and Vince's aesthetic is very Los Angeles based because they "were born and raised there". The video is a perfect example of why chucks are such a culturally significant shoe. They've become integral to the identity of a whole city, and it's that identity that has made them one of the most recognizable shoes in the world.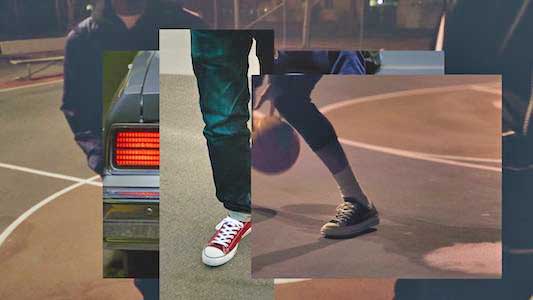 Chucks are an integral part to the LA style.
Millie Bobby Brown on Chucks in Movies
As part of their Forever Chuck social media campaign, Converse has enlisted the help of Millie Bobby Brown from the hit Netflix show Stranger Things (where she herself wore chucks) to cover the impact of chucks in film. We're shown many characters throughout film history wearing chucks. These include Marty McFly from Back To The Future, and Allison from The Breakfast Club. Brown starts out by saying that "when you see a movie character in chucks, you know they're doing their own thing," and this sentiment is echoed by the chosen characters highlighted as both Marty and Allison are rebels who their own thing.
Millie Bobby Brown tries on some red high top chucks.
Millie also speaks with costume designer Stephanie Collie about how the styling of a movie character happens and what type of character she would put in chucks. She says that she would put a character in chucks if they're the underdog, if they're the one we, the audience, are supposed to root for. Collie says that because the costume is meant to help the audience identify with the character, and to give a glimpse as to what their dreams and desires are. This is why chucks are the perfect show for the underdog. They're the shoe of the underdog dreamers who we should root for.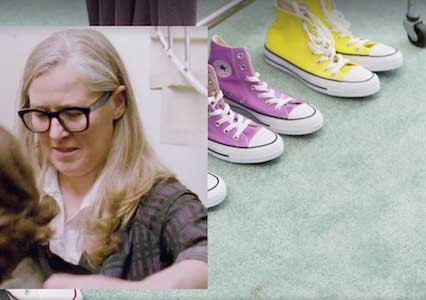 Stephanie Collie and a selection of brightly colored chucks used in her costume designs.
Brown also talks about how it's the collaboration between the actor and costume designer that brings a character's look together, and the look is what really helps an actor truly become a character. They close by saying that the character isn't really complete until the shoes are on. The video is relatively short at just under two minutes long, but it gives a cool insight into the creation of a character's look, and how chucks play a big role in defining a character's personality.
Millie watching a movie in black chucks.
A House of Chucks
Correspondent Thomas Bragg writes: "As a guest in someone else's home, usually you first greet your host or hostess, or perhaps comment on the interior decoration. In my house, there's a different sequence of events. When we have a guest or a visiting family member, the first words they often say after stepping through the front door are, "Whose cute Converse are those?"
"Chucks have been a staple in my household for generations. My father wore them when he played basketball as a teenager in the 1970s. Eight kids and four decades later, chucks have remained in the family. When I became a teenager, I fell in love with the ease and comfort of chucks, but also with their classic yet forward-thinking style. It wasn't long before they were a regular part of my wardrobe, and my siblings can attest to a similar fondness for the brand. That's how, even as we've all grown beyond our teenage years, you can still expect to see at least one pair of chucks in the entryway by the door.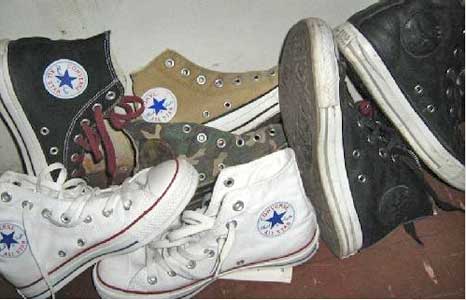 How many pairs do you have by the door?
"The prevalence of chucks in my house reflects how the brand itself has persisted across generations ever since its inception. Not only do chucks continue to stand the test of time, but they continue to pervade several aspects of society, including music, fashion, and pop culture. This level of industry dominance is indicative of a loyalty toward chucks that extends well beyond just one household (despite the fact that my family insists we are Chuck Taylor's biggest fans)."
Our New Music Videos with Chucks Page
Our collection of reviews about music videos that have chucks in them has now expanded to such a point that it was time to separate them from the Musicians Wearing Chucks page. So a new page Music Videos With Chucks has been designed and posted on our site. You can access it from the Home Page shoelaces link on the upper left, or from the Musicians Wearing Chucks page. As we are rapidly approaching one hundred reviews, it was time to organize things a little better. Now you can access the reviews by title, listed alphabetically, and by genre, listed alphabetically within each category.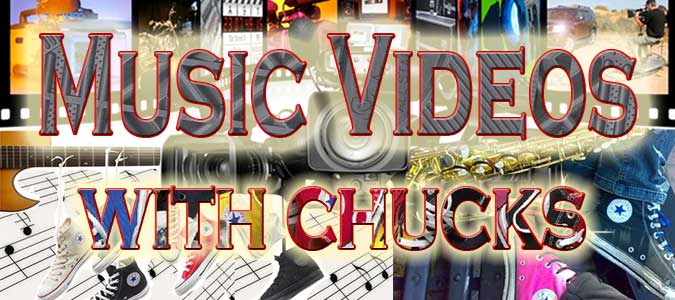 Title graphic for the Music Videos With Chucks page.
Another nice feature of the new music video page are all of the section graphics. Besides the title graphic you see above, graphics were made for letter of the alphabet in the song title section and for each genre like hip-hop, rock, and pop/dance in the style section. Each graphic is made up from photos of music tribute Chuck Taylor shoe releases that celebrate various bands and artists who wore or were associated with chucks. The association of chucks with popular music styles is now an acknowledged part of our culture, and still continues today.
Converse to Introduce the Chuck Modern Shoe Line
Converse will be releasing their latest attempt to redesign the Chuck Taylor shoe starting in late February. This time their plan is to reach the Generation Z market with a series of expensive, high end sneakers, along with more moderately priced versions of this new line called the Chuck Modern. The first releases will feature the Lux, an all leather premium model, featuring embossed leather and a phylon foam sole, and priced between $130 to $140.
Since the release of the somewhat ill-fated Chuck Taylor II last year, Nike, the owners of Converse, have replaced key Converse upper management with executives from Nike. When the Chuck Taylor II was first released, sales were very good, but within a few months sales had tapered off, and by the end of the year Chuck IIs were on closeout at many retail stores. This was first reported by Bloomberg News last September, and now a new article by Chantel Fernandez posted on the Business of Fashion website talks about Converse's strategy for another new line of alternative chucks. For both articles, The ChucksConnection was asked for commentary as to why the Chuck Taylor II didn't resonate with consumers over the long run. Our response was based on two things: price and unnecessary design changes. Or, "if it ain't broke, don't fix it." (Click here to read the Bloomberg article. Click here to view the Business of Fashion article.)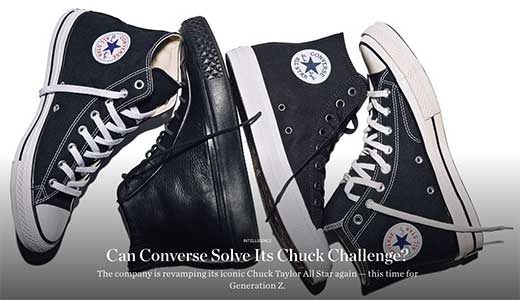 Four models of Converse black high tops: Current Classic, Chuck Modern Lux, Chuck II, and Chuck '70.
With the Chuck Taylor being their most successful product, and by far their largest revenue stream, Converse treats this product line like a Hollywood movie franchise — keep making new releases of the same thing. But upper management still doesn't seem to understand that the Chuck Taylor is successful because people like the way it already is, a lightweight, relatively inexpensive sneaker with a eye-catching art deco look that has been considered cool for generations. You have to wonder why they keep trying to mess with such successful design. Yet they continue to do so at their own peril. Their whole concept that every new line of shoes has to somehow relate to the Chuck Taylor is insulting to the memory of Chuck Taylor the man. What he did for the company was incredible while he was alive, and the design he developed still resonates today. But unfortunately he passed in 1969, so how do any of these new designs actually relate to him?
So Converse/Nike, our advice is to leave the Chuck Taylor All Star alone. It doesn't need to be continually reinvented. Consumers have over and over again proved you wrong when you tried to do this with the All Star 2000, the Chuck Taylor II, and other models that are not true Chuck Taylors yet are sold under his name. If you really want to do something for the original Chuck Taylor line, preserve its quality and design while figuring out a way to lower the price. The look of today's core chucks should be the standard along with the use of materials from chucks manufactured in the 1960-80s. Make chucks with the canvas and rubber quality of the Chuck '70, but you don't need to revert to the higher glazed foxing and very narrow lacing bed that the Chuck '70 has. Keep the current design for classic chucks of the toecaps, thinner racing stripes and foxing, and continue with the current 1990's style stitching without the third piece of canvas. If you want to add the lunarlon insole add it, but don't raise the price another ten dollars. Instead of trying to make every new shoe release somehow a version of the Chuck Taylor, be brave and issue your new lines of sneakers on their own merits.
Our New Cartoon Series
We invite all ChucksConnection visitors to enjoy our new cartoon series. Each month a new cartoon will be posted with a humorous look at the world of chucks and the people who wear them. For February we take a look at a love-struck young couple who met in the checkout line at a Chuck Taylor sale. You can find the cartoon by going to the monthly cartoon link on the home page or on the Books and Comics With Chucks page.
Enjoy our ChucksConnection cartoons.
We also invite you to view our other cartoon feature, The Chucks Life comic strip series which has over forty issues, and the ninth book in the Hunter & Holmes Mystery Series, Senior Year, which is a full color graphic novel. These can also be accessed from our Books and Comics With Chucks page. These days we can all use a little humor in our lives.
Converse Custom Pastel Collection
Converse has just announced a New Pastels for Spring line of custom made Chuck Taylor sneakers. All the models available must be custom made, which means you would pay $75 per pair for adult sizes and $50 for little kids sizes. Models you can choose include the standard canvas high and low top Chuck Taylor All Star for men, women and little kids, the shoreline slip-on for women, and the regular low top slip-on for men. Some of the colors to choose from include pure platinum, egret, khaki, dust pink, barely orange, lemon haze, and fiberglass. There are also more solid colors similar to what is available in the 2017 Fresh Colors issue discussed below. Custom designed shoes can also be made with print design uppers, with choices of dot, line, camouflage, star, and zebra pattens.
The start of a barely orange high top design.
If you want a pastel color but don't wish to pay the extra $20 for a custom design, you can always purchase one of this year's Fresh Color models which retail for $55. No matter what your preference is, you always have a lot of color choices when you want to buy a new pair of chucks.
Chucks Footprints: A Summer Abroad
Correspondent Carolina Ibarra writes: "A European summer abroad left me with tons of memories, tan lines, mosquito bites and a roughed up pair of well-loved chucks. Across the world and across cultures, wherever I went my chucks followed. They were worn down from long walks down countless airports, faded by the warm Italian summer sun, and weighed down by the salty water of the Mediterranean Sea. They were lined with the residue of summertime adventures abroad. Whatever I lived, my chucks lived it with me.
"The languages changed and the cultures transformed as I jumped from country to country. When the sun was rising over the horizon for me, it was setting back home. I was halfway across the globe a 10-hour flight away from everyone I loved and everything was different, but the chucks on my feet remained as my little piece of home. I had worn converse through the summer for as long as I could remember. The setting was different, but my shoes were the same; they fit so easily into this new world.
"Many people frame their awards or pictures or certificates for the nostalgia. I'm thinking of framing my chucks. They remind me of the time I missed my train and made an Italian friend (whom I couldn't understand) while I stood around waiting for hours until the next one. They remind me of the melting ice cream dripping all over them on hot, sunny afternoons. Now that I've returned home, I look down at them and relive my adventures.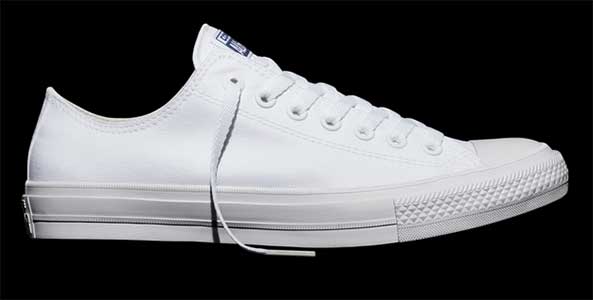 "So, dear chucks, where shall we go next?"
The Power in The Laces
Correspondent Marcus Angulo writes: "In the summer of 2003, when I was only eight years old, I saw an old picture of N.W.A. on a documentary about hip-hop. I had just recently fallen in love with the music, which hit a certain nerve in me that other music couldn't. Hip-hop struck me at my core, and made me a believer of the spoken word. I looked up to rappers like 2Pac, Eminem, The Notorious BIG, Jay-Z, and N.W.A. like they were gods. So when I saw this picture of the world's most dangerous group, and they were all wearing Chuck Taylors, you can bet I was sold. I had to have a pair of these if I ever wanted to be like them.
"That summer I saved up my money from doing odd jobs around the neighborhood, and bought a pair of black and white high top chucks. They were the first pair of shoes I ever bought on my own, and that fact was very important to me. In keeping with the do-it-yourself nature of hip-hop, I wanted to get these chucks on my own. The first time I laced them up, I felt so powerful. I blasted "Straight Outta Compton", and ran around my room singing along, feeling like I could do what they did. This moment is where I started down the path of a career in music.
"In my brand new chucks, I wrote my first song. I wrote more and more, everyday trying to get better. It's been 13 years since I first bought that pair of shoes. In those 13 years, I have lived a lot, and written even more. In that time, I made the decision that music was what I wanted to do for the rest of my life because that feeling that I had the first time I wore those shoes, where I felt like an All-Star, was one I never wanted to give up. I'm now a 21-year-old about to graduate from Cal Poly Pomona with a Bachelor of Arts degree in Music Industry Studies, and you can bet that on graduation day that I will be wearing my Chuck Taylors. I wouldn't be here without them."
Fresh Colors for 2017 Announced
Converse has come out with nine new seasonal colors for 2017. They include Sunset Glow, which is a salmon color, Camo Green, a very grey looking color from the photos, Menta, which is a bright green color, Yellow, the return of a seasonal color from before, Soar, this year's version of a bright royal blue, Light Olive, which is a very faded green with tinges of light gray, Hyper Orange, a bright orange color similar to neon orange, Fuchsia Glow, a very light purple color, and Shark, which is dark grey. The colors are all listed as unisex and come in whole and half sizes. All colors come in both high top and low top oxford models. This year's colors do not include anything in a red shade, brown, or off white.
Hyper Orange is one of the new seasonal colors for 2017.
There are a number of seasonal models from 2016 that you still can purchase. Most of these colors will be on closeout soon. Go to our Shoe Outlook page to see the new and older seasonal colors.