Conversation and commentary from people who care about chucks.
New or Updated Photo Galleries with interactive slide shows:



Black and Biscuit High Top Chucks, Meg Myers, Sturgill Simpson, Wolf Alice, Jakubi, Vivienne's Verdict, Sunset Wash Brick High Top Chucks, The Record Company, Breathe Carolina, The Donnas, U2, Rush, Switchfoot, Malt Light Brown High Top Chucks, Chili Paste Red High Top Chucks, Yellow Chucks, Wearing Foldovers, White Graffiti High Top Chucks, White Leather Jewel High Tops, White Low Cut Chucks, Worn Black High Top Chucks, Yellow Chucks, Victorian Blue High Top Chucks, Vintage Grey High Top Chucks, Tattoo High Top Chucks, Teams Wearing Chucks, Tearaway High Top Chucks, Trashed High Top Chucks, Trashed Low Cut Chucks, Tri-Color Chucks, Tropical and Nautical Print Chucks, Sassafras High Top Chucks, Ads for Chuck Taylor Shoes, Ads for Shorts with Chucks, Simple Details High Top Chucks, Socks With Chucks, Stencil Chucks, Red and Black 2-Tone High Top Chucks, Red High Top Chucks, Red Clay High Top Chucks, Red Foldover Double Upper High Top Chucks, Red Low Cut Chucks, Red Stonewashed High Top Chucks, Red, White, and Blue High Top Chucks, Rock and Roll High Top Chucks, Royal Blue High Top Chucks, Royal and Red 2-Tone High Top Chucks, Hand Painted or Tie-Dyed High Top Chucks, Patchwork Chucks, Plaid Chucks, Pink Chucks, Product Red High Top Chucks, Puerto Rico Frog Flag High Top Chucks, Purple High Top Chucks, Purple and Gold 2-Tone Chucks, Olive, Brown, and Camouflage Double Upper High Tops.


New Articles or Stories:





Music Video Reviews (now all are mobile friendly):
Can't Stop The Feeling, Shut Up and Dance, All The Small Things, When You Look Me In The Eyes, Baby It's You, It Will Rain, Call Me Maybe, So Far Away, The Walker, All Summer, Senile, All About That Bass, Fancy, La La Land, Warrior, Check Yes, Juliet, Banga! Banga! Baby I, Ocean Avenue, One Foot, Crush on You, 1985, Dance, Dance, Do Ya Thing.




Film Reviews (now all are mobile friendly):

Home Invasion, Charlie St. Cloud, Graduation. Enter the Dangerous Mind. Night Shift, American Hero. Glory Road. Like Sunday, Like Rain, The Raid 2, Freedom Writers, Dummy, Death of a Superhero, Cirque du Freak: The Vampire's Assistant, The Road Within, Safelight, Scout's Guide to the Apocalypse, Halloween (2007 remake), The Father of Four Series. Flipped, Smitty.




Articles (now all are mobile friendly):

Halloween and Chucks, The Design Your Own Chucks article has been updated. New Marketing Strategies for the Chuck Taylor is updated, Chucks in Sports, Chucks on the Ground, The Outlook for Chucks Page is updated for fall 2016 issues.


TV Page Features (now all are mobile friendly):

New listings include Mutt and Stuff, Les compagnons de l'aventure, School of Rock, Lost, Teen Wolf, Ash vs. Evil Dead and Mighty Med. Article about Continuum. Article about Teen Wolf. Article about The Thundermans. Article about Perception.

How to Participate in Chuck Talk. Let us know what you think! We are also happy to try and answer your questions and inquiries about chucks, and listen to what you are thinking about. If you have some opinions, information, pictures, suggestions, or an article to submit, just click on the link, How to Participate in Chuck Talk to access our email address.
Patriotic Chucks
Ah, Memorial Day, a most American of holidays. Like the Fourth of July, many Americans utilize this patriotic holiday to get out and enjoy the best vacation spots our country has to offer. From Lake Shasta to Las Vegas, to the beaches of Southern California and the wilds of Yosemite, thousands of people will celebrate this holiday across the nation. Yet many often overlook the fact that Memorial Day is not only a holiday of celebration, but of remembrance. Not only is Memorial Day a time to celebrate our country, but it is also to remember those who have paid the ultimate sacrifice in the defense of the United States. For chuck fans, many have observed this holiday by sporting a pair of patriotic chucks. Whether its the American flag style or camo, here are some patriotic chucks to help you celebrate our country.
Classic American Flag
A long time classic canvas seasonal model, Stars and Bars chucks are a fitting way to show your patriotic side. Featuring the bars on the side and the stars down the tongue, when sporting these, there's no doubt about your feelings towards the United States of America.
Stars and Bars high top.
Starry Eyed
For those feeling like going a little more expressive with their patriotism, the classic stars chuck is a great idea. Featuring the original canvas upper with a blue backdrop and star pattern, the red tongue line and white bottom perfectly compliment the colors of the flag.
White stars on blue canvas high top.
Camoflauge
For those looking to honor our military in style, the Converse One Star '74 camo is the shoe for you. Featuring a military-grade camo upper designed by Brookwood Companies, this low top model is designed for look and performance. As part of the First String collection, this model is proof of high quality American craftsmanship and a fitting tribute to our fighting men and women.
One star low cut with camouflauge upper.
ChucksConnection Is Becoming Mobile Friendly
With an increasing amount of our web traffic coming from mobile phone users, it was time to make The ChucksConnection more mobile friendly. Our pages had all been redesigned in recent years to accommodate tablets; now it was time to do the same for mobile phones. There were some pages on the site that just wouldn't make the transformation without seriously comprising their look and content. For those pages we have created mobile friendly alternate pages. You will see a Mobile Friendly Version link at the top of a web page if that is the case. Our home page and many of the shoelace pages fit into that category.
Most of our pages could be modified without changing their basic look so we have done that. This page, ChuckTalk, is an example of that. Readers on desktop, laptop, and large tablets will notice the bigger font sizes and simpler table layouts, but none of the content has been compromised, and the newer layouts are still space efficient. Due to the very large number of content pages on this website, it will take a while to redo all of our pages. But over the next several months the transformation will be completed.
Because many of the articles are long and detailed, you may wish to read them in landscape view, by turning your phone sideways. This is preferable to OS reader views, which leave out things on the page, and the font sizes are the same. Whatever your device or viewing preferences, we hope you will continue to come to The ChucksConnection for information and features about chucks.
Converse Pride Collection
The many Gay Pride parades, which take place in cities across the globe, are one of the defining characteristics of the LGBT movement. Held year round, with many of the larger ones in cities like San Francisco and New York taking place during the summer, Pride is an event for the entire LGBT community to come together and celebrate who they are. For decades, the rainbow flag has been one of the strongest symbols of Pride and the LGBT community. The newest addition to the Quick Strike collection from Converse celebrates Pride and the LGBT community with the new Pride Collection.
The Converse Pride high top features a rainbow print upper, and rainbow dyed outer soles.
The highlight of the collection is the Chuck Taylor All Star Pride. Featuring a unique woven rainbow/white upper with a rainbow license plate and aglets, the shoe is a fitting piece to celebrate in. There are also a multitude of color combinations fitted to the high and low top silhouettes. Those include a black rainbow splatter hi-top, white splattered low top, rainbow/black starry high top, and two water color rainbow/white chucks in both low and high models.
Furthermore, the collection includes custom chuck options for anyone looking to design their own pair of pride chucks. Three t-shirts are also available. One is a traditional Converse t-shirt with rainbow font, and the other two feature the slogans "Thanks for Coming Out" and "Proud to Be."
The Chuck Taylor All Star Missoni '70
With shoe fashion, if you're not evolving, you're going to be left behind. If you're serious about your shoe game, one needs to be constantly keeping up with new trends and styles, and making sure your collection is fresh. With chucks, one of the great things about them is the versatility Converse produces. With new chuck lines and collaborations, they're not reinventing the wheel, just making it better. The Chuck Taylor All-Star Missoni '70 line combines classic chuck style with cutting edge Italian fashion design into a shoe sure to add a massive boost to your shoe game.
The first highlight of the Missoni '70 line is its use of the chuck 70's design, which features a higher rubber foxing, and larger toe-cap. Using a modern twist on that design, these chucks get their designer flair from premium Italian knitwear company Missoni. These chucks feature an all knit upper in three distinct color patterns. Eclipse combines mainly turquoise and blue, Forest Night with red, brown and orange, and High Rise is a mix of orange and grey. The all-knit upper is quite the diversion from the canvas designs most chuck users are accustomed to, but it allows for some truly eye-catching color patterns.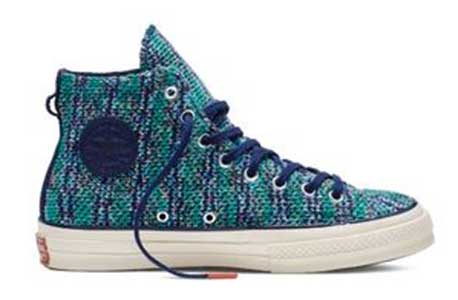 The Converse-Missoni Eclipse high top.
In addition, there is a low top model not a part of the 70's design but also in collaboration with Missoni. This low top model comes in a pattern labeled as "Auburn/Egret/Black." Furthermore, the Chuck Taylor All-Star x Missoni is an earlier collaboration model and features two low top models aptly titled Egret and Auburn as well. The only downside to the Missoni '70's is their hefty price of $200. Seeing as they're apart of the "First String" Collection, which are a luxury line designed to highlight craftsmanship, the price is no surprise. If you've got some good coin to spend and are looking for an extremely unique pair of chucks, give the Missoni '70's a serious look.
The CONS CTAS Pro
One of the many great things about chucks is their versatility. While originally designed as an athletic shoe (with basketball being the sport of choice), the shoe has been adapted and redesigned for a multitude of purposes and styles. Chucks are used as weightlifting shoes, art canvases, and are the everyday footwear of regular folks as well as rock and film stars. Chucks also hold a place as classic skateboarding shoes. While the Converse company was slow to see the potential of the skateboarding market, other companies such as Vans have long catered to that market. Converse's parent company, Nike, has lately been developing a strong position in the skateboarding market. Although chucks hold a place in the pantheon of classic skate shoes, technology has seen that place slip. However, that's changing with the CONS CTAS Pro line.
The CONS CTAS Pro high top.
Combining cutting edge skate performance with the classic look of the high or low top Chuck Taylor, the CONS CTAS Pro strikes a perfect balance. Featuring heavy canvas or suede uppers, traction rubber, a Lunarlon sock liner, gusseted tongue, and metal eyelets, the CTAS Pro is a great modern skate shoe. It's lightweight and still utilizes the traditional rubber toecap and flat sole.
The CONS CTAS Pro low top.
The CTAS Pro comes in canvas black/white and grey/white low models and a black/white suede high top model. In addition, there are leather Jason Jessee signature models featuring details inspired by the skater's black Tibetan motorcycle. The Ripstop models are made from the same fabric used in hot air balloons and parachutes. This warm weather model comes in high/low tops in charcoal for the highs and herbal or "my van is on fire" orange for the lows. If you're a chucks fan who loves hitting the skate park and are looking to step your game up, these shoes are the ones for you.
Spring/Summer Chuck Fashion: The Festival Look
Correspondent Jack Hunter gives out some fashion advice for the coming warm weather: Is it a music festival or a celebrity fashion show where there happens to be live music? Coachella might be labeled as a music and arts festival, but fashion seems to be the biggest part of the two weekend event. The Coachella Valley Music & Arts festival has become a cultural icon and the basis for a new spring/summer style: the festival outfit. Party hippy, part hipster, part gypsy, and maybe a mix of a few more things, the festival style has become a new fashion trend not only for dusty weekend concerts but also for the warmest months of the year. While having a breadth of ways to go about pulling off the festival look, one item is a staple across whatever you're trying to wear: a solid pair of chucks. Like with many style trends, a good pair of chucks goes a long way in topping off a killer outfit. Here are a few examples of both successful and not so successful ways to pull off the festival look with your favorite pair of chucks.
Winner look 1; loser look 1.
Winner: Here's a warm weather look that works great both at a kick-ass festival or a nice Saturday stroll along the beach. Sported by Zach Braff of Scrubs fame, this simple look utilizes a crisp pair of navy blue high-tops to perfection. Color coordinating with some cut-off navy jean shorts, sweet socks and a simple charcoal t-shirt, this look is stylish in its easy simplicity. Combining warm and cool colors is a great way to keep with the warm vibes of summer, and a clean pair of chucks always tops the ensemble off. This outfit can work in a variety of color combinations as well.
Loser: While Amber Rose looks great here, she's not the focus of this lost cause. The fella on her right is sporting an outfit almost insulting to be wearing with a pair of chucks. Rose utilizes the handle or nickname "Muva" in a variety of media platforms, and it appears to have jumped into fashion as well. While the dude on the right is sporting a clean tee with the name, the outfit on the right is just too much. This provides a prime example of the kind of ensemble NOT to rock chucks in. Something this loud is a bit much not only for a music festival (even by Coachella standards) but for any situation. Note to wearer, chucks go with something a bit simpler or not as uniform.
Winner look 1; loser look 1.
Winner: When rocking a pair of chucks to compliment an outfit, keep in mind that simpler is usually better. While there are definitely chucks out their that speak to bold, utilizing a classic pair usually isn't a bad decision. Like here, with Louise Roe, a fresh pair of white high tops provide the finishing touches on a great look. Paired here a nude colored top and some classic jean shorts, Roe's chuck finished outfit is on point. Again, it lands both at and outside a festival. The sun hat and olive drab jacket don't hurt either.
Loser: Chucks can certainly work with loud, or even out there type outfits. However, this is not one of them. From a color perspective, things work here. Soft greys and white go great together, especially in warmer weather. However, the gypsy pants look isn't a great one on guys, and is a bit overused in general. Had the fella here gone with some dark pants or even rolled up jeans, things would be better. The chucks he's rocking are great, but are wasted by this faux-hippy look. While it may land at Coachella, something like this will get you some odd looks out on the street.
Chuck Strong
Some people who wear chucks to the gym give us their thoughts:
"They're flat footed so [chucks] are great for squats and deadlifts," weightlifter Thomas Murray said, "the chuck 2's have a super comfy sole and they look great." So they have both style and functionality.
Ryan Purcell, another Bay Area resident very much into fitness, had additional reasons that were even more enlightening. "Not only are they stylish but the chuck 2.0 mids give me more stability in my ankle for a wide range of movements," he said. "The 2.0 has a new Nike insole making it softer and more responsive while maintaining a zero drop for essential compound lifts like squats and deadlifts."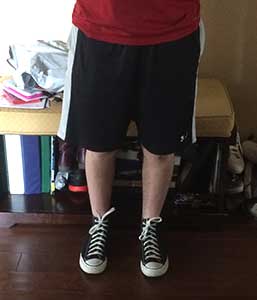 These black high tops are a great workout shoe.
Chucks have been the choice of athletes for many decades so it shouldn't be a surprise that chucks work well in the gym. Correspondent Jack Hunter decided to try wearing his pair of black high tops for a couple of workouts. "My doubts and worries were quickly swept away, much to my surprise. From a functional standpoint, I actually enjoyed my chucks much more than the Nike training shoes I'd been using for years. The flat rubber sole gave me much more stability during all of my lifts, especially during my leg workout. While I used original chucks, I found the flat sole to be great for squats and leg presses. The other workout I did involved chest and triceps lifts, and the high tops gave me great footing as well. Additionally, the ankle support was great. I had never had a problem by wearing low top trainers, but having the tight support of my high top chucks was a nice bonus. Plus, they do look great in the gym also. All in all, I was very surprised and pleased at how great of workout shoes chucks are. They offer great ankle support, stable footing and a different style to rock in the gym. I don't plan on using them doing much more functional workouts, as I've attended a few concerts and music festivals wearing chucks. If you're looking for a great shoe to simply lift in, chucks are a definite recommendation. I'm excited to have a new footwear option when I hit the gym, and am glad to have found another great reason to sport my chucks."
New Shoelace Color Available
The ChucksConnection has added a new color to the classic shoelace collection available through this website. The color is Hunter Green, a sage green color that you now can get in 45 inch, 54 inch, and 63 inch lengths. This dark green color provides a nice contrast to color and seasonal plain color chucks, and looks especially good on pattern print models like camouflage. Go to our classic shoelaces pages to order a pair. You can find those links on the Home Page or by using the Flat Athletic Laces links at the bottom of any feature page.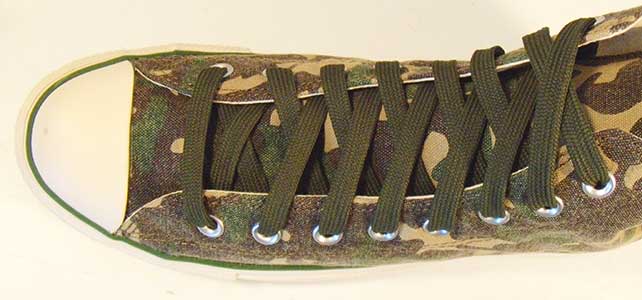 Hunter green shoelaces on a faded desert camouflage high top chuck.
New Styles for Kids
As a kid, we all hated shopping. Well, maybe some of us. But many of us can remember being dragged to the grocery store or the mall to shop for things we could've cared less about. Unless it was the toy store or a Gamestop, this writer wasn't a fan of the mall. But one thing we did all like to shop for, and still do, are shoes. During our childhood, that meant finding an awesome pair of light up sneakers, themed shoes, or Heely's if you were the coolest kid on the block. Today those shoes might not be in the now, and the current kid's market is basically a reflection of the adult sized models. With that in mind, Converse has recently come out with two new kid's chuck models designed to appeal to both style and youthful creativity.
The first of these new models is the Chuck Taylor All-Star Paint Splatter. Coming in both the low and high top models, the All-Star Paint Splatter features the Converse express yourself denim. These new kicks sport an "edgier" look to the classic chuck design. More than that, they give a great worn look to the classic chuck model, and the denim styling is a great touch.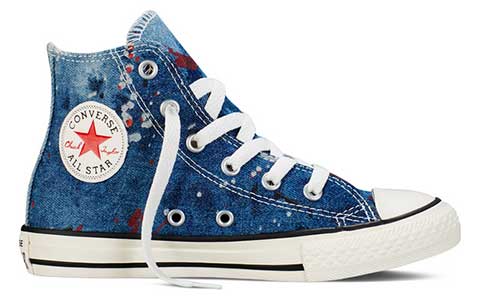 Inside patch view of a painted denim "express yourself" high top for kids.
The second model featured is Chuck Taylor All-Star Loophole. These low top chucks feature a loom tongue pattern and two sets of laces. These allow for a myriad of lace patterns to be weaved to the hearts content. These chucks come in a variety of bright, vibrant colors including Mouse, Ambient and Spray Paint Blue, Plastic Pink, and Powder Purple. Black is also available. These chucks are great for kids who love to wear their shoes just a little differently.
The Purple Powder Loophole low cut comes with white and purple shoelaces.
Getting Out In Your Chucks, Part 2
Springtime is here and now is the time to get out! With the weather heating up, it's time to bust out those favorite pair of chucks you've hidden from the cold and wet. Last week, we talked about some of the best music festivals in the country to hit in a sweet pair of chucks. For this week, there's plenty of walking involved and maybe a little music, but also a whole lot more travel. Traveling to one of the world's best walking cities is another way to spending a great time in chucks.
Sure, you can travel anywhere in chucks. But if you're looking to maximize your time spent in you favorite pair of shoes, cut down on transportation costs, and get the most out of a trip, these places should be at the top of your list. Our first choice is the Big Apple, New York City. With its world famous subway system and the bustling island of Manhattan, NYC is a perfect city for anyone looking for a lot to do in an immediate area. From the vast myriad of restaurants and nightlife, to amazing museums and the incredible Central Park, New York is great to spend more than a few days traversing on foot. Another city featuring a great public transportation system is the city of Paris. With some of the most famous museums and attractions in the world, unparalleled restaurants and beautiful architecture, the city of light is a treat to experience on foot. Like New York, it's highly recommended not to drive in and the metro system is fast and easy to use. Depending on where you stay, there may be dozens of things to do, places to eat and drink at, and other activities all within walking distance.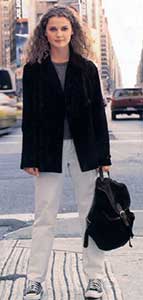 Take a stroll through New York in your chucks.
Other great cities include London, Tokyo, and Rome. Most major cities across the world are great for walking around, yet for some reason American urban gems are much less accessible on foot. San Francisco is tightly built, yet the drastic changes in elevation and weather can make it a hassle. A few block stroll can be turned into a rapid ascent up a few hundred feet of pavement. Los Angeles is well known for its traffic, and that's because not a lot of people walk. If you're looking to soak in all of LA, a car is all but mandatory. But wherever you go, now is the time for a stroll in your chucks.
RIP, Mark
Dandre writes us: "I have been a fan of your website for many years, my best friend turned me on to chucks several years ago and I have worn them every day. I read a story you had posted a couple of years ago about a guy that lost his son and he made sure his chucks were on him at his funeral. It's been a year since I lost my best friend. It's been extremely hard to talk about it, but I have finally gotten to where I can without crying my eyes out. He was a young guy, in his mid 30's. He was a vibrant guy and loved his chucks. His name was Mark.
"Mark was diagnosed with cancer and he just could not beat it. He told me that he wanted to be buried in his chucks. I spent the last few days of his short life with him.. He had a pair of red high tops that he just loved — well worn but still had lots of life left in them. In the last days, he asked me to put his chucks on him as he lay there slowly slipping away. I put them on him and it made him smile. He stayed with us two more days then passed away with his chucks on.
Dandre took this picture of Mark wearing his red high tops in his final days.
"At Mark's funeral the pallbearers all wore red chucks. He was laid to rest wearing a Converse hat, red converse t-shirt, jeans and his red high top chucks. It was an open casket, so everyone had a chance to see him in his Converse best; he would have loved it. He's gone now but wearing his chucks forever. I am wearing a pair of red high tops right now… I love my chucks! When I go, I'll have a pair of chucks on too. Just wanted to share that story with you."
Thank you for sharing, Dandre, and rest in peace, Mark.
Getting Out In Your Chucks
With the weather getting warmer and the sun staying out longer, there are more and more ways to enjoy your favorite outdoor activities while rocking your favorite pair of chucks. For this series, we'll be presenting some of the best things to do this Spring and Summer while wearing chucks.
For the first part of this series, one of the most popular options is to attend your favorite music festival(s). With April approaching, festival season is about to kick off with the legendary Coachella Valley Music and Arts festival. Taking place in the palm dessert of Indio, California, Coachella has it all. From EDM to hip-hop, and indie to classic rock, Coachella is the true proper kickoff to a summer of great festivals. Being that Coachella fashion has become a genre of its own, chucks are a great footwear option for any outfit. Given the lightweight options of low tops, and the great style of high tops, chucks are an excellent choice for any festival.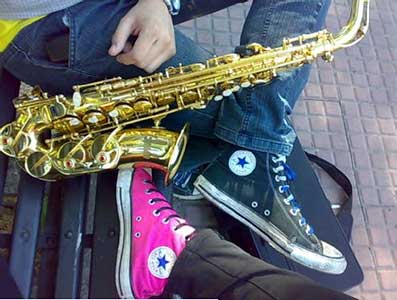 No matter where you go to hear music, chucks rock!
Other popular festival choices include Lollapalooza in Chicago, Bonnaroo in Tennessee, Las Vegas' Electric Daisy Carnival (EDC), and San Francico's Outside Lands. Besides the heavy hitters, there are also plenty of smaller festivals that are great as well. One highlight is the Sasquatch Music Festival at the picturesque Gorge Ampitheatre. Located right on the edge of the Columbia River Gorge, The Gorge features one of the most breathtaking views you will find at any concert venue in the world. Seeing as it located deep in Eastern Washington, the festival doesn't get as much press as some of the big ones, but the lineups are usually stacked with A-List artists. If you're looking for one of the great natural gems in the US, be sure to lace up your favorite pair of chucks and hit this festival.
Brie Larson Celebrates Her Oscar Win in Chucks
This year's Oscar recipient for Best Actress, Brie Larson, appeared at the awards ceremony in a stunning blue Gucci velvet gown with pink high heels. But afterwards, at the Vanity Fair party for awards recipients, she dumped the high heels for a nicely broken in pair of white high top chucks. Ms. Larson even shared an Instagram photo of herself eating a hamburger while wearing her chucks. We've seen chucks at all kinds of dress up occasions, weddings, proms, symphony concerts. Maybe one day chucks will make an appearance at the actual awards ceremony. It would be a fitting tribute to all the films, as we document on this website, where pairs of chucks are part of the action.
Brie Larson celebrating her Oscar win.
One other fashion note for Ms. Larson. You should get a pair of proper length shoelaces for your chucks, like we sell at The ChucksConnection, so you don't have to wind the excess around the tops several times. It will look so much better and make your chucks easier to put on and lace up.
Converse Sunset Wash Collection
Summer is here! Well, it will be. In two months, hopefully not any longer. Anyways, with March comes college basketball, Spring Break and the promise of sun and warmer weather. While some parts of the country are still a tad chilly, others are warming up as the sun sets a little later each night. With that being said, spring and summer fashions are wanted and being searched for in closets everywhere. If you're looking for some warm weather footwear with a little pop, Converse's Sunset Wash collection is a must see.
Converse Sunset Wash Shoe Models. Top row: Plastic Pink, Thunder, Brick, Motor Pool
Bottom Row: Ambient Blue, Cactus Blossom, Motor Pool, Mouse Slip-on
Taking a page out of the reality of summer, the Sunset Wash collection is designed with the look of well-sunned chucks in mind. Mimicking the look of chucks having spent too much time in the sun, the Sunset Wash color schemes feature faded colors, with a bright, intense pop to them. Coming in Brick, Plastic Pink, Motel Pool, Ambient Blue, and a few other bright color options, the Sunset Wash collection is bold. Yet, it speaks of the sun. The collection of colors can be found in the high/low top models and the low top slip-ons as well. In addition, both a men and women's hoodie are featured in the collection, as well as a women's t-shirt. If you are looking for some pop for your weekend strolls along the beach or vacations in the tropics, the Sunset Wash collection should be just what you are looking for.
St. Patrick's Day
Unless you are Irish (like straight out of Dublin Irish) you don't really celebrate St. Patrick's Day. For most Americans, St. Patty's day is one of the three great drinking holidays of the year. It's a day/night of wearing green, drinking beer with green food coloring, and the one night you voluntarily take an Irish Car Bomb. If you've already got your green shirt, fake orange beard and leprechaun hat, here are a few ideas for some sweet St. Patty's Day chucks to top off your outfit.
Chuck Taylor All Star Lovejoy
If you're from Boston, or always wished you were, these chucks are the fit for you. A green version of the Chuck Tayor 70, the Lovejoy editions were previously only sold at the Converse store on Lovejoy Wharf in Boston. Now, they're available online and a must buy for fans of the city, or just the color green. They come in the aptly named color "Boston Green" and feature a unique red stripe on the bottom sole. The stripe is in celebration of Boston's Freedom Trail, which is a 2.5-mile red line trail that stops at 16 different landmarks central to the history of Boston and the founding of the United States. These chucks are a must-have for fans of the color green, the city of Boston, and history-buffs alike.
The Converse Chuck Taylor 70 Lovejoy high top, inside patch and outer sole views.
Mix It Up
Looking to show your Irish pride and put others to shame for it but don't want to go full-leprechaun? Take the chuck route and mix up a pair of Irish flag colored chucks. Using high or low tops, switch one orange for a green with a friend and rep the flag of the Emerald Isle. You'll be covered on the pinch front, and be able to show some true Irish pride. Curent green or orange Fresh Colors chucks are Rebel Teal and
Take the Custom Route
One of the great things about chucks is the many, many ways in which they can be customized with some pretty legit artwork. Unlike many shoes, chucks can not only be customized through standard means via an online website, they can also be hand customized by artists and others alike. With that in mind, there are some sick Irish and St. Patrick's Day themed chucks on the web. Simply Google search the kind of chucks your looking to add to your green ensemble and your bound to find a great pair out on the web.
Customized green low cut chucks.
Converse Camo Collection
Camo is back folks, as if it never left (it didn't, right?) Whatever your thoughts on wearing camouflage outside of costume parties, Halloween, or hunting, camo is back in mainstream fashion. Particularly popular amongst more urban trends, especially those out of Los Angeles and New York, camo has become a popular pattern amongst celebrities and self-proclaimed fashion bloggers alike. Like all forward thinking fashion companies, Converse has introduced camo to their new line of chucks and clothes.
Left: the Sandy Camo All Star II high top. Right: the Charcoal Camo All Star II high top.
The All-Star II has broken the traditional chuck mold by debuting in new, brighter and bolder colors. That trend has continued with the new reflective camo editions of the All-Star II. Debuting in two styles, sandy and charcoal, the camo All-Star II features a reflective camouflage pattern to compliment it's existing new futures. The Sandy edition features a sand colored base with forest green, black, and brown patterns. The Charcoal one features a black base with slate and standard grey patterns adorning the All-Star II silo. Both shoes run at slightly above the standard chuck price at $80.
The All Star II white camo low top.
In addition, Converse has released a white camo low-top All-Star II model with the collection. This model features a white base with light grey camo patterning. Furthermore, shirts, jackets and a few backpacks make up the rest of the camo collection. If you're looking to add some trendy flair to your closet or shoe collection, this release is a must buy.
The John Varvatos Converse Collection
In the world of men's fashion, John Varvatos is synonymous with a unique brand of style blending high fashion with a rock n' roll flair. His use of a dark color pallet, leather tones, with a flair for the rockstar in all of us make his work timeless and in high demand. Varvatos has branched into the shoe market with his own unique take on the classic Chuck Taylor All Star.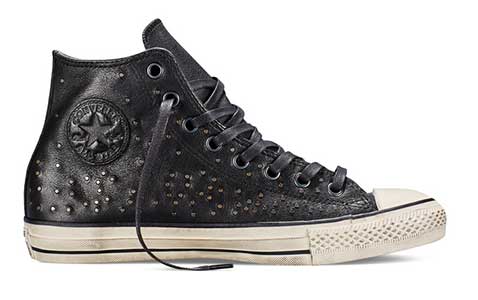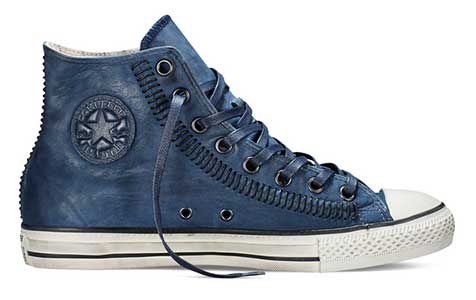 John Varvatos black leather mini stud high top, John Varvatos blue leather stream high top.
The Varvatos collection comes in a variety of styles, designs, and colors in both the low and high top models. Highlights include a painted, double zipper, high-top design with a unique blend of canvas and leather lacing in a deep navy blue. Another includes the slip-on, canvas low top in cream, light gray, and black. A final highlight is the studded high-top, a black leather design sure to bring out the Mick Jagger in anyone.
The John Varvatos metallic zipper high top comes with a pre-worn, spotted foxing look.
This collection is awesome, and definitely a must have for chucks fans. However, you'll have to shell out a pretty penny for these shoes as they run between $100-200. The leather models are the priciest option, with painted canvas high-tops and low-tops towards the bottom of this high-end price line. If you're feeling bold, these chucks are a risk worth taking.
A New Hunter & Holmes Graphic Novel Is Released
The creators of the Hunter & Holmes mystery series have just released the ninth book in the series, Senior Year, Part 1. Author Aiden Vaughan and artists Ricardo Carmona have produced this book as a full color graphic novel. The story starts just after the action of Troubled Waters, the eighth book, as chucks-wearing amateur detectives Jason Hunter & Daniel Holmes are beginning their senior year at Merriam High School. The two friends are hoping to be able to kick back a little and enjoy their senior year with their girlfriends, Laura and Diana. Jason is thinking ahead to the basketball season when he and his teammates will be defending their championship from junior year. Daniel and the other members of his band, Eric, Tim, Nick and Jonathan have a lot to deal with also, finishing a new CD and starting to work with their new management agency. Things move smoothly for a few weeks until Anthony, a student in the school jazz band suddenly goes missing the night of a performance. Soon Jason and Daniel are in the thick of things, trying to find and locate Anthony. This turns out to be just the start of more cases to come. You can read a more complete description of the story and view a preview of Senior Year Part 1 by going to our Hunter & Holmes pages on this website and on the official Hunter & Holmes website. You can also view comic teasers for each of the first eight mysteries in the Hunter & Holmes series of ebooks.
The cover and first page of Senior Year Part 1, pdf edition.
There are digital editions of this grapic mystery for every type of device. For people with desktop or laptops computers or large tablets, the pdf edition is recommended. For readers like the Nook, Kindle or Kobo, smart phones, or smaller tablets the ePub or mobi editions are recommended. The pages have been split in half, so only one line of images is displayed instead two, like you see in the pdf edition page above. The graphic mystery is availble here at The ChucksConnection, on their official website, or from major bookstores. Go to the Hunter & Holmes order page for specific links.
Converse Goes to Gotham City
Batman versus the Joker, perhaps the greatest struggle in all of comics. No hero and villain duo have been more influential, popular, or as dynamic as these two in pop culture history. They've duked it out in comics, television, video games, and Hollywood films. Superstar actors with names such as Ledger, Keaton, Nicholson, and Bale have portrayed the two on the silver screen. Now, if you're both a fan of the DC legends and chucks, you can show your pride on your feet.
Converse has recently come out with three new pairs of DC comics chucks for Batman, the Joker, and his nefarious girlfriend, Harley Quinn. All three pairs are in the classic high-top silo, with two mainly in black and the Harley Quinn edition in a black/white style. The Batman edition features the Dark Knight flying across Gotham with a menacing look in his eye, and the bat signal in the background. The Joker edition feature one side covered in "HA HA HA," and the other with the Clown Prince of Crime's sinister, smiling mug. The Harley Quinn edition features much more subtle artwork, with comic panels featuring both her and the Joker, and Harley in her classic comic book costume.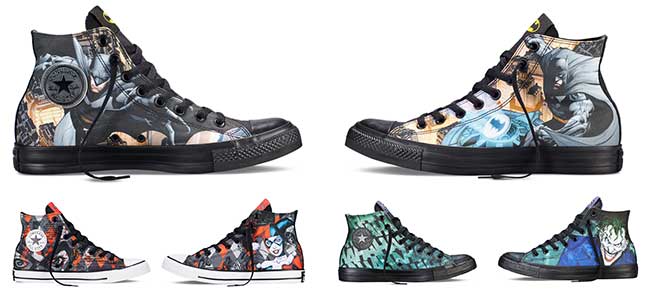 New DC Comics high top chucks: Batman, Harley Quinn, and Joker print high tops.
These three special edition chucks are a must-have for any Batman fans out there, regardless of your allegiance to the Caped Crusader or the Clown. If you're planning on seeing any of the two upcoming Batman influenced films coming out soon, these would be an ideal item to rock. The other good news is that these are available in whole and half sizing.
Chuck Valentine's Day
It's every couple's favorite holiday! Christmas you ask? Nope. Spring break! Nope. It's Valentines Day. That most magical of holidays where love is in the air, romance is unbound and anything is possible. Well, sort of. The old Valentine's Day tropes of chocolates, flowers, and a nice dinner are great but used often. If you and your significant other have been together for a few months, years, or even decades, you may be looking for other ideas. If you're both chuck lovers, here are a few ideas to combine your love for the iconic shoe and each other.
One idea is to spend the day together doing some of your favorite things, and be sure to throw in shoe shopping. Head to wherever you buy your chucks, or plan ahead and do your shopping online. If you feel like it, buy a matching pair together or complimentary pairs. Then, spend the day in your chucks doing some of your favorite activities. Be it hiking, bike riding, skydiving or simply going to a movie, spending time with your significant other and a pair of chucks is a surefire hit.
A Valentine print high top chuck.
If you're looking to wow that special someone with a gift, go with that pair of chucks they've always wanted or even get creative with some custom options. If there's a limited-edition pair they've been dying to snag, surprise them with those special shoes in bed. If you're thinking of asking for their hand in marriage, but want to do something creative, sneak a proposal into your chuck gift or even go bold and have it put on the shoes. While gifts can seem mundane and overused sometimes, a special one dear to your better half's heart is a great way to show your love.
Converse All Star Women's Metallic Line
Let's admit, it can be hard to pick a pair of shoes to wear out. Simple or elaborate? Black or brown? Something new or those good old classics? To make a statement or not? Going bold can be a risk, but if you're looking to do just that, Converse has just the answer.
Converse All Star Brea Metallic Gold High Top.
Recently out is the Converse All Star High Top Brea Metallic line, featuring two of the shiniest and boldest shoes available by the company. Coming in radiant gold and sterling silver, a pair of these is certain to send a clear message out. Foam lining and a padded tongue are added for comfort, but it's the shoe's all chrome design that adds to the WOW factor.
Chuck Taylor Metallic Fur High Top.
If you're looking for something more along the lines of "walk softly and carry a big stick," Converse has just that as well. The traditional high top design is available in a Metallic Suede and Metallic Fur silo that still has plenty of kick. The metallic fur design comes in the traditional high-top silo but with a gold fur sheen on the exterior. Metallic suede features a leathery, chrome silver exterior with a white stripe along the outside of the laces. For a more rock star look, Converse has a John Varvatos Metallic design that can take any look over the top.
Fresh Colors for 2016
Converse has announced its line up of new Fresh Colors for 2016. Fresh colors are made on a seasonal basis, and only in whole sizes. For 2016 a few colors are repeated, burgundy (which used to be a core color), beach glass light blue, gloom green, and lemon chrome. Fresh colors normally include alternate shades of red, purple, grey, blue, green and hard to get colors like orange and yellow.
Some of the Fresh Colors for 2016.
Go to our Outlook page to see individual photos of the new line up. Fresh colors are available through larger dealers of chucks and Converse throughout the year, as orders for inventory are processed.
The Sex Pistols Line of Chucks
Converse has just released a new line of band tribute chucks for the British band Sex Pistols. The shoes come in four high top models and two low cut models. The shoes feaature a Sex Pistol patch on their tongues, a black and yellow heel patch on all the shoes except for the all black leather model, a black and white ankle patch on the high tops, and come with black shoelaces, except on the white model.
Converse describes the release as follows: "London in 1976 was a revolutionary year for its youth movement. The music scene exploded with a new sound, attitude and look. The Sex Pistols brought the chaos, becoming one of the most influential bands of all time. We celebrate this legendary London band with the Converse Chuck Taylor All Star Sex Pistols. The print on the upper is directly inspired by the fashion and style influential to the time."
The Sex Pistols collection of chucks.
High top models come in a parchment print, with red and white graphics over light grey stripes. The thunder model is a grey and black striped print, with a nowhere bus on the outside canvas across from the ankle patches. The white model has a large 'No' graphic on the rear of the shoe and a black and white print inside each shoe. The black leather high top is all black with the exception of a "boredom" stencil that goes around the rear of each shoe. Low cuts come in white or red prints. There are inside prints and Sex Pistol logos inside. These shoes retail from $65 to $75 and come in full sizing.
Converse Chuck Taylor All Star Street Hikers
With the weather staying wet and cold, in most of the country at least, one's shoes need to be able to handle the rough terrain brought on. Whether it's navigating icy streets, muddy roads, or wet paths one needs traction and durability. However, for many, style is a must as well. Well fear not, Converse has just the show for chuck lovers.
The Converse All Star Street Hiker in black, red, and papyrus.
The Chuck Taylor All Star Street Hiker combines iconic chuck style with the rugged features of a hiking boot. The shoe utilizes a wool upper combining warmth and style, a gusseted tongue and rubber heel for element protection, and a rugged outsole for grip.
The all black Converse All Star Street Hiker.
The street hiker runs in multiple color schemes including all black, a papyrus, red and black design, and a brown, beige, and red design. Other schemes are available as well. Check them out on converse.com, Eastbay, Kicks USA, and FinishLine.
The Converse Tekoa Boot
With the heart of winter approaching, the weather's about to get a whole lot colder in many parts of the country. If it already hasn't started to get cold, it will soon. In that regard, the right footwear is key to staying warm. Converse is coming out with just the shoe for snow, rain and the all-around chill.
The men's Tekoa Boot takes the classic Converse high-top silo and reimagines it into a rugged winter boot. It's a perfect combination of current street fashion and outdoor style, all in one shoe. With a leather build, rubber sole, wool lining, and padded tongue, these boots are sure to keep the wearer warm and stylish.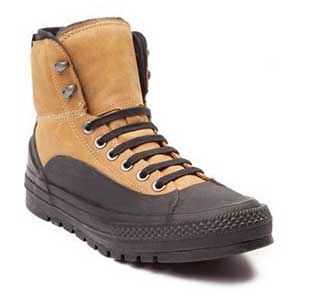 The Chuck Taylor Tekoa Boot
The Tekoa Boot comes in an all black, and Antiquated black model. You can find these boots on various sites including KicksUSA, Nordstrom and Converse. They are also available in all men's and women's sizes.
Chucks Are Rock 'N' Roll
Correspondent Jack Hunter writes: Music is one of the oldest, important, and most influential art forms in human history. It has been around nearly as long as humans have, and dominates today's entertainment landscape. While film and television have reached the pinnacles of pop culture, music has been there well before. What makes music so magical is that it affects each and every one of us in a different way. Where one person might love black metal and swear that the guttural howls of Cannibal Corpse are angelic, another may be moved to tears by the transcendent voice of Beyonce. To me, music has been a capstone in my life.
While I've only been going to concerts for a few years, partly due to the fact that I'm older/can drive, I've been a music fan for as long as I can remember. I vividly remember my first Mp3 player, a little yellow thing that I only had 10 songs on. Recently, I've been to some amazing concerts that I will remember for the rest of my life. The artists have been all over the genre spectrum but one thing has united all these shows for me, a pair of chucks. I only recently started wearing chucks about a year ago. I borrowed a pair of shiny, faux leather black and red high tops for Halloween and never gave them back (it was okay though). Since that time, I've seen a good amount of shows and artists I've been waiting years to see. As the year went on, my chucks collection expanded and the shows I saw kept getting better.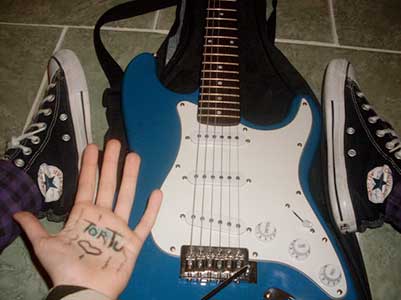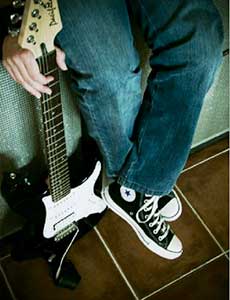 Black high top chucks rock at a concert.
One of the first shows I wore chucks to was Odesza, at the tiny McDonald Theatre in Eugene, OR. I went to school in Eugene, and had been waiting to see Odesza for months after discovering them on Spotify. The show was nothing short of eye-opening. The majestic visuals and Odesza's captivating sound were nothing I'd ever seen before. I spent the whole night dancing in those faux leather high tops. Later in the summer, I went Outside Lands in San Francisco, and on the second day rocked those same shiny black chucks. Seeing Kendrick Lamar and G-Eazy, two rappers who I'd been listening to for years was simply awesome. Their ability to ignite a crowd and put on a show with only small backing bands was phenomenal. I saw Van Halen with my dad and was blown away at the shredding skills of the legendary Eddie Van Halen, while wearing traditional black high tops. A few weeks later, I took my dad to one of my favorite bands, the Foo Fighters, and they soon became one of his new favorites as well. In a worn, grey Foo Fighters shirt and those black high tops, me and my father headbanged away as Dave Grohl and company lit up the Shoreline Amphitheatre. Finally, as a big fan of EDM, those black high tops were well worn at the Beyond Wonderland festival which featured some of my favorite DJs including Yellow Claw, Carnage, Calvin Harris and Tiesto. My latest auditory experience came at the hands of the insanely talented DJ/producer Hardwell, to who's tracks I danced to for nearly three hours in a new pair of grey All-Star II's.
To some, there first CD is a hallmark of what music means to them. To others, it's that worn band t-shirt of poster. For me, however, it's my chucks. For some reason, they're what I wear to concerts. Whether it's the look, the feel, or just me picking the first shoe I see in the closet, they're on my feet when I'm listening to music and will be for years to come.
Maintaining Chucks Through the Winter
With the changing of the seasons, comes the inevitable change in weather. In most places across the United States we are expecting the effects of El Nino. It's going to get colder and a lot wetter. Rain, colder temperatures and maybe even a little snow mean that a change in footwear is in order. But do not despair, you can still rock a pair of chucks with your favorite coat and pants especially in the southern areas of the country. However, you will need to do a little bit more maintenance and be mindful of when/where you wear them.
In snow and/or heavy rain during cold weather, it is not a good time to be wearing canvas upper chucks. In snow this means even with the warmest pair of wool socks, your feet are going to get numb quite fast. Also, the heavy rubber sole means you're plowing straight down and through tight snow and the traction isn't the greatest on ice. You can treat them with a waterproofing spray and there are a few rubber models you can wear instead. With torrential rain, expect to be wearing a pair of shallow puddles within a few minutes of a heavy soaking. Converse does seasonally make boots and hikers you could wear outside in this kind of weather. The best way to get the most out of your chucks during spells like this is to leave your canvas chucks at home and grab a pair of waterproof shoes or boots for walking outside. Then when you come home, you have a nice dry pair of regular chucks to wear while your other footwear dries out.
These fleeced-lined leather upper high tops are meant for the cold weather.
Cold and dry weather is still ideal for wearing chucks. Pairing your favorite pair with good, thick socks is a must for chillier climates. Wool socks or high skiing socks are ideal, as they provide solid support for your foot and warmth. Also, Converse makes plenty of winter-oriented options in mind. Leather, fur lined, boot models, and other various takes on the classic chuck design exist. They're a great option if you cannot bear to part with your favorite high tops.
If you're wearing a lighter colored pair and want to keep them looking fresh through the winter, you'll likely need to clean them during the fall. For the best ways to do that, check out our article on how to clean your chucks.


Chucks In Sports
Fashion and sports are as tightly intertwined as they have ever been. While both industries seem to be near polar opposites, the sports world has become more style conscience than ever before. In college football, for example, most teams wear a different uniform every week and sport color schemes that differ far from tradition. Basketball is an extremely fashion oriented sport, with everything from the shoes to what players wear off the court being talked about daily. But what started this trend? Believe it or not, the Chuck Taylor All-Star was the first real athletic shoe. Before Nike, Adidas, and Under Armour, there was Converse.
It all began in 1921, sort of. Before chucks got their name, they were simply a pair of shoes. In 1917, the Converse Rubber Shoe Company designed a rubber-soled shoe with a canvas upper. The design was meant to cater to the needs of the elite basketball player. With a sole designed to provide superb grip on the court and a high top, canvas upper for ankle support, the Chuck Taylor All Star was the first shoe designed with an athletic purpose in mind. However, shoes don't sell themselves and Converse needed a face for its signature product.
Basketball game in the 1960s.
Enter Chuck Taylor, a basketball player from small Brown County, Indiana. Looking for a job, Taylor arrived at the Converse office in Chicago. After being hired, Taylor worked as a salesman for the company and traveled the country selling chucks. Taking a few of Taylor's suggestions to heart, Converse redesigned their signature shoe and added the iconic ankle patch. In 1932, Taylor's name was added to the patch and the Chuck Taylor All-Star was born.
Chucks shortly became the predominant athletic shoe in the United States. Taylor toured the country promoting the shoe and sport of basketball, which began to slowly gain a foothold in American sports. Chucks were the shoes worn by all of the pioneering teams in American basketball, from the first US Olympic team in 1936 and by Oregon and Ohio State, who played in the first NCAA Basketball National Championship. But it wasn't until 1949 that chucks truly found their home, in the NBA.
[You can see the complete article in our Articles Section.]
The Chuck Taylor All Star II
On July 27, 2015 Converse introduced the Chuck Taylor All Star II, a new design for the classic sneaker. The shoes have these new features: a Lunarlon sock liner for more cushioning and arch support, a padded non-slip tongue for 360 degree comfort around the ankle and instep, a super soft micro-suede lining perforated for maximized comfort, and premium canvas for high quality touch and texture. The shoes come in both high top and low top in four colors, black, salsa red, sodalite blue, and white.
Inside patch view of a black Chuck Taylor All Star II high top.
There are a number of other differences between the Chuck Taylor All Star II and the standard chucks, that received their last design change for the high top in 1948 and the low top or oxford which appeared in the mid 1950s. The new sneakers have matching shoelaces that appear to be 54 inches for high tops and 45 inches for low. All the stitching is the same color as the canvas, eliminating the contrasting color look of the original chucks. Also absent is the racing stripe around the top of the outer foxing and the edge of the toe cap. The middle racing stripe is white, the same color as the outer foxing, so it appears more like an embossment. This change is the most surprising, since the look of the toe caps and racing stripes is a centerpiece of Converse's lawsuits against other companies producing look-alike sneakers. Ankle patches have single color writing, blue on white for black, black on white for salsa red, blue and white models. The license plate patch on the tongue for low tops are the same color combinations.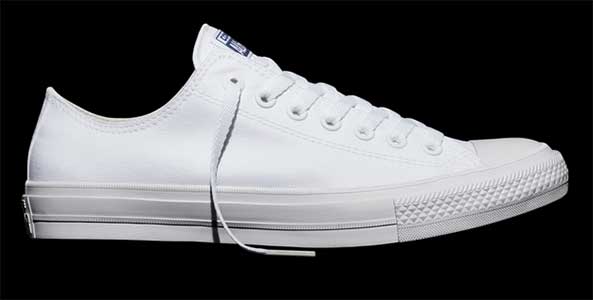 A right white Chuck Taylor All Star II low top.
Converse management explains the reason for the new design as follows. "It all started with a simple idea: obsession. We obsessed creative spirits and realized they wanted more. A sneaker that meets the demands of their on the go lifestyle." It will be interesting to see how successful the new design will be and what kind of acceptance it will gain. The changes are significant, although this design stays truer to the traditional design than some of the recent variations we have seen. The last major attempt at changing the design and appearance of the Chuck Taylor sneaker was in 1996, when the Converse company introduced the The All Star 2000, which was a high-tech leather shoe designed to compete with Air Jordans. They only lasted about a year, as the consumers who wanted to buy chucks overwhelmingly preferred the traditional model. The new Chuck Taylor All Star II line of shoes are priced at $75 for high tops and $70 for low tops.
New Life For Old Chucks


A new product has become available that allows you to restore a pair of chucks to like new condition. Star Cleaner for Chucks is a new cleaning product especially designed to take care of your chucks. Its restorative powers are most notable on the toe caps. Unlike soap and water or other household cleaners, the cleaner is able to remove dirt scuffs and mottled in dirt on the toe caps, toe guards, and outer foxing of any pair of chucks. At The ChucksConnection, we have tested this product and like what it does. A complete article about the test and its results has been posted in our Articles area of the website. Click here to read the article.
Star Cleaner for Chucks was developed by Alex Nicolazzi. He tells us, "I came up with Star Cleaner after trying to keep a pair of new chucks spotless. At first I was just using my formula at home with no intentions of selling it, or making it a brand. Realizing how effective, quick and convenient it was pushed me to make it an available product. It wasn't until I was having lunch with a friend when the idea was born. We are always talking about business concepts so I brought up the cleaner I was using. The name Star Cleaner was coined within seconds of the convocation. As soon as I returned home I created the logo on Photoshop. I have been molding the brand ever since that day. My company was founded in April, 2014."
Left to right: Star Cleaner for Chucks, a toecap before treatment, the same toecap after being treated with Star Cleaner
If you like keeping your toe caps, toe guards, and outer foxing clean on your pairs of chucks, this product is for you. You can purchase a vial of it right here at The ChucksConnection online store at a special introductory price. Click here to order.
Comfortable In Your Own Shoes
Feeling comfortable about who you are and where your life is headed is something we all struggle with. From the challenges that life throws at us to not being accepted by others are just a few things that can make life difficult. Although life may not always be as easy as we want it to be we must try and find happiness in our own skin and not be afraid to standout or be different. One way to achieve this is through expression.
High top from the Converse Pride Collection
Expression of any kind is a great outlet for showing off who you are. Whether it's through art, writing, sports, photography, hobbies, or fashion expression can be everywhere. One way to express yourself is through fashion...especially with shoes. Shoes are what tie your whole outfit together. They are what gets you in the door of the interview or what allow you to take the necessary steps through life. Your shoes can be whatever you want them to be. Whether it's bright and bold or simple and classy. There is no limit to how you wear your shoes or how you choose to style them.
Wedding party full of customized chucks.
Customizing shoes is a great way to stand out in a crowd and there are many different ways to go about customizing shoes. Some include drawing on them with markers, paint, spray paint, certain pencils etc. The possibilities are endless with what you are able to create. Some people who don't necessarily have the artistic abilities to draw on their own shoes may rather cover them with glitter, patches, or jewels. For those who are not as adventurous and don't feel like putting too much into their shoes like to just change up their laces to give their pair a touch of uniqueness.


Those Who Walk in White Chucks
Of all the colored chucks, white and off-white chucks are arguably the most versatile, and are worn by people of a variety of different ages, backgrounds, professions, and styles. On the streets of New York City, one can see people—mostly young folk—sporting white chucks during all seasons, pairing these flexible, subtle shoes with anything from skirts and dresses to jeans and shorts to rompers and jumpsuits. These chucks are generally easy to associate with a younger, hipper, more experimental style, but also serve the more conservative and simple dressers. That's what makes them so popular; they simply can do no wrong!
White chucks are often worn by people with a softer style. For example young women will pair white and off-white chucks flowing skirts and dresses, as the light colored shoes compliment the lighter, billowy material of dresses like sundresses and floral patterned summer dresses. Both low top and high top chucks work well with bared legs, as well as tights and leggings. White chucks are also often paired with light or faded jeans, including jeans made of colored denim, especially pastel colors. Middle-aged women tend to favor white chucks when paired with clothes that give them a subtler, more sophisticated look that is both stylish and casual. White chucks are common in the causal workplace setting, as they are easily paired with nice pants and skirts that balance professionalism and comfort. Unlike other colors, white chucks are subtler and more refined.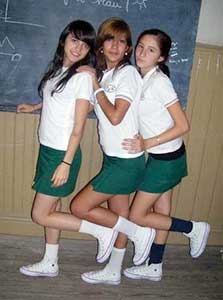 Young people putting their best feet forward in pairs of optical white high top chucks.
Men who prefer white chucks to other colors tend to be younger and more creative, inhabiting the ever-growing sphere of professions in artisanship and collaborative, entrepreneurial creation. In college and beyond, young men don their white chucks faithfully, pairing them with everything from tight jeans to colorful board shorts. White chucks are a common staple of those described as "hipsters," as well as all young members of the professional world who choose a more down to earth, experimental and expressive style that allows them to engage in all their day-to-day activities. White and off-white chucks are the perfect shoes for young and ambitious men and women who see no need to forgo comfort at the expense of style. They dress for themselves first and foremost.
Red Chucks
Walking through the streets of any big city, it is easy to spot red chucks against the dark grey pavement. They jump out at you from the bottom of subtle and edgy outfits, the perfect final touch to a modern style that is cool, clean, and created from a palette that is soft on the eyes. Red chucks are commonly worn by people with a sense of humor, an appreciation of the small miracles of life, a love of the little things that make everyday worthwhile. With a nod to the classic red chucks of older times, these red sneaks allows for a pop of color to accentuate even the most introverted and secretive young men and women who are kids at heart.
Red chucks stand out no matter where you are...
High top or low top, red chucks seem to work best with simple outfits, such as a casual shirt and jeans, or simple articles of clothing within a cool color palette of grays, blacks, and whites. These chucks are perfect any time of year, working well under summer dresses and simple shorts, as well as being the perfect complement to sleek and stylish winter coats. There's nothing quite like a person who accessorizes themselves to underscore their less recognizable qualities of creativity, humor, and such. Red chucks frequently indicate a quirky, easygoing temperament just bellow a professional or composed surface. Furthermore, people who favor red chucks seem approachable and welcoming. There is something admirable about calm, introverted people who dare to stand out in their own subtle way through a bright, noticeable burst of expression: bright red chucks.
Having a flat-soled shoe, something that can hold you up under pressure, a shoe that keeps your feet close to the ground is an asset and a necessary first step before jumping under the bar. Chuck Taylors seem to fit into that category in a lot of ways. They are built from the ground up on a sturdy and flat rubber sole, which is also not overly tall meaning your feet will remain snug to the floor during Olympic weight lifting maneuvers; such as the squat, deadlift, power clean, overhead snatch, overhead squat or all of the above at once—not for the faint of heart.
Chucks are a great shoe for weightlifting.
Chucks high-tops or lows are both reliable for stability and support in Olympic lifting, and personal preference is the only determining factor. The minimal weight of the shoe makes it useful when shifting quickly from one workout to the next; for example in Crossfit, the goal is constant movement and progression through different actions, resulting in full body fitness. Many Crossfit workouts will require the participant to run, jump, climb and lift, and these efforts will also call for footwear ready for that challenge.
Lifting some heavy weights.
I was set on doing as many power cleans—a full body lift from the ground to the squat position with the bar at shoulder height—as I could bear in the heat. At Ironhorse Fitness, I put my Chuck Taylors to the test in the hot California sun. Like they always have, my chucks felt right under the weight of the bar in the front squat position, in both low-cut and hi-top chucks. Anyone attempting to try out a new workout routine who might be in need of some support and comforting, turn to Chuck Taylors in your time of need.
Submitted by Patrick O'Neill
How to Participate in Chuck Talk
Do you have some things to say about Chuck Taylors? If you have an article or other interesting information about chucks to submit to this website, please contact us at mail@chucksconnection.com.
Chuck Talk Archives

ChuckTalk articles from previous years