Conversation and commentary from people who care about chucks.
The CONS CTAS Pro
One of the many great things about chucks is their versatility. While originally designed as an athletic shoe (with basketball being the sport of choice), the shoe has been adapted and redesigned for a multitude of purposes and styles. Chucks are used as weightlifting shoes, art canvases, and are the everyday footwear of regular folks as well as rock and film stars. Chucks also hold a place as classic skateboarding shoes. While the Converse company was slow to see the potential of the skateboarding market, other companies such as Vans have long catered to that market. Converse's parent company, Nike, has lately been developing a strong position in the skateboarding market. Although chucks hold a place in the pantheon of classic skate shoes, technology has seen that place slip. However, that's changing with the CONS CTAS Pro line.
The CONS CTAS Pro high top.
Combining cutting edge skate performance with the classic look of the high or low top Chuck Taylor, the CONS CTAS Pro strikes a perfect balance. Featuring heavy canvas or suede uppers, traction rubber, a Lunarlon sock liner, gusseted tongue, and metal eyelets, the CTAS Pro is a great modern skate shoe. It's lightweight and still utilizes the traditional rubber toecap and flat sole.
The CONS CTAS Pro low top.
The CTAS Pro comes in canvas black/white and grey/white low models and a black/white suede high top model. In addition, there are leather Jason Jessee signature models featuring details inspired by the skater's black Tibetan motorcycle. The Ripstop models are made from the same fabric used in hot air balloons and parachutes. This warm weather model comes in high/low tops in charcoal for the highs and herbal or "my van is on fire" orange for the lows. If you're a chucks fan who loves hitting the skate park and are looking to step your game up, these shoes are the ones for you.
Summer Chuck Fashion: The Festival Look
Correspondent Jack Hunter gives out some fashion advice for attending festivals in warm weather: Is it a music festival or a celebrity fashion show where there happens to be live music? Coachella might be labeled as a music and arts festival, but fashion seems to be the biggest part of the two weekend event. The Coachella Valley Music & Arts festival has become a cultural icon and the basis for a new spring/summer style: the festival outfit. Party hippy, part hipster, part gypsy, and maybe a mix of a few more things, the festival style has become a new fashion trend not only for dusty weekend concerts but also for the warmest months of the year. While having a breadth of ways to go about pulling off the festival look, one item is a staple across whatever you're trying to wear: a solid pair of chucks. Like with many style trends, a good pair of chucks goes a long way in topping off a killer outfit. Here are a few examples of both successful and not so successful ways to pull off the festival look with your favorite pair of chucks.
Winner look 1; loser look 1.
Winner: Here's a warm weather look that works great both at a kick-ass festival or a nice Saturday stroll along the beach. Sported by Zach Braff of Scrubs fame, this simple look utilizes a crisp pair of navy blue high-tops to perfection. Color coordinating with some cut-off navy jean shorts, sweet socks and a simple charcoal t-shirt, this look is stylish in its easy simplicity. Combining warm and cool colors is a great way to keep with the warm vibes of summer, and a clean pair of chucks always tops the ensemble off. This outfit can work in a variety of color combinations as well.
Loser: While Amber Rose looks great here, she's not the focus of this lost cause. The fella on her right is sporting an outfit almost insulting to be wearing with a pair of chucks. Rose utilizes the handle or nickname "Muva" in a variety of media platforms, and it appears to have jumped into fashion as well. While the dude on the right is sporting a clean tee with the name, the outfit on the right is just too much. This provides a prime example of the kind of ensemble NOT to rock chucks in. Something this loud is a bit much not only for a music festival (even by Coachella standards) but for any situation. Note to wearer, chucks go with something a bit simpler or not as uniform.
Winner look 1; loser look 1.
Winner: When rocking a pair of chucks to compliment an outfit, keep in mind that simpler is usually better. While there are definitely chucks out their that speak to bold, utilizing a classic pair usually isn't a bad decision. Like here, with Louise Roe, a fresh pair of white high tops provide the finishing touches on a great look. Paired here a nude colored top and some classic jean shorts, Roe's chuck finished outfit is on point. Again, it lands both at and outside a festival. The sun hat and olive drab jacket don't hurt either.
Loser: Chucks can certainly work with loud, or even out there type outfits. However, this is not one of them. From a color perspective, things work here. Soft greys and white go great together, especially in warmer weather. However, the gypsy pants look isn't a great one on guys, and is a bit overused in general. Had the fella here gone with some dark pants or even rolled up jeans, things would be better. The chucks he's rocking are great, but are wasted by this faux-hippy look. While it may land at Coachella, something like this will get you some odd looks out on the street.
Chuck Strong
Some people who wear chucks to the gym give us their thoughts:
"They're flat footed so [chucks] are great for squats and deadlifts," weightlifter Thomas Murray said, "the chuck 2's have a super comfy sole and they look great." So they have both style and functionality.
Ryan Purcell, another Bay Area resident very much into fitness, had additional reasons that were even more enlightening. "Not only are they stylish but the chuck 2.0 mids give me more stability in my ankle for a wide range of movements," he said. "The 2.0 has a new Nike insole making it softer and more responsive while maintaining a zero drop for essential compound lifts like squats and deadlifts."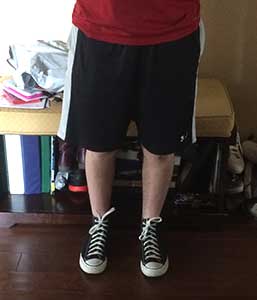 These black high tops are a great workout shoe.
Chucks have been the choice of athletes for many decades so it shouldn't be a surprise that chucks work well in the gym. Correspondent Jack Hunter decided to try wearing his pair of black high tops for a couple of workouts. "My doubts and worries were quickly swept away, much to my surprise. From a functional standpoint, I actually enjoyed my chucks much more than the Nike training shoes I'd been using for years. The flat rubber sole gave me much more stability during all of my lifts, especially during my leg workout. While I used original chucks, I found the flat sole to be great for squats and leg presses. The other workout I did involved chest and triceps lifts, and the high tops gave me great footing as well. Additionally, the ankle support was great. I had never had a problem by wearing low top trainers, but having the tight support of my high top chucks was a nice bonus. Plus, they do look great in the gym also. All in all, I was very surprised and pleased at how great of workout shoes chucks are. They offer great ankle support, stable footing and a different style to rock in the gym. I don't plan on using them doing much more functional workouts, as I've attended a few concerts and music festivals wearing chucks. If you're looking for a great shoe to simply lift in, chucks are a definite recommendation. I'm excited to have a new footwear option when I hit the gym, and am glad to have found another great reason to sport my chucks."
New Styles for Kids
As a kid, we all hated shopping. Well, maybe some of us. But many of us can remember being dragged to the grocery store or the mall to shop for things we could've cared less about. Unless it was the toy store or a Gamestop, this writer wasn't a fan of the mall. But one thing we did all like to shop for, and still do, are shoes. During our childhood, that meant finding an awesome pair of light up sneakers, themed shoes, or Heely's if you were the coolest kid on the block. Today those shoes might not be in the now, and the current kid's market is basically a reflection of the adult sized models. With that in mind, Converse has recently come out with two new kid's chuck models designed to appeal to both style and youthful creativity.
The first of these new models is the Chuck Taylor All-Star Paint Splatter. Coming in both the low and high top models, the All-Star Paint Splatter features the Converse express yourself denim. These new kicks sport an "edgier" look to the classic chuck design. More than that, they give a great worn look to the classic chuck model, and the denim styling is a great touch.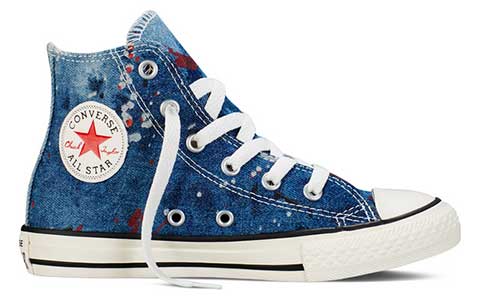 Inside patch view of a painted denim "express yourself" high top for kids.
The second model featured is Chuck Taylor All-Star Loophole. These low top chucks feature a loom tongue pattern and two sets of laces. These allow for a myriad of lace patterns to be weaved to the hearts content. These chucks come in a variety of bright, vibrant colors including Mouse, Ambient and Spray Paint Blue, Plastic Pink, and Powder Purple. Black is also available. These chucks are great for kids who love to wear their shoes just a little differently.
The Purple Powder Loophole low cut comes with white and purple shoelaces.
Getting Out In Your Chucks, Part 2
Last week, we talked about some of the best music festivals in the country to hit in a sweet pair of chucks. For this week, there's plenty of walking involved and maybe a little music, but also a whole lot more travel. Traveling to one of the world's best walking cities is another way to spending a great time in chucks.
Sure, you can travel anywhere in chucks. But if you're looking to maximize your time spent in you favorite pair of shoes, cut down on transportation costs, and get the most out of a trip, these places should be at the top of your list. Our first choice is the Big Apple, New York City. With its world famous subway system and the bustling island of Manhattan, NYC is a perfect city for anyone looking for a lot to do in an immediate area. From the vast myriad of restaurants and nightlife, to amazing museums and the incredible Central Park, New York is great to spend more than a few days traversing on foot. Another city featuring a great public transportation system is the city of Paris. With some of the most famous museums and attractions in the world, unparalleled restaurants and beautiful architecture, the city of light is a treat to experience on foot. Like New York, it's highly recommended not to drive in and the metro system is fast and easy to use. Depending on where you stay, there may be dozens of things to do, places to eat and drink at, and other activities all within walking distance.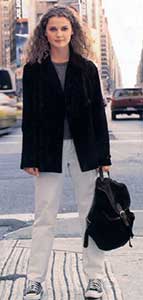 Take a stroll through New York in your chucks.
Other great cities include London, Tokyo, and Rome. Most major cities across the world are great for walking around, yet for some reason American urban gems are much less accessible on foot. San Francisco is tightly built, yet the drastic changes in elevation and weather can make it a hassle. A few block stroll can be turned into a rapid ascent up a few hundred feet of pavement. Los Angeles is well known for its traffic, and that's because not a lot of people walk. If you're looking to soak in all of LA, a car is all but mandatory. But wherever you go, now is the time for a stroll in your chucks.
Getting Out In Your Chucks
With the weather getting warmer and the sun staying out longer, there are more and more ways to enjoy your favorite outdoor activities while rocking your favorite pair of chucks. For this series, we'll be presenting some of the best things to do this Spring and Summer while wearing chucks.
For the first part of this series, one of the most popular options is to attend your favorite music festival(s). With April approaching, festival season is about to kick off with the legendary Coachella Valley Music and Arts festival. Taking place in the palm dessert of Indio, California, Coachella has it all. From EDM to hip-hop, and indie to classic rock, Coachella is the true proper kickoff to a summer of great festivals. Being that Coachella fashion has become a genre of its own, chucks are a great footwear option for any outfit. Given the lightweight options of low tops, and the great style of high tops, chucks are an excellent choice for any festival.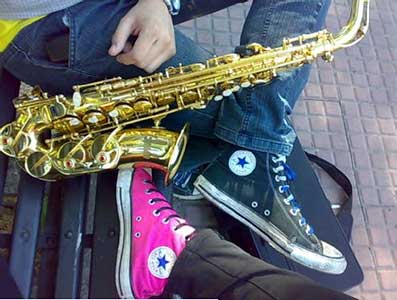 No matter where you go to hear music, chucks rock!
Other popular festival choices include Lollapalooza in Chicago, Bonnaroo in Tennessee, Las Vegas' Electric Daisy Carnival (EDC), and San Francico's Outside Lands. Besides the heavy hitters, there are also plenty of smaller festivals that are great as well. One highlight is the Sasquatch Music Festival at the picturesque Gorge Ampitheatre. Located right on the edge of the Columbia River Gorge, The Gorge features one of the most breathtaking views you will find at any concert venue in the world. Seeing as it located deep in Eastern Washington, the festival doesn't get as much press as some of the big ones, but the lineups are usually stacked with A-List artists. If you're looking for one of the great natural gems in the US, be sure to lace up your favorite pair of chucks and hit this festival.
How to Participate in Chuck Talk
Do you have some things to say about Chuck Taylors? If you have an article or other interesting information about chucks to submit to this website, please contact us at mail@chucksconnection.com.