Chucks in Montana
Jon from Montana sent in this report:
Chucks are an original American icon. I try to wear mine everyday. I have two active pairs right now, my old black high-tops and my new black high-tops. I usually only wear my new ones to school, it gets the girls! I wear mine in PE class, I can run really fast in them. Other than school, I don't wear my new ones that much, because when they look a little dirty they have more style!
Winter in Montana is a drag, there is three feet of snow on the ground and that makes it hard to wear chucks, because they let in the cold air, and moisture. No worries if I'm in the house. I wear mine like slippers just not outside! In the summertime I wear mine everyday, they are ventilated so my feet don't sweat.
When I used to have a paper route, if the weather was nice like in the summer I would wear my old navy blue chucks that were my first pair on the route. I think paperboys looked cool walking their routes with them, me and my friends wore them all the time. I still have the old navy ones that I used to wear on the paper route. I put them back in their box that they were bought in; now they sit up on my shelf enjoying retirement! I take them down and look at them now and then and remember the day I first received my first pair of Convese Chuck Taylor All Star shoes!
Tear Away High Top Chucks
The latest wrinkle, or should we say rip, on the Chuck Taylor high top is new model called the "tear away". The shoes come with two layers of print canvas. The top layer is a black and white print but there are some strategically placed holes on the uppers that can be grabbed to rip off the top layer and reveal a brighter print underneath. The inside ankle patch is placed on the inner layer but it is completely revealed by a circular hole cut in the upper layer of canvas.
The shoes come with a special new tag. On the front you see a Converse logo in black and white, with a little big of tear picutred in the upper right hand corner revealing a color print. The rear side has this inscription: "Chuck Taylor All Star Tear Away. To tear or not to tear: Customize your kicks by ripping away the top layer to reveal a second print."
To see a complete photo gallery of a pair of tear away chucks, click here.
Chucks Science
The ChucksConnection is always happy to receive a report from our correspondent John giving us the latest news about chucks from Australia:
Everyone who loves their chucks will have different individual elements of the beloved design they like most, or perhaps it's the overall package. Some love brand new chucks while others love them through the various stages of wear, right down to what is known as trashed. Some people just wear them, get them out of the box and throw them on, others love that new smell and others will want to ensure that the laces are just right, no twisting, exactly equal or that both shoes are a mirror image of each other. We know that over the years, as well as the original chucks from the original Converse plant in the USA, Chucks have been made in Vietnam (most non-core colours still are), Indonesia, Malaysia, Thailand, The Philippines and now of course China. In fact, while the USA and some other parts of the world had access to "genuine" USA made chucks, other parts of the market were supplied with chucks made elsewhere. For example, throughout the 80's, Australia received chucks made in Thailand which were distinctly different in many detailed ways, for those of you who study these things, to the original USA made chucks. Then Converse was sold (or should that be rescued) by Nike and production was sent offshore to China and Vietnam .
Every now and then, probably to contain costs, the plants at which chucks are made are changed. This happened during 2006. Any of you who have chucks from early 2006, take a pair of hi core colour blacks and compare them to those supplied in 2007 will notice a distinct difference. The 2007 shoes are lighter, appear less chunky and less well made, are slightly off white, and for those who like symmetry, often distorted or misshapen, particularly around the black rubber piping. My personal preference is very much for the 2006 types but everyone will hold different views.
An interesting fact is that you can tell when your shoes were made by looking at the label under the tongue. The two middle sets of numbers on the top line are the year and month of manufacture (I believe). If you have a collection, have a look. For instance, I have identified that the last of the chunky 2006 variety were made in 06 08. By 06 09, the different shoes had come in, highlighting the changeover, probably of plants.
Look again, if you have a number of pairs from across this period, a lot of the non-core colours were and are made in Vietnam . These are different again in detail. Finally, check out the Distressed shoes and also the leather varieties – although made in China , they are different again (probably a different plant again). Examples of this difference are the soles which are often shiny whereas the core colours were matt and the detail around the toe cap, and particularly the heel patch, which can sometimes be swept inwards is quite distinct. Many will say, so what. But many, who find detail important, whether it is laces or soles will notice that not all chucks are alike, in fact, no two are the same.
Crossword High Tops: Get a Clue!
Just released for the fall season is a new pattern design, crossword puzzle high top chucks. The shoes are black and white, with a crossword puzzle design on the canvas uppers, black soles, black eyelets, black inner canvas, white laces, and traditional white foxing with black trim.
Printed on the insole for each shoe is a set of clues, with a different set for the right and left shoes. These don't actually correspond to answers on the uppers. Too bad. Filling in the crossword answers would be a new cool way to write on your chucks. Or you could do that anyway. Best suggestion for that, get a permanent marking pen with a fine tip.
Click on this link to see a complete photo gallery of the crossword high top.
New Film With Chucks Theme
Recently we received this e-mail from Brian McLaughlin:
Being a wearer of chucks since the single digits, I absolutely love your site. I have worn them off and on my entire life and am even wearing a pair right now as I type this e-mail.
My production comany is about to release an indie feature I shot in Central California. It is entitled "Inspiration Point" and is a coming of age story about an Irish American teen who, while trying to avoid confirmation, ends up bringing his town together, disguised as a polar bear. It's a fun family film.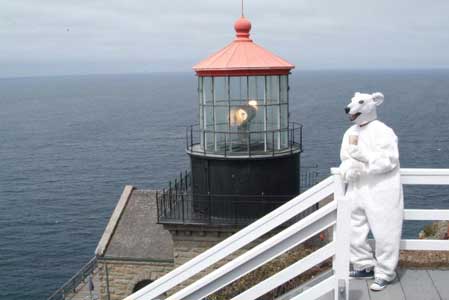 Bo Bo at the Inspiration Point lighthouse.
Because the main character is autobiographical, I had him wear chucks in most of the film. Converse sponsored us for product placement and ended up getting more than imagined--they made it front and center onto the poster art and DVD case. We had a great time doing this film and I loved getting Chuck Taylors into the picture!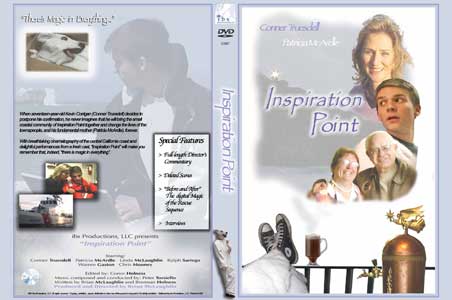 DVD cover insert for Inspiration Point.
The ChucksConnection will keep you posted on this the status of this new film and when it is released will let you know more.
Multilayer High Top Chucks
Multilayer high tops are part of the special commemorative seasonal chucks issued to celebrate the one hundredth year of the Converse Company.
The idea of one hundred designs was also a way to incorporate the word "red" into the mix, as hundRED. The multilayer concept is another variation on the chucks manufacturing process. In the past few years, all kinds of variations have been designed, including double tongues, double uppers, multiple eyelets, and a multicultural look. So far there have been three multilayer models issued, a Product Red royal blue and red with red laces, a regular issue black and orange (shown here with orange laces), and a Product Red white and red. Their catalog also shows a light grey model, but that has not been released. The multiple layers of canvas are in different colors. The royal blue model has over 15 layers of canvas, while the black model has 10 layers. One idea for wear is that the user could tear or cut patterns into the canvas layer to make different designs. But the multiple layers also make these shoes ideal for wearing chucks in cold weather. With all of the extra canvas layers, the shoe eyelets are set down a little bit farther than normal, so if you plan on changing the shoelaces, get a pair with extra length.
To view a photo gallery of multilayer high tops, click here.
The Converse Century
2008 marks the one hundredth anniversary of the founding of the Converse Company by Marquis Converse. While the company has radically changed in size and focus since those early days when Converse manufactured rubber products like galoshes, Converse athletic shoe products like the Chuck Taylor All Star remain American icons. While this anniversary isn't particularly meaningful in the history of the Chuck Taylor shoe, it's still an excuse to celebrate. Converse has been issuing a lot of extra models this year including shoes that have this century print on them.
This particular graphic design with the white circles and orange logo features was first introducted on their Fall, 2008 catalog cover. Although the catalog shows high and low top models in orange and black and gold and white, the black, white, and orange model that you see in the photos was the one actually released. These shoes are available in half sizes and have a special inner lining print that has repeated Converse century text with the star in a circle. The ankle patches and heel patches are different because they are accented with orange rather than black or blue stars.
To see a photo gallery of the black Converse Century print high top, click here.
Converse Issues a Kurt Cobain Line of High Top Chucks
As past of their Converse Century marketing campaign, the Converse Company has issued a new line of high top chucks that honor the life and music of Seattle rocker Kurt Cobain. Although Cobain had a tragically short life, his music made a big impact in the punk rock grunge music scene, and Converse has designed these shoes to appeal to that crowd first, but in general to continue their line of rock and roll original commemorative issues.
There are three different models that have come out in the summer of 2008, the Kurt Cobain signature high top, the black and white lyrics high top, and the white and black doodles high top. The shoes come with special tags. There is a circular tag that identifies the series as part of their Rock & Roll original. A second tag describes Cobain this way: "He haunted Seattle's music scene, withdrawing into its grit and grime. He thought some of it made sense, but most of it didn't. So he turned to the only thing he knew for sure: his own music. Soon it became clear: the inspired songwriter with the scruffy hair and stormy eyes had taken the underground grunge movement mainstream."
The Signature model has an embroidered signature on the outside uppers, a fabric ankle patch, and preworn look on the rubber foxing and toe cap. The laces also have a worn look, and are more like the original Converse laces. The insole has the slogan "punk rock means freedom." These are made in Viet Nam. One nice feature about this line is that they are available in half sizes as well as whole. Purists won't like the fact that there is a embroidered patch instead of the normal vinyl ankle patch and that the stitching on the back of the shoe is white instead of black, like the high tops Cobain would have worn.
The Lyrics model is traditional black and white, and has excepts from different songs printed on the canvas uppers and on the inner soles. One other cool feature is writing on the inside of the white wrap — "Reward if found. K. Cobain". This model is made in China and uses all black stitching. and the ankle patch is black and white only. The lyric lines include "I'm not like them but I can pretend" and "I came as you are." The insole writing is a commentary on his lyrics: "My lyrics are a big pile of contradictions, down the middle between very sincere opinions and feelings I have that are sarcastic and hopefully humorous."
The white Doodles model has different sketches from Cobain's notebooks, and the same reward inscription on the white outside wrap.
To view a photo gallery of Kurt Cobain series high tops, click here.
Layer Up High-Low Chucks
The latest wrinkle in the double line of seasonal chucks is the layer up model. Just released in the summer of 2009, the shoe combines a low cut model with a high top. The first issues came in red and black and charcoal and pink. Future issues will be made in yellow and black, black and white, white and Moraccan blue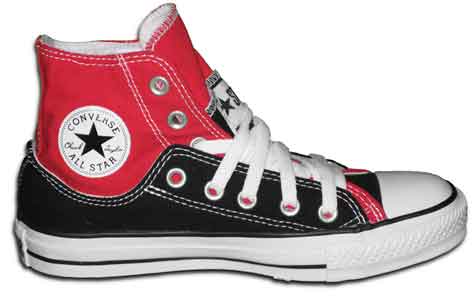 Inside patch view of a left black and red layer up high-low chuck.
Click on this link to see our current photo gallery of layer up chucks.
Chuck Taylor for Mayor?
Things are heating up in the race for mayor in Circleville, Ohio. One of the candidates is named Chuck Taylor and suddenly he is discovering that many of his campaign signs placed in supporters front lawns are disappearing.
Dirty tricks by the opposition? Not exactly. It seems that teenagers in town have been grabbing the signs to put on the wall in their bedrooms. Because chucks are so popular among teenagers these days, the signs which say "Elect Chuck Taylor Mayor" have been too tempting to resist.
The candidate who is an independent, 72 old man and no relation to Charles 'Chuck' Taylor of athletic shoe fame, is amused by the unexpected notariety he has achieved, but says "I wish they would wait until the campaign is over."
Taylor was apparently unaware of the popularity of the shoes that share his name. It's too bad. A campaign slogan like "Tax cuts for all chucks wearers" would garner more attention and certainly get our vote. And if he would wear chucks on the campaign trail we would post his photo and information for free. After all, chucks rule!
Chucks for the Whole Family
Mary Beth from Texas sent in this story about how chucks are part of her family's lifestyle.
"As Fall rolls in I realized that I began wearing Chuck Taylors forty years ago and have had at least one pair ever since. When I started playing basketball at school in 1967 (age 11) we were required to wear the white high tops as part of our uniform. Presently I have three pair of high tops and one pair of lows. I will always wear chucks!!!
Years ago (around the time that Air Jordans were the craze) I bought each of my three kids a pair because I could not afford the shoe-of-the-day times three. They went a little nuts and refused to wear them at first. (This was before it became cool again to wear chucks.) After they realized that I was not going to give in and they started wearing them, they too were soon sold on the shoe and ten or twelve years later they are still wearing them. Now I tease them that we were all ahead of the fashion craze and that this should be a lesson to them to always listen to and trust in Mama.
Just wanted to say thanks for a product that I can always count on. Sorry I don't have any photos to send but be assured that whenever I am out and about at work or play I am seen in my Cons.
Yours in chuck,"
It's always great to hear about generations of chucks wearers in a family. Mary Beth, you should get a photo made of you and your family wearing chucks. It would be a very cool keepsake.
If there are any other stories like this send them in. The ChucksConnection is always interested in hearing about how chucks affect peoples' lives.
My Life with Chucks.
Here is a letter we received from Briana in Ohio:
I really love chucksconnection.com, and have enjoyed reading the articles from Converse fans. So I thought I would share my own story!
I have grown up with my 6 siblings -- two of my brothers are older than I am. My oldest brother, Chris, is eight years older than I am, and while growing up I really looked up to him. He was the brother I loved to hang out with, and I had crushes on his friends when I was about eight years old.
So when he began to wear converse in his late teens, I really wanted a pair because he had a pair. Well for a while my mother wouldn't allow me to have them, because my feet were still growing and they were decently expensive... so I dealt with the fact. Back in Christmas of 2003 I finally received my first pair of chucks. They were the pink lowtops. It was so thrilling to have them! I literally wore them everywhere. They were doused in mud from my carelessness, and I had to wash them. After getting them dirty a couple times thereafter, they began to fade in color. I outgrew them, unfortunately.
But on my 14th birthday I got another pair that would fit better. They were the black lowtop. I think of shoes as being almost like a "history". After all, there is nothing that you own and take places more then a pair of shoes. Every road you meet, so do those shoes. My chucks are three years old now, and when I look back at pictures from different places I have been to, those chucks are always there with me! They're like a souvenir, almost like an open book to your life.
Well, my black chucks have holes on every possible place to have them, but I will wear them until they no longer can stay on my feet. Even after they are gone, I will definitely keep them in memory of all the places they went with me. I could never see throwing them out! I will be buying a pair of the hightop converse in the next few days, but those ol' black ones will be there too!
Your Chuck-buddy,
Briana from Ohio
Wearing Foldovers, a Great Style for Summer Wear

Black and royal foldover chucks with wide royal blue laces.
With lots of different foldover models of chuck high tops now available, you can have several pairs with different color combinations and lacing types. These become great summer wear. Wear them without socks or with no show socks (you might want to do that while breaking in a new pair) and laced to the sixth or seventh eyelet. The rolled down canvas at the top gives you the effect of a low cut chuck, but the more stylish look of the foldover with its second color and partially showing ankle patch. You will have the comfort and great look of chucks by wearing them this way, a look and feel similar to wearing boat shoes.
Black and red foldover chucks with red and black checkered laces.
There is a new photo gallery called Wearing Foldovers on this site. You can view it from this link or by going to the Photo Gallery page. To see what models of foldover chucks are currently available for sale, click here.
Report from Australia
The ChucksConnection hasn't heard from our Australian correspondent, John, for a while. But recently we received a new email with this report talking about chucks in his country:
"It's been a few years now since the iconic ad "Just a piece of rubber and a blank canvas". As in the rest of the world, chucks have staged a massive comeback and are extremely popular in Australia again. I have noticed in particular also, that chucks are about compulsory wearing by the many Asian students we have studying in this country.
"I know many of my American friends who lived with the handmade chucks from home will disagree, but I felt that the Chinese made chucks that were available for most of 2005/6 have been the best for years. I really love the predictability – the shoes appear fairly well made and matched in pairs with a good consistency throughout.
"During early 2006, we had a brief period of Indonesian made chucks – these didn't have the consistency of manufacture of the latest Chinese ones, although I have seen worse (the horrible Philippine made variety of the mid 80's that were sold in Australia plumbed the depths). After a few months, the Chinese made ones came back (perhaps a different plant), very similar to the 2005/6 ones but with a different label on the box to distinguish them. The main US size was in large characters that made it stand out and in stores where you can pick your own, it made it easy to find the right boxes.
"Several months back the price went up from A$69.95 to A$79.95. Low and behold, some of our biggest sellers relabeled all existing stock with the higher prices!! What was worse though, not long before Christmas came a new box label and new chucks, obviously from a different plant. From what I have read, these look more like the American made ones of old – lower rubber sides, no two shoes alike, rough edges and all the rubber off white in colour compared to the 2005/6. I am an avid collector of the modern shoe with over 60 pairs, including more than 30 black ones but I stocked up on the last of the better pairs and have stopped buying the new. I think they are just awful and they don't look like they'll last. How about that – uglier shoes, less quality and higher prices. I guess every time costs go up, Nike is going to shop around and find a new plant that will make them cheaper. I make that about four in 2006 alone!"
The Chuck Taylor Patchwork, A New Type of Distressed Shoe
Chucks in Germany
The Evolution of the Chuck Taylor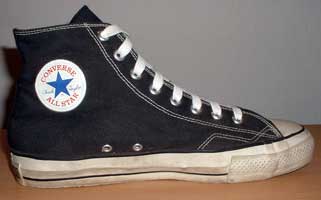 How does your black high top compare to this 1960s model?
The ChucksConnection has just concluded a lengthy study of how black high top chucks have changed over the years. By examining eight different pairs of chucks manufactured over the past forty years, we have learned some interesting things about how chucks are different today and how they have stayed the same.
The study includes fourteen photo galleries that lets you examine the shoes in some of the same ways that we did, comparing features and design changes over the decades. To read the article and view the photo galleries, click on this link.
You will be amazed at how Chuck Taylor shoes have changed yet stay the same!
Converse Releases "Jackass" Line of Chucks

Jackass shoes like this canvas high top will have the Jackass logo on the outsides.
In October, 2006 Converse issued five different models of Chuck Taylor shoes with a special Jackass patch in conjunction with the release of the film Jackass Number Two. As readers of the television page in this website are aware, star Johnny Knoxville is a devoted wearer of black high top chucks, wearing them regularly on the television show, in the first film, and in his personal life. So Converse has decided to pay tribute to his brand loyalty (and also cash in on the popularity of the movie) and release this one time special edition.
The five different models include a black canvas high top, a black leather high top, a pink and black double tongue high top, a black canvas low cut, and a monochrome black slip on. These shoes are now currently available for sale. Click on The ChucksConnection Home page and then the high top or low cut links to purchase a pair.
Don't try their stunts at home, but you definitely can wear these shoes at home (or anywhere!).
Double Tongue High Top Chucks: A New Look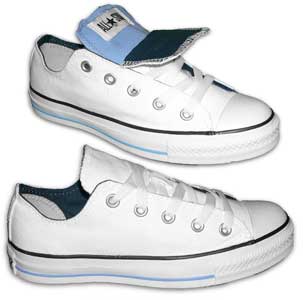 These double tongue chucks come in both high top and low cut models.
Double tongue high tops combine the best of the reglar high top or low cut plus part of the look of rolled down chucks. The shoes are designed like regular foldovers, with an outside and inside colors. About half way up the tongue, the tongue splits into two parts. The top tongue has the same inside and outside colors as the main shoe, but the bottom tongue has an alternate color and a Converse All Star patch, like low cut models have on their tongues. There is a slot on the tongue to hold in place the laces. You can lace the top tongue up to the top for a conventional high top look, or fold it down and continue lacing the shoe up on the inner tongue. This allows you to have the look of a rolled down high top along with the comfort and support of your Chuck Taylor laced to the top eyelets.
So far double tongue models have been issued in several color combinations involving white or black as the outside basic color. These shoes have been made in both adult and youth editions. To see which models of double tongue high tops or low cuts are currently available through this website, click on the links: Look for adult sized double tongue high tops. Look for youth sized double tongue high tops. Look for adult szied low cuts.
The Loose Chuck Taylor Low Cut.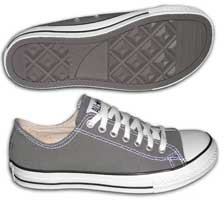 Loose low cut chucks come in charcoal and taupe.
Converse has recently released a new type of low cut Chuck Taylor, called the Loose Low. The Loose Chuck Taylor has been beefed-up in every way. It is wider and more comfortable than the traditional fit. The shoe combines Converse's comfort insole for more cushion along with a wide weave canvas upper, and a loose fit. The rest of the design, including the canvas upper and wrap sole look like the traditional Chuck Taylor low cut. Loose chucks come in two colors: taupe (light brown) and charcoal gray.
To order a pair of loose low cut chucks, click on the shoe you want.
Hot Chocolate: Brown Chucks Are Availalble and Popular Again.
Chocolate brown high top, chocolate/Carolina blue 2-tone.
Back in the 1990s. when the Converse had nine basic core colors for Chuck Taylors, the only one with any brown tinge to it was flint khaki. This model was a light tan color, lighter than khaki brown, and was one of the colors dropped by Converse when they reduced their core line of chucks to the six models available today. Dark brown issues were only available on a seasonal basis, and were not often issued. There was a model called Hot Chocolate issued in the mid 1990s but they were hard to get and were only made for one season. These shoes had one unusual feature for chucks at that time: the eyelet and vent rivets were completed with brass rivets on the outside that complemented the dark brown canvas uppers.
In the past two years, Converse has issued chocolate brown high top and low cut chucks again. The shoes have the traditional Chuck Taylor look, with brown canvas uppers, silver rivets, black and white rear patch, red, white and blue side patch, black piping, and white laces. Sales of brown chucks have been brisk, and this color has even made it into department store inventories. Their popularity is growinig and these days you see a lot more people wearing brown chucks.
With the sucess of this color, Converse is now also issuing other models in brown. Some of the new models issued in the past two years have included leather high tops in the Euro leather series, chocolate/koala brown, and wheat nubuck. Canvas models have included dark brown and fleece roll downs for winter, and chocolate/pink or chocoate/Carolina blue 2-tone high tops. These models are on available only on a seasonal basis, so if you see a model you like, be sure to order it right away. Click on the link to see The ChucksConnection gallery of brown chucks.
Stencil Chucks: Consider Yourself Tagged.
Tattoo Chucks.
Distressed Chucks: A New Look for the Classic High Top
This year, Converse has introduced the distressed high top, a new variation on the Chuck Taylor high top that has a cool new look. Distressed chucks come in two colors, red and black, although the black is really a gray color (like denim black chucks). The uppers are made of canvas that has been pounded (or distressed) like what you see on "pre-worn" blue jeans and dyed in a faded color. The upper is stitched with matching thread, rather than the usual contrasting white. The distressed look is further emphasized by hanging threads that come off of the rear back support piece on each shoe, that make it look like the stitching is starting to unravel. Another nice feature is that these high tops come with extra long laces that are tubular, like the classic laces sold on this site, and have the words Chuck Taylor on their aglets.
Knee Hi Chucks Are Like Boots...
My name is LeRon and I wanted to write about me being a Converse fan. I have always liked high top shoes since I was in junior high, but I didn't begin to get into All Star hi tops until my days at college. It was then I that I purchased my first pair of All Star hi tops (a red pair) along with a pair of Levi's 501 from a store across the street from the campus of UC Berkeley. They made a good combination and I got compliments from my friends on my jeans and and my All Stars. This made me go back to the store and purchase a blue pair of All Stars. My favorite way of wearing my jeans/All Star combination was to tuck the Levi's into my All Stars so that the Levi's wouldn't hide the patches of my All Stars. I wore my All Stars this way during my freshman and sophomore years of college.
In my junior year, I traveled to Japan to study so I didn't take my All Stars with me out of the awareness that I would need to remove my shoes on frequent occasions. This marked the beginning of my not wearing All Stars. I didn't wear All Stars during my senior year at Berkeley or when I moved back to Los Angeles. And I didn't wear them during my years of graduate school at Indiana University, largely out of awareness of the long winters. But this didn't mean I had forgotten the Levi's/All Star combo of my Berkeley days and all the compliments it had garnered. It would take a while before I put on a pair a All Stars but in hindsight it was for a good reason.
While I tucked my Levi's into my All Stars to show off those signature patches, my jeans wouldn't always stay tucked in my All Stars high tops. So there were times when my Levi's covered up the patches of my All Stars. But a few years ago I found out about the Converse All Star Knee Hi. The Knee Hi All Stars were more expensive than the regular high tops. As a graduate student (now at UC Irvine), I had to wait until the price came down. That meant I wasn't able to get all the Knee Hi models that were available. I currently own two pairs of Knee Hi All Stars, one black monochrome and one brown suede, and I thoroughly love them. I enjoy being able to tuck my jeans into the Knee Hi and not worry about them coming out. The Knee Hi are very reminiscent of boots and because of that I enjoy wearing them and never give a thought to wearing the suede pair down. I sincerely hope that Converse continues to make the Knee Hi version of All Stars and bring back the models I didn't get. (e.g. leather Knee Hi).
Editors Note: Knee Hi chucks are made seasonally and always in small quantities. So if you see a pair you like, buy it!
Chucks Without Socks--Or Does It Just Seem Like That?
Here's a tip for you if you like the comfort of socks but the look of high top chucks without them, especially in the summer. Wear them with those little anklet socks that just go to below your ankle. When you lace up your high tops, you don't see the socks, but they provide your feet with extra cushioning and allow your insole to last longer. You will find that they are very comfortable to wear this way, and even if you are a barefoot with chucks fan, this is a good way to break in your shoes, when you get a new pair.
Black High Top Chucks: Great Street Style.
Over the past year, the San Jose Mercury News has been running a feature in the fashion pages called "streetstyle". The series is subtitled "local looks to admire and how to get them". Each edition features a couple of locals in the Bay Area, what they are wearing, and where they got their clothes. Lately black chucks have been appearing in these articles. Here are excerpts from two of them:
So guys keep wearing those black high tops -- they're the street smart kicks to wear.
In Memory of Scott.
At The ChucksConnection we get many emails and stories about people who wear chucks, but not many as poignant as this:
"I would like to start off by saying thank you for a smile that your chucks brought to us. My name is Larry and I am 50 years old. I wore chucks as a child--they were the shoe to wear. In growing up and raising a family, I found out that they would again come back to my life. I am a photographer and travel quite a bit. In returning home one occasion, I stopped by a store and shopped for some clothes for my youngest boy Scott, then 14, for his school year. I had picked out some other high priced name brand shoes and decided to pick up some black high top chucks also. After getting home I laid out his clothes, which he loved, and showed him the other shoes which made him happy. But when I brought out the chucks his happiness went to a glow, his smile really went to joy, which gave me the sense of doing the right thing to make this youngster happy. In August of last year Scott turned 15, and proudly strutted in his chucks to school.
"On February 22, 2005 we lost Scott in an auto accident on his way to school, in which his brother, Philip, who was driving, was severely burned. When I arrived at the scene of the accident and saw my son laying there on the ground, he was covered up, but his chucks were showing. This scene is is marked in my mind and I will never forget it. He was so proud of these chucks. When it came time to make funeral arrangements for this little boy I had been so fond of, I made sure that when he was buried, his chucks were on him. In honor of Scott, all of his friends who were pallbearers (about 12 of them) wore chucks.
"In the months before this had happened, he had worked with me on many photo shoots, and he had wanted to get his ear pierced. I had agreed to let this happen and when it was to happen I would join him and get mine pierced also. We never got to do this, unfortunately, so in tribute to Scott, I went and had my left ear pierced.
"I would some how like to get a small ear ring that is a chuck. It can be a charm or a ear ring styled like the chuck that he wore. I haven't had any success in finding any on the Internet or jewelry shops anywhere. If you have any kind of idea or suggestion on where I can find one please let me know. When I get this chuck to wear on my ear, please know that I will wear it as proudly as my Scott did his chucks."
If anyone knows where such an earring can be found, please email us at The ChucksConnection and we will forward the information. In the meantime, we all wish Larry and his family the best and will wear our chucks in tribute to Scott also.
Generations of Chucks Wearers.
Now that the Converse Chuck Taylor high top has been around for more than eighty years, it is a fact that many generations of people have worn them. At The ChucksConnection we are always interested in documenting people wearing chucks. Recently, a couple of photos have come to our attention that show members of different generations of a family wearing black high tops. The first comes from Malaysia and shows a young father and his son. The second shows Slash (formerly of Guns 'n' Roses and now in Velvet Revolver) along with his father. The third shows a northern California family all wearing chucks.
Some day we would like to post a photo gallery showing a whole series of inter-generational chucks wearers. If you belong to a family like this, send us a photo or two.
Chuck the Chucks?
I don't know about you, but personally I'm not one who regularly reads fashion magazines for men. You know the type...lots of glossy fold-out ads filled with unshaven models advertising the latest in dress wear, tear out pages with cologne or perfume samples, opinionated and gossip filled articles heavily influenced by who advertises with them, and pictures of models picked for a certain look trying to be the average American guy.
But the December Details magazine was brought to the attention of The ChucksConnection due to an article by associate editor Whitney McNally entitled "It's Time to Chuck the Chucks." Her main point is that "Converse are fine for guys who think Ramen noodles are cusine -- but they're not for grown-ups anymore." No evidence is provided of the dietary preferences of people who don't wear chucks, but isn't the requirement for modeling "in crowd" products these days some form of anorexia? If, as McNally implies, chucks are fast food for the feet, then to be hip you should be throwing up your food and wearing another brand of athletic shoe.
She comes to the conclusion that because chucks are more popular than ever, they are no longer "subversive" enough. Too many people wear them for her taste. Her rationale states that "What looked positively subversive on the feet of the Strokes three years ago...now just looks old." So how clueless is this writer? She says that the Strokes started the fashion trend of bands wearing chucks to be different or subversive. I guess she didn't know that chucks have been the "sole of rock 'n' roll" for decades with literally hundreds of musicians wearing chucks before this band.
With so many people wearing chucks, the fashion police represented by her have decided that wearing chucks isn't appropriate for adult males any more. The core of her complaint is that too many adult men are now wearing chucks with business suits, tuxedos, or other dress wear. When Ms. McNally rides on the subway, she now sees ten guys wearing chucks in the crowd instead of one or two. And she is offended because "chucks have become the cool crutch of every ad exec, music manager, and magazine editor who thinks that wearing them with a Prada suit will up his street cred, make him look younger, and give him a 'See? I can still rock' look when in reality he's running home to curl up with Chris Matthews." Why all of this angst about adult males wearing chucks? Hasn't the so-called age barrier prohibiting adults from wearing athletic shoes whenever they want been broken for several decades now?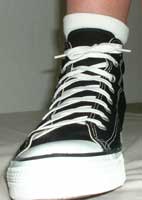 Don't chuck your chucks...keep lacing them up!
McNally goes on to state for people to look good wearing chucks, the "look has to come naturally. It can't be cultivated." In her world of fashion, the chucks just drop out of the air and get on the feet of the "in crowd" by accident not conscious choice. Look forward to the next issue when you will be told that wearing your jeans should only be permitted if that look comes naturally to you.
And what does Details' denizon of style for recommend for casual footwear now? "Puma," quoting Jim Merlis, a former publicist for the Strokes, who now wears Puma sneakers. Of course it is just a coincidence that right next to this article is a foldout advertisement for Puma, and the magazine also carries another big Puma ad at the front.
She doesn't even discuss the real reasons that chucks are so popular as footwear for men (or mention chucks' runaway popularity among young women these days). If you believe Ms. McNally, the new popularity of chucks is a fashion failure, not a fashion success story. The main reason that people like her in the fashion industry don't understand the phenomenon of chucks is that they can't see beyond their small world of fashion writers and marketing executives pushing the latest ad campaign for a well-heeled client. Yet their photographers know about the appeal of chucks in the print media: they are eye catching and photograph well.
Chucks have always been a mainstream shoe in America worn by all segments of the population. Chucks have remained popular over eight decades because they appeal to a wide variety of demographic groups, not just "subversives", punk rock groups, kids, or teenagers. People of all ages like wearing them so much that they continually find ways to replace more conventional dress shoes with chucks. Since the 1990's it has been the fashion industry and even Converse's mistake to market to the few and not the many.
As the conclusion to her article, McNally quotes Michael Bastian, men's fashion director at Bergdorf Goodman, who only approves of chucks "if they're worn with chinos in a preppy-casual way--preferably on an island far, far away." (With Michael checking you out, going to an island far away sounds like a good idea!) You already guessed it, Bergdorf Goodman doesn't carry chucks but they do have a lot of preppy-casual wear.
You can write to Details c/o Fairchild Publications, 750 Third Avenue, New York, NY 10017 to express your thoughts. But don't hold your breath for a response. They don't publish letters to the editor. After all you are the unwashed public that needs to be told what is hip to wear.
Whatever you do, don't chuck your chucks. They are still an American classic and a great shoe to wear despite the vitriol of Ms. McNally. Instead chuck copies of Details magazine. It already has an honored place in my recycle bin with the expectation that the paper wasted on this issue will be turned into something better. Best of all, for the price of a year's subscription to Details, you can buy a new pair of chucks, a much better investment of your money. Remember the real reasons that you wear chucks: they look cool and feel great on your feet. And yes, Whitney, despite what you say they remain perennially fashionable.
Sizing Up Your Chucks.
How important is the size of your chucks? Certainly people wear them differently, and each pair is sold with US, UK, European, and Japanese sizes. Take into consideration the unisex angle, a US man's size 10 is a woman's size 12 and each pair represents eight different sizing measurements.
Lately, the Converse Company has taken to issuing many of its seasonal model chucks in only even sizes. This is primarily due to the influence of Journeys, the company that operated their online business during the years of bankruptcy, and still one of their largest mall sales customers. They only wanted to stock whole number sizes to simplify their inventory and offer more styles. The justification for no half sizes also included the statement that since chucks are laced toe to ankle, and there are many ways to adjust this, Converse thinks that they won't miss any sales.
But if you regularly wear chucks in a half size, this is a disturbing trend. So to see if whole sizes only was justified, we checked with our affiliate store to see which sizes actually sell the best. With chucks it's really dependent on whether it's a unisex style/color, a mens style color, or a womens style/color. If a shoe is a unisex color like the classic black, navy blue or red, they are sold in sizes from 3 to 13 with the biggest selling size being 10, then 10.5, 11, 9.5, 12, 9, 13, 8.5, 8, 6, 6.5, 5.5, 7, 5, 7.5, 4.5, 4, 3.5, 3. If it's a mainly guy style like the flame, the best selling sizes are 9.5, 10, 10.5, 11, 12, 11.5, 13, 9, 8.5, 8, 7.5, then a smattering of 4 to 7 sizes. If it's a color mainly for girls , like pink or lime it's 6, 6.5, 5.5, 5, 7, 7.5, 8, 4.5, 4, 3.5, 3, then a few sales in sizes from 8.5 up to 12 or 13. All the kneehighs sell mostly to females.
So it seems that certain half sizes are among the most popular in sales. If you wear a half size, you should let Converse know that you might want to buy seasonal colors also. Or you must stick to wearing the more classic models that still are available in full and half sizes.
The Wearing of Chucks: How Things Are Different Now.
The ChucksConnection continues to address changes and differences between the original Made in USA chucks, and today's made in Asia chucks. One of our long time correspondents has sent us this article:
Nowadays Chuck Taylors wear in different ways than they used to. The textile portion tears along the arch side of the shoe at the junction of the rubber and textile. This tear begins as a small wear area or a snag, and it rapidly increases by extending toward the toe or heel areas, exposing the white inner liner or the foot itself. No longer do they fray at worn areas such as the heel or toe areas. They rip.
When chucks were made in North Carolina, tops were made of canvas which is described in Webster's Dictionary as "a heavy closely woven cloth of cotton, hemp, jute, or flax". Before the move to Asian production some synthetic material was added to the canvas which gave it a thinner, flimsier feel. (Ed. this was in the middle nineties) The reason for this change was never made public, but one can guess it was for economic reasons. Even the rubber soles were made less durable with the depth of the diamond design less deep.
Chuck Taylors from Asia list the components of the shoes as "textile and rubber". No more canvas, and the tops look it. They appear and feel thinner and no longer soft, smooth , and sturdy as did the genuine canvas. Blacks no longer fade to a gray but to a brownish tint. Blue chucks lose some pigment of color with the synthetic portion of the textile appearing colorless. Other colors were not observed and comments are welcome. The inner liner is made of textile. All in all, the tops look inexpensive.
Since chucks made in North Carolina were very much a hands on made shoe with no two chucks ever alike, the machine made look-alike Asian chucks all are just that. The rubber toe caps seem to be more rounded than before, and the rubber sides thicker and shinier. I can tell the difference between USA and Asian made ones from across the street.
I don't think chucks are "fun" to wear out anymore. Nothing frays, no strands of cotton stick out of worn heels or toe areas, and the toe cap and cotton don't come apart. The original Chuck Taylor was made for basketball and not street wear; thus the sole was softer and vulcanized into layers which with enough wear could come apart -- part of the "fun" of use. Now the bottoms never come apart, are hard, and on a basketball court would have poor traction. They seem to never wear out before the tops. Earlier correspondence commented on the interior of chucks.
My wish is that Converse would make a special edition Chuck Taylor made the old way with the North Carolina cotton formula ala 1985. Leather limited editions are produced; why not cotton?
Everything changes; the good old days were just that. Think of it -- real cotton and rubber chucks, $18.00 first pair, the second pair half price or often free.
Wouldn't we all like to see those days again.
Chucks in Films--What Do the Statistics Say?
Since this website opened up in 1998, we have been looking for, classifying, and writing reviews for films where one or more of the main or supporting characters wear chucks. Although we just started with a few films, the number identified has now grown to nearly 500 films. Along with information about the plot and characters, we have been keeping statistics on exactly which models appear in the films.
To no one's surprise, the most popular model used is the black high top. It has appeared in 63% of the films so far, and its popularity of all the Converse models is unsurpassed. Part of the reason is because its distinctive look and styling photographs so well. Another is that this shoe in particular is used to set the scene for films about the 1950s or films about youth or young people in all decades. Most important of all, the black high top Chuck Taylor shoe is the classic American sneaker. Some cinemaphotographers really like it when a character wears chucks and shoot film accordingly, while others show them more sparingly, but in almost every film where there are chucks, there is at least one good closeup view of them. This fact we have documented in our Best Chucks Scene feature in the film reviews we have completed. If you combine films with black high tops and low cuts together (and only counting films where both models appear once) the total is a definitive 74%.
In a distant second place is the white high top, which has appeared in 20% of all films, followed by the red high top in 12% (14% if you include maroon with red). Black low cut chucks also appear in 13% of the films. Blue high tops appear in 6% of the films. White low cuts appear in 3%, red low cut in 1%, and all other models (high top or low cut) represent 10% of the total. You can check out our films pages by clicking on this link.
Foldover Chucks: High Tops With Options.
Black/red foldover high tops shown laced up and rolled down; rear view of a pair of Puerto Rican flag foldovers showing the embroidered frog that is revealed when they are worn rolled down.
Last year, Converse introduced a new style of high top, the foldover. These shoes are designed to be worn two ways, as a regular high top, or with the top part of the canvas rolled down and the tongue flipped over as well. For a pair of chucks with eight eyelets, you would then lace them to the sixth or seventh eyelet pair.
The shoes are made a little differently from regular chucks, which can also be worn as foldovers, but are not designed to be worn this way. First of all, the inside canvas in these shoes have an actual dyed color, like red, green, or light blue. The stitching on the outside canvas matches the inner color. These shoes have two color heel patches and can have two colors of outer piping that matches the inner and outer colors, although mostly the piping matches the inner color. The shoes don't have a complete heel support piece in the back, which makes it easier to fold over the canvas around the back.
Some models, like the Puerto Rican flag high top, have an embroidered image on the inside that is revealed when the shoe is worn as a foldover. This flag pattern and a West Indies flag pattern, were the first two models that were introduced last year. This year Converse has come out with foldovers in plain colors, including black/red, black/green, navy/sky blue, green/orange, and grey/sky blue.
The ChucksConnection photo page has four photo galleries with different foldover models on display. Click on the links to see Foldover Gallery 1. You can click through from there to see the other three galleries.
If you are interested in ordering a pair of foldovers for yourself, click on this link to see what is currently available for sale:
Chuck Taylors: A Comfortable High Top You Can Wear Without Socks.
A letter from a barefoot fan.

"I finally decide to purchase a pair of Chuck Taylors! These are very comfortable for a pair of high tops. These are the only the second pair of sneakers I can wear without socks. (I do not like wearing socks!) The chuck high tops are good sneakers because they are manufactured well, They keep my feet warm, even though I am wearing them sockless. I wore them the other day to see how warm they are, and my feet never got cold, (I had been wearing shoes sockless for almost 20 years, and my feet are uses to the cold.) I purchased the black pair with the white toe. These are great shoes, which can match with any black pairs of jeans I wear.
"When I first saw these shoes, which was back in 1987, I always wanted a pair; however, my mother wouldn't let me buy them (I was 14 at the time) because she was worried that they were going to stink. (They do not stink at all).
"When I visited a friend of mine, which was when I was a sophomore in high school, he had a pair of chucks in his bedroom. He offered me a pair of them, because he had two pairs, and did not want two pairs, but they were a little bit too big for my feet; therefore I had to decline them unfortunately. They were a bone color, and I still liked the color, even though bone can get dirtier quicker.
As the years go by, I see more and more people wearing chucks in different colors and multi-colors. I hope these sneakers will stay in style as long as I live."
Editor's Note: Chucks will always be in style as long as people choose to wear them -- with or without socks.
New Life for Old Chucks.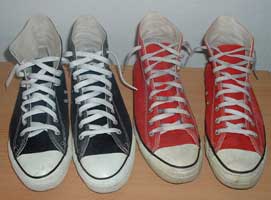 Well worn pairs don't have to be abandoned...
Every chucks wearer sooner or later has a pair of well worn chucks that are starting to fall apart. You want to keep wearing them, because they are well broken in and comfortable. But how can you do that? A new article on this site gives you some suggestions on how to give your older chucks some new life. Check it out by clicking on this link.
New Made in Asia Chucks Compared to Made in USA Chucks: The Debate Continues
Recently, The ChucksConnection heard from a long time chucks fan who shared his thoughts about the state of Chuck Taylors today.
"When the historic Converse, Inc. was sold to a company that assumed its name and closed its manufacturing plant in Lumberton, North Carolina in March 2002, all production of Chuck Taylors and other products of the company were tranferred to Asia. The devoted fans of chucks soon realized that the USA shoe was lost by a replacement that failed to duplicate the familiar Chuck Taylor.



Before the sale of the original Converse, some design changes had occurred with Chucks. I think to switch from cotton to part cotton and synthetic material started in 1993. First was thinner canvas resulting from synthetic material replacing some of the cotton in the canvas, both inner and outer layers. Eyelets began to pull out with people with high arches. About two years later the canvas was even thinner with less cotton, more synthetic material added. Ripping started to become obvious in the uppers.The shoe felt flimsy. Fading due to aging was less obvious, and all old Chucks were supposed to fade. Then, the heel counter made of compressed cotton and bits of rubber was replaced with plastic. Sometimes it cut through the adjacent canvas, and some heels were irritated by rubbing on the plastic which cracked with sharp edges.



Then the heel counter was changed from compressed soft material to thin rubber or plastic. This cut through the "canvas" because it was so brittle. The rubber pad under the inner sole was changed about 1996 or 1997 to a plastic waffle like material that oozed glue with repeated weight bearing and finally got loose so that the entire inner sole could be removed, leaving only the inside of the rubber sole to stand on without any cushioning.. All this time the wear and tear of the canvas was mostly a tear along the rubber and canvas interphase starting with a snag. Wear at the heel and toes was less frequent.



Then came bankruptcy which stopped the "improvements" until the present chuck was made.


Asian Chucks followed started with those made in Indonesia. Many of these lasted just a few weeks before the rubber and canvas along the sides of the shoe separated for one or two inches. Chinese Chucks followed which did not have this problem. All of this was explained as the "lumps and bumps of starting" to manufacture in Asia.


The Asian made chucks when new do not have the familiar smell of USA chucks. The canvas seems to be thinner and flimsier than ever. However, the sole is never going to get loose since it seems to be one solid piece from foot side to bottom of sole. The rubber sole seems to be thicker as does the rubber along the sides of the shoe. The average teen age life for these Chinese or Viet Nam products is about three months if worn daily I would guess. The tops rip, the bottoms never wear out or get loose. The insole never gets loose from the rubber sole.


This thick rubber sole and sides plus the rigid plastic heel counter make for a rigid shoe. The comfortable, old chuck feel of the USA ones is missing. The art of beating an old pair of Chucks to death is gone. Now the canvas snags and rips, but that is about it. They do get dirty and fade slowly, but little "character" develops as with flopping soles at the heel or toe areas, the loss of piping and its attached rubber runner, and the toes and heels exposed through worn canvas. Gone are the days when the tops of chucks would fray and fade and finally give out a little at a time. The rubber sole would get loose either in front or back, and "killing" the chucks was an art, fun, and never the same from one pair to another.


The question is -- are they any better now? You answer that. The chucks that teens and twenty-some have worn out have made it obvious that the "canvas" is much too thin and tears very easily if snagged. The soles are thicker now and put a lot of stress on the tops of the chucks. Thus, the canvas wears out, usually by ripping. The white lining shows through. It seems to be the stronger of the two. The leather or suede ones seem to promise more value vs. cost. As an old Chuck Taylor fan, I would like to see more cotton used in the top and stop pushing the flimsy upper on the public. Poeple are spending about $40.00 on chucks now and should get more for their money from Converse.


Young people starting to wear their first chucks will not know what this discussion is all about. Maybe they are the lucky ones."
So the discussion continues. Let us know how your chucks are holding up these days.
Can Chucks Ever Be Made in the USA Again?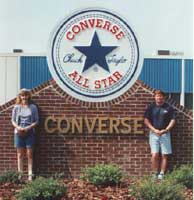 Will the Lumberton plant ever open its doors again?
While the hope that chucks could be made in the USA again is something that most long time chucks wearers wish would happen, this seems more and more unlikely, especially with the acquistion of Converse by Nike, who built their entire shoe empire around imported shoes from Asia. One of our correspondents recently did some research on this issue, and here is his first report:
"I tried to find out what was left of the Converse plant in Lumberton by calling Gary Church of American Athletics fame in Charlotte, NC. He toured the plant in its final days. Some of the machinery is still there, he thinks. Some of the machines were sent to China. He thinks if someone with a million or so would like to make USA chucks it could be done. Most of the Converse emplyees are still around, many of them working for Converse all their lives. Gary said the manufacture of chucks is complicated from melting large masses of rubber to stiching and putting the shoes together. Some of the employees specialized in doing one or two things only.
At this plant no two chucks were ever exactly alike. The Asians ones are all clones, all the same, no irregulars. It is part of American shoe history, the making of an icon.
I don't think American give a damn where their clothes and shoes are made as long as they are in style. Price and a war with Foot Locker drove Nike to buy Converse. Maybe price will have something to do with what sells. Nike will not change chucks, but you will see them for sale in Wal-Mart and K-Mart and Target followed by the less expensive lines from Nike's vast empire."
The Spiritual Side of Made in USA Chucks
Hello Fellow Chuck Lovers -
I've been a loyal wearer of Chuck Taylor high tops since the mid-eighties, the basic black and the red (or sexy red as I call it). After Converse declared bankruptcy in 2001 and announced that production would be moved overseas, I ran out and purchased 6 pairs of Made in USA chuck high tops (3 black and 3 red). After the recent announcement that Nike was purchasing Converse, I purchased another half dozen pair of Made in USA chuck high tops on eBay (I even branched out into some "non-traditional" colors). Luckily, they are still to be had at a reasonable price (between $40-50 with shipping). Although I must say the supply is running dry and when they're gone...they're really gone!
Let's be clear about one thing, since Converse closed its US manufacturing facilities, chucks are no longer being produced. The versions coming out of Asia are just knockoffs, reproductions, imitations. The REAL THING can only be produced in the USA. People have to understand this. There is a spiritual component to USA-made chucks that can't be replicated in another country. Not that I'm against overseas manufacturing of any kind, it's just that the real chucks can only be made here, period. We, the lovers of chucks, should just move on and be glad that we had them for so many years. Hopefully, a lot of you purchased some extra pairs of USA chucks. But let's please not pretend that the versions coming out of Asia are the real chucks, because they're not.
Sincerely,
Steve from Boston
P.S. As a side note - I experienced déjà vu this year when Doc Marten (Griggs Co) outsourced its manufacturing to China. I've been a strictly chucks and Docs wearer for many years now. Luckily I moved fast and purchased enough UK-made Docs to last a lifetime. Is nothing sacred anymore?
Unfortunately, Steve, you are experiencing the reality of today's footwear manufacturing world. Basically, almost all of the world's production has been sent to Asia. If you want new pairs, that's is where you will be getting them from. But for all of you collectors out there, especially with Made in USA pairs of chucks, you can see that their value is going to continue to increase.
The Media Is the Message.
One of the best ways for the public to focus on a product is for it to get exposure in the visual media, especially films and television shows. The Chuck Taylor is a natural for use in these media because it photographs well, shows up even at a great distance, and is immediately identifiable. This site has had an ongoing project of documenting the appearances of the Chuck Taylor in films and television shows, and of the over 400 movies we have identified, over half have been made since the 1990's. So the Chuck Taylor remains very popular with costume designers and cinemaphotographers, who in certain films, really focus in on chucks in their "footage". Every major genre of film -- comedies, dramas, romance, action/adventure, mysteries, horror,and coming of age -- has a number of titles where principal actors wear the Chuck Taylor. If the Chuck Taylor is a "leisure-athletic" shoe, why not use actors who have created memorable roles wearing chucks as endorsers? If nothing else, just send them free pairs of shoes to wear, and hope that they get photographed in them. Just a short list of the actors in these films includes many of the best and greatest personalities in the industry. The same thing is true for performing musicians. This site is also starting to identify and list chucks wearers in the music industry, another area where it would be easy to get enthusiastic endorsers.
How to Participate in Chuck Talk
Do you have some things to say about Chuck Taylors? If you have an article or other information about Chuck Taylors to submit to this website, please contact us at chucksphotos@chucksconnection.com. Please Note: Similar messages may be combined and your content may be edited. Although we try to accommodate everyone, submission is no guarantee of posting on this page. This site is not affiliated with the Converse Company.