A ChucksConnection Film Review


Rose McIver wears black and maroon low top Converse "Chuck Taylor" All Stars in the film.


A Christmas Prince
by Hal Peterson
Would-be reporter Amber waits in line for a taxi at Aldovia Airport.
A Christmas Prince begins in New York City, where we meet a Amber (Rose McIvey), a young woman who works as a copy editor for a tabloid. Frustrated by her job of having to make sense out of a senior staff writer's overwritten gibberish, Amber finally gets her chance to be an actual reporter during the holiday weeks. She is sent to the country of Aldovia (shades of the Marx Brothers' Duck Soup here) to cover the succession of Prince Richard (Ben Lamb) after the recent death of his father. Richard is assumed by the media to be a playboy and philanderer, but he is very secretive about his life so no one knows for sure what the real story is. It is known that Prince Richard is considering abdicating the throne that he is about to assume because it will interfere with his lifestyle. At the Aldovia Airport, Amber actually runs into the prince, although she doesn't realize it at the time when a bearded man cuts ahead of her in line and steals her cab that she has been patiently waiting for. She yells at him and calls him a jerk as he speeds away in the cab. Later Amber attends a press briefing at the royal palace, and after words wanders into the private area to check things out. A security guard stops her, and when she tells him she is from America, assumes that she is the new tutor for young princess Emily (Honor Kneafsey). Amber readily agrees to gain access to the palace. When she is brought to be introduced to Queen Helena (Alice Krige) and Prince Richard, she discovers that the prince is that same bearded man. Things are smoothed over, then we are introduced to Emily who is severely crippled and lives her life in a wheel chair or struggling to walk around with braces and crutches. Amber must now convince Emily that she is the new tutor, a difficult task since Emily who is precocious mentally is constantly trying to pull pranks on the tutors hired by the royal family.
Amber is introduced as the new tutor for young princess Emily.
Amber's first task is to make friends with Emily and get past her practical jokes like putting a live mouse on the chair where Amber is about to be seated for her first lessons. But Amber reacts in a way that doesn't put a barrier between them and gradually wins over Emily by acting like herself around the princess and treating her like a normal person instead of a piece of frail royal china. Soon they are as thick as thieves, and even though Emily discovers that Amber isn't the real tutor who was hired, she allows the deception to continue because she is having a good time. Amber is very lucky here; she is so inexperienced as a reporter that she doesn't protect her computer, talks out loud in her room all the time to her co-workers back in New York, and is constantly taking videos and pictures on her cell phone. This in itself is amazing considering how private the royal family is yet no one seems to notice or object. Instead Amber and Prince Richard start to become friends. Amber is very surprised to find the prince, now clean shaven and very handsome, playing the piano by himself in the palace music. She gets out her phone to take a quick video but accidentally makes a noise. The prince discovers her watching and they talk. Over the next few days their friendship begins to slowly develop into a relationship. Amber begins to discover that Prince Richard is nothing like he is made out to be in the media.
Amber first begins to discover the real prince Richard when she overhears him playing the piano.
As Amber and the Prince start to become an item, this is quickly noticed by others, notably Count Simon (Theo Devaney) who also has his eye on the throne, and Baroness Sophia (Emma Louise Saunders), the prince's one time companion who is now conniving with Simon to take the throne away from Richard. There is much intrigue at the palace as the deadline for the coronation approaches. Richard is now ready to accept his responsibilities but turns and twists of fate intervene after Simon and Sophia discover the truth about Amber and some shocking information about Prince Richard. Suddenly their storybook romance is blown up, and things are in turmoil in Aldovia. The resolution of all this intrigue makes up the balance of the film, and the viewer is made to wonder if the romance between Richard and Amber was real.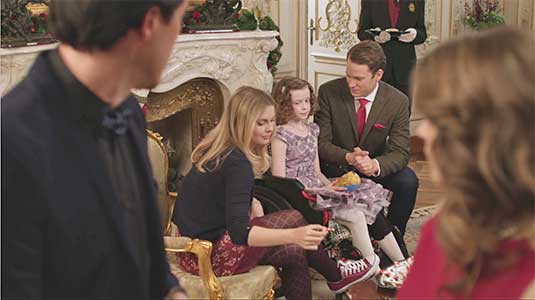 Amber socializing with Emily and Richard at a Christmas party.
A Christmas Prince is another commoner meets royal romance story with a big dose of Cinderella thrown in. Watching this film makes you think you have somehow seen it before, even though it was made in 2017. Part of that is due to the fact that the storyline seems to be from an much earlier era when security wasn't important, and people and things were very uncomplicated. The whole idea of a small European kingdom where everyone speaks flawless English and a young commoner American could immediately fit into the inner circles of a royal family is hard enough to believe, and then you throw in a palace intrigue over the succession to the throne along with a whirlwind romance all taking place within a week. So to enjoy this film definitely check your brain at the door. But isn't that the point of so many holiday movies and specials? Probably the highlight of the film for this website is the fact that Amber proudly wears her maroon low cut chucks throughout the film, even at formal occasions, and this is noticed in the cinematography and the story line. So viewers get some chucks candy while watching it. And the movie was filmed at a castle in Romania and the sets are beautifully done, especially for the Christmas parties. The adult roles are pretty stereotypical throughout although there is some chemistry between Rose McIvey and Ben Lamb. The character with the most emotion is young Honor Kneafsey in her role as Princess Emily. If you want a Christmas film with an uncomplicated romance story and palace intrigue, then you will enjoy A Christmas Prince. Available on Neflix.
Amber and Richard start to develop an attraction for each other.
Best Chucks Scene


Amber's maroon chucks are noted at the party.
Rose McIver in her role as Amber wears maroon and occasionally black low cut chucks throughout the film. The black pair may be the result of shooting screw ups, as her maroon pair is her preferred footwear and she has them on most of the time. They seem to be used to characterize Amber as an independent, down to earth, young twenty-something American woman who has no qualms about wearing her chucks at even the most formal occasions. The best chucks scenes are at parties. At a holiday party, others comment on her chucks as "unusual footwear" and we see a camera close up of them. At the formal Christmas Eve ball, Amber makes a dramatic entrance in a full body length gown, but underneath all the petticoats the camera shows us that she still has on her beloved maroon chucks.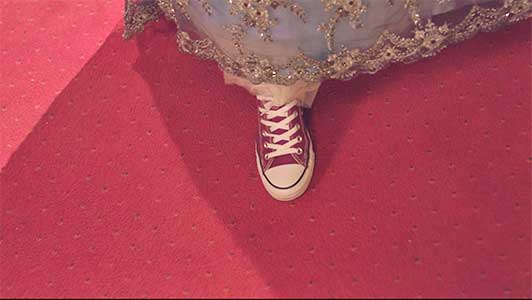 Even at a formal ball Amber wears her chucks under her gown.
A Christmas Prince. (2017) Rose McIver, Ben Lamb, Honor Kneafsey, Amy Marston, Sarah Douglas, Emma Louise Saunders, Theo Devaney, Alice Krige. Directed by Alex Zamm.
Categories: Romance.
ChucksConnection Rating:

Rating: NR, would be PG
Support the film industry by purchasing genuine DVD, Blue Ray, or streaming copies of these films. Illegal copies only help profiteers. Make sure your money goes to the producers and artists who actually create these films. Still images from the film are used here as teasers to get you to view an authorized copy. If you have information about a film where a main character wears chucks, contact us at films@chucksconnection.com.