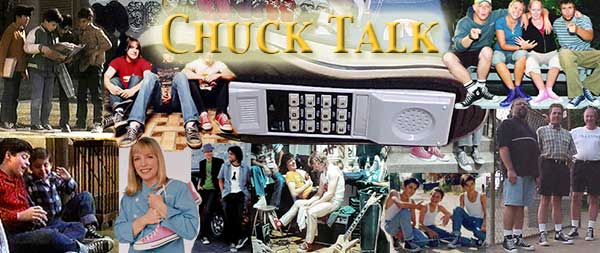 Information, commentary, chucks fashion, lifestyles, media presence.
Chuck Talk—Winter/Spring, 2022
New Chuck Taylor All Star Summer Print High Tops
With summer rapidly approaching, Converse has released two new print models built on the foundations of their two best selling models of chucks, black/white and optical white high tops. Built on the optical white high top design, the Chuck Taylor All Star Archive Flames updates the flames graphic that was a popular seasonal model a decade ago, and redoes it in a bright design that features colors like Baltic blue and washed teal, along with a touch of orange and purple. The Chuck Taylor All Star Lightning Bolts high top is built on the classic black model of chucks. The uppers on this sneaker are black with a design of lightning bolts in Baltic blue, washed teal, orange, and purple.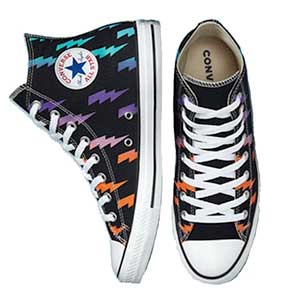 Chuck Taylor All Star White Archive Flames and Lightning Bolt high tops.
These chucks will give your summer wear look a bright pop of color when you lace them up while still fitting in with the clothes you like to wear with your favorite black or optical white high tops. These chucks have the original Chuck Taylor ankle patch in red, white and blue, white toe caps and outer foxing with black racing stripes, and gradient colors in their print designs. They have mesh-lined canvas uppers to help you stay cool, OrthoLite cushioning for all-day comfort, and a recycled mesh lining along with the traditional pair of eyelets on their inside uppers for breathability. These chucks come in men's whole and half sizes from 3 to 13 (women's 5 to 15) and retail for $65.
Chuck Taylor All Star Split Panel Camouflage High Tops
These high top chucks feature a paneled look on the recycled polyester canvas uppers which come in two different camouflage patterns, Desert Sand/Pale Putty, and White/Mouse/Ash Stone. Special features include rubber toe caps and toe guards. They have sewn on ankle patches in black and white, with white outer foxing and black racing stripes.
Desert Sand Chuck Taylor Split Panel high top.
Other features include OrthoLite cushioning for all-day comfort on their insoles, and a recycled mesh lining to keep the shoes comfortable to wear. These models are a patchwork remix of archival print camouflage designs from the past made on a recycled poly-canvas split panel high top silhouette. These chucks come in men's whole and half sizes from 3 to 13 (women's 5 to 15) and retail for $70.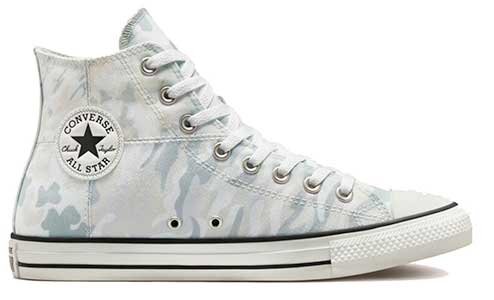 Ash Stone Chuck Taylor Split Panel high top.
Golf Wang by You
Tyler, The Creator is an American rapper and musician who has released some of the most critically acclaimed albums of the 2010 decade, as a solo artist and as a member of Odd Future. He has also had a long partnership with Converse through his clothing brand, Golf Wang. Beginning in 2017 when he reinterpreted the Converse One Star, and continuing ever since, the rapper has designed multiple collections for the brand. Fresh off his win for Best Rap Album at the 2022 Grammy Awards, Tyler is back at it with Converse with the new GOLF WANG Chuck 70 by You.
Step into the mind of Tyler, the Creator and design a pair of GOLF WANG chucks.
After all those previous releases, this is the first ever customizable Golf Wang chucks collection and there are a lot of options available. To start, there are twelve predesigned styles available on the Converse store already, giving everyone a great and varied starting out point. However, if none of the predesigned templates suit you quite right, that's where the "by You" bit comes in. The base color palette for the collection is bright and in your face, and can be accented by a variety of body prints that each have their own unique style and swagger. You can also change up the inner lining by opting in for some classic Golf polka dots. There are endless ways you can make this collection your own! The Golf Wang by You collection is available now for high tops at $115 a pair.
More ensemble suggestions from the Golf Wang collection.
Celebrity Chef Competes in Chucks
How much do you love food? Do you love it enough to watch it on TV? How about watching a March Madness-style tournament that pits celebrity chefs against each other in one on one competition? Well if that last one piqued your interest, the Food Network's latest hit series may be for you. Guy Fieri's Tournament of Champions has been running for three years now on the culinary channel and features 32 chefs from around the world competing against each other to win $100,000 and the "Tournament of Champions" championship belt. One of these chefs is chef Brooke Williamson from California. Brooke has made a name for herself through her restaurants and on cooking competitions like Guy's Grocery Games and Top Chef. She makes her return to ToC after winning the first year and coming in second the next year.
Celebrity chef Brooke Williamson cuts down the competition in chucks!
The competition begins with the separation of the 32 competitors into four divisions. Brooke was seeded as the number one seed in the West Region because of her status as two time finalist and one time champ. She showed up to her first match wearing her signature black top, jeans, and black chucks, an outfit she would wear through the entirety of the tournament. And what a tournament it was, with Brooke carving up the West and coming out as the finalist from that side of the bracket. She would face off against Boston chef Tiffani Faison in the finals in what was set to be an incredible showdown! The battle was fierce but Brooke came up just short of reclaiming her title, losing to Faison by 2 points. However, Brooke is still a one time champ, an amazing chef, and a proud wearer of chucks!
Articles and Features:
The first new seasonal colors of chucks for 2022 have been released by Converse, along with archive and dip dye prints, two Future Utility CX models, and this season's line of winter boots. You can see them at our Shoe Outlook page. The Chucks Life comic strips have been reformatted for easier viewing on mobile devices. Johnny Knoxville has moved into second place in our Honor Roll for Actors Wearing Chucks in Films and Television Shows with the release of the latest Jackass film Jackass Forever.
For more articles:
Film Reviews:
Spider-Man: No Way Home, The Adam Project, Three Months, West Side Story, There's Something In The Lake, Escape 2120, Reel Monsters, SpaceBoy, Tick Tick Boom!, Scary Godmother: Halloween Spooktakular, The Return, Tremors: Shrieker Island, Boy Wonder, Broken Down, The Kid Detective.
New listings: Blurred Lines, Un éte sans point ni coup sûr, Summer Rebels, Downfalls High, A Haunted House 2, Freaky Friday, The Secret: Dare To Dream, Weekend Warriors, The Dare. All of the alphabetical film pages, The Chuck Taylor in Films - A, etc., are accessed from the main Chuck Taylor in Films Page at the top of each alphabetical listing.
For more film reviews and listings:
Music Video Reviews:
Glad You Came, Especially You, Every Summertime, favorite crime, Crisis, Louder Than Words, In Hell I'll Be In Good Company, Fight for Your Right (Revisited), The Less I Know the Better, My Block, Figures (Live), 10/10.
For more music video reviews:
New or Updated Photo Galleries:
Kava Bliss Washed Canvas High Tops, Guys Wearing Red Chucks, Zendaya, Chucks In The Film Three Months, Ads for Chuck Taylor Shoes, Actors Wearing Chucks in Television Series. Most of our Musicians Who Wear Chucks photo galleries have been re-edited with improved links and captions.
For a complete listing of our photo galleries:

TV Page Features:
New listings with an article: Heels, Kim's Convenience, Never Have I Ever, Första Kärleken (First Love), The Hardy Boys (2020), Secrets of Sulphur Springs, WandaVision, All-American.
Other recent listings are: Lab Rats: Elite Force, The Conners, The Wonder Years (2021), A. P. Bio, Diary of a Future President, Generation, The Unicorn, Trinkets, The Mysterious Benedict Society.
For a complete listing:

Videos and Short Films With Chucks:
Bus 89, Man of the Harvest, Star Wars Generations, Eddie and the Alternate Universe, The Attic, The Funspot, Remember When, Brotherly Love, E.L. R.O.N.A.L.D.O., Rocket Boy, Broken Leg.
For more videos and short films:
How to Participate in Chuck Talk.
Let us know what you think! We are also happy to try and answer your questions and inquiries about chucks, and listen to what you are thinking about. If you have some opinions, information, pictures, suggestions, an article or other interesting information to submit, please contact us at mail@chucksconnection.com.
More ChuckTalk Articles
Say "I Do!" in Chucks
Wedding season is here! That's right from May to September every year thousands of weddings take place as couples celebrate their happiest days and many look for ways to differentiate their celebrations. If you're one of these lucky nuptials, Converse may have an answer in the form of your favorite shoe. The Wedding By You line of custom chucks features a wide range of design elements and personal touches that can add a bit of flair to your wedding ensemble. First, right off the bat, this collection is all-inclusive to all couples with the ability to mix and match combinations of "leather" and "lace" style shoes, along with "Mrs., Mr., Bride," and "Groom" graphics. The "leather" style are made of either a black or white leather and are meant to resemble a wedding suit, while the "lace" style shoes come in white and are meant to resemble a wedding dress. There's also the ability to add Pride patches and laces as well.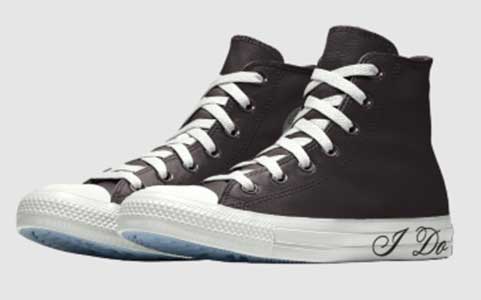 Time to say "I Do!" in your new favorite pair of chucks!
There are also small final details that can be added to these chucks to really give them that personal touch. You can add your special date, wedding hashtag or your new last name. The bottoms also feature a touch of clear blue with the phrase "Just Married" written in cursive. After you and your significant other customize your own chucks, you can then include the wedding party with pairs of their own. You can personalize these chucks to match with your wedding's colors and add the names of your wedding party members. These make for a great gift and will be cherished forever. So add chucks to your wedding this year and celebrate your special day your way! (See our current cartoon for an example.)
Chuck Taylor All Star Washed Canvas High Tops
Chuck Taylor All Star Washed Canvas High Tops are the latest new models from the Designed in Italy collection. Classic chucks have been updated with washed canvas uppers for a lightly faded, broken in look from the first time you lace them up. These chucks come in two color combinations, Light Field Surplus/Egret/Black, basically an army green color, and Kava Bliss/Egret/Black which is a medium brown shade.
Light Field Surplus and Kava Bliss Washed Canvas Chuck Taylor All Stars.
These sneakers feature washed canvas uppers that have a mottled, vintage look, OrthoLite insoles for all-day comfort, a recycled mesh lining for breathability, and black and white Chuck Taylor ankle patches. They are available in whole and half sizes from a men's 3 to 13, and retail for $65. View our photo gallery of Kava Bliss Washed Canvas high tops.
Knoxville-mania Runs Wild
Johnny Knoxville is an American stunt performer, actor, and filmmaker. He is best known as a co-creator and star of the MTV reality stunt show Jackass and the subsequent film series. This series of four films recently concluded with the release of Jackass Forever in February 2022. To promote this film, Knoxville took his talents to WWE where he met professional wrestler Sami Zayn. Sami Zayn is an incredibly talented wrestler but he has been a firm believer that the WWE and its fans are against him, and that celebrities coming into the promotion are taking opportunities from him. These two came at odds when Knoxville announced he was entering the Royal Rumble match, a yearly contest WWE holds to determine the number one contender for the title. Sami took umbrage with this as he felt Knoxville hadn't earned it. During the rumble match, Zayn eliminated Knoxville much to everyone's disappointment. Zayn then showed up to the Jackass Forever premiere and was promptly kicked out. Knoxville then challenged Zayn to a match at WWE's biggest show, Wrestlemania, for Zayn's Intercontinental Championship. Zayn declined and Knoxville responded by distracting him during a match and costing Zayn his title.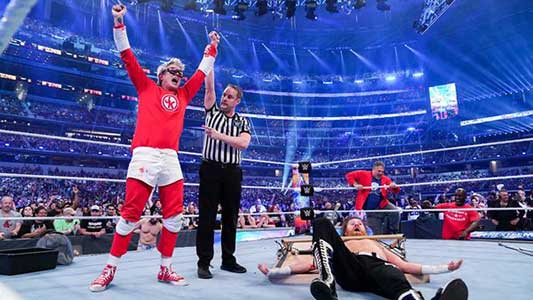 Knoxville wears red high top chucks at the "Showcase of the Immortals"!
This all led to Wrestlemania where Zayn faced Knoxville in an Anything Goes match. The match began with entrances, with Zayn doing his usual entrance down the aisle. Then Knoxville entered in front of 78,000 people to the Jackass theme wearing a blistering red superhero outfit with red high top chucks. This makes Knoxville one of many wrestlers who have donned Chuck Taylor sneakers over the years. The match began and Zayn quickly showed he is the superior wrestler. Knoxville however, showed he had some tricks up his sleeves, pulling out an arsenal of gadgets and traps for Zayn. He also brought along some of his Jackass compatriots including Wee Man. The match was fun and saw Zayn lose when Knoxville pinned him with a giant mousetrap. Johnny Knoxville is now undefeated at Wrestlemania and so are his chucks.
Spring Forward with Chucks!
Spring has finally arrived and after the cold dredges of Winter wash away, flowers and sunshine have returned. With it comes the opportunity to break out a fresh pair of Chuck Taylors. A new Spring pair of chucks is just what the doctor ordered when it comes to clearing out those Wintertime blues, but the question remains: what can I pair those new chucks with? Well, there are plenty of options available in both the world at large and through Converse. Let's talk about what goes well with chucks that you may already have. With the weather getting warmer shorts in any color or length are perfect for both high and low top chucks.
Chucks and shorts pair well together and look great.
T-shirts are the best pairing for shorts. Pick out a a couple of basic colors tees that complement the color of your chucks. You can also add another color to your look by installing colored shoelaces, and for more of a statement get some print pattern laces. You can easily get new shoelaces at our chucksconnetion.com store. If you are interested in graphic tees, Converse has some new options available this spring. The Stay Smiling Vintage Graphic Crew Neck T-Shirt features a nostalgic floral design that's in a non-traditional graphic placement. There's also the Much Love Crew Neck T-Shirt which features colorful, cartoonish flowers dancing over a colorful Converse wordmark. If it's still a little cool where you are there are some options for that as well. The Floral Pullover Hoodie features a wonderful flower design and pastel colors that pop incredibly well. There's also the Much Love Double Pleat Chino Pant which features a nice sunflower character in cool white. Besides these tees, there are always shirts for bands, causes, sports, businesses, and lifestyle statements that you can go with. All of these spring styles go great with any new pair of chucks and will make you stand out this season!
New Tie-Dye High Tops
Converse has just announced what they describe as a tie-dye takeover: "Brighten up your look with bold tie-dye chucks. Designed in Italy, these classic high tops are finished with splashes of summer-ready color. The iconic features you know and love are all there, plus a breathable mesh lining to help keep you comfortable all day, every day." The new models of chucks come in two color schemes, dark blue with red and yellow, and light blue with orange, red, and dark blue.
The new tie-dye collection from Converse.
These new high top canvas chucks include OrthoLite inner soles, black piping on the outer foxing and toe caps, and a sewn on ankle patch. They come in half sizes from a men's three to thirteen and retail for $65.
CDG Comes to Play
Comme des Garçons (also known as CDG) is a Japanese fashion label founded and led by fashion designer Rei Kawakubo. The label began in Paris in 1969 and still has its French flagship store in Paris, as well as having stores in major cities such as London, Melbourne, Hong Kong, New York City, and Ginza. Outside of fashion, the brand has expanded its business to jewelry and perfume. However, to most of us, the brand is best known as the longtime collaborator to Converse, through the Converse x Comme des Garçons line of Chuck Taylors. The partnership has been in effect for twelve years now, and to celebrate, Converse and CDG have teamed up to unveil a brand new line of chucks.
The Converse x CDG legacy continues.
The Converse x CDG PLAY collection aims to celebrate the young creatives who push the boundaries of culture through art, music, and skateboarding. It features the first-ever red foxing sidewall with contrasting stripes. It also features the iconic CDG heart design as an ode to the collaboration's heritage. The collection features two colorways: black and egret, with each having its own contrasting stripe. The collection also comes in both high and low top Chuck 70s, giving you the option of having a full or half heart on your feet. Both the high and low tops come in at $150 and are limited edition. This bold new design is for those who follow their heart and their own path and is available now.
Chuck the Condor Takes Flight in Chucks
Mascots in sports have a long and storied history. From live animals to humans in animal costumes, mascots have been dancing on the sidelines and entertaining fans for the better part of 100 years. They come in all shapes, sizes, colors, and species and have worn every kind of costume you can imagine. So it was only a matter of time before one of these costumed characters started wearing a pair of Chuck Taylors. Enter Chuck the Condor, the new mascot for the Los Angeles Clippers. According to Chuck's official backstory, he "hatched" in Los Angeles, California back on February 29, 2016, when he made his official debut. He has a 10-foot wingspan, loves basketball, and wears the number 213 to represent LA (its area code). Finally, true to his name he sports a pair of red Chuck Taylors on his feet. Chuck loves chucks so much in fact, that he gave out free pairs of Chuck Taylors to everyone in attendance for his debut.
Chuck the Condor is ready to soar in his chucks!
Chucks have a long history in Los Angeles and are an integral part of LA culture. They've been LA's favorite shoe for decades across multiple races and cultures. Tupac Shakur even famously said in "California Love" that "in LA we wear chucks". This is music to the ears of the Clippers who are trying to engrain themselves in Los Angeles as the premier basketball organization over the Los Angeles Lakers. So by naming their mascot after the famous shoe and having him sport a pair of chucks, they are in turn embracing LA culture.
Get Crafty with Chucks
Chucks have always had that "do it yourself" spirit behind them. From their humble beginnings to being the most recognizable shoe, chucks have always had the maverick and can-do spirit behind them and have passed on that spirit to their wearers. So much so that chucks are famous for being personalized and customized by wearers and fans alike. Many wearers decorated their pairs of chucks with Sharpies years before things like the Converse customizer were available. To honor this DIY history and spirit, Converse has released a new collection that brings different textures and colors together to create something new.
Converse is crafting cool kicks!
The Crafted Collection combines leather, suede, and woven textile for an inspired and electric style that feels well made and completely original. The collection also features a three-way seam that uses pop-color thread in a unique stitch that is inspired by baseballs. There is also jagged stitching around the All-Star patch, which adds some nice flair. Finally, it has a glossy midsole and toe cap, and flat cotton laces that look really clean against the other textured surfaces. This collection includes designs for the Chuck 70, Run Star Hikes, Platform, and leather chucks. The Run Star Hikes and Platform each have their own special designs that differ from the Chuck 70s. The Run Stars features this fuzzy, patched sweater look on the body, and the platforms have a faux-stitched effect on the racing strip. It includes several colorways, including black, khaki, and egret for the Chuck 70 models, grey and black for the leather chucks, and pink for the platforms and Run Star Hikes. The whole collection ranges between $70-$115 and is available now on Converse.com.
Chucks Make Their Super Bowl Debut
The Super Bowl Halftime Show is the biggest show of the year, watched by 100 million people annually. It's the pinnacle of live performance and something artists aspire to. It is the biggest concert one can perform and it's been tackled by some of the biggest artists of all time. Michael Jackson, U2, Beyonce, Paul McCartney, Prince, Bruno Mars, and Madonna to name a few. This year, on Sunday, February 13th, hip-hop took center stage for the first time as Dr. Dre, Snoop Dogg, Mary J. Blige, Eminem, and Kendrick Lamar performed a medley of some of the genre's biggest hits. There was one star in this performance and that is of course chucks at the Super Bowl Halftime Show.
Super chucks at the Super Bowl!
America's favorite shoe took center stage on the feet of Snoop Dogg, and on the feet of hundreds of dancers. Snoop was decked out in a blue, white, and yellow ensemble, and being a longtime wearer of chucks, he naturally wore clean white chucks with yellow laces during the entire show. The dancers were dressed in khaki outfits and wore black chucks, and their big showpiece was during the "Still D.R.E." number where they gathered at the 50-yard line to break it down. Between these moves and Snoop crip-walking in his chucks, it's very easy to see how chucks were front and center at this show. And what a show it was, a 15-minute long celebration of the last thirty years of hip-hop from some of its biggest stars. Truly a halftime show for the ages and chucks were right where they should be, on the feet of legends.
New Chuck Taylor All Star Boots for the Winter Cold
With much of the country experiencing cycles of bitter cold winter storms, it is good to know that Converse continues to issue leather boots as a part of their Chuck Taylor family of footwear. Here are some of the latest models:
This black monochrome Gore-Tex high top is a weather warrior.
A weather-ready reimagination of the classic Chuck Taylor All Star, this waterproof Gore-Tex sneaker-boot hybrid is designed to stand up to the elements. Features include a gusseted tongue for added protection, warm polar fleece lining inside, an OrthoLite insole for cushioning, a hiker-inspired modified diamond pattern outsole, and boot-like hardware. Retail price is $110.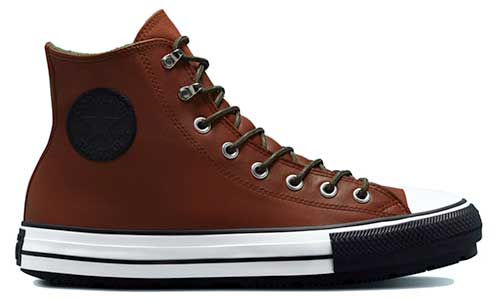 A Cedar Bark Winter CTAS high top.
Converse describes their Winter line of Chuck Taylor All Star high tops as: "the ultimate in weather protection comes in the form of our lined, Counter Climate boot. This performance design starts with a waterproof leather build and moisture-wicking laces that keep feet dry. The protection continues on the inside, with a waterproof, warm interior lining that protects against the cold. A traction outsole keep you stabie on slick surfaces, while an OrthoLite sockliner maintains comfort through it all." The Winter high top also comes in a black model with white trim. Both models retail for $110.
The Velvet Brown Utility All Terrain Chuck Taylor All Star.
The All Star Terrain line of Chuck Taylor boots are described as all-weather all stars. The Utility All Terrain Chuck Taylor All Star lives up to its name with hiking-inspired styling that includes a waterproof leather upper, winter-ready fleece lining, reflective colors, and a traction sole. Additional features are wraparound laces, an insulating inner bootie, and a D-ring lacing system with moisture wicking laces. This model also is available in a black and white model. The boots retail for $130. You can see the other models on our Shoe Outlook page.
More New and Returning Chucks
The start of 2022 includes the re-release of two popular print high top chucks from the past. The Chuck Taylor All Star Americana is based on the American flag, with red and white stripes, blue and red piping, and white stars on a blue background on the tongues and backpieces. The Camo is a brown camouflage print with black and egret highlights. These chucks retail at $60.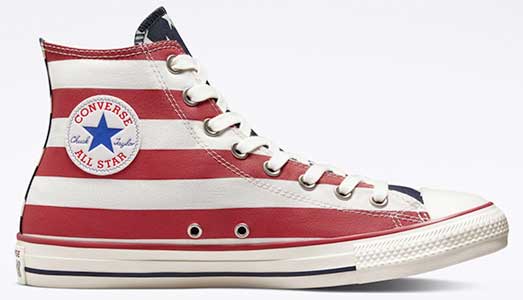 The Converse Chuck Taylor All Star Americana high top.
Another new seasonal line of chucks just released is called the Dip Dye. The first issues include a black high top print with hemp and white details, and a Desert Sand high top model with white and black details priced at $60. In low top there is a Moroccan Blue model priced at $55. Also released is a variant design in monochrome colors. The Future Utility Chuck Taylor All Star CX high top comes in a monochrome white or monochrome black model. The CX high top features stretch canvas uppers, a CX foam sockliner, pull loops allow for easy on and off, CX logos in red on their tailpieces, and semi-translucent milky rubber midsoles, which are most noticeable on the white model. These sneakers retail at $75. You can see photos of all these models of chucks on our Shoe Outlook page.
The First Seasonal Colors for 2022
Converse has just released the first new Chuck Taylor seasonal colors for 2022. Five new colors, available in both high top and low top models are now out along with several returning colors. The new colors are Fire Opal, Pink Clay, Virtual Matcha (a light green shade), Electric Aqua, and Pale Amethyst. The returning colors so far are Maroon and Electric Purple, in high top and low top, and Pale Putty in high top. Maroon is basically a core color, as it returns every year, and has been available pretty much ever since Converse started releasing pairs of chucks in colors beyond basic black and white. Photos of the new colors do not show tongue notches, so it appears that Converse is abandoning them at least for seasonal models.
Fire Opal high top chuck.
You can see all of the new seasonal releases on our Shoe Outlook page. Retail pricing for these chucks is $60 for high tops and $55 for low top models.
Pokemon Chucks are Here!
Do you wanna be the very best, like no one ever was? To catch them as your real test? To train them as your cause? If you answered yes to any of these then you're going to want to get your hands on the brand new Pokemon collection that Converse just dropped. That's right Converse is celebrating 25 years of Pokémon with multiple chucks designs and clothing options to choose from. Let's start with the clothing options. There are a variety of sweaters, shirts, and hoodies available, all celebrating Pokemon in different ways. There's also a Pikachu camp-style hat and a Pikachu-themed backpack. All the clothing options are between $30 and $75 with the backpack costing $55.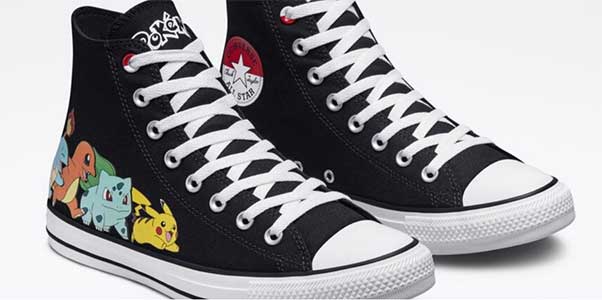 Pokemon black high top.
The chucks in this collection are spectacular if you're a Pokemon fan. There are two classic chuck models that showcase the wonderful world of Pokemon brilliantly. The first is a black high top that features some of the most recognizable Pokemon on the sides: Pikachu, Bulbasaur, Squirtle, Charmander, Meowth, and Jigglypuff. They also feature a Poké Ball Chuck Taylor ankle patch and top eyelet, Lightning bolt detail on license plate, and the Pokémon wordmark on tongue. The second pair is an all white high top that features the same Pokemon outlined simply in black. This model also features a Pokeball emblem, red trim, and Pokeball license plate. There are also chucks for kids in this collection with the black model being available along with Pikachu and Jigglypuff chucks.
Pokemon white high top.
There's also a wide variety of options to make custom Pokemon chucks, including graphics from every region in the Pokemon world. This may be your best option as the premade models sell out fast. There's a little something for every Pokemon fan in this collection, from Kanto to Galar. So catch them all and show you Pokemon and chucks love today!
Valentine's Day is Here!
Valentine's Day is just around the corner and with it, love is in the air. Hearts are aflutter and people are looking to share the day with a special someone. With that in mind, chucks are the perfect way to express your love this Valentine's Day. If you're currently seeing someone this holiday, chucks can be a great gift. You can each buy a pair of chucks in your favorite colors or styles, and match with each other on a fun day together. Converse even has options from their Valentine's Day collection that would make for great date shoes. Another fun take on this is to buy mismatching chucks that alternate with each other.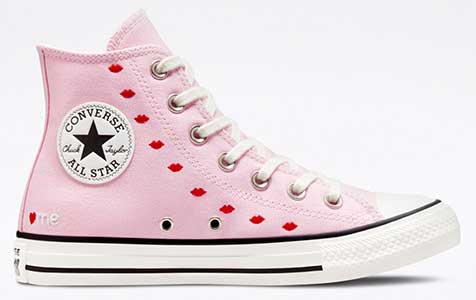 Celebrate love with a special someone this Valentine's Day!
Finally, a pair of custom chucks may just be the perfect gift this Valentine's Day. Custom chucks with a design and color scheme that you design not only show your creative side, but also that you know your partner, what they like, and what their personal style is. You can even add a custom embroidery with a personalized message or their name for that extra special touch. However, if you're currently not seeing anyone, there's no reason that special someone in your life can't be yourself! Treat yourself to a new pair of chucks as an act of self-love that you deserve because self-love is important and should always be celebrated! Go to Converse and celebrate love this Valentine's Day with chucks!
The New Year for the Chucks Community
With Christmas over, the New Year is officially upon us. 2021 is over and with that comes the end of an eventful and tough year. Let's all hope that 2022l is an uneventful and easy year. When it comes to the wonderful world of chucks, things have been great this year. A lot of interesting and new designs were brought forth, with some really cool limited editions being dropped regularly. This includes lines like the Space Jam collection, the Basquiat line, Converse's continued partnership with Carhartt, and of course Pride. This year also saw the release of loads of new films and music videos featuring our favorite shoe, as chucks show that year to year they're still an American icon.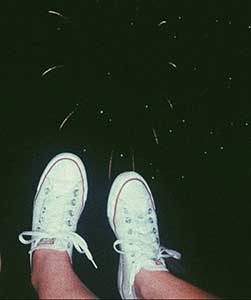 Happy New Year!
So with this new year dawning, what can we expect to be new in the world of chucks? There will always be new colorways dropping, and hopefully more options to the Converse customizer so that everyday chucks can continue to evolve. Let's also hope for some new and cool limited edition drops this year, which will be kicking off with a bang on January 7th with a new Pokemon collection. So far there has only been one design revealed but it shows that Converse is going to keep doing cool things with chucks in the new year. So let's be thankful we made it through 2021, and look forward to a better and brighter 2022 with hope in our hearts and chucks on our feet!
1000+ Films With Chucks!
Recently our Chuck Taylor in Films page reached an important milestone: we now have identified and posted information about over 1000 films where a leading charracter or main supporting character wears Converse All Star Chuck Taylor sneakers. The films span all types of film genres from action/adventure to science fiction, sports, martial arts, coming of age, horror, comedies, romances, and dramas. In these films we have seen chucks worn around the world from the Amazon River to the Sahara Desert to the South African wilderness and in tropical islands. Chucks are seen all over America, in our big cities, schools, suburbs, country locations, and in wilderness areas. They even have been an important part of the storyline in a few films. Over 110 actors have worn chucks in multiple films, earning a place on our Honor Roll. The characters they play in the films represent all kinds of people, heroes, good guys, and the occasional bad guy, kids and adults of all ages and abilities, athletes and just regular folk wearing black, white, and red high or low tops (the most popular colors). It is amazing how many different character types and personalities are represented by people wearing chucks.
The golden Chuck Taylor awarded to actors in our honor roll.
A page like the Chuck Taylor in Films is not possible without the assistance of our site visitors who write to tell us about new films that they believe qualify for listing on the films pages. They all deserve a big thank you for their efforts which are greatly appreciated. Each submission is carefully checked to make sure that the sneakers worn in the film are really chucks, and not wannabes or look alikes. If you know of a film that is not already listed you can contact us at films@chucksconnection.com.
The Future Is Here
What is the future of chucks? How does the shoe evolve as we rumble through the second decade of the 21st century? One way we can see how new styles, textures, and designs blend together with the classic chucks body and iconography is in the new Future Utility collection. This line combines the classic chucks style with a utilitarian look from the future. The collection features Chuck Taylor All Stars, platforms, Run Star Hikes, and Chuck Taylor All Star CX's. This line takes the everyday high tops you know and love, and gives them a mixed-material makeover. The All Stars feature classic canvas topped with tonal jacquard hits at the heel, tongue, and ollie patch for a textured look and feel. Colorwise, the shoe has hits of nature-inspired colors at the heel loop, top eyelet (just like the Product Red models released fifteen years ago), license plate, and outsole that bring a subtle, Earthy vibe to this utilitarian look. Unfortunately, the designer took away the iconic racing stripes mid outer foxing and around the toe cap and canvas edges, even though these stripes are there on the rubber, but colored white. Perhaps they know from past design experiments that this is not a popular innovation on Chuck Taylor All Star high tops, so they leave a place for colored stripes to return.
Step into the future with the Future Utility chucks!
There are also two designs that feature the same textured look, but with contrasting, zigzag stitching that adds an unexpected pop of color. The other highlight of this collection is the CX model. The CX is all about comfort and utilizes a special dynamic stretch canvas for a new, ultra-comfortable fit designed to move with you. This makes them incredibly easy to put on, and, with it's foam sockliner, too comfortable to take off. Design wise, it features translucent rubber details and a CX branded pull loop on the heel that adds a pop of color. All the shoes in the collection range between $60-$110 and are available now. The future is here and the future is chucks!
Chucks Are An All Time Top Five Basketball Shoe
Recently ESPN came out with its rankings of the best 75 basketball shoes of all time. In its listing, the Converse All Star Chuck Taylor shoe came in at number 5. This shouldn't really be a surprise, given the fact that chucks were the dominant basketball shoe for over four decades. In its heyday as the premiere basketball shoe, chucks were worn by nearly every professional, college, and high school player. Many of the greatest players of all time wore them while setting records and providing us with some of the best moments in sports. Think of Wilt Chamberlain, Bill Russell, Bob Cousy, Larry Bird, Julius Erving, and Pete Maravich, to list a few names.
For decades all the great players and teams wore high top chucks.
It was a mistake for marketing people at Converse to start saying in the 1990s that chucks were now just leisure shoes. Sure they are great in that part of your life, as so many people like to wear them all the time, but they were designed to play basketball in originally. During his lifetime, Chuck Taylor and the Converse Company spent decades tweaking their design and manufacture so that they would be the finest basketball shoe of its day. That emphasis on quality control can't be taken away from their history or from their functionality as an athletic shoe. Converse should take up that cause again and get endorsers to wear basic chucks or Chuck 70s while playing basketball as they did in the past. Wouldn't that be great to see in a professional or college game again?