Chuck Talk Features—Winter/Spring, 2020

Personal Stories and Opinions, Chucks Fashion and Lifestyles, and Chucks in the Media
What's New At

The ChucksConnection

. ChuckTalk Archives.

New or Updated Photo Galleries:


Paul McCartney, George Harrison, Chuck Taylor PC Boots, Coolest Chucks Moments in Film, Magenta Renew High Top Chucks, Zendaya, Austin Asher Stills from Shazam!, Washed Denim Blue High Top Chucks, Red Hot Chili Pipers, R5, Rozzi Crane, People Wearing Red Chucks, Bow Wow, Nicky, Ricky, Dicky & Dawn, YG, Guys Wearing Red Chucks, Sabrina Carpenter, Mac Miller, Guys Wearing Black Chucks, Guys Wearing Optical White Chucks, Cobra Kai, Coolest Chucks Moments in Film, Jessie Reyez, 2018 Black High Top Chucks, 2018 Maroon High Top Chucks, Deep Blue High Top Chucks, Red Days Ahead High Top Chucks, Jessie Reyez, Graduates Wearing Chucks, Ariana Grande, SZA, Young Sheldon, Red Converse Chuck 70 Vintage Canvas High Tops, Allessia Cara.

Videos and Short Films With Chucks:

Radio Shack Ad from 1994, I Love Sarah Jane, Growth, The Businessmen, Fractured, Bottle Cap Kick Challenge, Snake Bite, The Unidentified, Delivery, Granbad, The Hug, Hare, Island in the Sun, All the Marbles, Sabrina Carpenter and Rowan Blanchard's Forever Chuck Ad, Converse Advertisement, The Groundskeeper. Go to the Videos and Short Films with Chucks page.


TV Page Features:

Many listings have been updated. New listings with an article: Stranger Things, Season 3, Deadly Class, Iron Fist, On My Block, The Temptations, Rise, Grown-ish, How I Met Your Mother, Mom, Parks and Recreation, Game of Silence, Stranger Things, Season 2, Greenhouse Academy, The Carmichael Show, Sha Na Na, Preacher, Friday Night Lights, Sun Records, Hunter Street, 13 Reasons Why.

Other recent listings are: NCIS, Euphoria, The Boys, Shameless, Catastrophe, Nicky, Ricky, Dicky & Dawn, Single Parents, Cobra Kai, Young Sheldon, Fargo. Go to the Television Shows with Chucks Index Page.

Music Video Reviews:


Prima Donna, I Want Crazy, You and I Both, So What?, Go Loko, All For Us, Any Kind of Guy, The End of the Game, Never Catch Me, Boomerang, Motivation, Time in a Tree, Dreams, Young, Wild, and Free, Señorita, Murder Was the Case, Gangsta Luv, Higher, What's My Age Again?, Light It Up, The Great Escape, Cool, Here With Me, Hello, Anxiety, REEL IT IN, Swang, Please Me, Dirty Little Secret, That's Not My Name, Take Me On, Sugar, We're Goin' Down, Blackjack, Song About You, Take It Off, Best Day Ever, One Sweet Love, Christmas Everyday, Good Form.




Film Reviews:

Baywatch, Ready or Not, The Santa Clause, Good Boys, Billions for Boris, Billy Owens and the Secret of the Runes, The Lego Movie 2, Spider-Man: Far From Home, Yesterday, Bark Ranger, The Kids from 62-F, Always Be My Maybe, Shazam! Like Mike, Not Cinderella's Type, Don Quixote, Age of Summer, Wildlife, Under the Silver Lake, Un Viaje a la Luna, Wadjda, All These Small Moments, Happy Log.

New listings: The Lost Medallion: The Adventures of Billy Stone, Northern Lights, Last Chance Detectives, A Fairy's Game, The Atoning, The Education of Charlie Banks, Boy Genius, Low Tide, It Chapter Two, The Goldfinch, My Pet Dinosaur, Half Baked, Ready or Not, Red Dog: True Blue, Blinded by the Light, Nancy Drew and the Hidden Staircase. Go to the Chuck Taylor in Films Index Page.




Articles:

Nike is seeing a shocking rebirth in this business because of one key [Converse] sneaker has been added.The Best Films list has been updated. The Core Chucks page and galleries have been updated. The Honor Roll for Actors Wearing Chucks in Films and Television Shows has been updated with the addition of Joseph Cross and Seth Green. Go to the Articles about Chucks Index Page.

How to Participate in Chuck Talk. Let us know what you think! We are also happy to try and answer your questions and inquiries about chucks, and listen to what you are thinking about. If you have some opinions, information, pictures, suggestions, or an article to submit, just click on the link, How to Participate in Chuck Talk to access our email address.
Seasonal Colors for 2020
Converse has announced Chuck Taylor seasonal color models for 2020. The new chucks come in high top, low top, and platform low models. New colors available in all three models include Peony Pink and Wolf Grey. Snorkel Blue, Laser orange, and Coast Blue are available in high and low tops. Ocean Mist is available in high top and platform low, while Cypress Green is only available in low top.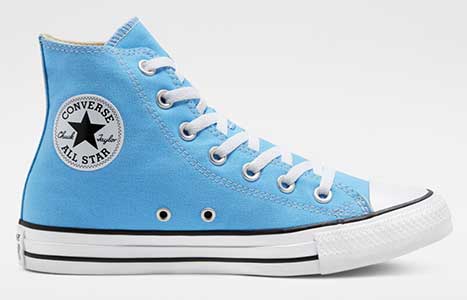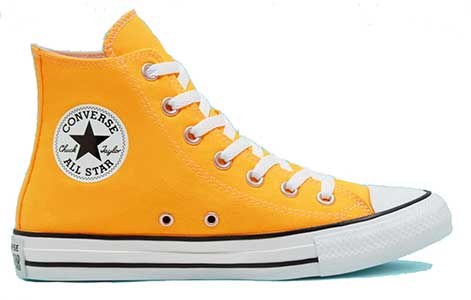 Coast Blue and Laser Orange high tops.
Returning high top seasonal colors for 2020 include Bright Crimson, Polar Blue, Midnight Turq, Golden Poppy, Hyper Royal, Barely Rose, Bold Citron, Aphid Green, Light Zitron, Lemon Chrome, and Maroon. Returning low top seasonal colors are Particle Beige, Golden Poppy, Orange Rind, Turbo Green, Lilac Mist, Mineral Teal, Pink foam, Violet Ash, Barkroot Brown, Ridgerock Brown, Strawberry Jam, Bleached Aqua, and Maroon.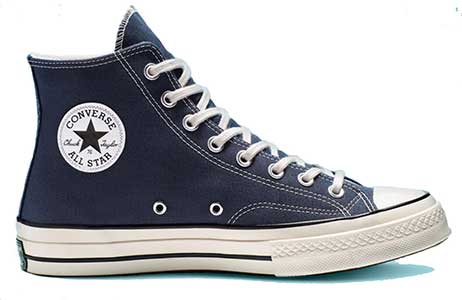 Midnight Turq high top chuck, Obsidian Chuck 70 high top.
All of these Chuck 70 colors are returning in both high and low top: Black, Magic Flamingo (pink), Mason (Grey), Parchment, White, and Sunflower. Added to the collection is Obsidian, a black/green shade also available in high and low top. There all also three leather models, Rose Maroon and White high tops, and Black low tops. You can see photos of all these models on the Chucks Outlook page.
Primaloft Chuck 70s
PrimaLoft is a brand of patented synthetic microfiber thermal insulation material that was developed for the United States Army in the 1980s. Converse has combined a thin layer of primaloft with netted ripstop nylon to create a thermal upper for two winter models of their Chuck 70 line. The sneakers feature a gradient coloring on the uppers: Quartz rose blends into yellow and rich maroon hues; royal blue fades to capri turquoise and white. They also have additional cushioning for comfort.
Royal Blue Primaloft Chuck 70s showing a closeup of the netted upper and an angled side view.
Happy New Year
As we move into a new decade, the third for The ChucksConnection, we will continue to keep you informed about the latest releases of chucks, along with the presence of chucks in films, television shows, the news media, and in music videos. We will continue to make photo galleries of chucks and people wearing chucks, and provide you with tips and information about their care and wear. Whenever possible, we will try to answer your questions about chucks, and appreciated any tips about their presence in visual and print media.
What new models and colors will come out in 2020?
Happy New Year from The ChucksConnection.
Chuck 70 Is Big Factor in Nike Bottom Line
This past year, Converse has issued a record number of new models, some new designs and patterns from Converse, and others in partnership with fashion designers. We have reported on a number of these new Chck 70 issues on this page and will continue to do so. As a result, sales of the Chuck 70 line in the past year have surged enough to affect the bottom line for its parent company Nike in a very positive way. We have posted an article from Yahoo Finance editor Brian Sozzi on this topic.
Some of the original Chuck 70 issues.
The Converse company continues to push the Chuck 70 line, as they retail $15 to $30 more than the standard Chuck Taylor. As long as they continue to make authentic core and seasonal color chucks this is okay. It would be nice to see a Chuck 70 that is a reproduction of the Chuck Taylor of the 1970s in all ways. There are differences in the stitching on the ankle support and the coloration of the outer foxing that could be easily fixed. It would also be nice to see the toe cap size a little larger, like chucks in the eighties and on. Regardless of these fine points, it is nice to see that chucks are still an important part of modern day fashion.
Chuck Taylor PC Boot
If you live in a cold and wet climate during the winter months, but still want to wear chucks, the Chuck Taylor PC Boot may be the cold weather shoe for you. Converse describes the PC Boot as "a weather-ready reimagination of classic chucks, designed to take on the elements. Leather-trimmed, water-resistant sudede is paired with hiking-inspired hardware, a weatherized outsole and a padded collar for support." The boots are custom made, with choices of color, leather trim, patches, and narrow round or flat laces. The Chuck Taylor PC Boot costs $110.00.
A wheat Chuck Taylor PC Boot.
Latest Seasonal Chucks
Converse has just announced four additional high top and four additional low top seasonal colors for the fall, 2019. The new high top colors are Bright Crimson, Barely Rose, Midnight Turq, and Polar Blue. The new low top colors are Blended Aqua, Lilac Mist, Ridgerock, and Turbo Green. They have also brought back or continued an additional seven seasonal colors in high top, and eleven in low top models. These chucks are priced at $55 for high tops and $50 for low tops.
Bright Crimson and Midnight Turq seasonal high top chucks.
The continuing and returning seasonal colors in high top models for fall are Gold Dart, Jade Stone, Hyper Royal, Golden Poppy, Bold Citron, Aphid Green, and Lt Zitron. The low top models are Strawberry Jam, Barkroot Brown, Coastal Pink, Orange Rind, Golden Poppy, Desert Khaki, Light Redwood, Stellar Indigo, Mineral Teal, Pink Foam, and Violet Ash. You can view photos of all these new seasonal models and colors on our Shoe Outlook page.
Chucks for Cold and Wet Weather
Now that fall is here and the weather is starting to change, if you live in an area of the country that gets a lot of cold or wet weather, you might want to get yourself a pair of chucks designed to do well in inclement weather. If you must deal with a lot of rain or snow, the Chuck Taylor All Star Winter Water Repellant high top might be the perfect shoe for you. These chucks are made with water repellent leather, have sturdy gusseted tongues, and warm lining inside. They feature traction outsole, narrow round shoelaces, and bootlike hardware on the upper two eyelet pairs. Winter Water Repellant high tops come in four color combinations, black and white with obsidian flecks, monochrome black, and olive green or carbon grey with black and white details. They retail at $80. Another option is the Wale Cord high top in either wheat or dark obsidian with black and white trim. The sneakers, priced at $65, are made with vintage inspired corduroy, which will keep you warm and comfortable.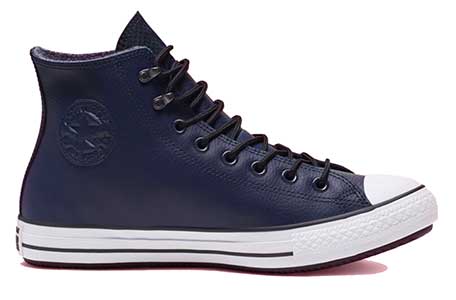 Black and white water repellent and wheat wale cord high tops.
Other options for the wet and cold are Chuck 70 Gore Tex high tops that use the Gore Tex waterproofing technology. These chucks come in wheat or black, with a Gore Tex graphic on the uppers. These shoes also have woven ankle patches, OrthoLite insoles, narrow round laces and retail at $110. And finally there is a line of suede leather high tops that come in three colors, Hummus, Almost Black, and Burnt Umber. These chucks have colored toe caps, heel loop ankle straps, and a speed hook on the top eyelets. They cost $70.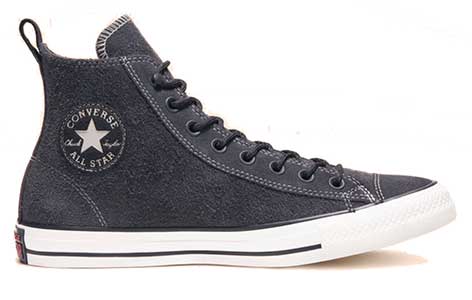 Wheat Gore-Tex and Almost Black Suede high tops.
You'll Never Need to Chuck Your Chucks
Here's one correspondent's views about chucks: "There is an awesome culture surrounding your chucks, but that's not the most important thing when finding new footwear. What matters most is how they benefit the single person investing in them. This is how they worked for me:
"I originally encountered chucks shortly after I turned thirteen. Several years earlier, my mom bought my older brother a pair of white low tops which didn't fit him properly. Realizing that my shoe size had finally reached that of the shoes in question, my mom pulled them out of storage and offered them to me. Finally being offered my first fashionable shoe, I quickly slipped them on and wore them nigh exclusively for a whole month. After changing what I wore on my feet, my entire image of my own fashion changed and I became more confident in my style and presentation.
A pair of chucks can change your sense of fashion.
"This one pair of chucks is with me even to this day, nearly a decade later. They have been a foothold (pun intended) in keeping my look up to date every single one of those years. I will always be grateful to these shoes for introducing a just beginning to be fashion-conscious boy to the idea that I could be proud of what I put on my feet. Now, when I look at the family of chucks, I can say confidently that the shoe fits."
Gift Ideas For That Chucks Person On Your List
Finding the right gift at the right price is often difficult, especially if you are on a budget. If you know (or are) someone who is an enthusiatic fan and wearer of chucks, what do you get that person besides a new pair of chucks? These days a new pair is a big gift, with the prices ranging between $50 to $100 for most new pairs. Luckily The ChucksConnection is here to assist you with a short list of credible gifts that range in price from $2 to $20 and appropriate for people of all ages. Go to our Gifts Page to see the complete list of our recommendations.
Videos and Short Films with Chucks
We have started a new feature on The ChucksConnection that addresses videos and short films where actors wear chucks. These films are normally seen on websites like YouTube and Vimeo and made by amateur or aspiring filmmakers. Too short to be included on our Chuck Taylor in Films page and not released to the public through paid streaming, DVD or BlueRay, these videos and films are free for viewing, and we provide links to them on our new Videos and Short Films with Chucks page.
Check these out on our new page.
Like our other media pages, Videos and Short Films with Chucks is a work in progress. If you know of a video or short film that qualifies for this new page, send us the information and link to films@chucksconnection.com.
How to Participate in Chuck Talk
Do you have some things to say about Chuck Taylors? If you have an article or other interesting information about chucks to submit to this website, please contact us at mail@chucksconnection.com.
Chuck Talk Archives

ChuckTalk articles from previous years