The NBA season is in full swing! The defending champion Los Angeles Lakers are coming off the toughest season and title in franchise history, the Brooklyn Nets have formed a superteam with Kyrie Irving, James Harden, and Kevin Durant, the Milwaukee Bucks and their star player Giannis Antetokounmpo are looking to take that next step, and so may other teams and players are trying to breakthrough in what is sure to be an incredible season. You know by now the history between Converse and basketball, so it's no surprise that once again the NBA has partnered with the originators of the basketball shoe for professional teams. The City Edition Chuck 70 collection celebrates the current alternate, or "City Edition", uniforms for six NBA teams: the San Antonio Spurs, Denver Nuggets, Miami Heat, Boston Celtics, Golden State Warriors, and Los Angeles Lakers.
Each team has multiple designs available, with the Spurs having two designs, the Warriors having four, and the other teams having three. Each design can be customized using the Converse customizer, as every team has multiple elements to choose from. There are primary logos, secondary logos, wordmarks, custom patterns, and multiple color schemes at your disposal so you can mix and match however you like. These elements aren't limited to the body either, as there are personal team elements for the tongue, insole, and even the iconic All-Star patch. The collection is unisex, and is pricier than standard chucks at $115. This collection offers fans of some of the NBA's marquee franchises the opportunity to show off for not only their team, but for their city as well, as the whole philosophy behind the City Edition uniforms is that they take elements from each franchise's history and celebrate it. That kind of pride is a lot to pack in one shoe, but if any shoe can handle it, chucks can.
It's the end of January which means those who have someone special in their life are looking for something unique to give them on Valentine's Day. That's right, the yearly day of love and chocolates is upon us and if you're looking for something useful and festive to give your significant other, Converse has got you covered. Partnering with French graphic designer Manon Louart, Converse has unveiled the Custom Made with Love collection.
Featuring five designs by Louart, the collection also includes new elements and patterns added to the Converse customizer. This includes new colors, patterns, and a midsole print that has the phrase "Made with Love" in cursive. The five designs by Louart utilize all the normal features and bring them together in unique and creative ways. Two of her designs are pretty straight forward, using simple pink and red color palettes that fit in perfectly with the Valentine's Day season. Her other three designs are a bit more bold. One design uses a white canvas and the LGBTQ+ All-STar patch celebrating all forms of love. Another combines pink, and red with navy blue, and the final design adds the "Made with Love" midsole print to the slip on Shoreline chucks. The collection is unisex, so these chucks, much like love, are for anyone and everyone. Ranging in price between $75-80, these chucks are available as is or with the ability to be customized even further. So celebrate love your way and celebrate with chucks for you and your significant other on Valentine's Day.
The Chuck Taylor All Star CX is a new model designed for hiking. Your basic Chuck Taylor has been updated with a dynamic, stretch canvas upper and new pull tab for easy on and off. A CX foam midsole is lightweight, helping to absorb the impact on your feet along the way, and makes these chucks quite comfortable. The design includes hiking-inspired laces and vibrant digital bright colors that according to Converse "channel the boundless potential of the digital world, while premium comfort features support you through your real-world adventures".
Other features include a built-in pull tab on the back of each shoe and extra translucent midsole support pieces just above the outside rubber foxing. These chucks retail for $75.00.
ABA Chucks Highlight Basketball History
The American Basketball Association (also known as the ABA) was a men's professional basketball league that operated from 1967 to 1976. The league was revolutionary with its style of play and rules. It distinguished itself from the established NBA with a wide open, flashy style of play, as well as differences in rules, with a 30-second shot clock and the use of a three-point line. These rules combined with events like the All-Star Game Dunk Contest and star players like Julius Erving, Rick Barry, George Gervin, and Moses Malone helped the ABA establish itself as a viable alternative to the NBA, eventually leading to the NBA/ABA merger in 1976. The ABA's legacy is still felt in the modern game of basketball, so it's only appropriate that this pivotal league in basketball history should be honored by the All-American basketball shoe.
The classic ABA logos really pop on the white chuck canvas.
Converse has released the ABA Chuck 70 as a nod to the league that made the game what it is today. On the canvas of the first sneaker ever designed for the game, Converse has emblazoned the chuck with the logos of all the original ABA teams. The red, white, and blue aesthetic matches the original ball used by the ABA, and the star pattern on the heel stripe evokes the feeling of the classic ABA logo. The classic look of these chucks really brings the whole aesthetic together, and makes you appreciate the basketball history displayed here. The ABA Chuck 70's are $85 and available as an online exclusive at converse.com. A must get for any fan of basketball hosiery, or anyone who loves the classic sports logo aesthetic, these shoes are a perfect addition to your Christmas wish list.
Chucks in the White House?
Kamala Harris has already made history as the first African-American, and the first Asian-American woman to receive the nomination for Vice President on a major party ticket. However, if Joe Biden is elected President in November, and she serves as his Vice President, she could make even more history as the first Vice President to wear chucks in the Blair House (where the Vice President lives in Washington) and the White House. It should be noted that former first lady Michele Obama was occasionally seen wearing the same model of black low top chucks when she lived in the White House. Besides being from California's San Francisco Bay Area and thus having a cultural connection to chucks, Harris may also be saying something with her choice of footwear.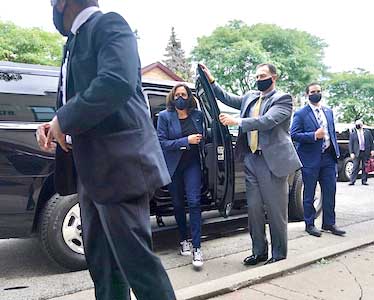 Kamala steps out onto the campaign trail in a pair of black chucks.
Elizabeth Semmelhack, author of Sneaker X Culture: Collab, believes Harris's chucks represent action. "The sneakers are acting as the sartorial equivalent of being willing to roll up her sleeves," she says. Harris's chucks separate her from traditional heels and conservative slides that women in politics are usually relegated to wear. Long associated with the rebel in all of us, chucks more importantly represent an authenticity that is uniquely American, which is what Harris is attempting to represent. And Kamla's love for chucks is authentic, as she told The Cut: "I run through airports in my Converse sneakers. I have a whole collection of Chuck Taylors: a black leather pair, a white pair, I have the kind that don't lace, the kind that do lace, the kind I wear in the hot weather, the kind I wear in the cold weather, and the platform kind for when I'm wearing a pantsuit." The VP nominee loves her Chuck Taylors, and from her upbringing in California, to her authenticity and call to action, it's easy to see how they've become a part of her.
Converse Is Back in the NBA Bubble
Converse has a long storied history with the game of basketball. With the All Star being the most popular shoe of the game's early years, and Wilt Chamberlain famously scoring 100 points in a pair in 1962, it made perfect sense when Converse was made the official shoe of the NBA. However with the rise of competitors like Nike, Adidas, and Reebok in the 1970's and 80's, Converse fell out of favor with modern players, and the shoe was all but gone from the game. All that has changed in recent years as Converse is making a comeback in the world of professional basketball. Inking deals with stars Draymond Green, Kelly Oubre Jr, Shai Gilgeous-Alexander, and Natasha Cloud, Converse has gotten back into the basketball shoe game releasing a slew of signature shoes and styles.
Many young NBA stars have signed with Converse in recent years, including Oklahoma City Thunder Star Shai Gilgeous-Alexander.
With the NBA season restarting at Disneyworld in Orlando, Florida, the eyes of the world fall on these stars and the Converse shoes they are wearing. As players entered the "bubble" campus in Orlando, many were photographed wearing chucks for casual wear, but both Oubre and SGA were seen wearing the new Converse Pro BB basketball shoe in practices and scrimmages. SGA was even highlighted on the OKC Thunder's social media for his shoes and the "Locked In" message written on the side. Combining elements from both the CONS from the 80's and the All-Star patch insignia from the classic chucks, Converse's new basketball shoes honor its history while also looking to the future. Converse is back in the game, and will be around for a while on the feet of the rising stars of the NBA restart.
Wider Width Chucks Now Available In More Colors
Converse has literally widened its collection of wider foot chucks to include monochrome and customized styles. You can still get core black and optical white high tops and low cuts in standard or wider widths, but now you have a lot more options. These new wider width chucks come in monochrome black or white models in high top or low cut, along with a number of other options in summer colors and in plaid prints.
This navy custom high top and plaid custom low top are now available in standard and wide widths.
All of these new models are available in both high top or low top. Because they are part of the Converse customized collection of chucks, their price is $25 higher per pair, $80 for high tops and $75 for low tops. The other base color choices are dolphin gray, blue plaid, navy blue, monochrome navy, black, white, monochrome pink, royal blue, pink plaid, blossom pink, lilac, and aqua. You can order these pairs in men's size 3 through 11.5 in half sizes, and from 12-16 in whole sizes. (Women's sizes 5 to 18) The standard core wider width black or optical white chucks are not customizable and remain priced at $55 and $50.
Chucks Are An All Time Top Five Basketball Shoe
Recently ESPN came out with its rankings of the best 75 basketball shoes of all time. In its listing, the Converse All Star Chuck Taylor shoe came in at number 5. This shouldn't really be a surprise, given the fact that chucks were the dominant basketball shoe for over four decades. In its heyday as the premiere basketball shoe, chucks were worn by nearly every professional, college, and high school player. Many of the greatest players of all time wore them while setting records and providing us with some of the best moments in sports. Think of Wilt Chamberlain, Bill Russell, Bob Cousy, Larry Bird, Julius Erving, and Pete Maravich, to list a few names.
For decades all the great players and teams wore high top chucks.
It was a mistake for marketing people at Converse to start saying in the 1990s that chucks were now just leisure shoes. Sure they are great in that part of your life, as so many people like to wear them all the time, but they were designed to play basketball in originally. During his lifetime, Chuck Taylor and the Converse Company spent decades tweaking their design and manufacture so that they would be the finest basketball shoe of its day. That emphasis on quality control can't be taken away from their history or from their functionality as an athletic shoe. Converse should take up that cause again and get endorsers to wear basic chucks or Chuck 70s while playing basketball as they did in the past. Wouldn't that be great to see in a professional or college game again?
Social Distancing with Chucks
We are living in scary times. With Coronavirus Covid 19 sending the world into a global pandemic, many must stay at home to help flatten the curve and keep the disease from spreading. This has led to a lot of people having a vast amount of down time while they practice social distancing. You may be asking yourself what is there to do once you've binge watched those shows you've put off, and caught up on your housekeeping? Well if you've got on your favorite pair of chucks, there's still plenty to do while also making sure you're staying safe.
Social distancing can take its toll but it's what is needed right now.
Social distancing does not necessarily mean you have to stay indoors. You can still go outside to exercise, walk your dog, and get vital services, etc. So as long as you keep a safe distance from others, lace up those chucks and go for a run or walk around your local park. Chucks are also the perfect shoe for weightlifting and aerobic exercises, so you can also get a sweat indoors. This is the perfect time to work on yourself physically and mentally. The days are getting longer and with the isolation of quarantine, it's important to make sure you're staying mentally fit by continuing to engage with friends over the phone and online. So wear your chucks proudly as you help flatten the Coronavirus curve. Remember to wash your hands, stay home if you're sick, and to practice social distancing. Together, we'll get through this pandemic, and back to wearing our chucks together out in the world.
New Wider Width Chucks
The two most popular models of classic high top chucks are now available in a wider width. Chucks have always been made in just one width, D, which is meant for a medium width foot, which most people have. But now you can purchase a black or optical white high top pair of chucks in a wider (E) width. Both models look the same as their standard width counterparts and the price differential is only five dollars, currently $55 for standard width chucks and $60 for wide width chucks.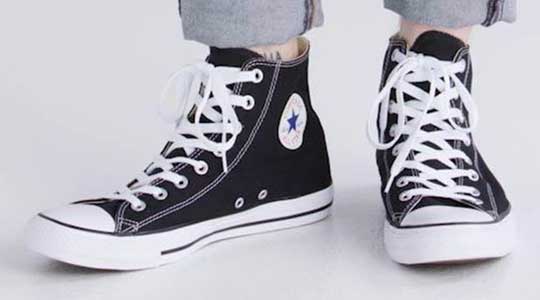 Black and Optical White high top chucks are now available in wide widths.
You can also purchase black or optical white low top chucks in wide widths. The price for those pairs is $55.
Gift Ideas For That Chucks Person On Your List
Finding the right gift at the right price is often difficult, especially if you are on a budget. If you know (or are) someone who is an enthusiatic fan and wearer of chucks, what do you get that person besides a new pair of chucks? These days a new pair is a big gift, with the prices ranging between $50 to $100 for most new pairs. Luckily The ChucksConnection is here to assist you with a short list of credible gifts that range in price from $2 to $20 and appropriate for people of all ages. Go to our Gifts Page to see the complete list of our recommendations.
Videos and Short Films with Chucks
We have started a new feature on The ChucksConnection that addresses videos and short films where actors wear chucks. These films are normally seen on websites like YouTube and Vimeo and made by amateur or aspiring filmmakers. Too short to be included on our Chuck Taylor in Films page and not released to the public through paid streaming, DVD or BlueRay, these videos and films are free for viewing, and we provide links to them on our new Videos and Short Films with Chucks page.
Check these out on our new page.
Like our other media pages, Videos and Short Films with Chucks is a work in progress. If you know of a video or short film that qualifies for this new page, send us the information and link to films@chucksconnection.com.
How to Participate in Chuck Talk
Do you have some things to say about Chuck Taylors? If you have an article or other interesting information about chucks to submit to this website, please contact us at mail@chucksconnection.com.
Chuck Talk Archives

ChuckTalk articles from previous years