A ChucksConnection Film Review


Peter Reznick wears black high top Converse "Chuck Taylor" All Stars in the film.


Across the Sea of Time

by Hal Peterson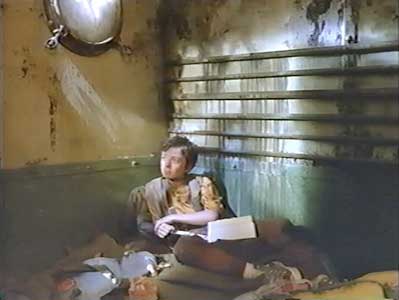 Tomas waits in the hull of the freighter.
The story of Across the Sea of Time is fairly simple. A young Russian boy, Tomas Minton (Peter Reznik), is traveling to New York as a passenger on a Russian freighter. We see him lying in the hold of the ship looking at some papers and photographs. But Tomas' plan is not to dock with the ship. When the freighter is near Ellis Island, Tomas gathers up his backpack, wraps those papers and photos in plastic, and climbs up to the side of the ship. He tosses his back pack overboard then follows it into the ocean, swinging down from a rope on a pulley used to haul up freight. Once in the water, Tomas retrieves his backpack, and swims toward Ellis Island. His landing in America is at the same location that immigrants entered in former times. However Tomas doesn't have a visa or any legal documents. He has just decided to come on his own to find the American branch of his family. The only record he has of them are letters and a series of photographs of New York City sent to his Russian village by his ancestor Leopold Minton in the early part of the twentieth century.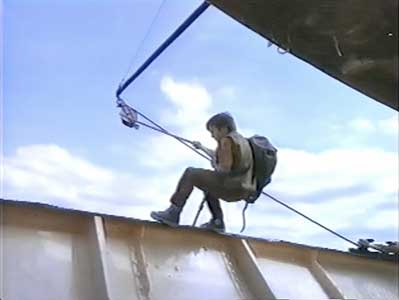 Tomas gets ready to jump overboard and swim to Ellis Island.
Once Tomas arrives at Ellis Island, he hides in an abandoned building, presumably to dry off and figure out where to start his search. Ellis Island is no longer used as an immigration center, but it is the location of the Statue of Liberty. Park rangers regularly patrol it, and apparently Tomas was spotted arriving as two of them make a cursory search of the building where Tomas is hiding. But he is not found and now the main part of the story begins: Tomas' search to find the American branch of his family based on the letters and photographs he has brought with him. Leopold Minton eventually got a job in New York City as a photographer for a company that sold photographs of the city for tourists that you could view in a primitive 3-D viewer. Throughout the film we see black and white photographs of New York City from the early part of the twentieth century with narrative from the letter Leopold wrote to his family about his new life in America eighty years ago. (This film was made in 1995).
While hiding out at Ellis Island, Tomas studies Leopold Minton's letters.
The cinematography goes back and forth between the black and white photographs of the past and scenes of present day (again this is in 1995) New York. Tomas' procedure is to try and find the modern locations of the scenes shown in the old photographs that will eventually lead him to his American relatives. We are led around the city and its boroughs, first taking the ferry boat to Manhattan, then exploring various sights like Coney Island, the subway system, Central Park, the theater district, and various skyscrapers shown in some very impressive panoramic photographs. More importantly for Tomas' search, the film covers the history of immigrants in New York, their processing at Ellis Island, how they were able to obtain various jobs in manufacturing, and gradually assimilate into society. Leopold's photo collection also includes some personal photos of his immediate family and their home in the city. Tomas' search method is to call on strangers on the street to help him, shoving pictures in front of them and asking them if they know where that picture is located today. Luckily for Tomas he has a basic understanding and vocabulary of English, and even after a serious setback where he loses most of his possesions, the boy eventually stumbles on the location of his family and is reunited with them.
When a cop sees Tomas resting outside a theater, he must move on.
Across the Sea of Time was originally an early Imax 3D film that was later made into a VHS video. That was the only way it could be viewed until recently, when a DVD transfer was made and is now available. The film was written, produced and directed by Andrew Gellis and Stephen Low with a fine musical score by John Barry and fantastic cinemaphotography by Andrew Kitsanuk. Viewing this film in 2018 makes you realize how things have changed in this country regarding immigration. Here comes this brave kid from Russia of all places, armed with only family memorabilia and not much more than the clothing on his back, who is able to literally swim to our shores with sheer determination to find the American branch of his family. Luckily there were no borders walls, pursuing ICE agents, or paperwork issues for this kid. And believe it or not there is actually a short cameo appearance in the film by Donald Trump as a wealthy theater goer pulling up in a limousine while Tomas is outside wondering what it is like inside the theater. But over all, Across the Sea of Time is a film about the greatness of New York City and how it really was and is a city of immigrants.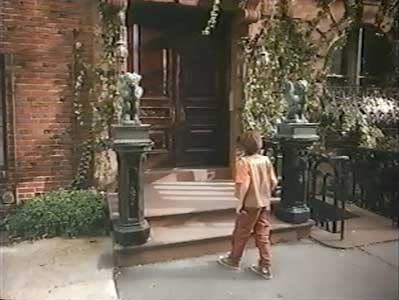 At last Tomas is able to find the home of his relatives in America.
Best Chucks Scene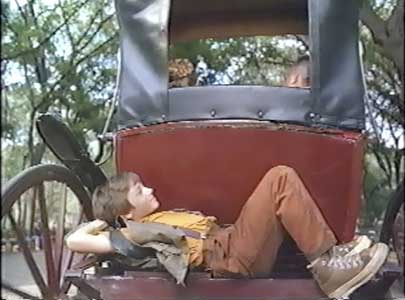 Tomas relaxes on the back of a horse and buggy ride in Central Park.
Peter Reznik, in his role as Russian emigre Tomas Minton, wears black high top chucks throughout the film. His pair is well worn and faded, but they serve him well as he swims to Ellis Island and wanders through the streets of New York City trying to locate his relatives. In additional to the 3D slides of America from his family in Russia, Tomas has his chucks, another symbol of America.
Tomas on the back of the buggy.
Across the Sea of Time. (1996) Peter Reznik, Abby Lewis. Directed by Stephen Low.
Categories: Drama, Family.
ChucksConnection Rating:

MPAA Rating: G
Support the film industry by purchasing genuine DVD, Blue Ray, or streaming copies of these films. Illegal copies only help profiteers. Make sure your money goes to the producers and artists who actually create these films. Still images from the film are used here as teasers to get you to view an authorized copy. If you have information about a film where a main character wears chucks, contact us at films@chucksconnection.com.