A ChucksConnection Film Review
Walker Scobell wears black high top Converse "Chuck Taylor" All Stars in the film.
The Adam Project
by Hal Peterson


Adult Adam and young Adam walking with their father, Louis.
The Adam Project is a time travel adventure from Netflix that gives us a new twist: having the same person appear in parallel, both as an adult and as a kid simultaneously. The adult Adam Reed (Ryan Reynolds) is a jet pilot living in the year 2050. Society is grim and Adam is determined to go back in time to right some wrongs. He is one of the few who can fly a time travel fighter jet, and he is barely able to escape after hijacking his jet, hotly pursued by Christos (Alex Mallari Jr.), the head of security for Maya Sorian (Catherine Keener) who is now the autocratic leader of the world due to her control of time travel. While Adam was headed for the year 2018, the attacks on his jet cause him to crash land in 2022 instead. In order to make the repairs he needs, Adam must contact his younger self (Walker Scobell), who is twelve years old and still grieving over the loss of his father Louis (Mark Ruffalo) in a car accident a year earlier. Adult Adam injured his hand in the crash, so he needs young Adam's undamaged fingerprint to regain access to his ship and complete repairs. Much of the first part of the film is about the chemistry between the two Adams, first as young Adam gradually discovers who the older Adam is, with the older Adam not hesitant to lecture young Adam on how to deal with problems growing up, like dealing with school bully Ray (Braxton Bjerken) or with their mother (Jennifer Garner).
Adam sitting at the top of a staircase at school.
We also discover that the older Adam had a wife, Laura (Zoe Saldana), who was stranded in the past and Adam's father, Louis, was the actual inventor of time travel. Meanwhile Sorian and Christos have tracked Adam down and want to him to return to 2050 by force if necessary. It looks as though that will happen until suddenly Laura appears and rescues them, helping Adam to fight off Christos and dozens of robot warriors. Eventually they are able to escape to her lakeside cabin. Laura tells Adam that he must go back to 2018 and destroy the source of the time travel algorithm so that none of the bad things that have happened in the future can take place.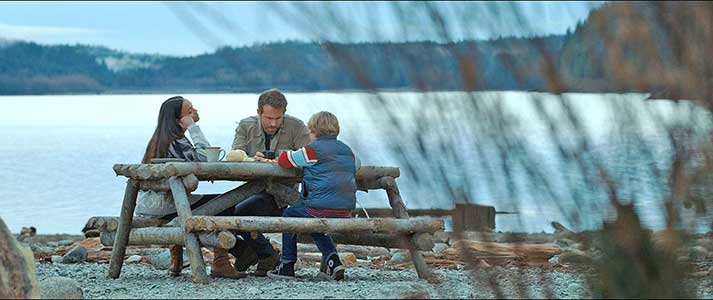 The two Adams seated lakeside with Laura.
Again they are discovered by Sorian and Christos and Laura tells them they must leave and get into the time travel jet while she holds them off. They must go and find their father, Louis, who holds the key to everything, as the inventor of time travel. More battle and chase scenes occur as the two Adams go after their goal of reaching 2018. Then there is the whole problem of persuading Louis to give up his time travel data, how he reacts to meeting the two Adams, and what happens in the future. Another theme that threads through the ending scenes is how family issues are resolved for the two Adams and Louis.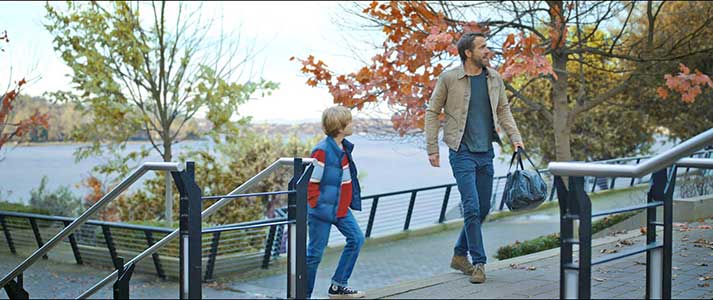 The two Adams head toward Sorian's headquarters.
Director Shawn Levy keeps the action well-paced and exciting for the challenging script by writers Jonathan Tropper, T.S. Nowlin, Jennifer Flackett, and Mark Levin. Special effects by Claude Paré are outstanding and state of the art. Main actors Ryan Reynolds and Walker Scobell put in great performances, with young Walker especially effective in his first major film role. The actors in supportive roles, Jennifer Garner, Zoe Saldana, and Mark Ruffalo, put in fine performances that add to the enjoyment of the storyline. This is definitely a must see for Netflix subscribers or anyone who likes this genre of film.
Young Adam picks up a light saber.
Best Chucks Scene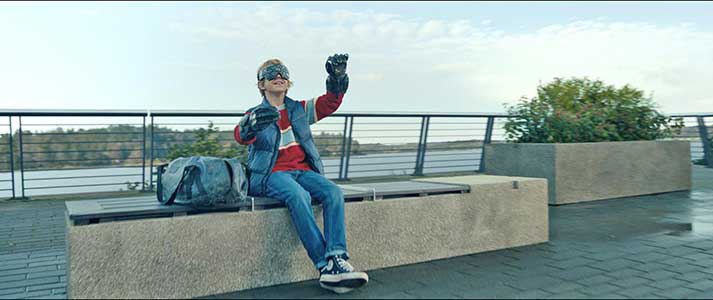 Adam delights in Virtual Reality goggles that he uses to fight a battle.

Walker Scobell who plays twelve-year-old Adam, wears black high top chucks throughout the film. They are nicely showcased throughout as Adam wears his jeans and other pants with the cuffs rolled up, a current dress style that lets you easily see the ankle patches in most of the scenes. Chucks are a great fit for the intelligent and outspoken young Adam although they can't protect him from his nemesis, the school bully, Ray. The cinematography is chucks-friendly and we see them in most of Adam's scenes. Two of the best are when he gets to try on a pair of Virtual Reality goggles and later when a light saber rolls his way and he clamps down his foot on it so he can grab it.
Adam puts his chuck down to corral a light saber.
The Adam Project. (2022) Ryan Reynolds, Walker Scobell, Mark Ruffalo, Jennifer Garner, Zoe Saldana, Catherine Keener, Alex Mallari Jr., Braxton Bjerken. Directed by Shawn Levy.
Categories: Action/Adventure, Science Fiction.
ChucksConnection Rating:
MPAA Rating: PG-13
Support the film industry by purchasing genuine DVD, Blue Ray, or streaming copies of these films. Illegal copies only help profiteers. Make sure your money goes to the producers and artists who actually create these films. Still images from the film are used here as teasers to get you to view an authorized copy. If you have information about a film where a main character wears chucks, contact us at
films@chucksconnection.com.