A ChucksConnection Film Review
Bernie Coulson wears optical white high top Converse "Chuck Taylor" All Stars in the film.
Matthew Brooks wears black high top Converse "Chuck Taylor" All Stars in the film.
Adventures in Spying
by Hal Peterson
Brian persuades his friend Larry to help him cover his younger brother's paper route.
Brian McNichols (Bernie Coulson) is looking forward to a nice lazy summer after graduating from high school, but things don't turn out the way he expects. Instead of sleeping in late, he has to cover his younger brother Tim's (Matthew Brooks) paper route, when he wakes up with a fever and cough. When his friend Larry Shoup (Corey Gunnestad) shows up to borrow some gas money for his truck, Brian talks him into driving him around to deliver the papers. While picking up the papers, Brian notices a well-dressed, but sinister looking man (G. Gordon Liddy). At first he thinks nothing of it, but when they are delivering the papers, and nearly run into the car that the man is riding in, Brian notices an article in the paper which describes the man as Al Dorn, a notorious drug smuggler who was presumed dead in an explosion in Los Angeles, but still has a $50,000 reward on his head. The two teens follow the man to a house in town where he is hiding out. The local police aren't interested at all because they think that Dorn is dead, so Brian and Shoup try to get a photo of Dorn, first by throwing a paper through the window of the house, and then by spying on him from a nearby vacant house that is for sale.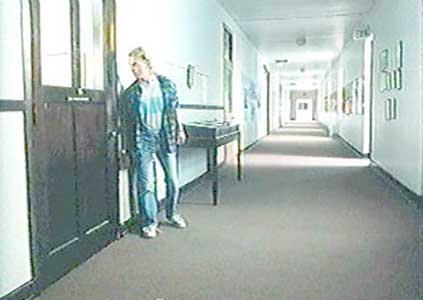 Brian checks out the activities in Professor Hardwick's lab.
The house is the home of Professor Hardwick (Michael Emil), a respected chemistry professor at nearby Bruckner College. But Dorn is very elusive, and the two friends are not able to get a clear shot of his face at all. Brian continues his investigation at Bruckner College, where he runs into Julie Converse (Jill Schoelen) who he first met at the open house. Julie is a chemistry student at the college, and the two hit it off at a reception for Professor Hardwick. Brian is spying at the reception because he suspects that the Professor has to be somehow involved in the activities of Dorn, since Dorn is hiding out at his house. He also is suspicious of his neighbor Slater (Michael Bowen), a very non-academic biker type who he sees at the reception for Hardwick. When Slater is seen with the professor and then leaves to go to the nearby boathouse, Brian follows him. But Slater escapes by donning a wet suit and swimming out into the harbor and Brian is unable to follow him. Eventually, Brian confides in Julie, and she agrees to help him uncover the mystery by inviting Slater to the vacant house and getting him drunk so he will talk about what he is doing.
Brian talks about the strange goings on with the lovely Julie Converse.
Another complication enters the picture when Ray Rucker (Seymour Cassel), a detective from New York who had been pursuing Dorn in Los Angeles, and was suspicious of the circumstances of the explosion that supposedly killed Dorn, discovers a ferry schedule in Dorn's apartment and comes to Rockwater in pursuit of Dorn. He is able to get the police involved but when he insists on searching a large boat in the harbor that appears to be a likely vessel for smuggling, the boat is clean. Rucker does hear from the local police about two newsboys who had spotted Dorn, and so he goes riding around town asking every paper boy if he has seen Dorn. Dorn observes this, and when Tim comes to the Hardwick house to collect for the paper, Dorn grabs him and holds him hostage because he thinks that Tim told the police about him. Brian, who has been eavesdropping on Julie's conversation with Slater, suddenly sees that Tim has been captured and is being taken away by Dorn and Hardwick. The balance of the story is about Brian's attempts to rescue Tim and expose Dorn and the professor.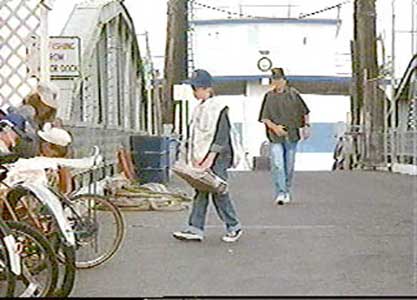 Tim picks up the papers for his route as New York detective Ray Rucker walks into Rockwater.
Adventures in Spying is a pleasant diversion as a mystery. Except for the bad guys, who as usual end up making dumb mistakes, the characters are for the most part believeable, likeable, and well acted. If you like teenaged detectives stories with the usual mix of cops and bad guys, this film is definitely worth a look.
Best Chucks Scene


Brian's mom drops his white high top chucks on his chest.
Both Bernie Coulson in his role as Brian and Matthew Brooks as his younger brother Tim wear high top chucks throughout the majority of the film. The best chucks scene is when Brian's mom finds him sleeping in his bedroom after late night shifts watching for Dorn. She picks up his white high tops, drops them on his chest, and tells him to get up and go over to Bruckner College and start making something of his life.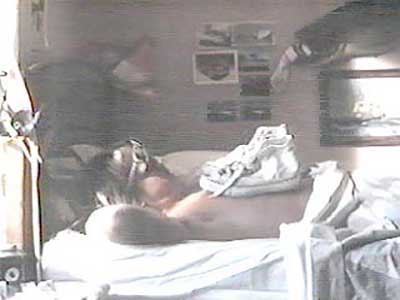 Brian wakes up staring at his chucks.
Adventures in Spying. (1992) Bernie Coulson, Jill Schoelen, G. Gordon Liddy, Seymour Cassel, Corey Gunnestad, Michael Emil, Matthew Brooks.
Directed by Hil Covington. Categories: Comedy, Crime and Mystery, Adventure.
ChucksConnection Rating:

MPAA Rating: PG-13
Support the film industry by purchasing genuine DVD, Blue Ray, or streaming copies of these films. Illegal copies only help profiteers. Make sure your money goes to the producers and artists who actually create these films. Still images from the film are used here as teasers to get you to view an authorized copy. If you have information about a film where a main character wears chucks, contact us at films@chucksconnection.com.