A ChucksConnection Film Review


Randall Park, Emerson Min, and Ashley Cech wear black high top Converse "Chuck Taylor" All Stars in the film.


Always Be My Maybe

by Marcus Angulo
Marcus and Sasha have been best friends for almost all their lives.
Always Be My Maybe is a 2019 American rom-com, written by Ali Wong, Randall Park and Michael Golamco and directed by Nahnatchka Khan. The film was born out of the friendship between Wong and Park, who met while in college in the late 1990's. They followed each other's work and stayed close, always saying that they wanted to make their own version of When Harry Met Sally starring Asian-Americans. The idea picked up steam and Netflix soon greenlit the project. Released in select theaters on May 29, 2019, and on May 31, 2019, on Netflix, the show stars Wong and Park as the leads, with James Saito, Michelle Buteau, Vivian Bang, Susan Park, Daniel Dae Kim, Karan Soni, and Keanu Reeves playing supporting roles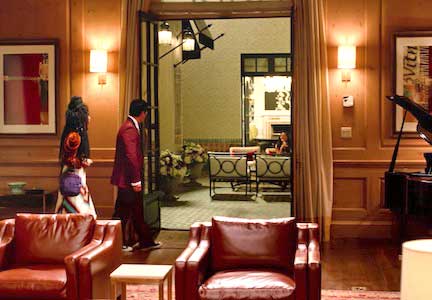 Marcus and Jenny arrive at Keanu Reeves's hotel room.
Sasha Tran (Wong) and Marcus Kim (Park) are childhood friends who grew up next door to each other in San Francisco. As Sasha's parents regularly leave her home alone while they work at their convenience store, Marcus's family often has her over for dinner, and Marcus's mother (Susan Park) teaches her to cook. Eventually, Sasha and Marcus form a close friendship that carries into their teenage years, but tragedy strikes as Marcus's mom dies in a car accident. Grieving, the two have sex but they argue shortly afterwards. This drives a wedge between them, and they fall out of touch when Marcus decides to avoid college and stay home.
Game night goes awry!
Sixteen years later, Sasha is a world famous chef, and is engaged to a famous restaurateur. Marcus is still in San Francisco living and working with his dad (Saito), while performing in a talented but underachieving band that only plays in his neighborhood. He also has a girlfriend named Jenny (Bang), who is an eclectic community activist. When Sasha has to briefly move back to the Bay Area to oversee the opening of her new restaurant, she has a chance encounter with Marcus after he and his father are hired to install the air conditioning in her new home. After some initial awkwardness, they reconnect and become close friends again. However, old feelings soon arise for both of them, and it will take a lot of change and honesty for these childhood friends to realize that they've always been meant to be.
Love finds a way.
This movie is carried by the amazing chemistry between Wong and Park. You truly believe that these two are longtime friends that are meant to be together. Reeves steals the show in his scene, and it very may well be what this film is remembered for years to come. While being insanely funny, this movie is also an excellent representation of Asian-American culture. There's so many little touches that people who grew up in the culture will appreciate seeing, and many jokes that will hit home for those who know. For those who don't, there's still so much comedy that is universal, and shows that stories about people of color don't have to be exclusively for people of color.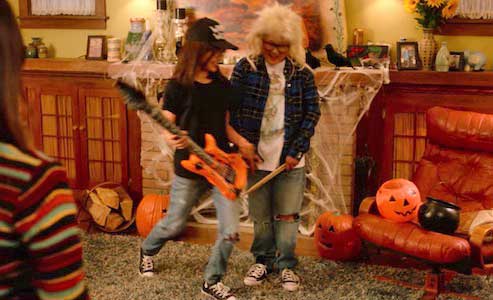 Best friends forever, Garth!
Best Chucks Scene


Marcus wears black high top chucks as he goes toe to toe for Sasha's love against Keanu.
The best chucks scene comes at the most pivotal point in the movie. After Marcus has realized that he does and always has loved Sasha, he decides that he's going to tell her how he feels. He meets her in a farmers market, where she tells him that she met a guy the night before. He plays cool and agrees to go on a double date with them. At the date, Sasha's new man is late which leads to the big reveal that he's actually Keanu Reeves! From here on out the date turns into a wild night that takes several unexpected turns, but it ends with Marcus and Sasha hooking up and heading back to her place. Now, because his date takes place in a fancy, hipster San Francisco restaurant, Marcus attempts to dress as nice as possible in a red and black tuxedo. However, he's embarrassed to learn that "high fashion" nowadays means that you wear raggedy t-shirts and ripped jeans. However, as he leaves the restaurant we see that he did pair his fancy tux with some sharp black high top chucks. The rest of the double date, including the trip back to Sasha's place has Marcus living the best night of his life in these chucks, and he considers them a piece of his "best outfit".
This is the face of a man who knows his night is not going well.
Always Be My Maybe. (2019) Randall Park, Ali Wong, James Saito, Michelle Buteau, Vivan Bang, Keanu Reeves, Miya Cech, Emerson Min. Directed by Nahnatchka Khan.
Categories: Comedy, Romance.
ChucksConnection Rating:

MPAA Rating: PG-13
Support the film industry by purchasing genuine DVD, Blue Ray, or streaming copies of these films. Illegal copies only help profiteers. Make sure your money goes to the producers and artists who actually create these films. Still images from the film are used here as teasers to get you to view an authorized copy. If you have information about a film where a main character wears chucks, contact us at films@chucksconnection.com.