A ChucksConnection Film Review


Andrew Garfield wears black high top Converse "Chuck Taylor" All Stars in the film.


The Amazing Spider-Man 2

by Mary Ann Meussling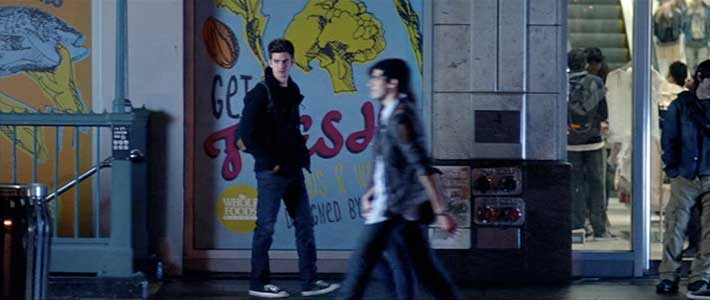 Peter Parker walking around New York City.
The action starts right away with a thrilling fight scene on a plane as Peter Parker's parents attempt to cover up their mysterious "Roosevelt" project, though sadly, the plane goes down, leaving the then eight-year-old an orphan. A flash forward into present day shows Spider-Man (Andrew Garfield) chasing down a man whose stolen a truck of toxic materials. Naturally, there is plenty of destruction, explosions, and snarky comments from Spidey. However, we soon find that while he's fighting crime, he's missing his high school graduation along with his girlfriend, Gwen Stacy's (Emma Stone) valedictorian speech. This leads to some tension, and ultimately a break-up between the two. After some angst ridden scenes from both parties, we meet Max Dillon (Jamie Foxx), an Oscorp employee who's a little on the obsessive side when it comes to Spider-Man all thanks to Spidey's rescuing him at the start of the flick. As the viewer follows his routine, we see that he's ignored and looked down upon by his coworkers. One of them even acts as a bit of a bully, telling him to stay late to tend to a broken wire near a tank of experimental electric eels. Can you guess what happens next? Yep. Dillon slips and falls into the eels, earning himself countless stings and a brand new set of super powers.
Still shots showing Peter Parker with Harry Osborn and Spiderman with the young kid who believes in him (Jorge Vega).
But in this movie, Spider-Man has to deal with not just one, but two villains, the other being his childhood best friend Harry Osborn (Dane DeHaan), who is after Spidey's blood in hopes that it'll cure his terminal disease. When his attempts to get some fails, he teams up with Max Dillon—now known as Electro—for some sweet, villainous revenge. What's Spider-Man doing during all of this, you ask? He's currently locked in his room, searching the Internet to find out who exactly his parents were. He's interrupted, however, when Gwen calls him to let him know that she will be moving to England in a few weeks upon earning a scholarship to Oxford. Naturally there is a heroic "please don't go because I love you," scene between the pair where Gwen talks Peter into coming to England with her. But this is Spider-Man, folks, and he's got to stay in the good old US of A, so as soon as they have their plans worked out, another power outage calls Spider-Man to duty.
Harry and Peter at the riverbank.
From there things get intense. Then again, how could they not, what with a man who is pure electricity trying to suck up all of New York's power supply. From here on all we can tell you is that you'll be on the edge of your seat, glued to the screen. You'll "ooh" you'll "ah", you might even laugh or cry, but if you want to find out why then you're going to have to see for yourself!
Spiderman rescues young Jorge from some bullies.
There are a few parts that drag, but for the most part, The Amazing Spider-Man 2 is a quality, character driven, action packed flick. It goes into the world of Spider-Man in a way that no movie has before (in a good way). Visually, the film is stunning, with bright colors, great special effects, and wonderful cinematography. Add in Andrew Garfield's quirky portrayal of Spider-Man, and you have the makings of a must-see movie.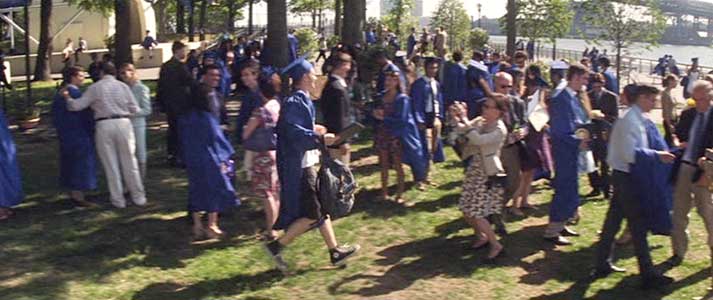 Peter Parker runs to his mother after his graduation from high school.
Best Chucks Scene


When Spiderman is suddenly needed, all that is left is Peter's pair of black high top chucks.
During their first interaction since the big break-up, Peter shows up to the "date" wearing black high-tops. Things seem to be going okay at first, until a power outage in the city calls for some attention from Spider-Man. Having no time for changing rooms, he rips off his clothes Superman style, and dashes off, leaving behind his pair of empty chucks.
Peter is searching in his room for information about his father's research project.
The Amazing Spider-Man 2. (2014) Andrew Garfield, Emma Stone, Jamie Foxx, Dane DeHaan, Sally Field, Jorge Vega. Directed by Marc Webb.
Categories: Action/Adventure, Fantasy.
ChucksConnection Rating:

MPAA Rating: PG-13
Support the film industry by purchasing genuine DVD, Blue Ray, or streaming copies of these films. Illegal copies only help profiteers. Make sure your money goes to the producers and artists who actually create these films. Still images from the film are used here as teasers to get you to view an authorized copy. If you have information about a film where a main character wears chucks, contact us at films@chucksconnection.com.