A ChucksConnection Film Review


Stephen Dorff wears black high top Converse "Chuck Taylor" All Stars in the film.
Luis da Silva, Jr. wears black low top Converse "Chuck Taylor" All Stars in the film.


American Hero

by Jack Hunter
Lyle, Melvin, and Lucille on the streets of New Orleans.

If you've been to the movies in the past decade, you've seen a superhero movie, or at least an ad or trailer for one. They're everywhere, and there's no sign of the train stopping anytime soon. While Marvel has mainly dominated the market, with DC offering some solid attempts at balancing the market share, there have been some alternative takes on the superhero flick that have spiced up an otherwise homogenous genre. Films like Chronicle have taken the idea of having superhuman powers and placed it against less than conventional character tropes with relatable flaws. That film saw three teenagers becoming imbued with super powers and taking to them with less than heroic results. Even Hancock, a less than stellar execution but nonetheless a film with a solid premise of Will Smith as a washed up, worn out former hero. American Hero seeks to combine the best of these two concepts yet ultimately fails to follow the recipe for success.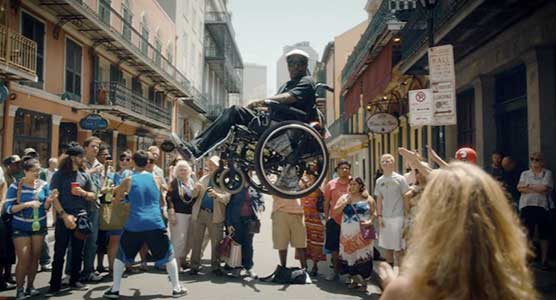 Melvin uses his telekinetic powers to scam money from tourists.
Melvin (Stephen Dorff) is a hard-partying, womanizing, heavy-drinking, drug using dude in post-Katrina New Orleans. He doesn't have a job and spends most of his time anything but sober. The only catch is that he's different from most people. He has super powers. Melvin can move things with his mind. As per Hancock, Melvin has a rude awakening when he goes into cardiac arrest and realizes he needs to be a hero not only to his community but for his son. He begins fighting against the gangs of his neighborhood, and with the help of his wheelchair-bound pal Lucille (Eddie Griffin) Melvin becomes what he was destined to be.
Melvin lives a life of hard partying, especially after he loses visitation rights with his son.
This film is literally a carbon copy of Hancock and Chronicle. With the plot of the Will Smith hero flick and faux-documentary style of the Josh Trank hit, American Hero's influences are obvious. However, this film simply tries too hard to be those things and more. The ingredients laid out for it should say otherwise. Initially, Dorff should be superb as Melvin. He's the ideal kind of boozing anti-hero that you laugh at his jokes while being concerened about his drinking. However, the film's plot eventually fails him as Melvin makes choices for reasons that seem completely unlike anything he would do. If his turn to hero were more on Melvin's terms, the film would have been much better off. The supporting cast is great as well. Eddie Griffin is a riot as Lucille, bringing his full-speed, unapologetic sass to the role, much reminiscent of his stand-up work. Lyle (Luis Da Silva Jr.) is also a great supporting character as Melvin's hype man.
Melvin longs for better relations with his estranged wife and son.
Ultimately though, the film is too many pieces put shoddily together. The first third begins as a party flick, with some serious drama after, and a heroic Marvel-esque finale in the final third. These pieces don't transition well together, which is ultimately a shame. Furthermore, Melvin is supposed to be presented as the American underdog. Rising from the ruins of a Katrina-devastated New Orleans, Melvin is supposed to be everything about America that wasn't washed away when the levees broke. Instead, Melvin is the Wal-Mart version of that story, all presentation and no real substance.
In his room, Melvin has a lot of interesting books and a collection of high top chucks.
.

Best Chucks Scene


Lucille finds Melvin passed out and tosses him one of his high top chucks he found in the street.
Chucks are well represented by two of the main characters in the film. Melvin wears black high tops in various places during the film. Lyle also rocks black low tops. An additional scene briefly shows Melvin's collection of high tops, yet he never rocks another pair besides the black high tops.
Melvin laces up his sneaker.
American Hero. (2015) Stephen Dorff, Eddie Griffin, Bill Billions, Jonathan Billions, Andrea Cohen, Luis Da Silva, Jr., Keena Feruson.
Written and directed by Nick Love.
Categories: Action/Adventure, Comedy, Science Fiction.
ChucksConnection Rating:

MPAA Rating: R
Support the film industry by purchasing genuine DVD, Blue Ray, or streaming copies of these films. Illegal copies only help profiteers. Make sure your money goes to the producers and artists who actually create these films. Still images from the film are used here as teasers to get you to view an authorized copy. If you have information about a film where a main character wears chucks, contact us at films@chucksconnection.com.