A ChucksConnection Film Review

Lewis MacDougall wears black low top Converse "Chuck Taylor" All Stars in the film.



A Monster Calls
by Hal Peterson
Conor O'Malley has a very tough life in A Monster Calls.
Viewing A Monster Calls, one cannot help but think about the resiliency of young boys in our society. Twelve-year-old Conor O'Malley (Lewis MacDougall) is hit from all sides with bad fortune. At school, three bullies regularly torment him, because he is younger, smaller, and constantly shuts out his classmates in his own personal world of drawing and listening to music. There are regular stare-downs during class and recess between Harry (James Melville), the leader of the bullies, and Conor, usually leading to physical attacks after school. At home, Conor's mother (Felicity Jones) is dying from leukemia, and the treatments she takes leave her debilitated and lethargic. Conor's grandmother (Sigourney Weaver) is cold and distant with him; they do not get on well like you would normally expect in a grandmother-grandson relationship. Conor's parents are divorced, and his father (Toby Kebbell) now lives in Los Angeles, California with a new family, having long ago left the West Yorkshire, England community where Conor lives. The only place where Conor is happy is at home. There he is encouraged to pursue his interest in drawing by his mom who also had aspirations at one time to be an artist. With little supervision, Conor fends for himself at home, often working late into the night on his artwork.
Conor and his grandmother do not have a good relationship.
One night, just after midnight, things start to shake in his room, cold breezes blow about objects on the floor and his desk, and loud thumping noises are heard outside. At precisely 12:07, a large monster made from the components of a centuries old huge yew tree that grows next to the old cemetery of an abandoned church nearby arrives at his window. The monster, voiced by Liam Neeson, tells Conor that he has three stories to tell him, and then Conor must reply with a fourth story, which must be his worst nightmare. While the frightened boy protests against this at first, soon he (and the viewers) are drawn into these fables, which all have unexpected endings, not the traditional or even logical "live happily ever after" finishes children are taught to expect. With so much adversity in his life, the viewer must believe that the monster and these tales are Conor turning to his imagination. But the monster seems so real, and the stories he tells have very different outcomes from what you would expect a young boy to imagine, casting doubt in your mind as to its origination. There are other developments. Conor's mother is not responding to treatment; she must go into the hospital for one last unconventional attempt to go into remission. With her critically ill, Conor must now stay with his grandmother. His father is summoned back from America, but any hope that Conor had of living with his father is soon dashed. His father would like him to visit occasionally, but there is no place in his new life for Conor. Conor's anger now becomes palpable. He strikes out at his grandmother's room of art objects, rejects his father, and savagely goes after Harry one day in the school cafeteria when he tells Conor that he is no longer a person but invisible. With all of these emotional forces unleashed, it is now up to the monster to help Conor deal with the unremitting turmoil in his life and begin a healing process.
Conor argues with the monster in the church yard.
When A Monster Calls was released into theaters, Hollywood didn't know how to market it correctly, something that typically happens when a movie doesn't fit in their expected categories. A Monster Calls was somehow thought to be a family film for little kids, and it was marketed in a deceptive manner with a trailer that didn't imply what the film was really about. When this reviewer saw the film at a theater, all the previews were for animated cartoons and little kid family movies. There seemed to be no thought that this film was not designed for little kids. Many parents had brought along very young kids who had to be upset and scared by much of the content, especially the scenes of cataclysmic destruction and death toward the end. The PG-13 rating meant something here; this is a film for an older audience. Its adult themes of anger, impending death, and how grief from that can lead to destructive behavior are probably too intense for most young kids. A Monster Calls is a very powerful film with messages and scenes that will leave an emotional impression on viewers of all ages.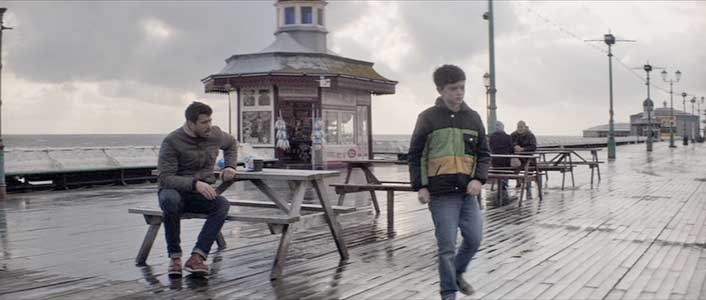 Conor walks off in frustration after he realizes that his father only wants an occasional presence in his life.
A Monster Calls is one of the best films from early 2017. Screen writer Patrick Ness, author of the novel it is based on, and director J. A. Bayona have put together a powerful story that combines live acting, CGI, and story animation in a unique way. The casting is excellent, from Liam Neeson's monster voice, to the supporting work of Sigourney Weaver, in a very different role for her as Conor's seemingly aloof grandmother, Felicity Jones as his dying mother, and Toby Kebbell, as his father who must tell Conor that he only has a secondary role in his life. Lewis MacDougall's performance shows us a wide range of emotions — the artistic loner, a grieving son apprehensive about his future, a victimized kid treated unfairly by life at school and home, a boy consumed by anger, and acting out with rage. This is a most incredible performance, another young actor showing us he is capable of carrying the weight of this film and its emotional story on his shoulders. The depiction of the monster, who somewhat reminds us of a large talking wicker chair is also done quite artfully, especially when it integrates itself into scene with the human actors, entwining its many branches into the props as it takes over the narrative. There are many other clever symbolic things like the use of 12:07 as the start of important or cataclysmic events in the story line along with the relationship of Conor and his mom's artwork to elements of the story. This is definitely a film that can be appreciated over repeated viewings. Ironically its fantastic elements have a realism that is not often seen in films with young protagonists.
Conor finally unleashes his anger against the school bullies.
Best Chucks Scene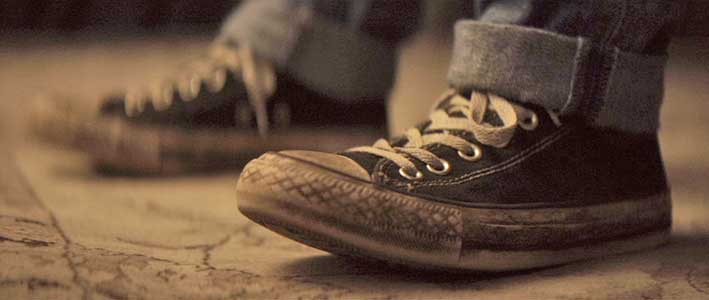 The camera provides many close ups of Conor's chucks.
Lewis MacDougall, who plays Conor, wears well broken in black low top chucks throughout the film. The cinematography is very chucks-friendly, especially in the many panorama shots during the film. He seems to be the only kid wearing noticeable sneakers at his school, which helps him stick out of the crowd. The camera gives us close ups when we see Conor climbing up stairs, to get something out of a cupboard, waiting impatiently for the monster, or to walk away from the bullies at school.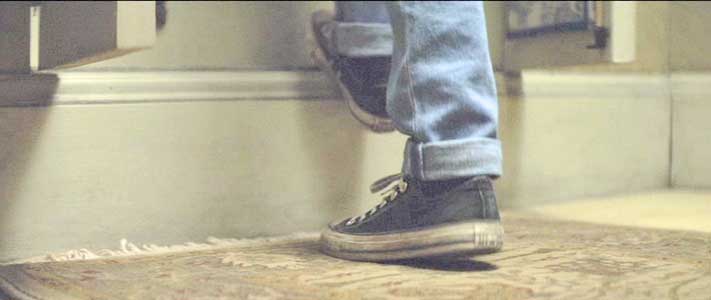 Conor walks up the steps in his grandmother's house.
The most creative scene involving chucks occurs at the beginning of the film. An ominous wind suddenly blows through Conor's bedroom, blowing his chucks and other possessions away as if they were pieces of flotsam and jetsam. This portends the first appearance of the monster.
An ominous wind blows Conor's chucks out of his bedroom.
A Monster Calls. (2016) Lewis MacDougall, Sigourney Weaver, Felicity Jones, Toby Kebbell, Liam Neeson. Directed by J. A. Bayona.
Categories: Drama, Coming of Age
ChucksConnection Rating:
MPAA Rating: PG-13

Support the film industry by purchasing genuine DVD, Blue Ray, or streaming copies of these films. Illegal copies only help profiteers. Make sure your money goes to the producers and artists who actually create these films. Still images from the film are used here as teasers to get you to view an authorized copy. If you have information about a film where a main character wears chucks, contact us at films@chucksconnection.com.