A ChucksConnection Film Review


Joshua John Miller wears black high top Converse "Chuck Taylor" All Stars in the film.
Edan Gross wears light blue high top Converse "Chuck Taylor" All Stars in the film.
And You Thought Your Parents Were Weird!
by Hal Peterson
Max and Josh Carson work on their latest invention, a robot named Newman.
Max and Josh Carson (Edan Gross and Joshua John Miller) are two young inventors with an interest in robotics. As the film opens we see them winning a local Junior Inventor contest with one of their creations, a voice activated robotic device that moves and collects garbage. Inventing is an important outlet for them, because as we soon learn, their late father (voice of Alan Thicke), also an inventor, apparently committed suicide two years prior to the start of the film. Josh in particular is bitter about this, feeling that his father didn't care about them, while his mother and Max remain more optimistic. The family is having some hard times, and their mom, Sarah Carson (Marcia Strassman), has listed their house for sale. The two brothers don't want to leave, and give their first prize money to their mom to help with expenses, but she insists that it is only a loan, and that they should use some of the money to continue working on their inventions. Marcia has a new romantic interest, Steve Franklin (Sam Behrens), but he has yet to win the trust of Josh.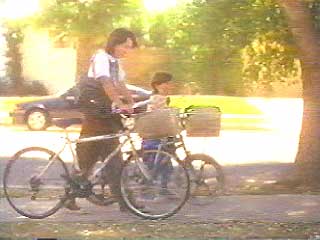 Josh and Max ride their bikes back from a computer supply house.
The main action of the story starts after Josh reluctantly attends a Halloween party given by his wannabe girlfriend, Beth (A. J. Langer), who has crush on him that he doesn't really seem aware of. While playing Ouija, the board spells out "Dad" which he thinks is a mean trick, but while the family was out, the spirit of their father has ended up in the prototype of their latest invention, a robot called Newman. There is a touching scene as the robot travels around the house and tucks his sleeping family in their beds. The next day, when Beth comes home with Josh, they discover that the robot is working and doing amazing things, which takes Josh aback since everything had been failing up to that time. When Josh and Max are alone with Newman, he reveals himself to be their missing dad, and makes them promise not to let Sarah know until he feels she is ready to learn the truth about his return. Later he reveals to them the truth about his death and supposed suicide.
With Newman at their side, the Carsons become a "complete" family again.
All this would be quite enough to deal with, but the story is filled with several subplots about reporters who are trying to verify that the robot exists and make their fame and fortune on the airwaves, an unscrupulous businessmen and inventor rival who want to steal its prototype, and a Texas industrialist who wants to purchase Newman for future development. If that isn't enough pressure on the Carsons, Steve comes over with an engagement ring and wants Sarah to get married. How all of this works out makes up the balance of the film.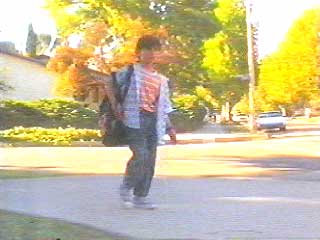 Max returns home from school and runs into a television reporter.
In many ways And You Thought Your Parents Were Weird! is typical family fantasy/science fiction fare, with a single parent suburban nuclear family, genius kids who create an fantastic invention, bumbling villains, a little bit of a romantic triangle, and a happy ending. But there are a few nice touches that writer/director Tony Cookson has put into this film worth noting. The first is that one of the inventors, Josh, is not the object of derision at school, but is actually being pursued by Beth, who thinks that his brains and inventions are way cool. A second is the matter of fact way that knowledge is treated in the script and dialogue, so that it seems like a normal everyday occurrence instead of a big deal, and that the two boys are shown with their failures as well as their successes. And a third thing is how Josh's character is allowed to show some pent up anger and emotion at the return of his dad, rather than just be awed by it, and how he also gives us an edgier side to his character, with his constant paranoia about others finding out about his inventions. Part of this is due to Joshua John Miller's ability to project emotion, even in this kind of a role. And You Thought Your Parents Were Weird! is a pleasant diversion for the family. Even if it isn't great art, it still will be an enjoyable ninety minutes for you.
Josh chases after Max through the house when he hears that others have found out about Newman.
Best Chucks Scene


Josh and Max listen to Newman talk for the first time.
Joshua John Miller (black) and Edan Gross (light blue) both wear high top chucks throughout the film in their roles as the inventor brothers. Chucks are good footwear for these kids, because, let's face it, a lot of really smart people like to wear chucks. There are not a lot of great close ups in this film, but the best chucks scene is when you see the two of them interacting with Newman with the camera set at Newman's height.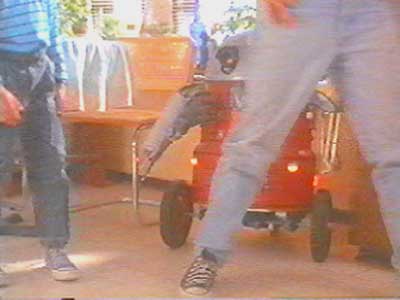 Max and Josh introduce Newman to some industrialists.
And You Thought Your Parents Were Weird. (1991) Marcia Strassman, Joshua John Miller, Edan Gross, John Quade, Sam Behrens, Alan Thicke, Susan Gibney. Directed by Tony Cookson.
Categories: Comedy, Family, Science Fiction/Fantasy.
ChucksConnection Rating:

MPAA Rating: PG

Support the film industry by purchasing genuine DVD, Blue Ray, or streaming copies of these films. Illegal copies only help profiteers. Make sure your money goes to the producers and artists who actually create these films. Still images from the film are used here as teasers to get you to view an authorized copy. If you have information about a film where a main character wears chucks, contact us at films@chucksconnection.com.