A ChucksConnection TV Series Feature
Katie Cassidy and Willa Holland wear black low top Converse "Chuck Taylor" All Stars in the series.
Arrow
Thea sees her brother for the first time in five years.
After being stranded for five years on a hellish island, Oliver Queen (Stephen Amell) returns home to Starling City a changed man. He now has skills that make him a human weapon, and has taken a vow to his father that he would save his city. In order to do that though, he has to become someone else. He must become something else. Oliver Queen must become the Arrow.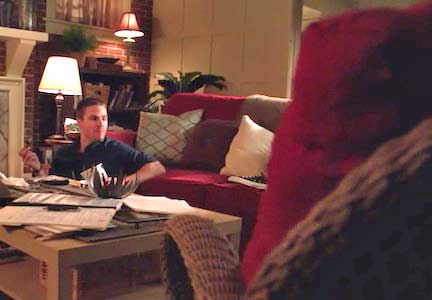 Laurel's black low top chucks.
Upon his return to Starling City, Oliver is reunited with his mother, Moira Queen (Susanna Thompson), his sister, Thea Queen (Willa Holland), and his friend, Tommy Merlyn (Colin Donnell). They are all ecstatic to see their once thought-to-be-dead Oliver return, but can see through his facade that he is a changed man. Supporting Oliver in his quest to become the savior of his city are his friends John Diggle (David Ramsey) and Felicity Smoak (Emiley Bett Rickards). Diggle is Oliver's bodyguard who is hired after the local triad makes an attempt on his life. He has served in the US Army, and after being poisoned by a would be assailant, he is saved by Oliver as the Arrow, who decides he trusts Diggle enough that he can tell him his secret. Felicity is an IT girl at Oliver's family's company, Queen Consolidated.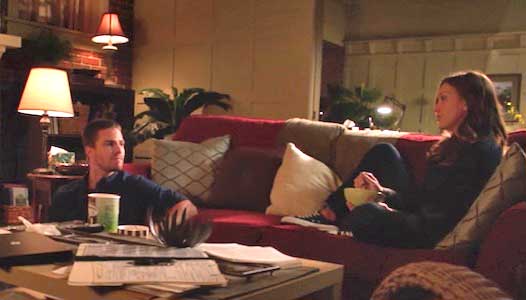 Laurel Lance chilling in chucks with Ollie.
After Oliver is badly wounded at Queen Consolidated, Felicity saves his life and earns his trust by delivering him to Diggle instead of the hospital, keeping his identity a secret in the process. Oliver also reconnects with ex-girlfriend, Laurel Lance (Katie Cassidy), an attorney at a legal aid firm and Tommy's current girlfriend. She is often seen wearing her chucks and caring for her city in the same way that Oliver does. While she initially is hesitant to see Oliver again, blaming him for her sister's death, she eventually comes to care for Oliver again, as she sees that he really is a changed man and that he lived in hell for those five years.
Who's at the door?
Throughout the show, there are flashbacks to Oliver's time on the island. These highlight how he spent his time and how he gained the skill-set that shaped him into the vigilante he is now. The main focus of season one is Oliver's re-assimilation back into civilian life while still keeping his promise to his dad to save Starling City. He spends his days rekindling his relationships and his nights hunting down those on the list of names his father gave him before he died. Eventually, Oliver learns that his dad and all these names are connected in a major plan to level the poor neighborhood in Starling City, the Glades. The mastermind behind it is revealed to be Malcolm Merlyn (John Barrowman), Tommy's father and an old family friend. In an electric season finale, Oliver and his friends must unite the city to save the Glades, and keep his promise to his father.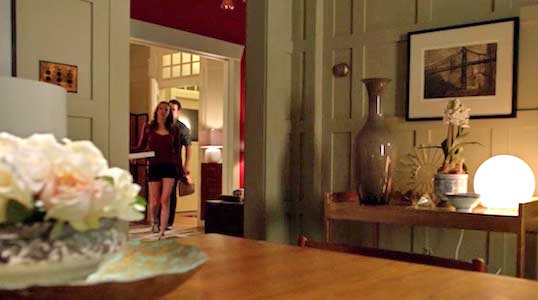 Laurel welcomes Tommy into her apartment.
Do you know of other television shows or series where a main character wears Converse All Star Chuck Taylors? Can you describe a favorite episode or two from the series, or do you have additional information about the shows described here already? Do you have videotapes, DVDs or shot captures of episodes from any of the series that haven't been given an in depth article on this site? If you do, email us at chucksphotos@chucksconnection.com and we will add the information to the television pages.