Big Man On Canvas
There was an old rocker who lived for his shoes —
a collection of Converse All Stars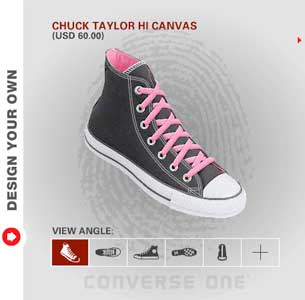 The author's dream pair of Converse All Stars. "While they might look like a Good & Plenty factory accident to you, they salute my first two pairs of chucks (pink and black respectively). And I designed them myself at converse.com. You can do the same, picking details down to the racing stripe, for $60."
If this story merely concerned a man and his canvas shoe obsession, then I'd swipe and corrupt the opening from "Moby Dick": "Call me Imelda." But lacing up Chuck Taylor high-tops represents much more to me—a convergence of nofrills fashion, athletic spirit and rock energy ... especially the rock part. Many music heroes, from Joey Ramone to Bruce Springsteen to Kurt Cobain, adopted Converse All Stars as their sneaker of choice. So have I for more than 20 years now—from the time I dished my first bartop guitar solo in a New Jersey heavy-metal dive to just months ago, when I addressed college journalists as their keynote speaker at a conference.
And as I have grown with the mighty Converse shoe, so Converse has expanded. This fall will not only see new additions to designer John Varvatos' footwear line, but also Converse men's and women's clothing by Varvatos that mixes nuanced athletic with indie aesthetic. Kids are big on Converse All Stars too. For evidence of this, I had to look no further than a children's birthday party I attended days ago. The guest of honor wore her sea-foam green chucks with all the pride of a hip preschool princess.
Just who was Chuck Taylor? The lofty state of the All Star could barely be foreseen back in 1918, when Charles H. Taylor, a basketballer with the Akron Firestones, acquired his first pair. Decades before Michael Jordan, "Chuck" Taylor became the first player-endorser of athletic footwear in 1921, and added his signature to Converse high-tops two years later. (A lowtop line of All Stars dating to 1935 is named for Jack Purcell, a badminton and tennis player.) Milestones soon followed—none greater than in 1962, when Wilt Chamberlain scored 100 points in an NBA game wearing chucks. As their popularity soared, seven colors were added to black and white in 1966, to match jersey colors. By then, non-athletic teens had adopted chucks as a cheap symbol of rebellion.
And in the 1970s, two musical acts did wonders for basic black Chuck Taylors — seminal punkers the Ramones and roots rocker Springsteen. Unofficial endorsers: The Boss, The Ramones. Though The Boss' Converse did not appear on the "Born to Run" album cover in 1975, photo outtakes feature the shoe, including a famous Columbia Records poster where they dangle from his guitar headstock. (A decade later, he would own some 28 pairs.)
Today, Converse, acquired by Nike in 2003, offers a commemorative pair of black Ramones sneakers—with the band's eagle emblem on the ankle patch—for $62. Other limited and designer editions command similarly high prices. But the basic All Stars can still be had for $20 at stores such as Marshall's, where I get many of mine. In "Ode to a Pair of Socks," poet Pablo Neruda slips on gift stockings that transform his feet into something mystical, the socks "two little boxes knit from threads of sunset and sheepskin." I feel something akin to that, albeit more feisty, less fanciful, when I wear my chucks. It's ironic that a weakness of the shoe—its not-so-great arch support—actually makes my feet feel more connected to the earth. I suspect other rockers feel the same way too.
In the past couple weeks, I witnessed two magnificent rock shows. At Schubas, Spoon drummer Jim Eno, clad in low-top, danger-red All-Stars, pounded out masterly beats. And at the Metro, lead guitarist Sergio Dias of the legendary tropicalia band Os Mutantes prowled the stage in black leather Converse. Dias turns 56 in December. But with chucks hugging his feet, he might as well be timeless: Too old to rock 'n' roll? My foot.
The author's collection of high top chucks.
BLUE GAS MASKS. (2005) A Christmas present from my wife, who mistook the mask-wearing meanies for a riot of bubbles when she spied the footwear on a Website photo. No matter: I love 'em and my feet breathe in these just fine.

JOHN VARVATOS CAMOUFLAGE (2006) These shoes from the Jack Purcell line form-fit like slippers and actually lack laces. The shortie shoestrings are an original touch; I salvaged them from Converse hang tags on other purchased pairs.

PINK (1987) I drove 80 miles from Philly to New York especially to buy these sneakers in a store off 42nd Street. Pink Chucks became my official stage shoe for countless shows in my 1980s pop band.

MINT CHECKER KNIT (2006) Every time I put these on, I feel as if I'm stuffing my toes and ankles into two big bowls of Chiclets. Yummmmm.

ORANGE (2007) Wore these in Los Angeles for club hopping on the Sunset Strip and a keynote speech at a journalism conference — all within 24 hours. Orange is orange: You either love or hate it. But you can't ignore it.

BEAT-UP BLACK (1985) Didn't Bruce Springsteen drape these American-made chucks around his Fender Esquire during the "Born to Run" photo shoot? Not quite. But like Bruce's, they're black and spent their active life slogging through the swamps of Jersey.

BROWN CORDUROY (2006) Hated corduroy as a kid—hated it. (Yes, my mom did dress me in it.) Thirty years later, it's cool to me. These shoes are the reason.

PLAID (1995) A departure from Converse's prevailing solids at the time. I flipped when I saw them and have worn sparingly ever since: perhaps two dozen times in all, mostly on stage playing lead guitar.

DENIM WITH WHITE STITCHES (2007) Saw them at a discount store for $20, but not in my size. Bought them online for $65. While this violates my "stay below $30" rule for canvas Chucks, sometimes style must trump thrift.

JOHN VARVATOS BLACK( 2006) Varvatos nailed the Converse attitude when he designed an All-Star with more eyelets than you'd find in Michael Jordan's entire gym shoe collection. The off-white coating on the toe hasn't held up well. But these sneaks prove that when it comes to lacing, excess is success.

BATTLE-FATIGUE GREEN (2006) I'm not big on Army surplus style, but these chucks shoot to thrill.
by Lou Cardoza
Lou Cardoza is a feature writer for the Chicago Tribune
If you have an article or other information about Chuck Taylors to submit to this website, please contact us at mail@chucksconnection.com.
Do you have an interesting chucks photo or two to post on this website?
Submit photos by attaching a jpeg or tiff photograph file to an email and sending it to chucksphotos@chucksconnection.com.