Chuck Taylors
for the Cool and the Too-Cool-to-be-Cool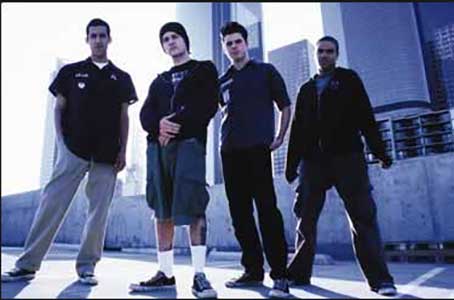 Chucks (aka Converse All Stars) show up on the feet of the ultra-cool and the oh-so-uncool.
Think about this: Your grandfather might have something in common with Hilary Duff, Avril Lavigne or Will Smith. It can't be the millions, you say. So it must be the shoes. The same, trusty ol' Chuck Taylor sneaker — with the flat sole, wilted tongue and All Star symbol on the ankle — is back. Again.
Duff wore a pair of pink high-tops princess-style in the recently released A Cinderella Story. Will Smith relied on his retro tendencies — his black chucks, in particular — when he fought futuristic villains in the summer blockbuster I, Robot.
And because chucks have reappeared on the scene — again — teens are back to buying them for back-to-school gear. College kids have declared them cool. They're everywhere, in every color — camouflage, Old Glory and neon-bright. Animal print, two-tone, flames, flowers, gingham. Low tops, high tops, extra-high tops. There are even Chuck Taylor slides.
But this year's re-emergence of the omnipresent Chuck Taylor recalls like never before the tried-and-true athletic shoe of granddad's day. Last week, Converse released the 1946 Vintage Chuck Taylor — a replica of the standard-issue sneaker American soldiers wore during boot camp in World War II.
The nostalgic shoe — black leather, with an olive-green midsole and patch — "symbolizes a time of patriotic cooperation when an emerging American company and one of its legendary representatives, Chuck Taylor, the 'Ambassador of Basketball,' stood beside the men and women of this country during a time of great need," Converse's Web site says. With the nation at war, Converse thought now was a good time to commemorate a simpler past.
"We have a phrase we live by," said David Maddocks, vice president of marketing and product development, "which is, 'From our history we create our future.'" Many Chuck Taylor aficionados wear the retro shoe to express their individuality and originality, Maddocks said. But there are also those who wear the brand — conspicuously void of the high technology and high prices of today's performance sneaker — because it represents a more unfettered time. "Its fabric runs so deep in our culture," Maddocks said. "It's pure. It is straightforward. It's believable. And it makes no pretense."
The vintage 1946 Chuck Taylor, a limited edition, costs about $120. But most chucks run about $40 a pair. For just two $20 bills, the wearer gets what Maddocks calls "real genuine authenticity."
The Converse All Star was born in 1917, the first American athletic shoe. Basketball great Chuck Taylor added his signature to the trademark rubber ankle patch in 1923. Granddad probably played kick the can in dirty off-white ones.
Today, the sneaker is less an athletic shoe and more of a fashion statement. Sometimes a pair of chucks screams, "I am so cool." Other times, on a different pair of feet, they say, "I so don't care about being cool." Still others buy a pair of Chuck Taylors simply to complement a hard-to-match outfit.
That shirt you have with the skull and crossbones on it, Motorcycle Man? You want Chuck Taylor No. 1Q092. No place to carry your lipstick in that skin-tight periwinkle dress? Then buy No. 3Q236 with a handy-dandy pocket on the side.
"There's not a lot of shoes you can make that look like those," said Dan Edmondson, vice president of men's, children's and athletic footwear at JCPenney department stores. "People even wear that shoe to get married in." Best sellers this summer at JCPenney have been color combinations like black and pink, black and red, and green and yellow, Edmondson said.
Some 400 versions of the chuck are produced annually, and the cache is about to get even bigger. Next week, Converse is launching a "Peace Chuck" — the newest version of the standard sneaker, this time with a hopeful message. One version will feature "Peace" written in 13 languages. And another — in a tribute to the Beatles' John Lennon, with design help from widow Yoko Ono — has a line from his song, "Imagine," molded into the toe bumper. Imagine all the people living life in peace. The Peace Chuck will be released in 75 countries Thursday.
With chucks evolving even as they maintain a certain iconic look, one high-profile fan predicts the shoes will outlast all of us. "Chuck Taylors are going to be around forever. The Egyptian Empire left the Pyramids, the Roman Empire left the Colosseum," Converse fan Will Smith told the Philadelphia Daily News last month. "I think when America is gone 500 ... 800 years from now, Chuck Taylors will still be around." Imagine that.
By Tanika White
Sun Staff
August 6, 2004

Copyright (c) 2004, The Baltimore Sun