Nike is seeing a shocking rebirth in this business because of one key sneaker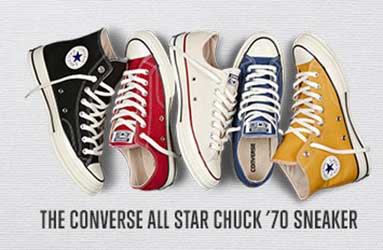 Some of the original Chuck 70 issues.

Nike's rather chill Converse brand has surprisingly sprung back to life in the face of surging demand for athletic and fashion-focused sneakers.
And it's really all because of one sneaker. The stylish, yet somewhat pricey Chuck 70.
Nike (NKE) said Thursday evening that Converse sales surged 15% in the fiscal 2020 second quarter, fueled by double-digit growth in Asia and Europe. The sales pop marked a second consecutive quarter where sales for Converse grew at a faster rate.
Talk about a reversal in fortunes.
Converse sales in fiscal year 2019 were unchanged year-over-year with declines in the U.S. and China as the brand battled a consumer shift to athletic centric sneakers. The brand represents about 5% of Nike's overall business.
"We've got some real momentum within the chuck franchise, in particular driven by a style called the Chuck 70, which is growing really strong double to triple digits in all geographies. In fact, it's already a pretty significant percent of total chuck business in markets like China and elsewhere and it's ramping up quickly in the U.S," Nike Chief Financial Officer Andy Campion told analysts on a conference call.
The momentum with a cooler version of the classic Chuck Taylor now has Nike thinking about expansion opportunities for the brand.
Campion added, "So, we see great energy providing more choice and differentiation within a style that has the kind of expansive opportunity that the chuck has. And that is a more premium version of the chuck, which also kind of raises tentpole and adds the opportunity to expand on that franchise."
Converse sales outpaced the 12% growth notched for the Nike brand. Impressive, especially considering the Jordan brand had its first $1 billion sales quarter.
Nike's overall sales came in at $10.33 billion, surpassing analyst estimates for $10.09 billion. Net earnings came in at 70 cents a share versus forecasts for 58 cents a share.
Brian Sozzi
Editor-at-Large
Yahoo Finance
December, 2019
If you have an article or other information about Chuck Taylors to submit to this website, please contact us at mail@chucksconnection.com.