Chucks On Campus


Chucks are a staple of many college student's wardrobes throughout the entire country. For many college students they enjoy the frugal pricing and the timeless style that any chuck wearer enjoys. With this article we will go into the minds of three young men that attend San Francisco State University and see why they wear this particular sneaker and how it incorporates with their personal styles.
Marcus Valderrama = MV
Martin Hinsburg = MH
Daryn Sung-Lee = DSL
Jomar Clemente = JC
Marcus: First of all please state your name, age, and school in which you attend.
Martin: Hello, my name is Martin. I am a 22 year old Biology Major at San Francisco State University.
Daryn: Hi, my name is Daryn Sung-Lee and I am a 21 year old communications major at San Francisco State University.
Jomar: Hey, I go by the name of Jomar. I'm currently at SFSU as a kinesiology major and I am 21 years of age.
MV: For the record, could you please tell us what you are wearing today?
MH: Today I am wearing a Diamond Supply Co. T-shirt, with Levi jeans, Converse Chuck Taylor All Stars and my faithful canine, Mogi.
DSL: Right now I am wearing a hat I bought from Goodwill, not sure what the brand is, a Deadline t-shirt, Flathead jeans, and chucks.
JC: Currently I am rocking a H&M hoodie, Gap V-neck, H&M Chino's, and my chucks.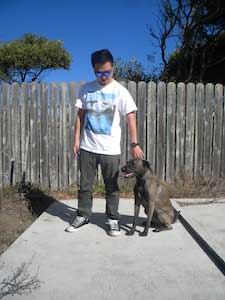 Martin and Mogi.
MV: How would you describe your personal style?
MH: I'm a very low-key guy so I don't really like to dress up very excessive. For me, I like to keep it simple, yet clean. Nothing makes me happier then to wear your basic t-shirt, jeans, and sneakers. So I guess the best way to describe my style is minimal.
DSL: Personally, I am a huge fan of wearing streetwear brands. Not necessarily the big brands that you see every kid wearing on campus but I like to look for more underground brands that have more of a mom and pop style of growth. I find it important to stay on the up and up of what is coming out next and always pushing the boundaries on what people would expect me to wear.
JC: With my fashion I really enjoy dressing up when I go out. Not necessarily suit and tie status but a nice button up is always good. A good way to describe my style is that I enjoy looking sharp. Very clean cut. When I go out I always want to look my best even if I am going to the gym. It doesn't matter as long as I look good and sexy.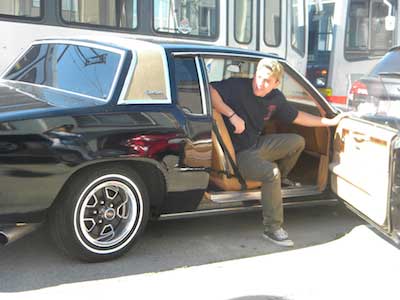 Daryn getting out of a car.
MV: Why do you like Converse Chuck Taylor All Stars?
MH: For me the best thing about chucks is that they are a simple design that never goes out of style. It's easy to wear them with pretty much anything you want. You can dress them up and you can dress them down. It does not matter what you wear because they compliment everything you wear fairly well. Plus they are comfortable for the price you are paying.
DSL: Chucks are just such a timeless sneaker. You see brands like Nike and Adidas putting out new models every year hoping to sell whatever they might have released for that season but with Converse you know that what you are buying is going to stay in style no matter what. The best part about them is that the more wear you put into them the better they look over time. They fit perfectly in with my style and no matter what I wear I know that they won't ever throw off my outfit for that day. There aren't a lot of shoes that can do that.
JC: When you want to keep a classic look and yet stay well groomed all the time there really is no better sneaker then that Converse All Star. You really can wear the shoe with anything. With how I dress, I like to keep it nice and neat and the aesthetic of the chuck always matches with what I'm wearing no matter what. It fits well on my foot and it's stylish. Those are two things that are hard to come by.
Jomar checking the night sky.
As you can see the chuck shoe is still considered even by today's standard a classic sneaker that seems to go well with just about any style out there. From those that simply just wake up in the morning and throw on a t-shirt, to the streetwear aficionado's, to the preppy look the All Star will always be a key staple in any college student's closet.
— Marcus Valderrama
Marcus Valderrama is a student at San Francisco State University