Converse Sneaker Bypasses Basketball Stars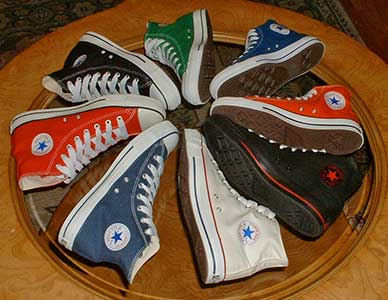 Converse's marketing strategy in the early nineties was to push the Chuck Taylor All Star and its availability in many colors as a fashion statement.
Converse's All Star athletic shoe seems to be the footwear of the fashionable these days, appearing on models in Vogue, Elle, GQ and Rolling Stone and in runway shows for designers, such as Perry Ellis. Entertainment mogul David Geffen was photographed wearing a pair recently.
Where the sneaker isn't appearing is on highly paid basketball player endorsers, even though Converse started out as a basketball shoe. With 10 million pairs of Converse All Stars sold last year, parent Interco doesn't feel the need to follow in the footsteps of its larger and much flashier rivals, including Nike and Reebok International Ltd., which pay big bucks to such athletes as Shaquille O'Neal and Michael Jordan.
The company, based in North Reading, Mass., also is not spending the usual hefty sums associated with athletic shoe ads. While Nike and Reebok spent more than $80 million apiece on advertising last year, Converse spent only $12 million, according to Leading National Advertisers, which tracks ad spending. Converse says privately that it spent $5 million last year advertising the All Star. According to the newsletter Sporting Goods Intelligence, Nike and Reebok are first and second in the market for athletic footwear, while Converse is sixth.
Converse's current ad strategy appears aimed at capitalizing on a image both sexy and streetwise. In a new TV spot for the All Star, a beautiful young woman is lying face down on a table. As the camera pans down her body, it reveals her pants bunched down around her ankles and shows she is wearing a pair of Converses. It in unclear as to what is going on, until the very end: she has gotten a tattoo.
Another ad, title "Ugly", has a mean-looking guy barking into the camera. "There are a lot more, what you call ugly people in the world than beautiful people...We don't have perfect airbrushed bodies...and we don't want them. We don't want to live in a beer commercial. The point is not to be beautiful...the point is to be yourself."
The campaign, currently running nationally on MTV and the Fox network, is aimed at being "edgy and provocative," say Rich Herstek, creative director at Converse's Boston ad agency Houston, Effler & Partners.
Converse says its new half-minute spots are geared at the new wave of customers more interested in making a fashion statement than a foul shot. "These types of ads are what people in our target market are looking for," says Mr. Herstek. "They aren't meant to appeal to the mainstream. Our customers have a higher shock threshold than others."
The All Star — formally known as the Chuck Taylor All Star after a company salesman and basketball player who joined Converse in 1921 — is also meant to be separated from the pack of other Converse athletic shoes. "We want to disassociate the All Star from our basketball shoes and bring it into life in our spots as a fashion statement," say Kathy Button, Converse's director of marketing.
Some Converse shoes are plugged by basketball stars, such as Larry Johnson of the Charlotte Hornets and Kevin Johnson of the Phoenix Suns. The company also has a longstanding contract to pay $1 million annually to Earvin "Magic" Johnson. Thought the contract doesn't expire until August, 1994, Mr. Johnson hasn't appeared in ads since he criticized Converse in July, 1992 for not properly using him in their marketing or promoting him in the high profile way Converse rivals promoted their athletic endorsers.
Initially the All Stars didn't even need advertising to become fashionable. "It's unbelievable," say Candy Pratts, fashion director of shoes and accessories at Vogue, which has featured the high-top sneaker in numerous layouts. "It's Converse's moment. It's the case of what is old is new. They really work for today's fashion" of loose-fitting, flowing dresses. The popularity soared, she adds, "not from advertising, but from the kids in the street."
The All Star did advertise last year on its 75th anniversary, but its spots were considerably less hip, featuring animation and the Bullwinkle the Moose character.
Some sports pundits say the All Star doesn't need a hard sell with a famous endorser. "Everyone remembers Converse" says Dick Silverman, editor and associate publisher of Footwear News. "They have a life of their own."
Moreover, the price is right: a pair of All Stars sells for about $30, half the price of the big competing brands.
"It's retro-fashion for people in their teens and in their 30s," says 31-year old Alan Friedman, editor of Team Marketing Report. Mr. Friedman boasts two pairs of All Stars, one red, the other checkerboard, although he wears Nike when shooting hoops. His love affair with the All Star extended to his 1989 wedding when he gave pairs of the chucks, as they are sometimes called, to the men in his wedding party.
For the new ads, Converse bought time on MTV and New Corporation's Fox network to reach its target young, hip audience. The ads will run through this month and then reappear on MTV late June.
The ads, specifically that tattoo spot featuring the blues singer Otis Rush wailing "Love That Woman," are "risky", concedes Mr. Herstek of the agency Houston Effler. But his mandate, he adds, is to "find elements of the counterculture that we think will have some appeal to our target audience."
by Kevin Goldman
Advertising Writer
from the Wall Street Journal, May 6, 1993