Converse's Big Test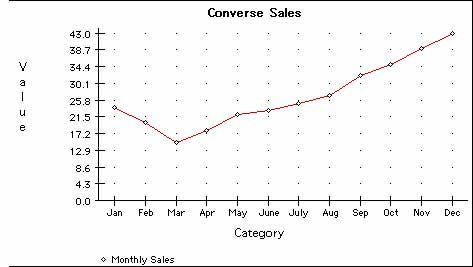 Will the new Converse company be able to regain market share and make a profit?
NORTH READING — Jack A. Boys, chief executive officer of the new Converse shoe company, looks stunned. On the table in front of him are pictures of people who matter to America's youth. Faces like basketball star Vince Carter, singer Britney Spears, MTV host Carson Daly, skateboarder Tony Hawk.
Jack A. Boys, chief executive officer for Converse, Inc., said his goal to develop a line of footwear that appeals to America's youth. Mr. Boys recognizes none of them. No glimmer of recognition, no "needs improvement." "I may not be able to name a single one of these," he says glumly.
A big deal for most CEOs? No. A problem for the man charged with rejuvenating an aging sneaker company? Maybe.
Still, Mr. Boys catches himself. Like a basketball player picking up a loose ball, he starts talking about doing his homework, marketing research and getting into teens' heads. If he doesn't know them now, you can bet he will soon.
Bankrupted in January, Converse has been in trouble for years. In the third quarter of 2000, the company recorded a net loss of $6.3 million. A year before it was $8.6 million. Although it had loyal followers, Converse had lost its youth appeal. Saddled with debt, it filed for bankruptcy protection and sold assets to the highest bidder -- a group called Footwear Acquisition Inc.
Not hampered by any of the old company's debt -- that did not go with the sale -- the buyers believed they had scored a coup. Converse -- particularly its canvas and rubber Chuck Taylor All-Stars -- were something of an icon. James Dean wore them. So did the likes of Earvin "Magic" Johnson.
Footwear Acquisition, recently renamed Converse Inc., simply has to go back to making innovative shoes with crossover appeal, Mr. Boys said.
"Think of us as a start-up company with 95 years of heritage. ... What part of that history is relevant to kids today, we don't know yet. We've been here six weeks. Our job is to find that out."
If so, Mr. Boys may be the perfect fit. An ex-Converse employee and one-time Haverhill resident, he went to work for Converse straight out of school in 1982 and left as its senior marketing director 10 years later.
During his tenure, Mr. Boys and his marketing team listened to "Top 40" hits, watched Top Ten sitcoms and sat through hours of MTV. It wasn't a part of the job that he liked, but Mr. Boys knew the shows were important. "A lot of these individuals drive (kids') preferences. They drive fashions and trends," he said.
Now that he is back at Converse, Mr. Boys has a three-part strategy for rebuilding the company. Starting with Converse's core competencies, Mr. Boys says Converse will look to sell more of its Chuck Taylor All-Stars and other canvas shoes. "Converse used to sell three times the canvas shoes it does now," he said.
The push will certainly include more marketing and promotion, but Mr. Boys says the company also won't be afraid to play with new styles. "We will create some new combinations. Maybe it's a combination of canvas and suede; maybe it's a new slip-on style. Once you own this shoe, you can do all kinds of variations," Mr. Boys said.
At the same time, Converse will also be looking to make its return to the basketball court. Aiming its new lines for the 2002 season, Converse plans to work on a helium energy-return system it pioneered for shoe soles. It is also thinking about new outdoor sports shoes and a versatile indoor court shoe similar to a cross-trainer, Mr. Boys said.
Once the company begins improving on the sales of its two most traditional lines, Mr. Boys hopes to start inventing new types of footwear. "Based on the success in those areas, that will create the license for Converse to go into more areas," Mr. Boys said.
Jack Weissman, president of Marketing, Licensing Associates of Cherry Hill, N.J., who worked with the old Converse, says the new company is right to think it can leverage the Converse brand, but has years of inactivity for which to atone. "I personally think (the brand) still has a lot of relevance. It's been tarnished somewhat because they just didn't keep up with the Nikes or the Sketchers," Mr. Weissman said.
For years, the old Converse got by on sales to foreign markets like Europe. Having lost position in the high-end retail market to companies like Nike, the new Converse should consider aiming more for the masses, Mr. Weissman thinks, by introducing something new. Play up the nostalgia around its products and try to break new trail. "I think they have to do both," Mr. Weissman said.
Although it's a familiar name, the company Mr. Boys will oversee will run differently. Having sold its factories before bankruptcy, the new Converse is less a shoemaker and more an overseer of the Converse legacy.
Once the United States' largest shoe manufacturer, the new company's operations will only start in the U.S. with designs and marketing strategies. Once the time comes for particular shoes to be developed and mass-produced, work will shift to Indonesia and southern China where Converse employs contract manufacturers. "The ideas and designs we will come up with over here, and we'll bring them over there," Mr. Boys explained.
The new Converse has hired back 160 of the 230 employees in North Reading who lost their jobs when the old company closed. Most of the rest were not rehired because the new company did not need them to
coordinate operations like manufacturing it no longer has.
Converse also expects to move out of its company headquarters in North Reading later this year. Mr. Boys said Converse is scouting locations in Andover, North Andover, Lawrence and other parts of the Merrimack Valley south of the New Hampshire border.
Such major undertakings would pose a challenge even if Converse's new team of owners and company directors weren't the sort known for having their ups and downs. Marsden Cason and Bill Simon, two of the new owners of Converse, come to the company after trying to do the same thing with apparel company The North Face.
While at the North Face, that company's board of directors was named among the five worst in the country by Chief Executive Magazine. In 1998, the company restated it sales figures and earnings for 1998 and 1997. Mr. Cason and Mr. Simon had sold their stock in the company before the announcement, the magazine reported.
The company also suffered several sub-par earnings quarters after splitting its headquarters between San Leandro, Calif., and Carbondale, Colorado, to be closer to its chief executive's Aspen, Colorado, home. The company eventually abandoned its Colorado headquarters.
Mr. Boys defends Converse's two new owners, saying that by that time, the two men were close to the end of their tenures at The North Face and held largely advisory positions. Mr. Cason and Mr. Simon also led The North Face to quadruple its sales in three years, saw the company reach sales of $300 million and took the company public. "They did their jobs and grew the company and they created a tremendous amount of shareholder value," he said.
Mr. Boys believes the same thing can happen at Converse. "I know Mars and Bill. They believe in this. They believe this can be a huge success for the employees and the investors. Not that everything doesn't have its risk," he said.
To a large extent, that risk will depend on Converse's ability to appeal to wider ranges of shoe buyers: trend-setters as well as loyal All-Star wearers; athletes and spectators; young and old. Constructing that universal umbrella that covers everyone is Mr. Boys' top challenge, he says. "We're going to do our homework and we're going to find where Converse fits. ... We really believe we can revitalize this great American icon," he said.
By Andy Murray
New Hampshire Eagle-Tribune
Sunday, June 17, 2001
If you have an article or other information about Chuck Taylors to submit to this website, please contact us at mail@chucksconnection.com.