Footloose and Fancy-Free
Colorful sneakers are a shoe-in for fashionable fun this spring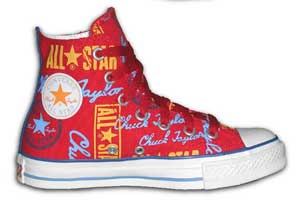 There are many colorful models of chucks now available.
Sneakers used to be white. Or black. But not cameo pink and mauve, or acid yellow and gray. Athletic-inspired shoes in stores feature every color imaginable, along with offbeat combinations and fabric mixtures.
The market for colorful kicks has grown in recent seasons, spurred by the vogue for vintage-look sneakers and the demand for comfortable footwear.
"We're seeing increasing interest in bygone eras, which is why people love the Adidas three-stripe shoe," says Mike May, spokesman for the Sporting Goods Manufacturers Association. The Florida-based trade group tracks sports participation and retail sales.
The SGMA categorizes casual sneakers as "low-performance footwear," which ranked fifth out of 13 footwear classifications in sales for 2002, May says. Total sales for the category were $863 million, up from $812 million for a 6.3 percent gain over 2001. The association expects to see "a slight increase, to about $900 million" for 2003, he says.
"Shoes have never been more comfortable or attractive. There's truly something for everyone," May adds. "People are spoiled for choice."
Athletic footwear also is surging because people live more casual lifestyles. They may not wear sneakers to the office, but they step out in them everywhere else.
"We're also noting that we have a huge contingent in society that's 50-plus, and they are realizing that if they want to enjoy their golden years, they must exercise to be in decent health," May says. "They also have money to buy, and they're buying in bigger numbers."
The NPD Group, a marketing information company, looks at the sneaker category with a broader view, classifying it as "active casual footwear," which includes nonperformance fashion sneakers and sport sandals. The category represented $6.3 billion in sales for 2003, up 6.1 percent from 2002, according to NPD spokeswoman Dora Radwick.
Whichever way you break out the numbers, sales are rising because high-fashion designers and mass marketers are adding sneakers to their footwear collections. Yohji Yamamoto, Jil Sander, Chanel and Coach are among the big names offering athletic-inspired shoes for spring. Fresh color combinations, detailing and logos are among the ways designers are tweaking classic sneakers for spring.
"Color is one of the major trends in footwear," says Cathy Shiroda, marketing director of exclusive brand footwear for Dillard's stores. "Shades of pink from pastel to hot pink, all the citrus brights, multi and two-tone combinations are strong."
And as for the sneaker category, "anything that's casual and easy to slip on and go" is what women want, Shiroda says.
"Color — in both accessories and clothing — is the biggest trend for spring, so it figures that there are colored sneakers for everyone, whether it's bright, intense contrasting color, or more of a washed color," agrees Keith Wagner, a Seattle-based fashion manager for Nordstrom.
"It has probably been at least 10 years since we've seen this much color. You can add color with your footwear and mix it up.
"There's a lot of fun in fashion this spring. We're seeing bits of different eras," he says, citing the 1920s and ballet-inspired looks, as well as 1970s influences and the return of Converse high-tops.
Dance-shoe-type lacing, crisscrossing Velcro straps, contrasting piping, patterned soles and other details add interest to the styles.
Designers showed athletic shoes with both casual and dressy outfits, Wagner says. Patrick Robinson for Perry Ellis accessorized his spring collection with Converse sneakers.
"They looked good with polo tops and dresses," Wagner says. "They had kind of an old-fashioned, country-club look."
Men, too, have many colorful options. "Adidas offers a lot of old-school combinations that allow a man to get a little funkier if he wants to, and some of the darker colors can make an outfit look dressier," he says. "It's no longer just black and white."
By SUZANNE S. BROWN
Denver Post
March 5, 2004
If you have an article or other information about Chuck Taylors to submit to this website, please contact us at mail@chucksconnection.com.
To see the current selection of colorful and classic Chuck Taylor shoes available for purchase, click on the thumbnails below: