He Went Far In Those Shoes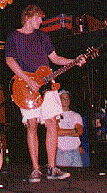 Mark Bryan wearing an old pair and a new pair of chucks.
Mark Bryan gave his Gibson guitar and his favorite tennis shoes to the Hard Rock Cafe in Myrtle Beach, South Carolina. Bryan, who plays for the rock group Hootie and the Blowfish, couldn't bear to throw away the sneakers he wore while the Columbia, South Carolina-based band rocketed to stardom last summer.
Instead of tossing his Converse Chuck Taylors, Bryan showed up Sunday, battered "chucks" in hand. The shoes are covered with signatures that Bryan collected.
"When people aksed me to sign their shoes, I'd ask them to sign mine," he said.
"Back around 1992, Myrtle Beach was our biggest draw," Bryan said. "So it's cool that these shoes, which I wore every day of my life during my biggest year, should go on display here."
Account from newspaper wire services.
If you have an article or other information about Chuck Taylors to submit to this website, please contact us at mail@chucksconnection.com.