The Tao of Chuck
Chucks Are the "Sole" of Rock 'n' Roll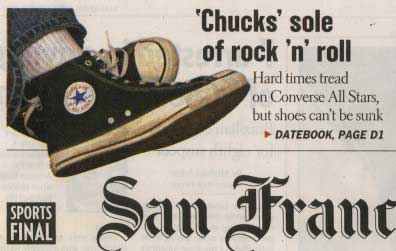 A pair of black high top chucks are music to your feet.
With apologies to Elvis and Carl Perkins, there was always something hinky about those "Blue Suede Shoes". Whaddya mean, you can't step on 'em? Rock 'n' roll footwear has to be able to take a licking.
That's why combat boots, Dr. Martens and "My Adidas" have all retained their popularity with musicians. But none of them say "rock 'n' roll" quite like the canvas Converse All Star, otherwise known as the Chuck Taylor.
When the Converse company filed for bankruptcy protection early this year, record collectors of all ages swallowed a collective gasp. Rumor had it that the sneaker of choice for the Ramones, Kurt Cobain, Eddie Vedder, Green Day and Wayne and Garth from Wayne's World would soon be a thing of the past.
Panicky connoisseurs sparked a run on the sneakers. "We freaked out!" said Donna A. of the San Francisco girl group the Donnas, who have an unofficial sponsorship deal with the company.
"My friend and I both bought two or three pairs," said Randy Clark, a San Francisco musician who was tromping around a muddy Pacifica lot in black Chucks last weekend, looking for a Christmas tree.
It's unthinkable that this universally recognizable shoe, the oldest and best-selling sneaker of all time, could go the way of the Beatle boot and the 6-inch platform sole. Earlier this year, though, that seemed like a distinct possibility.
As it turned out, Converse licensed the Chuck Taylor design and familiar logo to a company called Footwear Acquisitions, which has since taken over the struggling shoemaker. All Stars, one of the last prominent brands that could still claim to be "Made in America", are now manufactured in Indonesia.
"It's a classic product," said Hal Peterson, a San Jose publisher and Web site designer who runs a chucks fan site (www.chucksconnection.com). "People who like chucks are almost cultlike. They're fanatical about them."
The overseas move was a disappointment, he said — "It was part of the allure that they were still made in the U.S.A., at a reasonable price" — but not enough to dampen his happiness that the shoe is here to stay.
First introduced in 1917 and endorsed by the Basketball Hall of Famer Chuck Taylor (not to be confused with the late Stanford football star of the same name), "Chucks" have a long and glorious history as an American icon. Army recruits trained in them during World War II. By the 1960s, with All Stars on every gym floor in America, Converse could claim 80 percent of the sneaker market. The company says it has produced more than 575 million pairs.
Wilt Chamberlain was wearing Converse when he scored 100 points in a game. TV's Dennis the Menace and Richie Cunningham wore them; so did John Belushi.
As for rock 'n' roll, the shoe has an endlessly renewing legion of devotees.The members of the Strokes, rock 'n' roll's latest it-band, wear chucks. Classic punk bands like the Dead Boys and the Voidoids wore them. Hair bands of the 1980s such as Loverboy and Quiet Riot were partial to black chucks, while the Mighty Mighty Bosstones like the specialty plaid model.
"They look good with jeans," said Donna A., who has been wearing All Stars since she was a kid. "They look good with skirts. When you're wearing your Converse, you're just wearing shoes. You're not trying to be really cool."
Ironically, webmaster Peterson said, the sneaker's counterculture appeal might have contributed to the decline of the company.
"The main mistake Converse made was they abandoned their mainstream buyers. They played the sneaker as more of a fringe concept in their ads in the early '90s."
Chucks fans come in more colors than the sneaker, he said. "We get all types of people contacting the site, everyone from professors and attorneys to businessmen. One of our contributors is an auditor for an oil company. It's not what you'd expect."
Chucks have even surfaced in the world of haute couture, where designer Marc Jacobs wore a bright pink pair and featured custom high-heeled Chucks in his collection at a recent Paris show. With that kind of endorsement, the sneakers have been selling briskly at the ultra-hip Parisian boutique Colette.
But such attention runs counter to the unassuming spirit of chucks, said Donna A. "You see them in fashion magazines, on models with $2,000 plaid skirts with safety pins. And you're always kind of embarrassed for them."
For chucks loyalists, it's an anti-fashion statement. Back at the drizzly Christmas tree lot, Randy Clark's musician buddy Tim Craig looked down at his navy blue chucks and recalled his first pair. "I got them when I was 6," he said. "There's a picture of me when I was little, wearing them."
by James Sullivan
San Francisco Chronicle
If you have an article or other information about Chuck Taylors to submit to this website, please contact us at mail@chucksconnection.com.