Wealth, Love, and Chucks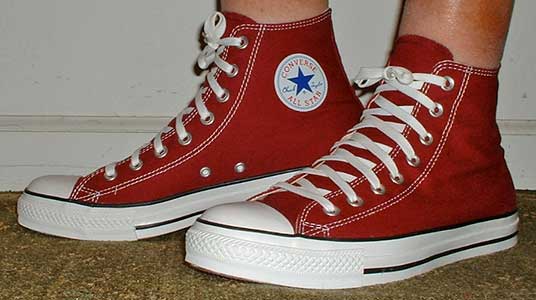 Wearing a brand new pair of maroon chucks can improve your life!
If you're like me you probably have an e-mail account. An e-mail account is a sophisticated piece of communication that allows you to communicate with the world. You can send humorous messages, secret codes, travel plans, and information to friends, family, colleagues, and enemies. But like with any form of communication there comes responsibility such as deleting all those nasty chain letters before they take up valuable hard drive space.
What are these chain letters you ask? They promise wealth, pleasure, happiness, and even, yes, I'm afraid to say, sex. Quote Sam the All American Eagle, "Is nothing sacred?" They say that with each letter you pass on you will have more luck getting wealth, pleasure, happiness, and love. Well I don't need those letters. I have something that will give me everything I would ever need. What on Earth is this guy on you ask? Actually, they are on me. You see they are shoes. Not just any shoe but the shoe that has not yet gone out of style through the past 70 years. They are none other than the Converse Chuck Taylor All Stars.
TRUE STORY: In the spring of 1997, Chad went to school one day wearing his brand new maroon All Stars. An hour later, four gals were groping his feet. Miles away ten other chuck wearers had the same thing happen with guys watching and saying, "I wish I were in his shoes." Chad is now making the world a better place and has a very bright future. The on-lookers who were not moved enough to buy chucks are caught in unfulfilling high-corporate jobs.
Coincidence? No, don't underestimate the power of the All-Star family.
POSSIBLY TRUE STORY: In 1962, Sarah, of Wausau, Wisconsin, had just purchased a new pair of pink chucks. The next day Tim, who Sarah secretly loved all through high school, asked her to the Senior Prom. When he showed up to the door and noticed she was wearing purple pumps instead of her chucks, he dumped her and went to the dance with his neighbor's unattractive daughter. Sarah never married and is now addicted to the Internet. Tim and his neighbor's daughter never married each other but both live happy lives. Tim now owns a shoe store that specializes in the sale of Chuck Taylors along with his wife of 10 happy years in Oakland, California. His neighbor's daughter is a prominent author and right now is helping to bring aid to underprivileged villages in South America.
ANOTHER POSSIBLY TRUE STORY: David, of Fort Collins, Colorado, made fun of his friends, John and Calvin, for buying many, many, pairs of chucks back in the '80s. Now David is a lonely window cleaner in Denver who has been through seven messy divorces. John lives in Miami, Florida with his wife Nancy and their children in a summer home that Nancy's parents gave them for their five-year anniversary present. Calvin lives with his wife Mary and their kids in Spain where he owns a successful restaurant.
All Stars are unisex. Not just for guys, and not just for gals, but for both guys and gals.
What is it about these shoes that set them apart from others? The fact if you run in them you are sure to break your ankle because they provide no support? (Though it is hard to imagine that they used to play basketball in these things.) Is it the nice simple design? The funky way the shoelaces are tied? Is it the white toe? The patch with a star? Or the nice canvas available in over 100 different colors and patterns? It is a mystery. As one of Chad's classmates said: "Dang, I don't know what it is, but I've got to get shoes like Mr. Slick there."
So next time before you even think of sending me an e-mail that promises wealth, pleasure, happiness, and love, remember, I have chucks, so I've already got my hands full.
REMEMBER: The more chucks you buy, the more luck you'll have with your future.
— Chad
Chad Kluck is a humor essayist and author of the book I Think Therefore I Am: A Collection of My Thoughts in which this article can be found. He can be contacted at MyThoughts@MyWeb.zzn.com.
(c) 1998 Chad Kluck | Reprinted with permission.

If you have an article or other information about Chuck Taylors to submit to this website, please contact us at mail@chucksconnection.com.
Maroon chucks are a technically a seasonal color and may not always be available.