A ChucksConnection Film Review
Nat Wolff wears black high top Converse "Chuck Taylor" All Stars in the film.

Ashby
by Taylor Bathel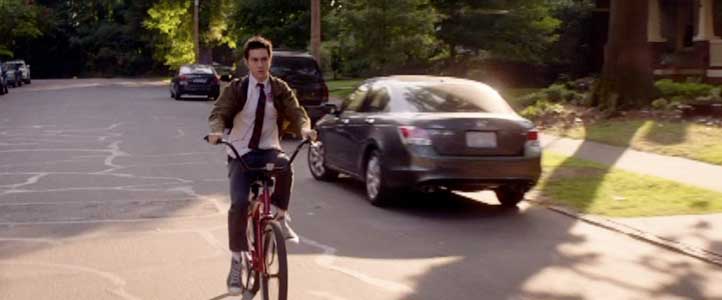 Ed is new in town and living the life of a loner.
In Ashby, Ed (Nat Wolff) is a bit of a loner. He's new to town, which is tough enough before factoring in poor social skills, and a sarcastic humor that most other teens can't decipher. Ed lives with his single, and desperately seeking, mother (Sarah Silverman)—his main interaction besides sporadic Skype calls with his absent father. Ed needs a male role model, and luckily, the essence of manhood lives right next door. When Ed's teacher assigns the class to interview an "old person," Ed knocks on the door of Ashby (Mickey Rourke): a rough-around-the-edges, eats-nails-for-breakfast kind of man. Ed works his way in the door, and soon into Ashby's life. Not far after, he discovers the history behind Ashby's harsh demeanor: Ashby was an assassin. With this knowledge, Ashby threatens Ed into secrecy, and to being his personal chauffeur.
Ed and Eloise begin to develop a relationship.
The film illustrates the effect Ashby and Ed have on one another. Ed channels newly-inspired strength, and while despising all things cliché, he manages to get on the school's football roster through his own self-run training program. This new status threatens his lady interest: Eloise (Emma Roberts), the school's resident intellectual with vast maturity and beauty. As for Ashby, he's led towards soul-searching. Ashby sets out to make amends, a dangerous trail that leads to revenge, but also to God. Ashby's veneer begins to fade at the same time that Ed must question his own courage—both characters seek balance and truth. But this balance of manhood is hard to generate given societal pressures.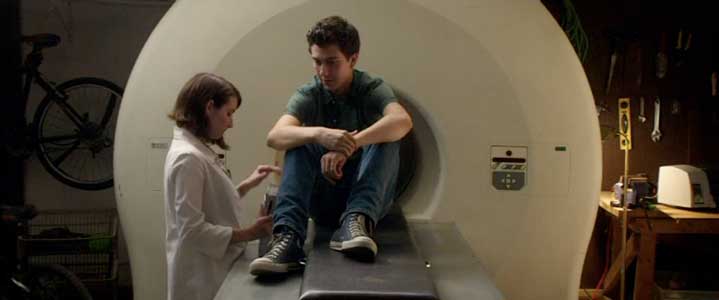 Ed and Eloise talk after she gives him a brain scan.
This plays into a major theme of the film: what is true manhood? Much of the film acts as an ode to old-school manliness—men like Ashby, who show no outward emotions and are consistently level-headed. Ashby perfects this image, taking a shot of whiskey and chasing it with milk straight from the carton. Even the football coaches reflect this theme, constantly reveling in images of players of the past, the idols, the real images of an athlete. But what's so special about these men of the past? How do they compare to the image of modern manhood? The film explores this through the diverse range of male characters: Ed, Ashby, Ed's absent father, Ed's mother's lovers. It's a question for the audience to ponder after the film is through.
Ed is on the phone with Asbhy, impatient wondering where he is.
The film boasts a handful of big names: Wolff, Rourke, Silverman, and Roberts, to name a few. With such a line up, viewers might leave the film feeling like some characters, and their accompanying storylines, could have been developed more. There are a lot of small plotline occurring simultaneously: a coming-of-age story, paired with teenage romance, along with bits of action and adventure. All of these are tied through similar comedic elements, though the plot and characters still leave you wanting more—especially with the talent onboard. With that, Wolff's role as charming yet awkward teen, one he's taken on a few times, panned out well with this script. Wolff doesn't overplay his character, and always reaches a realistic balance in his acting. Without him in the leading role, the film would fall short.
Ed goes to help Ashby after he finds him collapsed on his porch.
Best Chucks Scene


Ed is carried on the shoulders of his teammates after catching the winning touchdown.
Nat Wolff wears black high top chucks in most of his scenes. They help reinforce his image as the independent thinking outsider in the story line, but also as a typical teenager who wears them with most everything: his prep school outfit of white shirt, tie, and dress pants, or with jeans and a tee shirt when he is not in school, and even after a football game when he is hanging out with his teammates.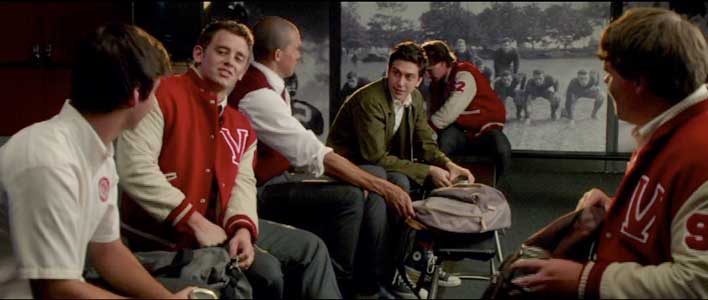 Ed, now a popular member of the football team, hangs out with them in their locker room.
Ashby. (2015) Nat Wolff, Mickey Rourke, Emma Roberts, Sarah Silverman, Kevin Dunn. Directed by Tony McNamara.
Categories: Coming of Age, Drama, Romance.
ChucksConnection Rating:

MPAA Rating: R
Support the film industry by purchasing genuine DVD, Blue Ray, or streaming copies of these films. Illegal copies only help profiteers. Make sure your money goes to the producers and artists who actually create these films. Still images from the film are used here as teasers to get you to view an authorized copy. If you have information about a film where a main character wears chucks, contact us at
films@chucksconnection.com.