A ChucksConnection Film Review


Tom Hanks wears black and optical white high top Converse "Chuck Taylor" All Stars in the film.


Bachelor Party
by Hal Peterson
Rick, Debbie and her mother outside the palatial Thompson home.
Bachelor Party is about a young school bus driver, Rick Gassko (Tom Hanks), who has decided to marry his girlfriend Debbie Thompson (Tawny Kitaen). Debbie is from a wealthy family, and her parents (George Grizzard, Barbara Stuart) are opposed to the marriage, with Mr. Thompson especially disliking Rick. Mr. Thompson still has hopes that his daughter will reconsider marrying her ex-boyfriend Cole (Robert Prescott), also from a wealthy family. He encourages Cole to go after her before it's too late, but his idea of rivalry is to try and bribe Rick into abandoning Debbie. Rick's buddies aren't particularly thrilled about the idea of the marriage either, because they see the end of their free-wheeling bachelor days on the horizon, but when they realize Rick is serious, decide to throw him an unforgettable bachelor party to send him off properly. They rent a suite at a fancy hotel, hire hookers, and plan a night of raunchy partying. On the same night as the bachelor party, Debbie is being given a fancy bridal shower at the Thompson residence. Cole, realizing that this his is last chance to break up the romance, conspires to have the hookers sent to the bridal shower instead of the hotel. This leads to a whole chain of mix ups involving all of the principal characters that tests Rick's and Debbie's loyalty to each other.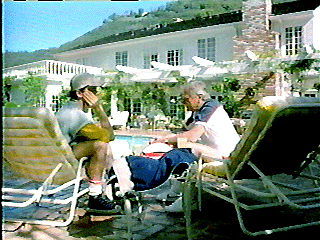 Rick and Mr. Thompson having an unfriendly conversation.
In Bachelor Party, what little plot development there is, is set up as a war between the classes, with the arrogance of the wealthy dad and ex-boyfriend pitted against Tom Hanks playing an iconoclastic average guy with not a lot of class, but at least capable of demonstrating true love. The film is basically an excuse to show a bunch of ribald scenes that are meant to be everyone's fantasy of what the bachelor party to end all bachelor parties should be like. And the ladies are not left out, as they go from their shower to a male stripper club, and finally try to crash the bachelor party dressed as hookers. And of course the arrogant rich people get their comeuppance. This film definitely earns its R rating for sexual situations and language, and a lot of it is illogical and pointless, but when you think about it, that is the purpose of the typical bachelor party. There are a few good one-liners during the course of the film, and the actors fit into their different stereotypes very well. If you like the "Animal House" mentality applied to a wedding, you will get a few laughs out of this film.
Rick starts to get wild and crazy at his bachelor party.
Best Chucks Scene


 Rick and Debbie play doubles with her parents.
Tom Hanks wears Chuck Taylor high tops throughout the film, black in the first part, and then he switches to white for the party and following events. It appears that he even wears his white high tops to his wedding ceremony, fulfilling a dream of many chucks wearers. The best chucks scene though has to be the tennis doubles match between Rick, Debbie, and her parents. Just to bug her dad, Rick pretends that he is at a baseball game, and every time he knocks the ball out of the court and into the neighbor's yard, he acts like a radio announcer describing a home run. Her parents are dressed in very preppie Nike tennis clothes, while Rick has on his black high top chucks, khaki shorts, a torn short-sleeved sweatshirt over a yellow baseball shirt, and a funky baseball cap. Who would you root for?
Do you, Chuck, take this woman. . . .
Bachelor Party. (1984) Tom Hanks, Tawny Kitaen, Adrian Zmed, Barbara Stuart, Robert Prescott, George Grizzard. Directed by Neal Israel.
Categories: Comedy, Sexually Explicit.
ChucksConnection Rating:

MPAA Rating: R
Support the film industry by purchasing genuine DVD, Blue Ray, or streaming copies of these films. Illegal copies only help profiteers. Make sure your money goes to the producers and artists who actually create these films. Still images from the film are used here as teasers to get you to view an authorized copy. If you have information about a film where a main character wears chucks, contact us at films@chucksconnection.com.