A ChucksConnection Film Review


Mila Kunis wears pink low top Converse "Chuck Taylor" All Stars in the film.


Bad Moms
by Marcus Angulo
Amy wears pink chucks as she treats herself to breakfast.
Being a parent is hard. Between homework, extracurriculars, errands, cooking, cleaning, and work, there isn't enough time in the day. Then there is the matter of actually raising a decent human being who is happy and healthy. With all this, many parents worry if they're doing right by their kids, and even whether they are in fact, bad parents. Bad Moms is a 2016 comedy that follows the hectic lives of three moms. Starring Mila Kunis, Kristen Bell, Kathryn Hahn, Jay Hernandez, Annie Mumolo, Jada Pinkett Smith, and Christina Applegate, the film was a box office hit that spawned a sequel the following year, titled A Bad Moms Christmas.
Kid West talks with the sheriff about the missing artifacts.
Amy Mitchell (Kunis) is a married woman living in the Chicago suburbs with two children, Jane (Oona Laurence) and Dylan (Emjay Anthony), who is overworked and overcommitted. She prepares lunch everyday for her kids, does most of their homework, handles all the extracurricular schedules, attends PTA meetings, and does household errands. This is in combination with her job at a hipster coffee company where she is the oldest woman there at the young age of 32. Her marriage is on the rocks after she catches her husband Mike (David Walton) cheating on her with a camgirl. All this leads to a particularly stressful day where she quits the PTA in response to the domineering Gwendolyn James (Applegate) attempting to add even more responsibilities to her life.
Amy arrives at Gwendolyn's bake sale.
At a nearby bar, Amy meets Carla (Hahn), a laid-back, sexually active single mom, and Kiki (Bell), a stay-at-home mom of four who adores Amy's dissent from Gwendolyn. Amy and Carla are disappointed to discover that Kiki's husband gives her no help whatsoever, while Amy and Kiki are disturbed at Carla's very hands-off approach to parenting. The trio then bond after an all-night bender through a grocery store. This leads to Amy loosening up with her kids and her responsibilities. She also decides to start dating again, but soon finds out she's out of practice due to her early marriage and motherhood. She ends up falling for Jessie (Hernandez), a handsome widower at the school who's had a crush on her for a while. Amy starts a feud with Gwendolyn after the school bake sale, and commits to unseating her as President of the PTA. Their feud will continue to turn Amy's life upside down, and will teach them all what it really means to be a good mom.
Fancy shmancy.
Bad Moms is bolstered by an all star cast of comedic talent. Kunis, Hahn, and Bell are powerhouses of comedy, and they all have their moments to shine. They also have great chemistry when it comes to believing in their fast forming friendship. Applegate is perfectly cast as the domineering, uppity PTA president, and her turn at the end flips the role on its head. Some parts of the film do drag, but the standout scenes where the three friends are together and causing havoc is where it really shines. This is the perfect movie to watch when you're just looking for a fun comedy that will make you laugh for an hour and half. Sadly, those kinds of movies are few and far between in Hollywood, but hopefully we get more Bad Moms in the future.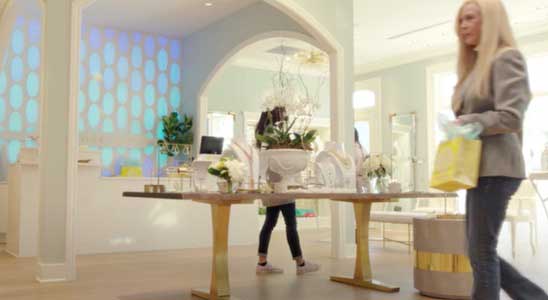 Amy wears her chucks as she shops for herself.
Best Chucks Scene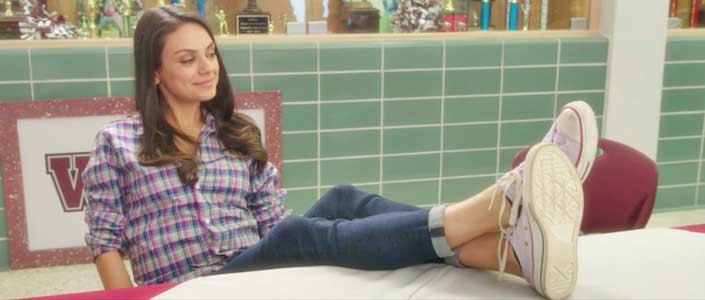 Amy relaxes and throws her feet up.
The best chucks scene in the film comes at the midway point of the film in the bake sale scene. Up to this point in the film, Amy has been very put together when it comes to her sense of style. She's wearing business suits and heels and has her hair done everywhere she goes. However, after her bender with Carla and Kiki, Amy is feeling more loose and free. This doesn't just apply to her kids, but to her fashion sense as well. She's now wearing flannels, comfy jeans, and pink chucks. These chucks represent her new freedom, and laid back attitude, even more evident when she kicks her feet up on the table where her store bought donuts are being sold.
Amy's crush arrives and gets to see the new her.
Bad Moms. (2016) Mila Kunis, Kathryn Hahn, Kristen Bell, Christina Applegate, Emjay Anthony, David Walton.
Written and directed by Jon Lucas and Scott Moore.
Category: Comedy.
ChucksConnection Rating:

MPAA Rating: R
Support the film industry by purchasing genuine DVD, Blue Ray, or streaming copies of these films. Illegal copies only help profiteers. Make sure your money goes to the producers and artists who actually create these films. Still images from the film are used here as teasers to get you to view an authorized copy. If you have information about a film where a main character wears chucks, contact us at films@chucksconnection.com.