A ChucksConnection Film Review
Lucius Hoyos wears red high top Converse "Chuck Taylor" All Stars in the film.



Bark Ranger

by Hal Peterson
Jack and Ranger walking on Main Street.
Bark Ranger is a movie designed for pre-middle school kids. It has everything the screenplay handbook for young kids' adventure movies requires: two eleven-year-olds, Jack (Lucius Hoyos) and Chloe (Zoe Fraser), who meet at the beginning of the story and become detectives, a faithful talking dog (voiced by Jon Lovitz) who is there to narrate the story, make sure his humans don't mess up, and save the day when necessary, a treasure map, a search for clues, gold bullion, a pair of bumbling crooks (Marty Adams and Jason Blicker) complete with pratfalls and potty humor, older kids in town who bully Jack, and the threat that Jack and his park ranger parents (Ari Cohen and Alexandra Castillo) may lose their home in a beautiful regional park due to budget cuts.
Jack meets Chloe at her campsite.
The story line starts in the middle of summer. Jack is somewhat bored at his park home because there isn't anyone else his age to play with other than his dog Ranger. When he goes into town there are two older bullies (Ryan Manning and Nicholas Bode) who pick on him. Then one morning a trailer pulls into the park campgrounds, and out comes Chloe and her recently divorced new age mother Lisa (Trenna Keating), who is looking for a new place to live. After Chloe and Jack are introduced, Jack takes Chloe to show her a good fishing spot. The two soon become friends, and when Jack discovers part of a treasure map, they make a pact to try and find it. Meanwhile, the Festrunk brothers, our bumbling crooks, are out after a big score, the safe in the sheriff's office in the small town near the park. They are able to steal it, and to their great surprise, the safe actually has a number of gold bars inside it. The two have made it rich, if they can only figure out a way to leave town with the gold after totaling their vehicle. Eventually they hide out from the police in an abandoned ranger station complete with skeleton which turns out to be the location point on Jack's treasure map.
Jack, Chloe, Ranger, and their parents by a campfire.
Jack and Chloe go into town and head to the library to research the map and the story of the missing treasure. Ranger, realizing what they are looking for, goes to visit some dog friends in town, who dig up a buried canister with a more complete map. Now Jack and Chloe have a clear pathway to the treasure. But on their hike through the park to the abandoned ranger station, they are spotted by the Festrunks who overhear their conversation and want to get in on this new treasure, too. Soon it becomes a battle of wits between the two kids and the two crooks, with some help from Ranger.
Jack and Chloe search for clues to the treasure in the library archives.
Bark Ranger definitely qualifies as a check your brain at the door movie. With all of its clichés and plot holes, there is very little original ground covered in its 82 minutes. What makes it entertaining is the performances of Lucius Hoyos and Zoe Fraser. They project that combination of wide-eyed innocence, natural behavior, foibles, and determination that makes them likeable to the film's target audience of young kids and even to older folks who might be watching. Lucius and Zoe are in that special age zone in the careers of young actors that only happens for a few brief years before they become true teenagers. The wise-cracking commentary of Jon Lovitz as the talking dog Ranger and the pratfalls of Marty Adams and Jason Blicker, playing bumbling crooks in the style of Joe Pesci and Daniel Stern, does add to the humor at times. Overall, Bark Ranger is pleasant family fare meant for families with younger kids.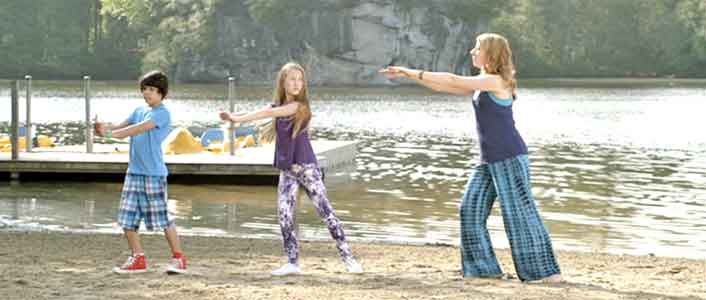 Jack and Chloe doing Tai Chi with Chloe's mom.
Best Chucks Scene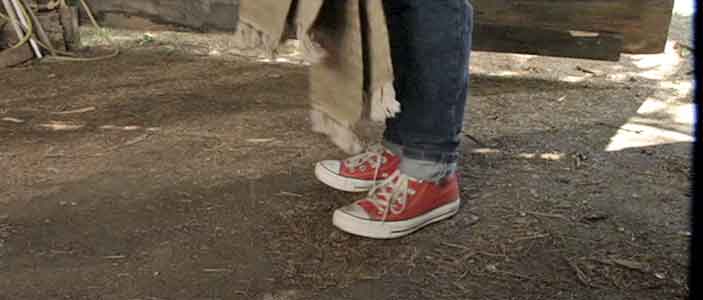 Close up of Jack's red high top chucks when he is rummaging around a storage room.
Lucius Hoyos in his role of Jack Keller, wears red high top chucks throughout most of the film and he looks cool wearing them. Jack likes wearing his chucks at home, in the park, and while in town. The cinematography is chucks friendly with the best close up shots in a scene where Jack is rummaging through a storage room at home, and when he is sitting lakeside with Ranger.
Jack and Ranger sitting lakeside.
Bark Ranger. (2015) Lucius Hoyos, Zoe Fraser, Marty Adams, Jason Blicker, Ari Cohen, Voice of Jon Lovitz. Directed by Duncan Christie.
Categories: Comedy, Family.
ChucksConnection Rating:

MPAA Rating: PG

Support the film industry by purchasing genuine DVD, Blue Ray, or streaming copies of these films. Illegal copies only help profiteers. Make sure your money goes to the producers and artists who actually create these films. Still images from the film are used here as teasers to get you to view an authorized copy. If you have information about a film where a main character wears chucks, contact us at films@chucksconnection.com.