A ChucksConnection Film Review

Zac Efron wears black low top Converse "Chuck Taylor" All Stars in the film.



Baywatch
by Marcus Angulo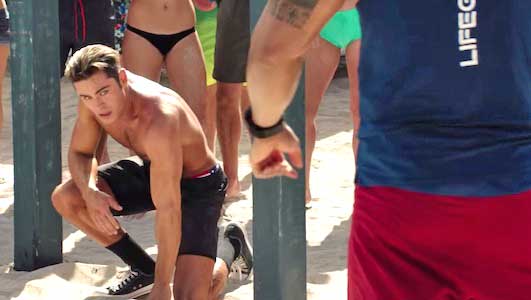 Matt Brody looks on at the hulking mass that is Lt. Mitch Buchannon.
When you think of the beach, you probably think of sand, water, and sunshine. However, something you might not immediately think of is just as important as those three aspects of coastal life: the lifeguard, and there are no lifeguards more famous than the red swimsuit clad lifeguards of Baywatch. The 2017 film Baywatch is a reboot of the popular 1990's TV show that follows a group of Florida lifeguards as they work to protect their beach from the forces of nature and evil. The film stars Dwayne "The Rock" Johnson, Zac Efron, Jon Bass, Alexandra Daddario, Kelly Rohrbach, Ilfenesh Hadera and Priyanka Chopra. Grossing over $177 million, the film received mostly negative reviews upon its release for its crude humor, and lack of story.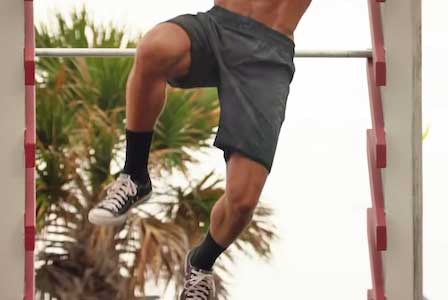 Zac Efron wears black loe top chucks in the film as former Olympian Matt Brody.
In Emerald Bay, Florida, Lt. Mitch Buchannon (Johnson) and his team of lifeguards, including second-in-command Stephanie Holden (Hadera) and bombshell C. J. Parker (Rohrbach), protect the beaches and the bay as part of an elite lifeguard division known as Baywatch. Having made hundreds of rescues in his career, Mitch is a hero that is beloved by the community. However, his insistence on overstepping his lifeguard duties annoys the local police, as they believe his squad should be sitting in their towers and not solving crimes. During one of his morning patrols, Mitch finds a small pouch of flakka drug washed up near the Huntley Club, which is now under the ownership of businesswoman Victoria Leeds (Chopra), who has been secretly bribing the local city government to increase her control on the bay.
Zac Efron did a lot of work to get his Baywatch body for the film.
Mitch later meets former Olympian Matt Brody (Efron), who thinks his famous feats of athleticism entitle him to be on the squad without a try out. Mitch and Holden tease Brody for blowing it in his big Olympic race, and let him know he has to earn his position like everyone else. Mitch then challenges Brody beat him on an obstacle course for the "big boys". This course includes wall climbing, tire flipping, and fridge lifting much to Brody's chagrin. After the challenge, a drowning child results in the lifeguards and Brody jumping in to save them. This shows Mitch something in Brody as he jumped into action despite not being an actual lifeguard yet. When everything's clear, the results of the tryouts are in, and Brody has made the squad with Ronnie Greenbaum (Bass), and Summer Quinn (Daddario). From there the chase to stop Leeds from flooding the bay with drugs ramps up, as more and more crime at the beach occurs under Mitch's watch. He continues to butt heads with Brody, as Brody disobeys orders and tries to be the hero in various situations. However, if Emerald Bay is to remain safe, these two alphas will have to learn to work together and learn that being a lifeguard is more than just slo-mo running and tight bathing suits.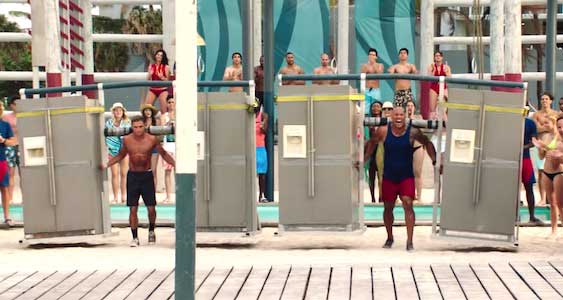 Most people don't know that being a lifeguard is 90% lifting fridges and only 10% beach stuff.
This movie is basically everything you'd expect from a Baywatch movie starring The Rock. He brings his usual magnetic charisma and electrifying personality, and is easily the funniest part of the movie. The rest of the cast have their moments, but this is Johnson's show. Everyone is absolutely at the peak of physical fitness, and there are a lot of close up shots of all the actors highlighting this. The plot isn't particularly interesting or deep, but that's expected in a movie based on show about lifeguards. This is a fun easy film to watch though, and not a bad choice to check out when it's on cable.
Using every last muscle to finish this course.
Best Chucks Scene


Brody rides his motorcycle straight to the water to save a drowning woman and child.
When Zac Efron's Matt Brody arrives in Emerald Bay, he's wearing a tight green t-shirt, grey board shorts, and a pair of black low cut chucks. This whole ensemble really captures the beach bum vibe Efron is going for, and act as a nice detail for his character. The best chucks scene in the film comes immediately after the obstacle challenge between Brody and Mitch. When a mother and her son start drowning in the bay, the lifeguards spring into action. Brody, never one to shy away from a moment of glory, sprints in his chucks to his motorcycle. He speeds away to the pier where he drives his bike off and dives into the water below. He's able to assist the Baywatch crew in saving both the mother and her son's lives, showing Mitch that he really might be good at being a lifeguard. This is key in their relationship going forward because this lets Mitch know that Brody might be arrogant and fame hungry, but he's not so selfish that he won't save a life and do what's right.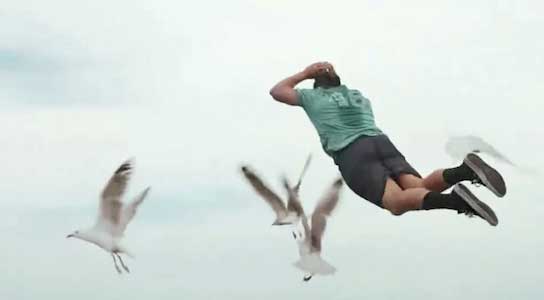 Matt Brody diving into action.
Baywatch. (2017) Dwayne Johnson, Zac Efron, Priyanka Chopra, Alexandra Daddario, Kelly Rohrbach, Ilfenesh Hadera, Jon Bass. Directed by Seth Gordon.
Categories: Comedy, Crime, Action/Adventure.
ChucksConnection Rating:

MPAA Rating: R
Support the film industry by purchasing genuine DVD, Blue Ray, or streaming copies of these films. Illegal copies only help profiteers. Make sure your money goes to the producers and artists who actually create these films. Still images from the film are used here as teasers to get you to view an authorized copy. If you have information about a film where a main character wears chucks, contact us at films@chucksconnection.com.