A ChucksConnection Film Review

Dalton Mugridge wears black high top Converse "Chuck Taylor" All Stars in the film.



Billy Owens and the Secret of the Runes
by Hal Peterson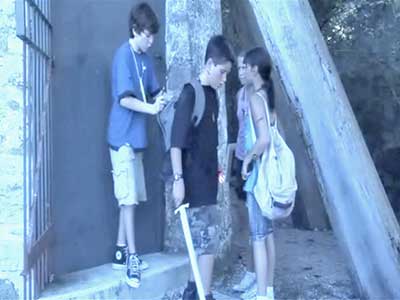 Billy Owens and his friends fleeing from evil forces.
Billy Owens and the Secret of the Runes is the sequel to The Mystical Adventures of Billy Owen, and a continuation of the story which began in the first film. The film is set in the fictional Eastern Canadian coastal town of Spirit River, a town that is located in an area of North America explored by the Vikings. In the first film we discover that the town is under a Viking curse from the Norse god Loki that will cause it to be flooded over, but can be rescued from destruction only by Billy Owens (Dalton Mugridge). Billy's parents (Bob Mugridge, Jennifer Peason) and a few others in town like School Principal Gwendolyn Cups (Jenny Elliott) are aware of this and encourage Billy on his eleventh birthday to undertake this special mission. Born on the eleventh day of November, at 11:11 in the morning, Billy discovers that he has magical powers due to the numerical significance of his birthday, and brought out with a magic wand he purchases for $11.00 from local pawn shop owner Mr. Thurgood (Roddy Piper). To end the curse and destruction of Spirit River, Billy must go on a journey and find and defeat the dragon Nemesius. All of the main characters are the same in both films and the stories are narrated by Mandy Finch (Clara O'Hanlon), a know-it-all classmate and friend of Billy who helps him in his quest along with their other best friend, Devon Turner (Christopher Fazio). As the second film begins, Mandy explains that "Summer in Spirit River is my favorite time of year. Now, you probably think it's because we're off school, but no. It's quite the opposite. When summer comes around, me and my friends, Billy and Devon, get to go to a totally different type of school and spend time with our favorite teacher, Mr. Thurgood. Our mentor. The man who teaches us real magic." On the other side, the bad guys are represented by Victor Mould, a teacher at Billy, Mandy and Devon's school — someone who has magical powers also as the earthly representation of Loki — along with school bully Kurt Nemees (Jordan Goulet) whose main desire is to beat up and humiliate our three heroes.
Billy, Devon, Mandy, and Danny rest in their tree house.
As the second film begins, BIlly, Mandy and Devon are seated outdoors by the river getting a lesson from Mr. Thurgood about the importance of selflessness. But in the warm summer weather, the kids are somewhat bored and want to go out and have fun. Billy yawns and soon Thurgood is tired also. He lets the kids go play and settles down for a nap. That evening Billy, Mandy, Devon, and Billy's parents go to a carnival that has arrived in town. Billy, Mandy, and Devon go off to play some games to win prizes, but feel they are ripped off by the operators. After Billy and Devon have spent all their money, Billy decides to help Mandy win a prize with the help of his wand when she throws her set of rings. She wins an amulet, but it turns out to be a set up. Earlier that day, Mould was able to trap the soul of Mr. Thurgood in the amulet, something the three friends find out when he fails to show up to their scheduled meeting at the carnival. In a vision, Mr. Thurgood explains that the only way that his soul can be freed is to find a magical scepter. Later they discover that it won't be easy because they must decipher runes that they find in a cave and follow the clues they provide to a place where the amulet can be unlocked within two days, or else it will be too late. Billy, Mandy, and Devon meet together in a tree house they have been building to decide on a strategy. They are joined by Danny, short for Daniella (MiKayla Ottenello), who is Mandy's cousin. In one of his visions, Mr. Thurgood explains that it is better to have a fourth person along on their quest and Danny, who has a great affinity for animals, can serve as their Commander of the Natural for when they might run into exotic creatures like the dragon in the first film.
Billy and the others trekking through the forest.
Billy and his three friends now set out on a journey through dark caves and enchanted forests. Each has a specific role. Danny is the commander of the natural, Billy is the wizard of the supernatural due to his magical skills, Mandy is the Word of the Light carrying the Book of Runes due to her understanding of them, while Devon provides the muscle, carrying with him a sword to fight against Victor Mould and Kurt, and any others who would try to stop them. Their goal is to find the scepter, and then unlock its powers by placing the amulet inside it. However, there are additional sacrifices needed to defeat any spells that were cast. But the four are determined to do whatever to takes to find the scepter and free Mr. Thurgood. The balance of the story is about their struggles to do so within their time deadline while trying to defeat Mould and Kurt.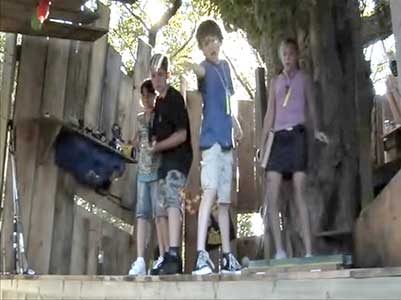 Billy aiming his wand at his attackers.
Both Billy Owens and the Secret of the Runes and its predecessor The Mystical Adventures of Billy Owen were generally panned by critics, with the most common complaint that these films were a poor man's rip-off of the Harry Potter films. While this may be true, there are some significant differences. While the Harry Potter books and films were meant for teenaged audiences, the Billy Owens movies are meant for tweens and younger. Whereas the eight Harry Potter films had the benefit of great writing, name British actors, state of the art special effects, and a pre-educated audience about Hogwarts, etc., the two Billy Owens films were primarily carried by the four child actors. In the Secret of the Runes, Dalton Mugridge emerges as the most effective of these young actors. The plot has potential but was confusing due to the fact that one must understand ancient Nordic mythology, pagan beliefs, white and black magic, and furthermore accept that this all could be still a reality in today's world. That is quite a learning curve for young audiences and a challenge for the writers, director, and producers. Despite their flaws and cheesy special effects, the films can still provide some entertainment to their target viewers. Consider them a country cousin to the urbanized Harry Potter series.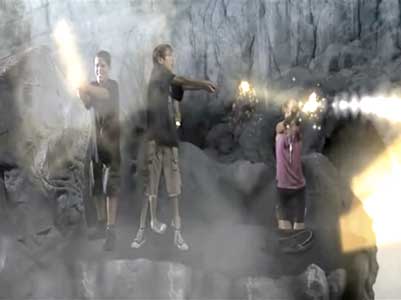 Billy creates a magic bridge to escape from Kurt and Victor.
Best Chucks Scene


Billy and the others discussing how they can help Mr. Thurgood.
Dalton Mugridge in his role as Billy Owens wears black high top chucks throughout the film. Since he always wears shorts, his chucks are framed in nicely in nearly all of his scenes, as the cinematography is quite chucks friendly in this film. There are a few goofs in the shooting. Mostly Billy is wearing a black high top pair with long white shoelaces, but in some of the shots he is wearing a different pair of chucks laced up with shorter black shoelaces, affecting the continuity of a couple of scenes. The best chucks scene is when Billy and the other kids are up in their new tree house discussing how to proceed with their plan to help their teacher, and later you see a good close up of his chucks when Billy is exiting through a trap door.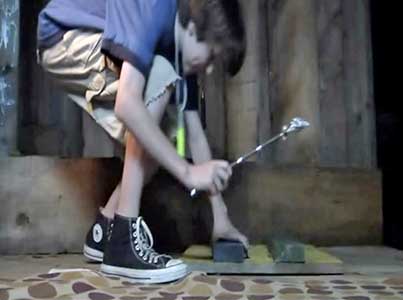 Billy reaching down to open a trap door.
Billy Owens and the Secret of the Runes. (2010) Dalton Mugridge, Roddy Piper, Christopher Fazio, Clara O'Hanlon, Mikayla Ottonello, Jordon Goulet, Paul Germs. Written and directed by Mark McNabb.
Categories: Adventure, Family, Fantasy.
ChucksConnection Rating:

MPAA Rating: NR would be PG
Support the film industry by purchasing genuine DVD, Blue Ray, or streaming copies of these films. Illegal copies only help profiteers. Make sure your money goes to the producers and artists who actually create these films. Still images from the film are used here as teasers to get you to view an authorized copy. If you have information about a film where a main character wears chucks, contact us at films@chucksconnection.com.