A ChucksConnection Film Review

Viveik Kalra wears black high top Converse "Chuck Taylor" All Stars in the film.



Blinded by the Light
by Marcus Angulo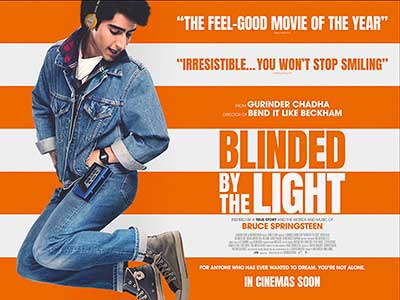 The theatrical poster of Blinded by the Light features Javed wearing his black high top chucks.
Music can change everything about a person, the way they think, the way the feel, and even the way they live. When you find the right artist or the right song, the whole world can suddenly make sense. This is how the English born son of Pakistani immigrants can find himself loving the music of New Jersey's favorite blue collar rock and roll legend. The film Blinded by the Light is a 2019 jukebox musical that follows the life of an English teenager by using the music of Bruce Springsteen. Starring Viveik Kalra, Hayley Atwell, Kulvinder Ghir, Nell Williams, Dean-Charles Chapman and Aaron Phagura, the film features twelve songs blessed by The Boss himself. The film was a critical success upon release, but didn't do great business at the box office, with many citing that it came out too soon after another jukebox musical featuring classic rock music, Yesterday.
Javed and Roops bond over their love for The Boss.
In 1987, Javed Khan (Kalra) and his family live in Luton, England. Javed is a huge fan of the rock music of the time, which Malik (Ghir), his father, disapproves of. Javed expresses himself through his writing, which he does for his best friend Matt's (Chapman) band. However, Matt thinks Javed's work far too depressing, and critiques him for it. This along with Javed's new school, where he is one of only two South Asian students, leads to him feeling incredibly out of place. However, he soon meets the only other South Asian student, Roops (Phagura), who is a massive fan of Bruce Springsteen. In Ms. Clay's (Atwell) writing class, Javed develops a crush on a girl named Eliza (Williams), while also becoming incredibly interested in the writing assignments, with Ms. Clay encouraging him to pursue his writing more.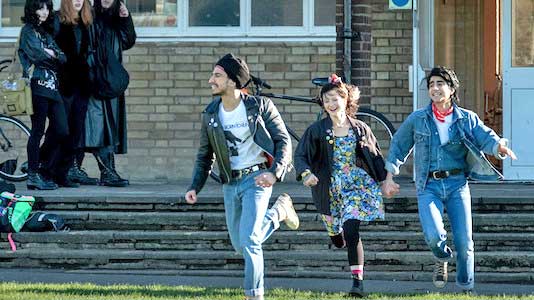 Javed, Roops, and Eliza all have their unique styles.
Soon after, Roops gives Javed two Bruce Springsteen cassette tapes, calling Springsteen "the direct line to all that is true in this shitty world." Javed faces constant racism from everyone in Luton, and criticism from his father for trying to write and socialize. He's then rejected as a writer by the school paper, which causes him to throw away all his writings. In his lowest moment, Javed finally listens to the Springsteen tapes, and the lyrics immediately speak to him in the incredibly magical way only music can. He's inspired to keep writing, and recovers his poems, eventually submitting them to Ms. Clay. From here, Javed's writings take him to places he could only dream about, and along the way he learns a lot about family, friendship, and The Boss.
It's not the Jersey Turnpike but it's close enough.
This film may not have a lot of original plot points, but it more than makes up for it with some fabulous performances and a lot of heart. Viveik Kalra shines as Javed, and his enthusiasm really carries the movie. Like the other jukebox musical hit of 2019, Yesterday, the fact that this film is starring some of South Asian descent is an incredibly important aspect that not only offers some much needed representation, but also shows how this music has crossed time and cultural barriers. Blinded by the Light is a great, easy watch that makes for the perfect weekend rental even if you're not the biggest Springsteen fan.
Baby they were born to run!
Best Chucks Scene


Javed is finally able to express himself.
Javed wears a pair of black high top chucks throughout most of the movie, which really fits in with the late 80's rebel rock setting and vibe. The best scene featuring Javed in his chucks comes after he and Roops take over the school radio station, and play "Born to Run". They then go on the run from officials, Javed speeding through the school in his black chucks while The Boss's most famous song blares over the loudspeaker. This scene screams freedom, and is a moment of pure release for Javed as he finally feels like himself running in a denim jacket and pair of chucks.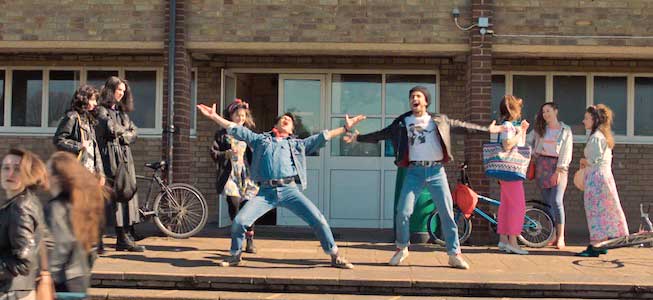 Freedom!
Blinded by the Light. (2019) Viveik Kalra, Kulvinder Ghir, Meera Ganatra, Aaron Phagura, Dean-Charles Chapman, Nikita Mehta, Nell Williams. Written and directed by Gurinder Chadha.
Categories: Drama, Musical.
ChucksConnection Rating:

MPAA Rating: PG-13
Support the film industry by purchasing genuine DVD, Blue Ray, or streaming copies of these films. Illegal copies only help profiteers. Make sure your money goes to the producers and artists who actually create these films. Still images from the film are used here as teasers to get you to view an authorized copy. If you have information about a film where a main character wears chucks, contact us at films@chucksconnection.com.