A ChucksConnection Film Review
Rutger Hauer wears optical white high top Converse "Chuck Taylor" All Stars in the film.
Blind Fury
by Hal Peterson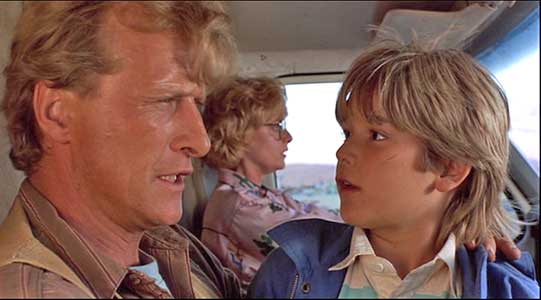 Nick, Annie, and Billy escape from ruthless pursuers trying to kidnap Billy.
Blind Fury is an American samurai film with some interesting twists. Nick Parker (Rutger Hauer) is a Vietnam war veteran who was blinded by an errant grenade explosion just as the Americans were starting their evacuation. Separated from the rest of his unit in all the commotion, the traumatized and blind Nick stumbles onto small village of friendly natives who take him in. At first the natives tease him as he struggles to compensate for his blindness. But soon he develops extraordinary hearing and depth perception, and over the years becomes a master samurai swordsman with incredible skills and accuracy. All of this is a prelude to the main story of the film, which occurs twenty years later. Nick has come back to America, and now is attempting to locate his war buddy, Frank Devereaux (Terrance O'Quinn) who was the demolitions and and chemical expert in their unit. When Nick reaches the Devereaux residence in Florida, he discovers that Frank is separated from his wife Lynn (Meg Foster) and son Billy (Brandon Call) and has moved to Reno, Nevada. As Nick and Lynn are seated having tea, the Devereaux house is invaded by a mob enforcer named Slag (Randall "Tex" Cobb) and two crooked policemen who inform Lynn that Billy is wanted for questioning by the police, and must be immediately taken into custody. When Lynn resists and tells Billy to flee, a fierce struggle ensues, and she is shot. However, the bad guys haven't reckoned with Nick, who quickly slices up the two policemen and disarms Slag with amazing quickness and force, using his razor-sharp sword that he keeps hidden inside his walking cane. Unfortunately Lynn was fatally wounded by the bullet, and her dying request to Nick is that he deliver Billy to his father Frank in Reno.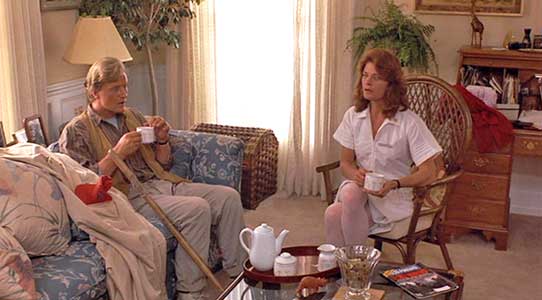 Nick finds out from Lynn that she is separated from his war buddy, Frank.
Frank Devereaux has problems of his own. He has run up a large gambling debt at one of the casinos, and Mr. MacCready (Noble Willingham), the casino owner, wants Frank to work off his debt by manufacturing a new type of designer drug that will net him millions. The reason that the mob enforcers are after Billy was to make him a hostage to insure that Frank completes his work. Now that Slag and his mob bosses are aware that there is someone very capable of protecting Billy, they decides to follow Nick and attack him with gangs of rednecks to take him out and capture the boy. Unaware of this background of violence and intrigue, Nick undertakes to bring Billy across the country to Reno by bus. The film now focuses on the relationship between Nick and Billy. When first introduced, Billy doesn't like Nick at all. This could be because Nick is his father's friend (who has abandoned Billy), or because Nick won't put up with the boy's stubborn attitude and rude behavior, or because Billy resents being separated from his mother (he is not told that she is dead until later) when they suddenly leave for Reno. Nevertheless, the initial interactions they have as they get to know each other provides a certain amount of comic relief to the inevitable violent scenes when the villains attack. After surviving a second attack in Kansas, Billy and Nick finally arrive in Reno where they meet up with Annie Winchester (Lisa Blount), Frank's co-worker and new girl friend, who has been compelled by a couple of the redneck enforcers to help capture Nick and Billy. The two are surprised and tied up in the back of the enforcers' van. As they are being driven back to the casino, Nick tells Billy how to jump through his bonds, and the two are able to get free. Creating a diversion by lighting a fire, they are able to overpower the villains and escape. Annie throws her lot in with Nick and Billy at this point and the chase is on. The balance of the film is made up of chase scenes, changes of fortune, and fight sequences (including a fight between Nick and a Japanese Ninja assassin played by Shô Kosugi) until things are finally settled between Nick, Frank, Slag, and MacCready.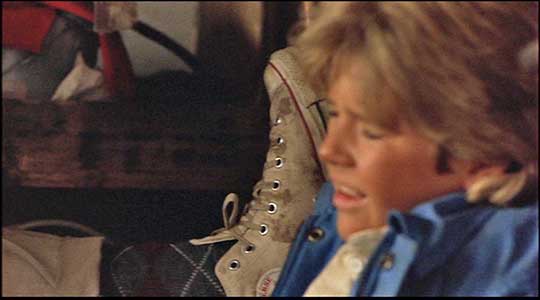 Nick enlists Billy to help him escape from the back of the criminals' van.
Blind Fury is a modernized American remake of Shintaro Katsu's "Zatoichi" series about a medieval Japanese samurai warrior who must bring a child from a captive parent to the other parent, while fighting off pursuing villains along the way. The film also evokes their photographic style with scenes of natural simplicity contrasted by sudden furious and violent action. The sequence in the Kansas cornfield is a perfect example of this. When you think about it, much of the story borders on the unbelievable with its obsessed villains constantly engaged in incredible fight scenes with the blind warrior Nick. What makes this film work is the acting performance of Rutger Hauer. He plays Nick as an unassuming and self-deprecating hero, with a wry sense of humor. He certainly doesn't look the part of a samurai warrior in his trench coat, high top white chucks, and flannel shirts, feeling his way around town with his cane. Hauer makes Nick believable because he doesn't win every confrontation, but he certainly is a deadly opponent when provoked. All of these things provide leavening to the well choreographed but violent martial arts fighting sequences that make up a lot of the story line. The violence in the film is too excessive and graphic for kids, which is unfortunate because the relationship that develops between Billy and Nick, like that of an uncle and nephew, is of interest to viewers of all ages. If you enjoy this type of action/adventure film, you will enjoy Blind Fury.
Nick battles the Japanese Ninja master swordsman hired to kill him.
Best Chucks Scene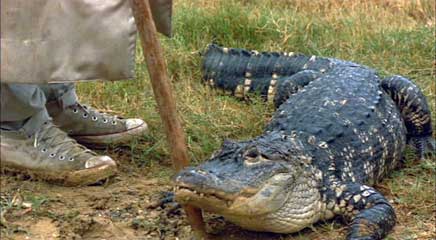 Nick runs into a Florida native.
Nick Parker is seen in his well-worn white high top chucks throughout the entire movie. There are quite a few close ups throughout the film, sometimes as part of an action sequence, other times when Nick is walking about with his cane, like the above picture where he runs into an alligator. Chucks are a good choice for Nick. He can walk in total silence with them on, so his other senses are not interfered with, and he has a better feel for the ground he is on then he would with heavier boots or shoes. Cool shoes for a cool warrior.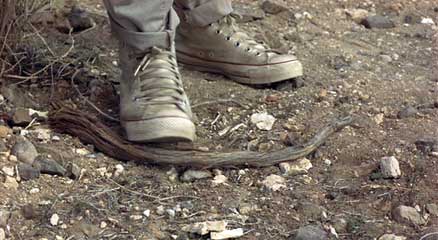 Blind Nick Parker relies on his "chucks sense" that gives him solid footing when he ventures into unknown territory.
Blind Fury. (1990) Rutger Hauer, Terrance O'Quinn, Lisa Blount, Randall "Tex" Cobb, Noble Willingham.
Directed by Phlip Noyce. Categories: Drama, Action/Adventure.
ChucksConnection Rating:

MPAA Rating: R
Support the film industry by purchasing genuine DVD, Blue Ray, or streaming copies of these films. Illegal copies only help profiteers. Make sure your money goes to the producers and artists who actually create these films. Still images from the film are used here as teasers to get you to view an authorized copy. If you have information about a film where a main character wears chucks, contact us at films@chucksconnection.com.