A ChucksConnection Film Review
Jeff Daniels wears black and optical white high top Converse "Chuck Taylor" All Stars in the film.
Blood Work
by Hal Peterson
It starts with a bloody footprint from a Chuck Taylor shoe.
The story line of Blood Work starts from an interesting clue: a bloody footprint from a Chuck Taylor shoe is found at the latest crime scene of a serial killer active in Los Angeles. Besides the print, the killer has left a taunting message — "Catch me, McCaleb" — for Terry McCaleb (Clint Eastwood), an FBI agent who specializes in tracking down high profile criminals. One of the local LAPD detectives, Ronaldo Arrango (Paul Rodriguez), who doesn't like the attention that McCaleb always gets from the media and top brass, and likes to bait him whenever he gets a chance says, "We know who our killer is. His name is Chuck....Chuck Taylor." As McCaleb is leaving the crime scene and walking through the lines of cops, reporters, and curious on-lookers, he happens to spy someone in the back of the crowd wearing a pair of what appears to be bloody white chucks. He chases after the guy through some back alleys and neighborhoods, but just as he is about to grab the guy, while the camera shows his hand grabbing at the guy's Chuck Taylors, McCaleb suffers a massive heart attack, and the suspect gets away.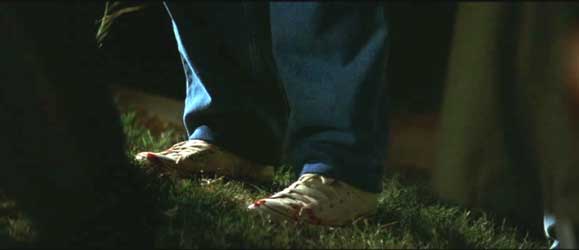 Later Detective McCaleb spots a man wearing bloody white high tops hanging out at the fringes of the crime scene.
The movie then fast forwards to two years later. McCaleb, who was near retirement age anyway, has retired from the FBI and has been recovering from a heart transplant operation. He is now living on a boat in the San Pedro marina, swallowing multiple pills a day and monitoring his temperature under the strict care of his cardiologist, Dr. Bonnie Fox (Anjelica Huston). But one day, a young woman named Graciella (Wanda De Jesus) appears at his boat and asks him to look into the murder of her sister, Gloria, who was senselessly killed during a convenience store robbery. The police have gotten nowhere, and Graciella wants McCaleb to investigate. He tells her that he is finished with police work and has no desire to do any private investigating. But she persists and, when she shows McCaleb her sister's photograph, quietly adds a personal reason why he might want to help — her dead sister's heart is the organ now in his body. Graciella is also the guardian for the dead woman's young son, Raymond (Mason Lucero), and when he meets Raymond, who was devastated by his mother's murder, McCaleb feels that has no choice but to help find her killer.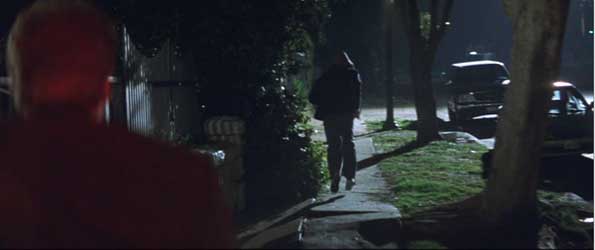 When McCaleb calls out to the man, he starts to run away.
When McCaleb starts to contact old colleagues in the LAPD and the FBI, the other cops tell him how bad he looks and wonder if he can handle the strain. Dr. Fox threatens to stop seeing him if he doesn't slow down because his body still could reject the new heart. To placate the doctor, he hires his laid-back neighbor at the marina (Jeff Daniels) as his driver so he won't have to deal with the additional problem of Los Angeles traffic. The film now becomes a police procedural that leads us into an intriguing investigation of two senseless murders, as we find out that the victims of both crimes shared the same rare blood type as McCaleb. The story proceeds at a leisurely pace, perhaps deliberately to convey the energy level of Eastwood's character. During the process, McCaleb gradually grows closer to Graciella and to the little boy as they try to figure out how and why Gloria was killed. Like any good mystery, the facts supplied make no sense until the common denominator is provided.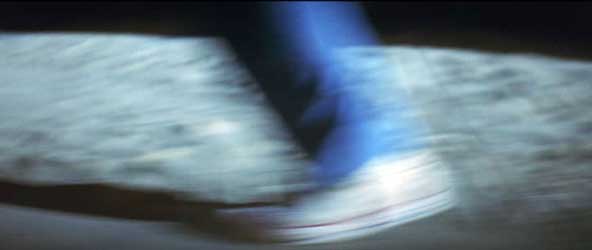 The camera shows a pair of white high tops running by...
Blood Work is the twentieth film that Clint Eastwood has directed and starred in, and you have to give him a lot of credit for continually reinventing the way that he puts together a police action film. Blood Work is not at all like the Dirty Harry films that made Eastwood a totally bankable star with the clout to create his own films. Instead, you see maybe Dirty Harry in retirement, moving at a leisurely pace, and concerned with his own mortality. There is some good action in the film, but it is not the non-stop unbelievable stuff of most Hollywood films. Eastwood's latest films have focused on character development and personal relationships over the action, which results in achieving an intimacy with the characters that few other films in the action genre are capable of doing. There are three important threads that run through the story, the romance that develops between McCaleb and Graciella, the looming sense of mortality hanging over Terry's head, and of course the police procedural. It's to Eastwood's credit that the first two aren't overshadowed by the temptation to cater to the action crowd, and it is clear in Eastwood's director-actor relationship with himself that the director has the upper hand. Each element is given its due, held together with Lennie Niehaus' elegant jazz score (another characteristic of Eastwood films, by the way). While the are certainly changes to the original novel by Michael Connelly in the screenplay, the most notable being McCaleb's age moving from 42 to 60 (well 70 if we are truthful, but Eastwood at 70 still looks ten years younger), the story is still mostly believable and fits comfortably into the Eastwood mode.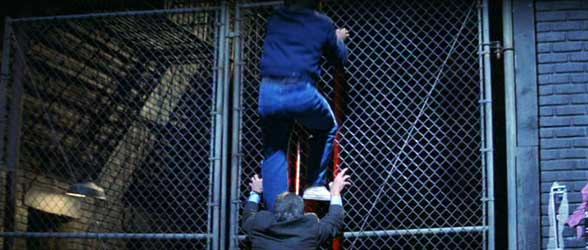 Hot on his tail, McCaleb catches up with the man at a tall fence.
One nice side benefit of the casting of Blood Work is that it has given some Hispanic actors prominent roles that aren't particularly stereotypical and lend the film some contemporary California authenticity. Foremost is Wanda de Jesus as the romantic interest and female lead role. Wanda fits right into the Eastwood genre by not overplaying her role, so we think of her first as the grieving sister, a young working class surrogate mom, trying to make ends meet as a waitress while she takes on the unexpected burden of raising her dead sister's son. As the romance gradually develops between Graciella and Terry, it seems natural because it is somewhat unexpected and becomes a nice contrast to the police action and chase scenes. Paul Rodriguez in a way is one of the bad guys in the film, as he plays the careless, macho, and somewhat jealous LAPD detective, who hinders McCaleb's investigation, and never gets along with McCaleb, even at the end when things are supposed to be resolved. Mason Lucero, as Gloria's son Raymond, doesn't have a huge part, but he does add to the human factor in the film, and it's nice to see a kid actor who doesn't play over the top. And what can you say about Clint Eastwood? He knows this genre so well, how to set the mood, and how to direct his players (including himself) in a way that always seems to have credibility. While ultimately Blood Work isn't a great film, it certainly is entertaining as a mystery and let's face it, as actor Jeff Daniels was quoted as saying about this film: "When you're standing there watching Clint Eastwood stride down the middle of a California boulevard with a sawed-off shotgun, blowing away a Ford, that still has impact in Hollywood."
McCaleb tries to grab the suspect's shoe, but can't hang on when he suffers a heart attack.
Best Chucks Scene


The camera focuses on a pair of chucks at another crime scene. Is this our serial killer?
Blood Work is a murder mystery where a chuck footprint is the main clue, apparently worn by the killer. As a result, the camera work focuses on chucks only when the murderer or someone who could be a suspect must appear in the storyline. You never get to actually see the killer until the mystery is solved. So obviously the best chucks scene has to be the opening chase sequence, shown above, when Detective McCaleb discovers the killer lurking by wearing blood stained white high tops and tries to capture him, only to suffer a heart attack just as he is about to bring the killer down.
Are these the footsteps of the killer approaching? You'll have to see the film to find out.
Blood Work. (2002) Clint Eastwood, Jeff Daniels, Angelica Huston, Wanda de Jesus, Paul Rodriguez.
Directed by Clint Eastwood. Categories: Drama, Crime and Mystery, Action/Adventure.
ChucksConnection Rating:

MPAA Rating: R
Support the film industry by purchasing genuine DVD, Blue Ray, or streaming copies of these films. Illegal copies only help profiteers. Make sure your money goes to the producers and artists who actually create these films. Still images from the film are used here as teasers to get you to view an authorized copy. If you have information about a film where a main character wears chucks, contact us at films@chucksconnection.com.