A ChucksConnection Film Review
J. Evan Bonifant wears black high top Converse "Chuck Taylor" All Stars in the film.
Blues Brothers 2000
by Hal Peterson
Elwood Blues is told to mentor a young orphan in Blues Brothers 2000.
Blues Brothers 2000 is the sequel to the original 1980 Blues Brothers film but in many ways is actually a remake of the film, as the story is pretty much a parallel of the original. Elwood Blues (Dan Ackryod) has been released from Joliet Prison after a long sentence, and seeks to restart his life and put together the Blues Brothers band again. After stoically standing outside of the prison for nearly a day waiting to be picked up, he is taken back to the orphanage run by Mother Superior Mary Stigmata (Kathleen Freeman). She tells him that he need to do a little mentoring for a young orphan named Buster (J. Evan Bonifant), but of course he is reluctant. Persuaded by a few whacks from her ever present ruler, he goes to purchase a vehicle, and the familiar story line continues, as he seeks out the old band members for one last tour around the country.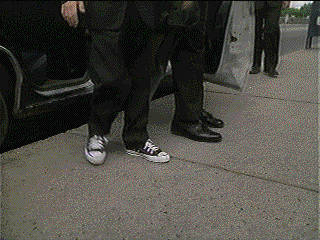 Buster wears the Blues Brothers uniform but with one difference: black chucks.
Elwood goes to a south side strip club now run by one of his ex band members, and under threat of takeover by the local Russian mafia. In the process he meets Mighty Mack (John Goodman), a bartender with a good voice, and when the place is blown up by the mob, Mack becomes Jake's replacement in the band. Elwood then continues on to a car dealership owned by Murphy Dunn, where we get a reprise of the Aretha Franklin R.E.S.P.E.C.T. number and to Ed's Love Exchange, a 900 number franchise operated by Eddie Floyd, to re-acquire more band members. Along the way we are treated to some car chases and of course great vocal numbers.
Mack, Buster, and Elwood do some steps during the number "634-5789".
When the band is finally assembled, Elwood seeks out their old agent, Maury Sline (Steve Lawrence), who manages to mistakenly book them as a country group at a county fair on the way to an ultimate battle of the bands in New Orleans. They are pursued along the way by the state police, led by Cabel Chamberlain (Joe Morton), who replaces the original Cab Calloway character, some neo-Nazis, and the Russian mafia. Basically, all of the plot elements are the same as the original film — they are somewhat modernized to be credible as 90's villains. The trials and tribulations of the band, which are endured for the music, and the ultimate performances with great artists from the real world of music, make up the remainder of the story.
Buster takes a vocal solo during the "battle of the bands".
Basically you watch a Blues Brothers film for two things, great music and car chases. In that regard, Blues Brothers 2000 does not disappoint. In addition to the "R.E.S.P.E.C.T." and "634-5789" numbers mentioned above, we hear John Popper and Blues Traveler perform "Maybe I'm Wrong", Lonnie Brooks and Junior Wells do "Checkin' Up on My Baby", a great send-up of "Riders in the Sky" at the fair, Sam Moore and James Brown at a revival meeting, along with the Paul Butterfield Blues Band version of "Born in Chicago". And to top it all off, an incredible musical battle between the Blues Brothers and the Louisiana Gator Boys headlined by B. B. King, Bo Diddley, Steve Winwood, and a host of musical greats provides a terrific finish to the film. When you examine the whole Blues Brothers schtick, as established by John Belushi and Ackroyd on Saturday Night Live in the 70s, you realize what a debt they also owe to Jackie Gleason, who first showed us how a heavy-set white guy, with a great comedy sense and timing, could dance and move with the best. The comedy relies on these very conservatively dressed (like IBM executives in the 50s) who suddenly rock out with the best music and unbelievable dance steps when the songs begin. The choreography of this film is great, and both Goodman and Bonifant deliver credible performances along with Joe Morton, who is converted from his role as chief pursuer to band member on the road to New Orleans.
Best Chucks Scene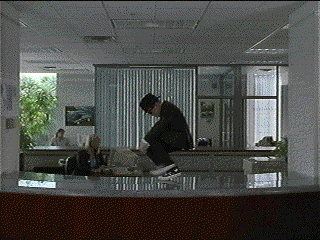 Buster does some R.E.S.P.E.C.T.-able dance steps on the counter at Murphy's car dealership.
Once Buster is hooked up with Elwood Blues at the orphanage, his whole life is immediately transformed. In the next scene, you see him get out of the car with Elwood and Mighty Mack in full Blues Brothers regalia, black suit, white shirt, black tie, black hat — but with one exception — black high top chucks. It's a nice touch, perhaps a slight tribute to all of the musicians in the world who wear chucks. Although some critics questioned why writers Ackroyd and Jon Landis even added this character, J. Evan Bonifant's performance is not a disappointment at all. He can act, sing, dance, play the harmonica, and manages to keep up with the adults very well. The best chucks scene is where you see him perform for the first time at the car dealership, laying down some fancy steps on a countertop.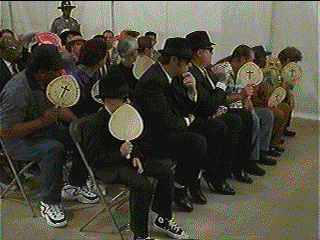 The Blues Brothers Band tries to be inconspicuous at the revival meeting.
Blues Brothers 2000. (1997) Dan Ackroyd, John Goodman, Joe Morton, J. Evan Bonifont, Frank Oz, Aretha Franklin, Kathleen Freeman, B. B. King, James Brown.
Directed by Jon Landis. Category: Musical.
ChucksConnection Rating:

MPAA Rating: PG-13
Support the film industry by purchasing genuine DVD, Blue Ray, or streaming copies of these films. Illegal copies only help profiteers. Make sure your money goes to the producers and artists who actually create these films. Still images from the film are used here as teasers to get you to view an authorized copy. If you have information about a film where a main character wears chucks, contact us at films@chucksconnection.com.