A ChucksConnection TV Series Feature
Will Friedle and Alan Matthews wear black high top Converse "Chuck Taylor" All Stars in the series.


Boy Meets World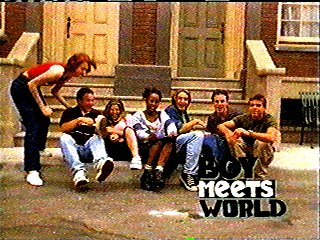 The younger generation cast of Boy Meets World.
Loosely based on The Wonder Years, Boy Meets World is about contemporary life as seen through the eyes of an eleven year old, Cory Matthews (Ben Savage), and his best friend Shawn Hunter (Rider Strong). The series started with Cory and Shawn in middle school, and then later they go on to high school and college. Eric Matthews (Will Friedle), Cory's super cool older brother often wears high black chucks, at least in the earlier years of the series. Other young cast members included Cory's sister Morgan (Lily Nicksey) and Cory's eventual girl friend Topanga (Danielle Fishel).
Eric listens while Cory tries to set up a date on the telephone.
The basic premise of the series was that Cory and Shawn, as typical teenagers, were trying to understand life's mysteries and pleasures. This was often made complicated by their very demanding teacher Mr. Feeney (William Daniels), who later became their high school principal, and lived next door to the Matthews. Cory and Shawn were not honor students, and often had trouble with their school work. Often typical complications involved early attempts to interact with the opposite sex, and the usual social pressures of middle school and high school.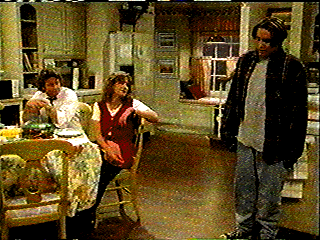 Eric talking to his parents, Amy and Alan.
Many subplots in the story lines would deal with the relationship between the boys and their parents. Shawn's parents were not part of the picture, as they were separated or divorced, and eventually Shawn ended up living with the Matthews. Amy and Alan were good parents, and tried to be understanding of the many foibles of the boys, as they would often hatch schemes to try and "beat the system", either at school or with life in general.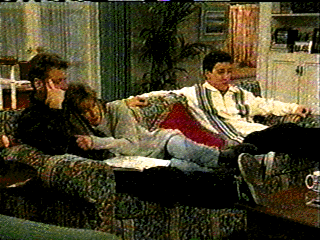 Ben and Eric's dad, Alan, often wears black high top chucks.
Cory's father on Boy Meets World, Alan Matthews (William "Rusty" Russ) also wears black high top chucks. He is around 40 and wants to constantly go back to yesterdays and be young again. Probably that is why he wears chucks! In one episode Alan went out and got together the musical group he had in the 60's to perform for their class reunion. When the band played at the reunion, they all wore black chucks. When you see both Alan and Eric wearing their chucks, you realize that Eric wants to follow in his father's footsteps. . .literally!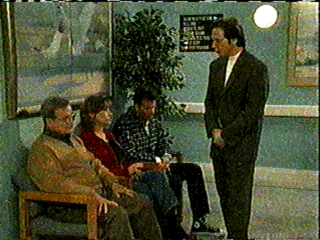 The Matthews and Mr. Feeney wait to hear the news after Shawn has been involved in an accident.
Do you know of other television shows or series where a main character wears Converse All Star Chuck Taylors? Can you describe a favorite episode or two from the series, or do you have additional information about the shows described here already? Do you have videotapes, DVDs or shot captures of episodes from any of the series that haven't been given an in depth article on this site? If you do, email us at chucksphotos@chucksconnection.com and we will add the information to the television pages.