A ChucksConnection Film Review
Victoria Justice wears black low cut Converse "Chuck Taylor" All Stars in the film.
Chase Ellison wears gray high top Converse "Chuck Taylor" All Stars in the film.
The Boy Who Cried Werewolf
by Hal Peterson
The Sands family arrives at their great uncle's castle in Romania.
The Sands family is having a tough time lately. Jordan Sands (Victoria Justice) is bullied at school by some other girls who keep doing things to make her look bad. Hunter Sands (Chase Ellison), her younger brother, is a freshman in high school but still acts quite immaturely with his constant pranks. Their widower father, David (Matt Winston) is having financial troubles and problems making ends meet. But suddenly their lives are changed when word arrives that they have inherited their great uncle's castle in Wolfsberg, Romania. The family makes the long journey and after arriving, soon gets involved in some of the strange goings on in the small town. At the castle they meet the housekeeper, Madame Varcolac (Brooke Shields), who is somewhat aloof and prickly in her demeanor. In a tribute to Mel Brook's Young Frankenstein, a wolf howls whenever someone says her name.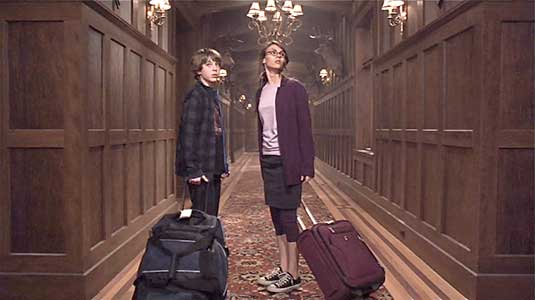 Jordan and Hunter are overwhelmed by the size of the castle.
Soon the basics of the plot emerge. Madame Varcolac doesn't want the Sands family to sell the property which has been her home all her life. But a very aggressive local realtor Paulina Von Eckberg (Brooke D'Orsay) has other plans and works very hard on charming David Sands into signing over the deed to the property. Meanwhile the two kids are involved in some strange happenings. In the mansion they discover Uncle Dragomir's lab. A vial of what turns out to be werewolf blood is accidentally broken, and Jordan steps into the the broken glass and blood when they are startled by some bats. Soon Jordan begins to transform into a werewolf. Hunter is the only person who can save her. He gets information from his Internet buddies back in the United States who explain what the symptoms are and what he must do to prevent her from permanently becoming a werewolf. Later Madame Varcolac becomes an unlikely ally for Hunter. She also knows what to do and how to prepare an antidote because for years she had cared for Uncle Dragomir, who had been infected himself but was a brilliant scientist and had developed countermeasures for the werewolf curse. The changes are striking. Suddenly Jordan develops incredible strength and coordination and is able to see without her glasses. This change is startling to Goran (Steven Grayhm), a young butcher in town who is attracted to Jordan.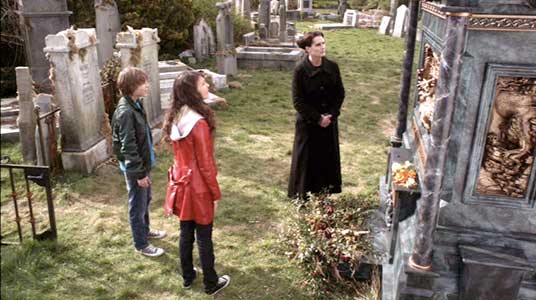 Hunter and Jordan go to a cemetery with Madame Varcolac.
The plot thickens when it is revealed that Paulina is actually a vampire and the leader of a group of them desperate to take over the manor. The only thing that can defeat them are werewolves, like the Wolfsberg Beast, a role that Uncle Dragomir had held. It turns out that Hunter has the same bloodline, and now that he is fourteen, he can make the transformation from human to werewolf. Paulina and her cohorts kidnap the members of the Sands family in their human form, and hold them prisoner in a basement dungeon. To save themselves, both Jordan and Hunter make the transformation into werewolves and the battle for control of the castle is underway. The balance of the film is about how this battle is resolved and the lives of the Sands family are changed forever.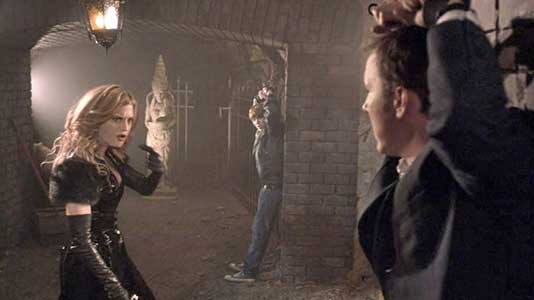 The family is taken prisoner by Paulina.
Although the plot sounds like it could be quite serious and bloody, The Boy Who Cried Werewolf is a Nickelodeon movie. Everything is handled in a light and comedic way, since the film is designed for family viewing. Cast member Brooke Shields has a great time playing the role of Madame Varcolac, sporting a Romanian accent and mysterious persona, something quite different from her usual acting projects. The two kids, Victoria Justice and Chase Ellison get most of the screen time and are effective in their roles. Although the storyline is somewhat routine, there is enough interest and substance in it to keep you watching. From time to time there are some humorous places, especially as Jordan is making her transformation from ordinary teenaged girl to werewolf. There are a few good special effects in the film and a few exciting scenes, but things are very toned down due to the family nature of the film. What might normally keep you on the edge of your seat becomes a comfortable television show. If you ever have wanted to see a PG-rated vampire and werewolf film, this is it.
Hunter waits for the antidote.
Best Chucks Scene


The camera shows a close up of Jordan's black low cut chucks.
Victoria Justice wears black low cut chucks and Chase Ellison wears charcoal gray high top chucks in most of the scenes in the film. It's great to see kids wearing chucks trampling down the dark corridors where vampires and werewolves live. At the same time, seeing their chucks reminds you that they are in their normal human kid form and transformed into werewolves. The camera work features several close ups of Jordan wearing her chucks in both America and Romania.
Jordan suddenly has great strength and agility.
The Boy Who Cried Werewolf. (2010) Chase Ellison, Victoria Justice, Brooke Shields, Brooke D'Orsay, Christie Laing, Cainan Wiebe. Directed by Eric Bross. Categories: Action/Adventure, Family Grade Horror.
ChucksConnection Rating:

MPAA Rating: Not rated, would be PG
Support the film industry by purchasing genuine DVD, Blue Ray, or streaming copies of these films. Illegal copies only help profiteers. Make sure your money goes to the producers and artists who actually create these films. Still images from the film are used here as teasers to get you to view an authorized copy. If you have information about a film where a main character wears chucks, contact us at films@chucksconnection.com.