A ChucksConnection Film Review
Caleb Steinmeyer wears black high top Converse "Chuck Taylor" All Stars in the film.
Boy Wonder
by Hal Peterson


Loner Sean walking the streets of New York City.
Boy Wonder is a part psychological and part action thriller about a high school student named Sean (Caleb Steinmeyer) who had a very traumatic childhood and for years has dealt with his experiences internally. Now that Sean has grown into pretty much his full adult size, he is starting to act as a lone vigilante, taking out low life criminals who have been terrorizing people he runs into on the streets of New York City. The term "boy wonder" here does not refer to Batman or other comic book hero, but rather references the older definition, a young person with surprising intellectual and physical skills. In Sean's case we discover that he does things like learn chemistry and the Mandarin language on his own just by reading textbooks, gets straight A's in school, and also is becoming a fearsome fighter by working out in a rundown gym after school. Mostly Sean keeps to himself, studying and reading all hours of the day and night, except for when he works out. It was a big deal for him to even go to a party, when his best friend at school suggested it. He appears to be very tightly wound and self-effacing most of the time, but we soon discover he is capable of incredible physical violence.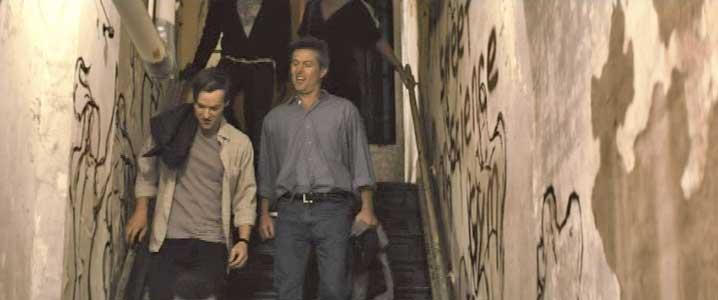 Sean and his father enjoying a rare happy night out.
As a child, Sean lived in an abusive household, where his alcoholic father Terry (Bill Sage) would often berate and beat Sean's mother in his presence. Sean was also subjected to his father's anger, making for a fearful existence when his father was at home. Even worse than those experiences was the day he witnessed his mother being murdered right in front of him after a car accident gone wrong. Later in the police station, Sean thought he had picked out the mug shot of her killer, but was dissuaded from that choice by his father. He continued to search through the mug shot albums, and became "adopted" by the detectives at the local precinct station, where he spent time after school as the months and years went by. Since the death of his wife, Terry sobered up and apologized for his behavior, but it was too late for a true reconciliation. Terry and Sean still live in the same apartment, but it is an uneasy existence. How their relationship develops now that Sean is growing to adulthood is an important part of the story.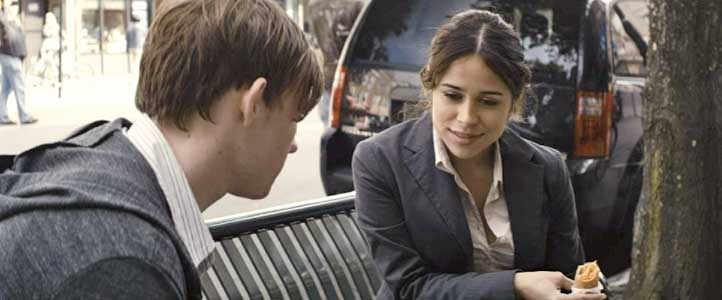 Sean talks with Detective Teresa Ames.
Against this background, the present day action gets going as Sean starts acting out against thugs or abusive people he observes in his daily life. He takes a drug that allows him to endure pain, then goes out to challenge that abusive person, and after he is attacked by that person, Sean allows him to get in enough blows to demonstrate that he is acting in self defense. Then Sean beats his opponent senseless or in a couple of cases to death. These are very powerful scenes, but Sean's reaction to them is very muted. He sees his actions as a sense of duty, righting a wrong rather than as a triumph. At the local precinct where Sean still goes to hang out at times, a new detective, Teresa Ames (Zulay Henao) is on assignment and soon meets Sean, who she is given background about by her partner, Gary (Daniel Stewart Sherman). Sean even helps her out by fixing a slashed tire on her car one night. At the same time Teresa is investigating the beatings that the cops quickly realize is the work of a vigilante. She becomes suspicious of Sean when one of the witnesses reports that the vigilante, a white man, spoke to her in perfect Mandarin just before he took out a crazy thug on the subway. Teresa became aware of Sean's linguistic skills when they shared egg rolls at a Chinese take out, but this is the dilemma she faces: none of the witnesses who were the victims of the abusive criminals have any interest in helping the police find the vigilante, who they believe saved their lives.
Sean riding on the subway just before a crazy man erupts in violence.
Writer/director Michael Morrissey draws upon familiar themes for the story outlines of Boy Wonder, but does so in a low key and fascinating way. By presenting things this way, the story stays believable and keeps your attention throughout. The ending is particularly surprising and well thought out. There is a lot of detail packed into this ninety minute film, a high quality effort. After viewing it the first time you will want to review some of the scenes again to make sure you caught everything. Caleb Steinmeyer gives an exceptional performance as Sean, showing a calm demeanor on the outside while filled with an inner turmoil that occasionally bursts out. Zulay Henao gives up some sparks as the newly appointed Hispanic police detective surviving in the man's world of the New York Police Department. Bill Sage wants to be a typical father to his son, but unfortunately that opportunity was lost to him long time ago even though flashes of it occur when he gives Sean boxing tips or takes him out for a birthday celebration. So his performance has a certain wistfulness to it. Although this film has been out for a while, it is definitely worth viewing today.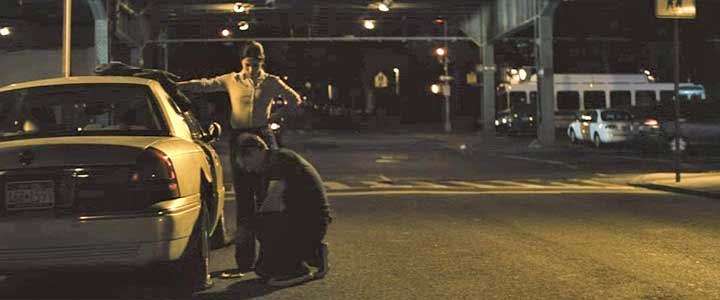 Sean fixes Detective Ames' flat tire.
Best Chucks Scene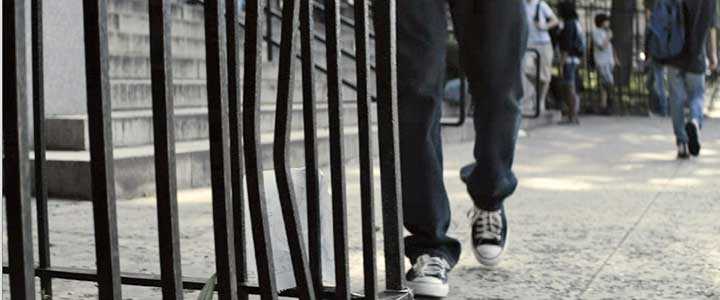 Sean walks the streets of New York in his black high top chucks.

Caleb Steinmeyer (Sean) wears black high top chucks throughout the film, perfect footwear for his type of character. There aren't a lot of closeups of them in the cinematography. The first one is at the beginning of the film when we see Sean leaving school. The second is a brief glimpse of his right outer sole during a fight with two thugs.
Sean struggles to defeat two low life thugs.
Boy Wonder. (2010) Caleb Steinmeyer, Zulay Henao, Bill Sage, Daniel Stewart Sherman, Tracy Middendorf, Chuck Cooper, John Sharian, Kether Donohue, James Russo. Written and directed by Michael Morrissey.
Categories: Drama, Action/Adventure, Crime and Mystery.
ChucksConnection Rating:

MPAA Rating: R
Support the film industry by purchasing genuine DVD, Blue Ray, or streaming copies of these films. Illegal copies only help profiteers. Make sure your money goes to the producers and artists who actually create these films. Still images from the film are used here as teasers to get you to view an authorized copy. If you have information about a film where a main character wears chucks, contact us at
films@chucksconnection.com.