A ChucksConnection TV Series Feature


Thomas O'Brien, Gabriel Damon, and David Hollander wear black high top Converse "Chuck Taylor" All Stars in the series.


Call to Glory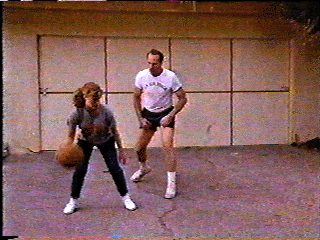 Colonel Raynor Sarnac plays some basketball with his daughter Jackie.
This series was about Colonel Raynor Sarnac (Craig T. Nelson), an Air Force test pilot and wing commander involved in many of the Cold War events of the early sixties, and the effects this had on his wife Vanessa (Cindy Pickett) and their family life. Jackie Sarnac, the 15 year daughter dated Patrick Thomas (Thomas O'Brien) who wore black high top chucks. Their sons RH (Gabriel Damon) and Wesley (David Hollander) also wore black high top chucks on occasion. You even see the Colonel wearing white high top chucks when playing basketball with Jackie. The series dealt with the pressures faced by a military family, including the dangers of Colonel Sarnac's job, dealing with the occasional death of other pilots, and the constant relocation from one base to another. It also used news clips and songs of the early sixties within the context of shows to give the series some political and social authenticity and occasionally focus on the conflict felt by Sarnac's children between the traditional military views of their father and the new social consciousness about civil rights and other issues.
Wesley helps his mom Vanessa get ready for an important interview.
In one episode Wesley wants to participate in the march on Washington culminating in the famous Martin Luther King speech. Meanwhile, the Sarnac family has been invited to the White House to visit the President. The episode uses clever editing of real clips and the interaction between Wesley and his dad in the climatic scene. In another episode, the Sarnac family is selected as the subject of an interview in a national magazine, and you see Wesley scrambling around in his chucks helping his mom get the house ready.
Patrick brings his stuff to Carl's trailer.
An additional episode shows Patrick coming to spend some time with Carl Sarnac (Keenan Wynn), the grandfather of the Sarnac family. He has decided to stay there so that he can maintain a more formal relationship with Jackie, and not always hang around the Sarnac house and be treated like one of her brothers. As he is bringing a box of his stuff into Carl's trailer, you see him wearing chucks and at the top of the moving carton is a shoe box for Converse All Stars.
RH and Carl discuss the meaning of life.
In a pivotal episode about the different generations of Sarnacs, young RH and his grandfather Carl go on a nostalgic trip together to see people and places important to Carl's past, as Carl has discovered he has cancer. There is a great scene, at the top of a hill, where the two sit and talk about life.
Jackie and Patrick play basketball.
Although there are not a lot of chucks scenes, occasionally you see some good basketball action sequences or close ups of RH, Wesley, or Patrick wearing them.
Do you know of other television shows or series where a main character wears Converse All Star Chuck Taylors? Can you describe a favorite episode or two from the series, or do you have additional information about the shows described here already? Do you have videotapes, DVDs or shot captures of episodes from any of the series that haven't been given an in depth article on this site? If you do, email us at chucksphotos@chucksconnection.com and we will add the information to the television pages.