A ChucksConnection Film Review
Devin Drewitz wears black high top Converse "Chuck Taylor" All Stars in the film.


Chain of Fools
by Hal Peterson
Scottie swallows the rare gold coins that Kresk found.
Thomas Kresk (Steve Zahn) is a barber with a lot of problems in his life. People tend to walk all over him and take advantage of his good nature. Yet he remains an "Optimist", as a screen overlay reminds us. His wife Karen (Lara Flynn Boyle), has been separated from him for a while and now is filing for divorce and running off to Italy with their marriage counselor. She stops by his shop and tells him this in front of a customer and also to order him to watch her place and take care of her dog who needs special medication while she's gone. His sister Jeannie (Myndi Crist), described as "Vegan", is also very demanding, and drops off her out of control son, Scottie (Devin Drewitz) who "Hates Everyone", telling Thomas he needs to watch him for a couple of days. Scottie announces his presence by dropping a large glass vase on the floor and running around being annoying. Into this scene of domestic bliss walks a hoodlum named Avnet (Jeff Goldblum) who was the customer Kresk was working on. Avnet's recent theft of three valuable Ming Dynasty coins worth millions is the glue that holds this heist-caper storyline together. He is the common link between a second set of characters who interact in the story. There is Bollingsworth (Tom Wilkinson) "Expelled from Oxford", a wealthy ne'er do well who can't stand the bragging of his club companion Melander Stevens (Craig Ferguson), the director of the local Art Museum. Bollingsworth feels that Stevens has aced him out of every important position that should have rightly been his, in his world of wealth. When Stevens confides to him that the coins are going to be delivered earlier than announced with just a single security truck, Bollingsworth decides that this is his chance to finally get even, and he hires Avnet to steal the coins. Avnet succeeds but does so by ruthlessly shooting the two security guards driving the truck, and trying to kill Bollingsworth, who manages to get away. Realizing that Avnet is out of control and wanting to retrieve the coins, Bollingsworth calls the only mob contact he knows, Paulie (Kevin Corrigan) to give him the name of a hit man to kill Avnet. The hit man, Mikey (Elijah Wood) "Studying for GED" is a young teenager, who nevertheless is seemingly qualified, but when he goes to Avnet's place to do the deed, he is too late to find Avnet or the coins.
Andy and Kresk go after Scottie to get the coins back.
While Kresk is arguing with his ex-wife, Avnet is making a phone call about the heist, which Kresk overhears. Avnet then decides he must kill Kresk, but slips on some gel on the floor, and falls into a pair of sharp scissors Kresk has in his hands. The scissors stab Avnet in the neck and with a couple more blows he is seemingly dead. Now Kresk has the problem of getting rid of Avnet's body. He drives over to the Timber Scout store, where his friend Andy (David Cross) "Afraid of the Dark", is a middle aged scout leader with a mean streak. Neither Kresk or Andy are very bright, and their first inclination is to dump Avnet's body in the river in broad daylight. But there are so many joggers and bicyclists around, they end up dumping the body in Karen's apartment. They then go to Avnet's apartment to try and find the coins, posing as house cleaners when they run into Miss Cocoa (Orlando Jones) "Real Name Jerome", Avnet's transvestite companion who works as an orderly in the local hospital. Miss Cocoa starts to call the police and in the ensuing struggle Kresk smashes a large ceramic piggy bank over her head, knocking her out. In the shards of the broken bank are the three coins! Kresk and Andy now head back to his apartment but are seen leaving by Mikey. Confused yet? Things start to heat up when, Scottie, back at Kresk's apartment finds the coins and for some reason puts them in his mouth and accidentally swallows them. So now they have to wait until the coins pass through Scottie's system. But Jeannie, Scottie's mom, goes ballistic when she finds them at the hospital and forbids Kresk to have anything more to do with Scottie. The two groups of characters get further intertwined when Bollingsworth tries to commit suicide by jumping off a bridge at the same exact time Kresk was going to jump and ends up being saved by Kresk. Kresk and Andy decide they still need to try to get the coins and go get Scottie, planning to keep him until he poops out the coins. The police start investigating the theft of the coins and we meet Sgt. Kolko (Selma Hayek) who's main distinctions in her career was that she posed for a Playboy centerfold. When she is not fending off everyone's jokes about her, she begins to figure out what happened, meets up with Kresk, and the two begin to get romantically involved. The story line continues with continual twists and turns in the plot as Chain of Fools wends it way to its conclusion.
Andy and Kresk grab Scottie in the park.
Chain of Fools was directed by a Swedish media group called Traktor (Pontus Löwenhielm and Patrick von Krusenstjerna) that was known for producing award winning commercials. While the term black comedy might be used to describe the film, because all the characters are continually having fate act against them, the film could also be described as a heist film. This was seemingly the dilemma that Warner Brothers faced in distributing this movie in America, so it really didn't receive the promotion it needed. It was first released in Europe. So often in the industry, films that try creative approaches somehow get lost in the shuffle. Chain of Fools is not a great film, but is worth a look just for the large name cast of actors. Most of them have cameo type roles, or are part of a subplot. A perfect example of that is the role of David Hyde-Pierece who briefly appears twice as Bollingsworth's executive assistant. His only function in the plot was to tell Kresk that Bollingsworth wasn't actually trying to commit suicide. All of the subplots provide us with interesting little moments, but do tend to take away from understanding the story line, which is further compounded by flashbacks affecting the timeline. It would take the average viewer a couple of viewings for things to really fall in place. Along with the comedy elements it also has a very poignant underlying theme of suicide in it. Again something admirable in terms of experimentation and originality but bad for the marketing department! The film is well cast and well acted. Young Devin Drewitz puts in a great performance as Scottie, but doesn't receive main cast billing. The Hollywood system tends to discriminates against child actors in a ensemble film like this because they don't have big time agents yet. His role is one of the more significant ones in the movie and he should have been given more credit for it. Chain of Fools would do well as a television movie. It has a good combination of humor, action, and the violence isn't too gory. It certainly is worth a look, even with some of its excesses.

Gangsters kidnap Scottie when they find out he has swallowed the rare gold coins.
Best Chucks Scene


Andy and Scottie wrestling on the floor of Kresk's apartment, shot 1.
Devin Drewitz in his role as the out of control kid Scottie wears black high top chucks throughout Chain of Fools. He looks the part as the kid with attitude who starts out "hating everyone" and being a modern day "Dennis the Menace". By the end of the film, he also shows his more human side, and you can see that he has had good reason in his past not to trust adults! Occasionally you even see a glimpse of his vulnerable, normal kid personality.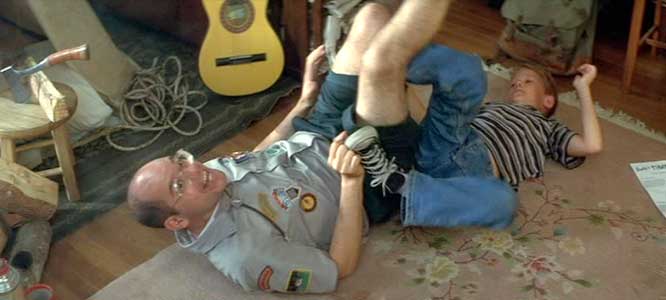 Andy and Scottie wrestling on the floor of Kresk's apartment, shot 2.
Chain of Fools. (2000) Steve Zahn, Salma Hayek, Jeff Goldblum, Elijah Wood, David Cross, Tom Wilkinson, Orlando Jones, Kevin Corrigan, David Hyde Pierce, Lara Flynn Boyle, Devin Drewitz. Directed by Traktor (Pontus Löwenhielm and Patrick von Krusenstjerna). Categories: Comedy, Crime.
ChucksConnection Rating:

MPAA Rating: R
Support the film industry by purchasing genuine DVD, Blue Ray, or streaming copies of these films. Illegal copies only help profiteers. Make sure your money goes to the producers and artists who actually create these films. Still images from the film are used here as teasers to get you to view an authorized copy. If you have information about a film where a main character wears chucks, contact us at films@chucksconnection.com.