A ChucksConnection Film Review
Toby Nichols wears black low cut Converse One Stars in the film.

Chasing Ghosts
by Taylor Bathel


Lucas begins to deal with the consequences of filming a stranger's funeral.
In Chasing Ghosts, 11-year-old Lucas Simons (Toby Nichols) fixates on the concept of death as he internalizes the loss of his older brother. The fixation spawns a new hobby: secretly filming strangers' funerals. But when he accidently captures a ghost-like presence on film, Lucas is reluctantly catapulted to mini-celebrity status—a place his fragile mind isn't ready for. Thankfully, Lucas strikes an unlikely friendship with local author, Chris (Tim Meadows), who offers a fresh perspective on coping, and initiates his healing.
Lucas examining some road kill.
Chris is a mini-celebrity in his own right. After experiencing death firsthand, he wrote a tell-all of his experience: Living in the Now. Fascinated by Chris' story, Lucas asks to interview him. Drawn by Lucas' dark past and mini-celebrity present, Chris accepts. With Lucas' depression evident, a now emotionally involved Chris delicately teaches Lucas to live again by embracing the present moment—the philosophy his book title mirrors. Through humor and subtle guidance, a trust is created, and a semblance of childhood energy returns to Lucas.
Lucas decides to take a try at playing basketball.
While the film revolves around death, the true underlying theme is simply the confusions of childhood. Lucas is a young boy who was forced to face trauma too early, thus grow up far quicker. The film depicts Lucas' anxieties, and the ebb and flow of his reactions, which all stem from his inability to comprehend the negatives of life. But most of all—we see him work through his pain. We watch as Lucas morphs from a disenchanted little boy, to a comedic, lighthearted man with a crush—back to the person he used to be. The film reminds us that pain can be reversed, and life after tragedy exists.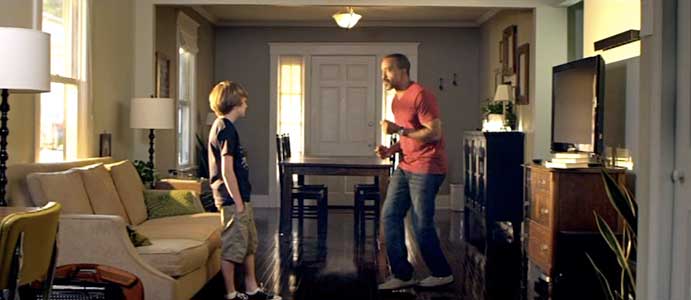 Chris shows Lucas how to dance.
Despite Chasing Ghosts' tough topic, it's actually a reasonable family film for mature youngsters. Humor and adolescent romance is sprinkled into a plot, and overall the film is saturated in wonderful takeaways. Most impressively is how far from religion it stays, making the story applicable to a wider audience, and the messages more approachable. Chris' philosophy is in no way preached, and he never takes an authoritative stance over Lucas—he simply reminds him of life before loss, and its ability to survive after. Be wary of tough scenes, but the overall topics of perseverance, trust, and love, make for a solid family movie night.
Chris is able to connect with Lucas and help get his life back on track.
Best Chucks Scene


Lucas is sprawled out on the courselor's couch.
Toby Nichols wears black low cut Converse One Stars in most of his scenes. There are not a lot of great shots, as these sneakers do not have quite the photographic impact as Chuck Taylors do. The best scene with them is when Toby is at the counselor's office, contracted by his parents to help him deal with his brother's death. But Lucas doesn't connect with the counselor, so instead we see him sprawled out on the couch, bored with the process.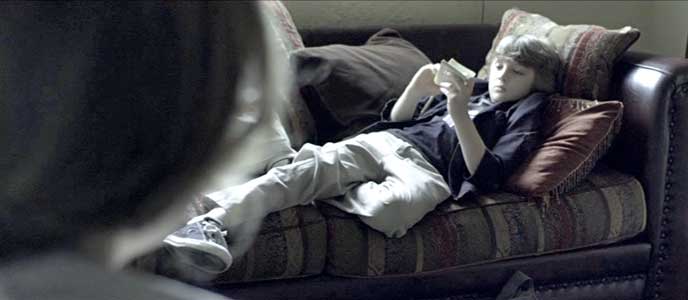 Lucas would rather play with his device than talk about his feelings.
Chasing Ghosts. (2015) Toby Nichols, Tim Meadows, W. Early Brown, Robyn Lively, Meryrick Murphy.
Directed by Joshua Shreve. Categories: Drama, Family.
ChucksConnection Rating:
MPAA Rating: PG
Support the film industry by purchasing genuine DVD, Blue Ray, or streaming copies of these films. Illegal copies only help profiteers. Make sure your money goes to the producers and artists who actually create these films. Still images from the film are used here as teasers to get you to view an authorized copy. If you have information about a film where a main character wears chucks, contact us at films@chucksconnection.com.