A ChucksConnection Film Review
Sylvester Stallone wears black high top Converse "Chuck Taylor" All Stars in the film.
Creed
by Marcus Angulo
Training never stops.
Boxing movies have a very special place in the tapestry of American pop culture. The never say die, keep fighting through pain, and against all odds mantra of boxing films is quintessentially American. In this great library of films that ranges from Raging Bull to Southpaw, one film franchise stands out above all others in its dedication to existing for the underdog: Rocky. After being on the screen for nearly fifty years and six films, Rocky Balboa is a full fledged American pop culture icon. So when it was announced in 2013 that there would be a new Rocky film that followed the son of former rival turned friend Apollo Creed, some fans were skeptical. However, with director Ryan Coogler attached to the project to both direct and pen the script and a cast that includes Michael B. Jordan, Tessa Thompson, Phylicia Rashad, Anthony Bellew, and Sylvester Stallone returning as Rocky, many were confident that this film would return the Rocky franchise to its former glory. Aptly titled Creed, the seventh film of the franchise is about legacy, family, regret, and of course, fighting with everything you got.
Sylvester Stallone on set with director Ryan Coogler and co-star Michael B. Jordan.
Adonis "Donnie" Johnson (Jordan) is the son of an extramarital lover of former heavyweight champion Apollo Creed. When the film opens in 1988, we see him serving time in a Los Angeles youth detention center where Creed's widow, Mary Anne Creed, visits and offers to take him in. In the present, Donnie quits his day job to pursue his dream of becoming a professional boxer. Mary Anne vehemently disapproves, remembering how her husband died in the ring against Ivan Drago thirty years ago. Donnie tries to enroll at the elite Delphi Boxing Academy, managed by family friend Tony "Little Duke" Burton, who is the son of Apollo and Rocky's trainer Tony "Duke" Evers. However, he is turned down because of his mom's influence. Donnie's last hope is to travel to Philadelphia in hopes of getting in touch with his father's old friend and rival, former heavyweight champion, Rocky Balboa (Stallone). Donnie finds Rocky at Rocky's Italian restaurant, Adrian's, and asks him to become his trainer. Rocky is reluctant to return to boxing, however, he eventually agrees after learning who Adonis' dad is. Donnie trains at the Front Street Gym, with several of Rocky's longtime friends as cornermen, and Rocky puts him through some old training methods that are very reminiscent of his own training. Donnie also finds a love interest in Bianca (Thompson), an up-and-coming singer and songwriter who shows him around Philly and quickly connects with him because of their mutual drive to follow their dreams.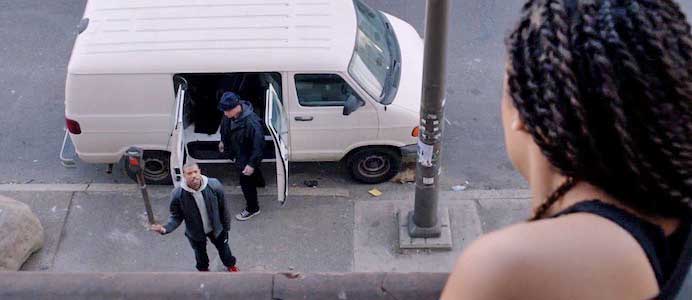 Rocky Balboa wears black chucks throughout Creed.
Donnie, now known as "Hollywood", defeats a local Philly fighter in his first bout with Rocky as his trainer, after which word gets out that he is Creed's illegitimate son. Soon after, Rocky receives a call from the manager of WBC light heavyweight champion "Pretty" Ricky Conlan. Conlan's being forced into retirement by an impending prison term, and he wants one last payday before then. They see Donnie as a big draw—provided that he change his name to Adonis Creed. Donnie balks at first, wanting to forge his own legacy and not rely on his dad's name. However, he eventually agrees after a talk with Mary Anne and Rocky. However, the journey to fight Conlan takes a sharp turn when Rocky learns he has non-Hodgkin's lymphoma. He is unwilling to undergo chemotherapy, as he remembers that it didn't save Adrian when she had ovarian cancer, only making her suffer in her final months. This diagnosis, coupled with the fact that his best friend and brother-in-law Paulie Pennino has now died in addition to Adrian, Apollo, and his old trainer, Mickey, further makes Rocky believe that now is his time, and it's better to just go quietly and alone. However, Donnie is not going to give up on Rocky. He urges him to seek treatment saying that they are family and he needs him, now more than ever. "If I fight, you fight," Donnie says, creating the mantra of both men for the rest of the movie. They're in their respect fights together till the end.
Rocky begins to feel the effects of his cancer.
Donnie ends up fighting Conlan in his hometown of Liverpool in a fight that very closely parallels the first fight between Rocky and Apollo forty years earlier. However before all that, Donnie receives a present from Mary Anne that makes this incredible journey come full circle. She sent a new pair of American flag trunks that are very similar to the ones that both Apollo and Rocky wore. The name on the back says "Creed" because as her note says, Donnie has "earned" the name. What follows is one of the most epic and cinematic boxing matches you'll ever see, with an outcome that is quintessential Rocky.
Rocky steps into the ring again to coach up Donnie.
Director Ryan Coogler has quickly become a tour de force over the past few years, and this film is a prime example as to why. His vision for this film is exactly the kick in the butt that the Rocky franchise needed. The cinematography is absolutely gorgeous in this film, and it very well may be one of if not the best shot boxing film of all time. A big part of that is also due to the incredible fight choreography which really makes you feel as though you're in the fight with Creed, not just a spectator watching from the stands or at home. All these aspects don't amount to much without the incredible performances by both Michael B. Jordan and Sylvester Stallone. Jordan brings such heart and determination to Adonis that it's impossible not to cheer for every punch he lands. Sly takes the character of Rocky Balboa and brings him to new emotional depths as he struggles with both his past and future, and his performance is the highlight of his time as Rocky. Creed may well be one of the best Rocky films, as it offers a nuanced and heartfelt look into the character that has defined what being a fighter is all about for the past 40 years, and shows a bold new direction that the franchise is headed in.
Best Chucks Scene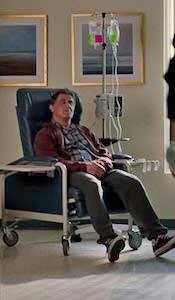 As Rocky fights the fight of his life, he does so in black high top chucks.
The best chucks scene in the film is a scene that is a staple in Rocky movies: the training montage. However, the training montage in Creed is different from every other training montage from any previous Rocky movie. In this scene, Rocky has made the promise to Donnie that he's going to fight this cancer, as long as Donnie fights Conlan with everything he's got. "I fight, you fight". So as Rocky sits in a hospital chair wearing black chucks, he has Donnie train right there in the hospital with him. We see Rocky go through the whole process of chemotherapy, along with all it's horrific side effects, as Donnie trains his butt off to face the world champ. Seeing one of the greatest cinematic fighters of all time physically fall apart as his young protege both cares for him and trains with him is a powerful piece of imagery, bolstered by Rocky wearing the same black chucks he used to train in with Donnie's dad.
Creed. (2015) MIchael B. Jordan, Sylvester Stallone, Tessa Thompson, Phylicia Rashed, Andre Bellew, Tony Ward. Written and directed by Ryan Coogler.
Categories: Drama, Sports.
ChucksConnection Rating:

MPAA Rating: PG-13.
Support the film industry by purchasing genuine DVD, Blue Ray, or streaming copies of these films. Illegal copies only help profiteers. Make sure your money goes to the producers and artists who actually create these films. Still images from the film are used here as teasers to get you to view an authorized copy. If you have information about a film where a main character wears chucks, contact us at films@chucksconnection.com.