A ChucksConnection Film Review
Jet Jurgensmeyer wears red high top and black/blue mid high Converse "Chuck Taylor" All Stars in the film.
Carolyn Dodd wears black high top and white low top Converse "Chuck Taylor" All Stars in the film.
Cupid's Proxy
by Hal Peterson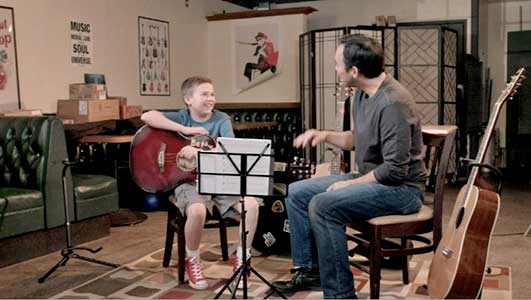 Justin is taking a guitar lesson from Stewart.
As Cupid's Proxy opens, we are given a panoramic view of Santa Clarita, California, a suburban bedroom community northwest of Los Angeles where this story takes place. We meet twelve-year-old Justin Murphy (Jet Jurgensmeyer), a bright and self-assured kid who is learning to play guitar during the summer. His mother, Rebecca (Valerie Azlynn), is widowed. Her firefighter husband and Justin's father was killed bravely trying to rescue victims in a burning car when Justin was very young. Justin never really knew his father but has his posthumous medal of honor in his bedroom. Rebecca and Justin are comfortably off, living in a well furnished house, thanks to Mr. Murphy's pension. Rebecca also does some work designing commercials, but still has plenty of time to dote on Justin, and the two have a close relationship where they talk to each other mostly like adults. Rebecca has not done any dating or socializing with other men since her husband's death. We also meet two of their neighbors, young and overly talkative Natalie (Carolyn Dodd), who has recently moved into the neighborhood with her divorced mom, and has a crush on Justin, and Olive (Jackée Harry), an older lady without any other family who writes "Call Me Cupid", an advice column for the local newspaper. Olive considers the Murphys family, and Justin often helps out Olive with gardening or other chores. The other two characters rounding out the cast are thirty-something Stewart (Steve Byrne), Justin's guitar teacher who teaches him in a studio behind a bar and nightclub owned by Clive (Rex Linn), an older man present in this film to occasionally give out advice to Stewart. Stewart has talent as a performer and songwriter, but his innate shyness prevents him from promoting himself to others in business and matters of the heart.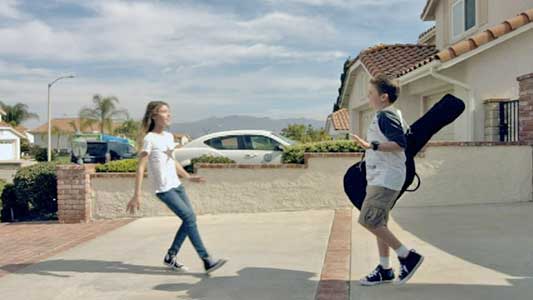 Justin tries to avoid the very talkative Natalie.
As the story gets underway, we learn that Justin is seriously about learning the guitar and wants to save up enough money to get a quality guitar. Stewart explains that the learning curve involves a lot of practice to keep the rhythm steady, and recommends the use of a metronome. We also learn that Stewart is attracted to Justin's mom Rebecca, but so far has not acted to get to know her better. Justin has the opposite problem: Natalie has a crush on Justin and is not at all shy about getting in his face. This bothers Justin to no end, and he makes excuse after excuse to keep his distance, often running over to Olive's house to get away from her. On one of these visits, Olive brings up a problem she is having with her advice column. Her answers don't resonate with the younger set of readers and her editor is pushing her to be more relevant. Just on impulse she shares one of these letters with Justin, and asks him how he would respond to it. His answer is perfectly in tune with the lingo of the social set: the right slang, three and four letter anagrams, and good positivity. Even though Olive told him she wouldn't, she goes and submits his advice under a new byline, Cupid's Proxy. The response is overwhelmingly positive and Olive's editor is very pleased.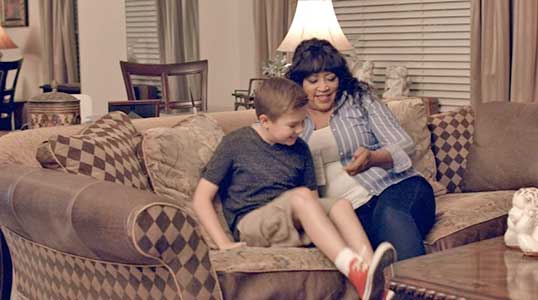 Justin works with Olive as Cupid's Proxy.
Everyone is happy except Justin, when he discovers that his advice was printed in the paper. He tells Olive that his friends and schoolmates will give him all kinds of grief about it if they find out. But Olive is able to calm him down, first by showing him all the positive feedback Cupid's Proxy is receiving, and then offering him twenty dollars per answer that he can apply to his new guitar fund. Quickly Justin gets into his new part time job, and the accolades continue to come in. Olive is even interviewed on local television about the success of her two personality advice column. Ironically, Justin the ever so hip advice giver needs some himself, after he blows up at Natalie one day and tells her he doesn't want to be her friend aanhymore. Although he immediately realizes what he did was wrong, Natalie is very hurt, and it will take him a number of attempts to salvage their friendship. Things come to a head in the story when Justin tries to become a matchmaker with his mom and Stewart, when a letter that clearly is from him comes in to the column mailbox. Justin tries to move things along by impersonating her to disastrous results. But this is a pleasant comedy set in a pleasant suburb, and eventually things work out for the best.
Justin is pleased with the result of his work.
While Cupid's Proxy is very Disney-esque family fare, it doesn't have much of an emotional impact for what should be a romantic comedy. This is primarily the fault of the script, which doesn't take advantage of or follow through threads of the storyline that would lead to some romantic scenes. For example, early on Rebecca and Stewart agree to collaborate on a commercial she has a contract to produce and is having trouble writing a jingle for it. This would seem a logical way for them to get to know each other better, and perhaps kindle their relationship. But there never is a scene in the movie where they are even shown working together! Even after they start dating, we never see their chemistry together, and what kind of music they would make as a result of their collaboration. Another thread that is somehow lost is what happens to the Cupid's Proxy responses. Do they continue or did they stop completely, and if so, what was the public reaction? Clearly the storyline focus is meant to be on the two kids, headlined by Jet Jurgensmeyer, who has a lengthy career starting at age six in television shows and a few films. Cool Justin and talkative Natalie have some cute scenes together, but their relationship only advances to the friendship level, normal for tweens. They do have one scene where they talk about their mostly single parent upbringing but it only hints at any emotional turmoil they might have experienced. Although Cupid's Proxy had the potential to be more, it remains pleasant family fare that the younger set will enjoy the most.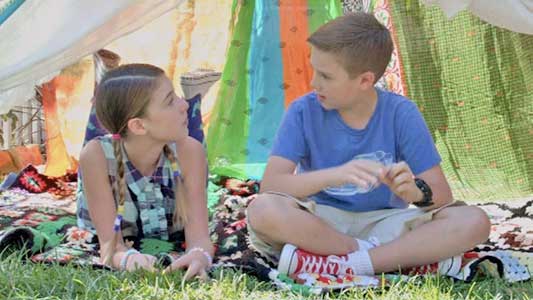 Justin and Natalie seated inside a tent in her backyard.
Best Chucks Scene

Justin putting on his black and blue mid high chucks.

Jet Jurgensmeyer (Justin) wears chucks throughout the film. At first we see him wearing black mid high chucks with a blue ankle support piece and red inner lining. For the bulk of the film, he wears classic red high tops. The camera work is particularly chucks-friendly and Justin is framed in many of the shots wearing them. His best close up is at the beginning when we see him slipping on his black mid highs which he wears untied with extra short shoelaces.
The camera focuses on Natalie's black high tops.
Carolyn Dodd (Natalie) wears black high top chucks during the first part of the film, then later she wears white low top chucks. Chucks are clearly a favorite footwear choice for these kids.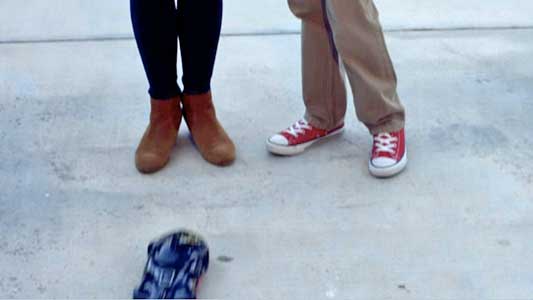 Justin and his mom playing with a remote controlled toy.
Cupid's Proxy. (2017) Jet Jurgensmeyer, Valerie Azlynn, Carolyn Dodd, Steve Byrne, Rex Linn, Jackée Harry.
Directed by Jason Dallas. Categories: Family, Romance.
ChucksConnection Rating:

MPAA Rating: NR, would be PG
Support the film industry by purchasing genuine DVD, Blue Ray, or streaming copies of these films. Illegal copies only help profiteers. Make sure your money goes to the producers and artists who actually create these films. Still images from the film are used here as teasers to get you to view an authorized copy. If you have information about a film where a main character wears chucks, contact us at
films@chucksconnection.com.