A ChucksConnection Film Review
Gavin Michaels and N J Ambonisye wear black high top Converse "Chuck Taylor" All Stars in the film.
Danny Doom
by Hal Peterson


Danny Doom pursues Megan, the girl of his dreams.
Danny Doom (Gavin Michaels) seems to have a career in the Christian ministry all lined up. He has petitioned his church, located in a wealthy Washington state suburb, to become a youth minister for drama, and the terms include giving him an internship, becoming a church staff member, and covering his tuition next fall at a Bible College. But just as Pastor Jack (Vinnie Duyck), the minister of his church, is meeting with him to discuss the proposal, Danny (who is annoyingly watching his cell phone) receives a text telling him that Megan (Brett Hargrave), the girl of his dreams, has broken up with her musician boyfriend Damian (Paul Ryan Hobson). Danny pauses his meeting to go literally skipping down the road to her home. Thus begins his pursuit of Megan at seemingly the cost of everything else in his life, and makes the viewer question his commitment to a religious life.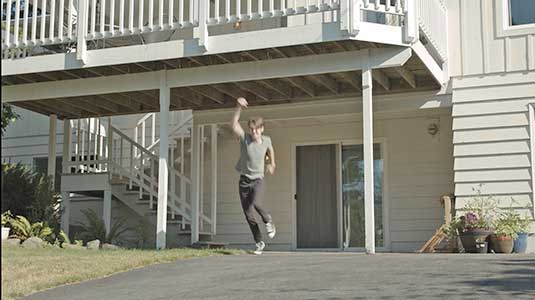 Danny gleefully runs out of the house after he hears that Megan has broken up with Damian.
When Danny arrives at Megan's home, she is less than enthusiastic about seeing him. His awkward conversation with her doesn't help, and she rejects his offer to go for coffee sometime. When he tells her that God has someone else for her in mind, she says the same thing to Danny. Surprisingly, when he returns home, Pastor Jack is still there and tells him that his proposal has been accepted, reminding him that now there will be a big spotlight on him. Next we see an example of a drama ministry skit being performed at church by Danny and his two friends and fellow actors Beau (Sean Abplanalp) and Theresia (NJ Ambonisye) to a youth group. During the skit Danny goes off script to their consternation, saying disconcerting things that are contrary to what they are attempting to teach. After the performance, Beau and Theresia confront Danny about his strange behavior. When he admits that it is because of Megan and that his meeting with her earlier did not go well, they perform an impromptu skit about how his entire approach was all wrong, explaining that it would be a lot better if his approaches to her were made during naturally occurring meetings. Danny follows this advice to excess, continually arranging to run into Megan at various outdoor locales. This borders on stalking until she puts her foot down, telling him to stop following her around, and to leave her alone.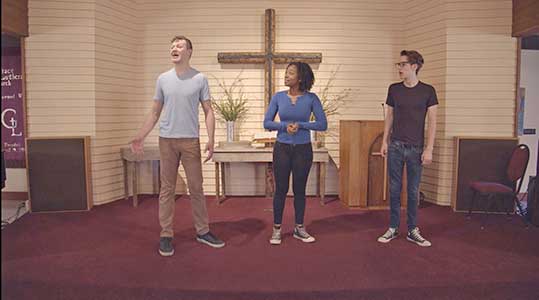 Beau, Theresia, and Danny presenting a skit to a youth group.
The next drama group performance is scheduled to be at Megan's church where her father is the minister and she also works with youth groups. Fearful that she will be angry to see him, Danny grabs one of their costumes and dresses up as a rebel named Hambone, complete with facial tattoos, headband, backwards cap, jeans jacket with whacked off sleeves and skull patches. The one thing in common with regular Danny is that he still has on his black high top chucks. While he is outside back of the church practicing some of his rebel lines, Megan walks by and they strike up a conversation. Eventually they decide to ditch the church event and go off on their own. Megan is charmed by his attitude about things and the stories he tells about himself. Later she invites Hambone to go with her to a party which turns out to be at Damian's home. Megan is using this occasion to show Damian up and make him look bad. Things become tense as Hambone and Damian challenge each other to drinking contests and other macho games. Later Megan continues her vendetta against Damian by having Hambone drive off with Damian's van containing all his band gear for an upcoming tour. Damian counters by posting a fake picture of Megan on the Internet. Things cool down for a while the next morning, when Danny as himself returns the van. He even gets Damian to remove the picture but when he tells Megan (as Danny) what he has done, it only makes her dislike him more and eventually she persuades Hambone to challenge Danny to a fight. Now Danny is in a real dilemma, as fighting will cause him to lose his job with the church, and not fighting will be a major loss of face, but even more complicated is how can Danny fight himself and how long can Danny continue to see Megan as Hambone? These issues make up the balance of the film.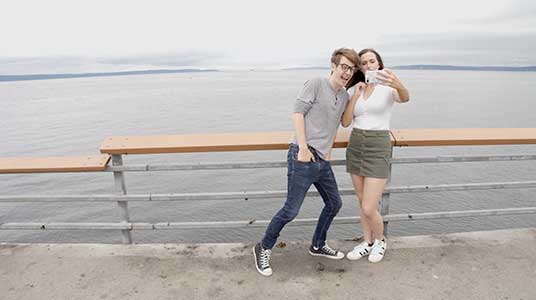 Danny photo bombs Megan.
Danny Doom is the work of independent producer Matthew Wilson, who also wrote and directed this film. Mr. Wilson has a number of credits writing for television and a previous film, The Pastor and the Pro, on Amazon Prime. As is typical with these films, many of the minor parts are played by family members and relatives. Gavin Michaels deserves accolades for his acting work in the dual role of Danny/Hambone, showcasing two very opposite personalities. NJ Ambonisye and Sean Abplanalp give us some vitality and humor in their brief scenes as Danny's friends and co-actors. The good production work and acting is let down by the script, where a number of things don't ring true, starting with Danny's seemingly immature attitude and lack of commitment toward the ministry position he sought. Early in the film's setup, we are told that his faith was the most important thing in Danny's life. If you are meeting with your pastor and would-be future boss, and are serious about about joining his church's staff, wouldn't that take precedence over interrupting that meeting to run away and see Megan, a girl he didn't know very well? She may be the girl of his dreams, but he could easily visit her right after the meeting. This same attitude is reflected in Danny's drama group performance in front of an audience of young boys, where he suddenly goes off script in a strange way that made no sense or real point since he was the group leader and most likely the skit's writer. This was compounded later by him actually blowing off a performance to run off with Megan. What ever happened to "the show must go on" and Danny's commitment to his theater ministry group? And when things came to a decision about fighting with someone (especially yourself!) or retaining one's brand new ministry position and accompanying benefits, it just seems an unnatural decision to blow off the latter in favor of the former. Other things that seemed off beat included the drinking contest, Megan not noticing that Hambone's tattoos were all makeup, and her wanting to be at a party with Damian, the person she just broke up with that day. Plus her views about the Christian community were somewhat surprising for the daughter of a minister. It seems that for Megan her relationship with Hambone was more about getting even with boys she didn't like than normal romantic things like holding hands and developing intimacy. Despite these flaws, Danny Doom does provide the viewer with some interesting questions and situations of morality in modern life. The film is available on Amazon Prime starting July 30, 2021.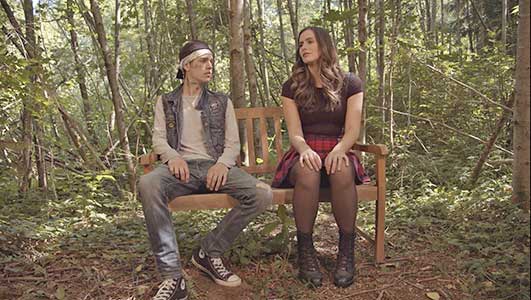 Hambone and Megan talk about doing something to get even with Damian.
Best Chucks Scene


Hambone seated in Danny's room.

Gavin Michaels in his dual roles of Danny and Rebel, wears black high top chucks throughout the film. It is somewhat ironic that the exact same pair of chucks represents two entirely different personalities, reminding you that the chucks culture is quite extensive. The camera work is very chucks friendly in this film and you see them framed in many of the full body shot scenes. NJ Ambonisye, who briefly appears as Theresia, also wears black high tops, a very popular fashion choice for teenage girls these days.
Megan starts to develop an affection for Hambone.
Danny Doom. (2021) Gavin Michaels, Brett Hargrove, NJ Ambonisye, Sean Abplanalp, Vinnie Duyck, Paul Ryan Hobson, Kimberly Zyler, Mark Wilder. Written and directed by Matthew Wilson.
Categories: Religious, Comedy.
ChucksConnection Rating:

MPAA Rating: NR, would be PG-13
Support the film industry by purchasing genuine DVD, Blue Ray, or streaming copies of these films. Illegal copies only help profiteers. Make sure your money goes to the producers and artists who actually create these films. Still images from the film are used here as teasers to get you to view an authorized copy. If you have information about a film where a main character wears chucks, contact us at
films@chucksconnection.com.