A ChucksConnection TV Series Feature
Benjamin Wadsworth wears black high top Converse All Star "Chuck Taylor" sneakers in the series.
Deadly Class
Marcus finds himself homeless on the streets after the Sunset Boys Home burned down.
Deadly Class takes us back to San Francisco in 1989, where teenager Marcus Lopez (Benjamin Wadsworth) has had a tough life since he was orphaned at the age of eight. His parents were killed by a crazy person, who should have been kept confined in a mental hospital, but was out on the streets because Ronald Reagan closed the mental hospitals in California. So Marcus had a hatred for Reagan and also for the operator of the Sunset Boys Home where he had been living, who ran the place as an abusive sweatshop using her wards as cheap child labor. Marcus had formulated a plan to kill the operator and free all the other kids, but somehow his plan went awry, and the whole home burned down, killing everyone inside. Now the police want to arrest Marcus for their murders. Living on the streets of San Francisco, eating out of trash cans, and evading the police is what Marcus' life has been reduced to. Running through a crowd to escape several cops hot on his trail, Marcus is miraculously assisted by four other teens who rescue him, fight off the cops, and take him to a nearby vacant shop where he meets Master Lin (Benedict Wong). Master Lin is the headmaster of the Kings Dominion prep school, and the other teens Saya (Lana Condor), Billy (Liam James), Maria (María Gabriela de Faría), and Willie (Luke Tennie) are all students there. Kings Dominion is no ordinary prep school; it is an academy of the deadly arts, where its students are taught to be assassins. Marcus is being recruited because his reputation as a cold-blooded killer of kids has preceded him. But Marcus wants none of it. He still has good instincts inside him from when he was being raised by his parents. Marcus goes back out on the streets, and depressed about his life considers suicide. But Saya follows him, and tells him that he doesn't need to be on his own anymore, and convinces him to enroll in the Academy.
Marcus with the other Rats on the roof at the Kings Dominion Academy.
Life at the academy is like high school, but with a few twists. The legacy cliques are a lot deadlier with the student body being made up of the children of cartel leaders, mafia bosses, yakuza, white nationalists and other fearsome criminals. The lowest clique in the order of things is the Rats, which is where Marcus (as an orphan) finds himself. Immediately Marcus is pushed around in the hallways and threatened by Chico (Michel Duval), who tells Marcus he will kill him for talking to his woman, Maria. Later they do get into a fight that is broken up by Master Lin. Marcus earns some respect by taking Chico on. Their first assignment in a class called Dark Arts is to find someone who deserves to die and then kill him. Marcus decides to go after a guy named Rory who roughed him up and many other street people at the homeless shelter. That night Marcus is approached by Willie who suggests – with a gun – that they partner up on the Dark Arts assignment. Marcus agrees and they head to the homeless camp to find and kill Rory but first, Willie has a confession of his own. He's not really a gangster and it's all an act. Willie wants to back out of the assignment but Marcus is too far into it. He cracks Rory across the head with a metal pipe then with Willie's help puts his body in a dumpster and sets it on fire.
Marcus seated and smoking a cigarette.
Soon there are a series of skirmishes between the cliques. Petra (Taylor Hickson) another member of the Rats, is persuaded to go to a school dance with Viktor (Sean Depner). Later when the Dixie Mob clique shows up, Victor abandons her. The Dixie belles led by Brandy (Siobhan Williams) put a garish yellow dress on Petra along with clownish makeup and a blonde wig and parade her in front of the whole school as Miss Rat. Humiliated, Petra runs to the roof hideout of the Rats where the rest of them are hanging out, not allowed in the dance. Marcus knows that they must get revenge for this outrage. He and the Rats grab some hall monitor-type robes, the dart guns from a class earlier that week, and some of the poison from another class. As they slip into the dance, they take out the Legacies one by one, injecting them with a substance that makes them hallucinate their greatest fear. Petra makes a point of tagging Brandy herself. Marcus continues to develop as their group leader.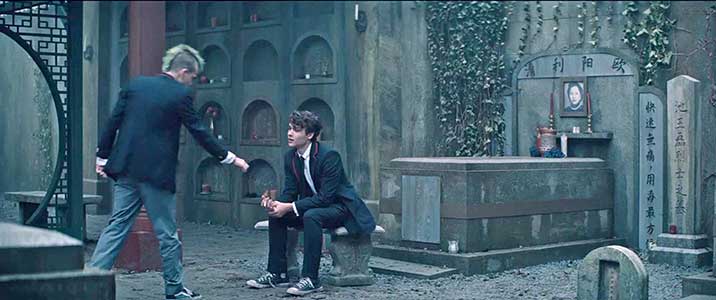 Marcus is talking with Billy.
The storyline continues to expand as Marcus and Maria's relationship starts to get serious, while Chico continues to go after Marcus, wanting to kill him for being his rival and being successful in building a relationship with Maria. Over the course of the series we learn that several of the students are not really as bad-ass as they claim to be: their reputations are based on false information as in the cases of Willie and Marcus. However, Marcus agrees to help Billy kill his father who is a wife-and-child-beating cop now threatening to kill Billy's brother and mother. They and the other Rats go on a wild adventure to Las Vegas to do this. Marcus foolishly ingests seven tabs of LSD on the way so all during the journey he is in a surreal space. He manages to help Billy in his quest, and luckily is only arrested for illegal gambling when he wins a jackpot at a slot machine. He is happy to trade in his fake ID for his freedom, but later Billy and he are nearly killed by a crazed knife-wielding Chico until Maria intervenes with her deadly fan. They escape and head back to San Francisco, stopping at one of the secret surgeries in the academy network to get their wounds bandaged. But with Chico dead, now his drug lord father is out for revenge. Not only that, a guy named F**kface, Marcus' old roommate at the Sunset Boys' Home and the person actually responsible for the murders of the twelve boys, is onto Marcus and is following him around. All these events continue to built to a climax in the tenth and final episode of Season 1.
Marcus meets up with his friends at a punk rock night club.
Deadly Class is one of the SyFy channel's new series for 2019. The episodes definitely push the boundaries for what is considered acceptable on television. There are scenes of extreme violence, cruelty, sex, and crude bodily dysfunction, along with the usual no nos of smoking, drug use, and foul language, or in others words everything to appeal to their viewer market of millennial males. It's not the first series about a special academy for teens, but Deadly Class has a distinctly dark twist to it. The show is well cast with Benjamin Wadsworth doing a very effective job in the lead role as he goes through the hazards and perils of life at the deadly arts academy. He wears black high top chucks throughout all the episodes, even with his preppy suit. Perhaps they serve as a reminder of his more innocent days or a hint of the normal values that it seems are still inside him somewhere. At any rate its's clear that Marcus very much likes wearing chucks and the camera-work often gives the viewer close-ups. Another good performance is provided by Benjamin Wong as Master Lin, the stern and somewhat Machiavellian headmaster of the Kings Academy. Several of the female characters give strong performances, Lana Condor as the martial arts expert Saya Kuroki, María Gabriela de Faría as the seductive and backstabbing Maria Salazar, and Taylor Hickson as the often overwhelmed Petra. This show is not for everyone, but if you like an adventure series with a lot of explicit scenes, violence, and outlandish behavior, check it out on cable or on the SyFy website.

Close up shots of Marcus wearing his black high top chucks in the series.
Do you know of other television shows or series where a main character wears Converse All Star Chuck Taylors? Can you describe a favorite episode or two from the series, or do you have additional information about the shows described here already? Do you have videotapes, DVDs or shot captures of episodes from any of the series that haven't been given an in depth article on this site? If you do, email us at chucksphotos@chucksconnection.com and we will add the information to the television pages.