A ChucksConnection Film Review
Lochlyn Munro wears black high top Converse "Chuck Taylor" All Stars in the film.
Dead Man On Campus
by Hal Peterson
Josh and Cooper party their way through the semester in Dead Man On Campus.
Dead Man On Campus is a college life comedy about Josh (Tom Everett Scott) and Cooper (Mark-Paul Gosselaar), two complete opposites who end up roommates at Daleman College. Josh is a serious pre-med scholarship student taking an overload of classes while Cooper is mainly concerned with getting stoned, organizing parties, and socializing. They have a third roommate, Kyle (Jason Segel), who is anti-social and obnoxious, but when he meets a girl who shows an interest in him, he takes off to live with her, leaving the single room in their dorm suite empty. Josh tries to be a serious student at first, but his attempts to study are frustrated by Cooper's continual desire to socialize and party. Soon Josh can't resist the distractions and when he meets an attractive coed Rachel (Poppy Montgomery) and starts to have some romance in his life, he is hooked on the party life. After Josh fails his midterm exams and Cooper receives a surprise visit from his father, who tells him he had better do well at Daleman or he will have a permanent job cleaning toilets in the family janitorial business, the two of them are desperate to figure out a way to get out of their academic troubles. Rather than actually try to study or do some work, of course they look for some loophole in the system. When Josh remembers that there is a rule in the college charter that you automatically get straight A's if your roommate kills himself, and they discover in the school library that this is true, the two of them start searching for the most suicidal person on campus so they can move him into Kyle's old room, and push him "over the edge".
Cliff freaks out Rachel and her friends when Josh and Cooper make him their roommate.
Josh and Cooper break into the university records to find out which students are having problems. They narrow their search to three students and start the auditioning process to see who is the most self-destructive. The first student we meet is Cliff (Lochlyn Munro), a loud, impulsive, and perpetually obnoxious frat rat who we first see throwing water balloons from the roof of the fraternity house, screaming at passers by, and mooning the campus. The second is Buckley (Randy Pearlstein), a super paranoid computer junkie who thinks that Bill Gates is out to get him. The third is Matt (Corey Page), a Kurt Cobain grunge rocker type, who constantly talks about suicide as the next event in his life. The remainder of the film deals with how Josh and Cooper install each one of the three as their roommate, and try to get them to become suicidal, before the semester comes to a close.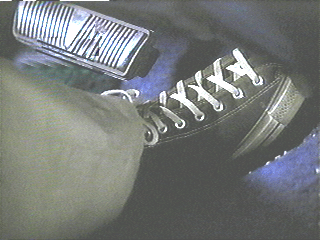 You know trouble is afoot when Cliff gets behind the wheel of a car.
Although the description of the film seems rather grim, Dead Man On Campus actually is done in a very humorous and light handed manner, that allows you to overlook the flaws of the plot and the dark side of its story. Much of the success of the film is due to the cast and the well written screenplay by Michael Traeger and Mike White which makes the film enjoyable throughout. It could have easily been a disappointment, but instead you find yourself laughing at its dark humor and lowbrow comedy. Tom Everett Scott gives a good performance as the honors student gone astray and Mark-Paul Gosselaar has a breakthrough performance as the charming and conniving Cooper. They end up making the movie enjoyable because their characters stay true to type, and their comedy style doesn't grate on you. Poppy Montgomery is charming as Josh's girl friend, and the romance that develops between the two of them could have been more of a factor later in the film, but it doesn't have much of a chance to develop. Lochlyn Munro's performance as the "hyper-obnoxious" Cliff is surprisingly funny, and his scenes where he takes Cooper and Josh on a wild ride through town or when he is taken back to Cooper's and Josh's room and meets some of their girl friends are hilarious. Munro should have a great future in films if he can consistently deliver this kind of manic comedy. Also worthy of note is Corey Page as the ever-depressed grunge rocker whose dark secret is that he was voted "Mr. Happy" in high school, and likes to sing Broadway musical numbers when he thinks no one is around.
Cooper and Cliff struggle in their dorm room.
Best Chucks Scene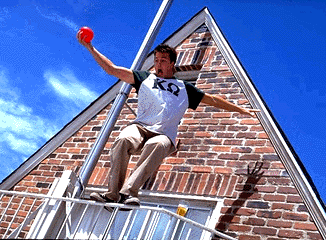 Cliff acting berserk and tossing water balloons on the balcony of his fraternity house.
Cliff is seen wearing black chuck high tops throughout the film, and although he doesn't appear in the film that much, he does get noticed when he is on screen. The best scene for chucks is when he first appears in the film, tossing water balloons off of the balcony of his frat house, and being offensive to all the students passing by.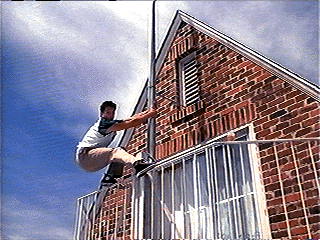 Cliff hangs on to the flagpole before mooning the campus.
Dead Man On Campus. (1998) Tom Everett Scott, Mark-Paul Gosselaar, Poppy Montgomery, Lochlyn Munro, Randy Pearlstein, Corey Page, Alyson Hannigan, Mari Morrow.
Directed by Alan Cohn. Category: Comedy.
ChucksConnection Rating:

MPAA Rating: R
Support the film industry by purchasing genuine DVD, Blue Ray, or streaming copies of these films. Illegal copies only help profiteers. Make sure your money goes to the producers and artists who actually create these films. Still images from the film are used here as teasers to get you to view an authorized copy. If you have information about a film where a main character wears chucks, contact us at films@chucksconnection.com.