A ChucksConnection Film Review


Joel Courtney and Reid Casson wear black high top Converse "Chuck Taylor" All Stars in the film.
Liam Applegate wears black low top Converse "Chuck Taylor" All Stars in the film.

Dear Eleanor
by Hal Peterson
Ellie Morris and Max the Wax go on a road trip together in Dear Eleanor.
Dear Eleanor takes us back to August, 1962, where we meet Ellie Potter (Liana Liberatto), her family consisting of her parents Caroline and Bob (Claire van der Boom and Luke Wilson), and four younger siblings Jack (Reid Casson), Henry (Liam Applegate), Robert (Murray Rundus), and toddler Annabelle (Madelyn Grace Applegate). Other characters are Ellie's best friend Max (Isabelle Fuhrman) and Billy (Joel Courtney) the two girls' mutual friend who has a crush on Max. Two events set up the premise for the film at the beginning: We see Caroline practicing an introductory speech she is supposed to give at an luncheon honoring Eleanor Roosevelt. Caroline thinks the world of Mrs. Roosevelt (as did many woman in that era) for all of her accomplishments and confides to Ellie that she is worried she will somehow flub her introduction. Ellie, in the typical manner of a teenager, is not impressed by the accomplishments of an adult and tells her mom she should have nothing to worry about. Unfortunately fate intervenes, and Caroline is hit by a car walking to the event and never has a chance to make her speech. The second event is at the hospital where the entire Potter family is awaiting the results of surgery on Mrs. Potter. Unfortunately the news is bad; Mrs. Potter didn't make it and now the family of five children is without their mother.
Ellie and her younger siblings wait for the bad news at the hospital.
Suddenly Ellie is put in the situation of being the surrogate mother in the Potter family, making meals, watching her younger brothers, and taking care of Annabelle. Bob Potter is reduced to walking around in a daze, unable to focus on his work or his family, and spending a lot of time in the local pool hall. The brothers complain that Ellie doesn't make meals like Caroline did and are generally a handful to deal with. Finally Ellie has enough, and literally carries Annabelle to the pool hall one night. She tells her father that he needs to start caring for his family, who are coming down with chicken pox. She tells her brothers that they must take shifts watching Annabelle, too. With Max she begins to concoct a plan to get away from home for a while, traveling on a crusade across the country from their home in the central valley of California to visit Mrs. Roosevelt in New York. Max writes a letter to Mrs. Roosevelt with the assistance of Billy asking if it all right for them to visit. Later Billy forges a reply saying it is okay and the trip is on. Ellie connives to get the money for her trip by selling her mother's baby grand piano, literally rolling it down the highway to the shop of the man who wants to buy it. One of the funnier scenes in the film is when Bob Potter notices that the piano is gone, while the younger boys try to convince him it is still there. Then she takes her mother's car which has been sitting unused in their garage, and the two are on their way.
Billy goes over the letter to Eleanor Roosevelt with Max.
Dear Eleanor now turns into a road film, with Ellie and Max having a number of adventures on their way. The girls have left their safe haven of a small town in the San Joaquin Valley and now are suddenly in an adult world where our fifteen-year-olds are tricked into giving a ride to Frank Morris (Josh Lucas) who turns out to be an escaped convict from Alcatraz. Next they pick up Ellie's aunt (Jessica Alba) who is a stripper in Las Vegas, and bringing her along for a dance audition in New York City. They end up being pursued by the police and by Bob Potter and Billy. All this is placed in the context of real events like the Cuban Missile Crisis and the death of Marilyn Monroe (the same day as Caroline Potter). There is an illogical timeline for their trip, and somehow their quest to see Eleanor Roosevelt is second place to these other subplots.
An excited Ellie does a somersault walking through town with Max and Billy.
One of the main problems with Dear Eleanor is its focus. Is this a film meant for adults or for the coming of age crowd of teens and tweens? Certainly all of the smoking, stripper routines, and scenes with Frank Morris would indicate the former and give the film its PG-13 rating, while the actions and dialogue of the main teenaged characters are clearly meant for the latter. And what is the purpose of introducing the context of historical events to the story? In no way do the characters seem concerned about a nuclear war threat, so why bring in the Cuban Missile Crisis? What about Mrs. Roosevelt? Why would the girls want to visit her if they weren't involved in some of her ideas and thoughts about a woman's role in world events? Those are a couple of the mysteries of this film. You have to blame the writers and director for blowing the opportunity to create more interaction between these real events and our fictional characters given the title of the film. If the trip was to grieve for Ellie's mother, you would expect some cathartic moment, but one never happens. Considering the Potter family's loss, that aspect of the film is handled a little too flippantly. There are many other flaws that take away from the experience, the strange driving timeline coast to coast, the age of the drivers, an escaped convict from Alcatraz (give us a break!), the lack of any other parental involvement besides Bob Potter, Billy's role in setting up the trip but then chasing after the girls with Bob Potter to mention a few. The film is well-cast and the actors do what they can with the script to make the film enjoyable, but check your brain at the door before watching.
Jack and Henry try to convince their father that the piano is still there.
Best Chucks Scene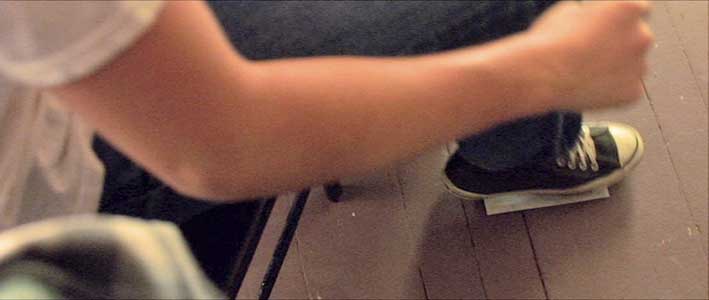 Billy uses his Chuck Taylor sneaker to "age" the letter.
Billy, played by Joel Courtney, wears black high top chucks in his scenes set in the San Joaquin Valley, as does Ellie's younger brother Jack. Another brother, Henry, wears black low cut chucks. The best scene in the film is toward the beginning, when we see Billy forging a response to Ellie's letter to Eleanor Roosevelt. In order to make the letter more believable, he mashes it with his Chuck Taylor sneaker to make it look a little more aged.
Billy picks up the letter after messing it up with his chuck.
Dear Eleanor. (2016) Liana Liberatto, Isabelle Fuhrman, Joel Courtney, Josh Lucas, Luke Wilson, Jessica Alba, Reid Casson, Liam Applegate, Patrick Schwarzenegger.
Directed by Kevin Connolly. Categories: Adventure, Family.
ChucksConnection Rating:

MPAA Rating: PG-13
Support the film industry by purchasing genuine DVD, Blue Ray, or streaming copies of these films. Illegal copies only help profiteers. Make sure your money goes to the producers and artists who actually create these films. Still images from the film are used here as teasers to get you to view an authorized copy. If you have information about a film where a main character wears chucks, contact us at films@chucksconnection.com.