A ChucksConnection Film Review
Jay Underwood wears black high top Converse "Chuck Taylor" All Stars in the film.
Desert Bloom
Brandon L. Summers
Jack describes some of his war experiences to Robin.
Las Vegas, 1951. Teenage girl Rose (Annabeth Gish, in her debut) has just gotten a new pair of glasses, which she think will distinguish her in the small desert town, make her look hip. We follow Rose's life, which is about to become turbulent. Her stepfather Jack (Jon Voight, inexplicably of Karate Dog), a World War II veteran, has night terrors, but that's no excuse for being an oppressive jerk who demands perfection of his family, is distant, and a verbally abusive alcoholic. Jack, who runs a gas station, spends most of his time listening to radio broadcasts from all the nearby bases. The town becomes frenzied with the news, which Jack has heard in advance, that there will be an A-bomb test nearby. In school, the students practice duck and cover drills, with unironic solemnity. Doom is nothing to joke about, after all. At this same time, Rose's wild Aunt Starr (Ellen Barkin) moves in. Rose and Starr have a rapport, in that Rose, timid from her oppressive, unrewarding stepfather, lives through her. Rose also meets an upstanding boy, Robin (Jay Underwood, later in Roger Corman's unreleased The Fantastic Four), and works to become a spelling bee champ. Things brighten up even as Jack goes to the hospital. He quickly falls of the wagon, though, returning to spouting off about Communists and how the Jews control all atomic policy.
Robin lives next door to Rose and likes her.
For a while, though, Jack does try. He takes the family on trips, endures a dance with his daughter, even attempts reconciliation. But, on an unfocused tirade, Jack accused Rose of messing with his precious radio (which she earlier had repaired as a gift to his ingratitude, mind you) and forbids her from going to the school dance. When she protests, he smacks her in the face. She protests again, another smack! It's nothing Rose can't endure. And her mother, Lily (JoBeth Williams) is very willing to overlook these instances and these flaws, like all women in an abusive relationship. Life isn't that great outside. While talking with friends at school, the sirens blast and everyone drops to the ground, covering their heads. Too much is when Rose comes home and finds Aunt Starr and Jack making out. After winning the county spelling bee, Rose threatens to leave home for her grandma's in Reno, and everything is revealed. There's shouting, pulling, strangling, that ends with Rose pointing Jack's German rifle in his face and guests coming over.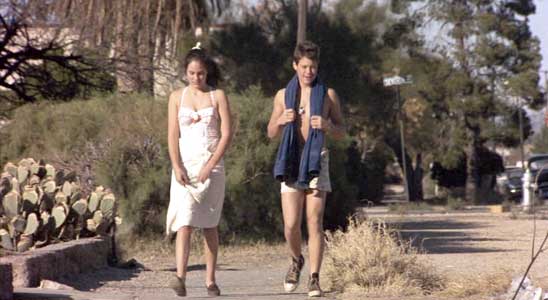 Rose and Robin returning home after going swimming.
That night, Rose makes a break for Reno, with Robin gallantly accompanying her. They have a nice moment in the desert together, sharing a first kiss, before the military shows up. Jack shows up a little later. When Rose says she's forgotten her glasses, Jack voluntarily goes out in the dark to find them. It's something that brings them a little closer as all things are reconciled. As a mushroom cloud looms high into the sky, Rose looks forward to a future of acceptance, now a little stronger and a little wiser in the way of things.
Robin accompanies Rose when she wants to go to Reno.
Desert Bloom is a decent enough drama. It's well-acted, has the visual richness of the period and location, and has a couple of strong moments. For me, it was a lesser The Great Santini. That film was richer, featured an even greater jerk, played by Robert Duvall, and had a powerful ending. This film feels shallow. Everyone gives strong performances, but there's little substance backing it, so it feels theatrical and meandering. Some moments that are supposed to feel "real" feel like "movie" moments, like when Rose and her two younger sisters sing a welcome home song to Jack while dressed in sailor costumes. The film also needed a stronger focus on a single character. Rose's voice is too sparse, speaking from the future in single sentences once maybe every half hour. Most of the time we're focused on Jack, which is beyond Rose's sight. She also provides little meaningful insight or comment on him, instead just saying, "I think he's the meanest man in the world" and scowling at him. We're left guided by "moments," which I dislike. This film, though, will be a nice relief from those who feel films have gotten excessively unoriginal and bloated with CGI and the gimmick of Reel 3D. Certainly this film features true filmmaking and real acting. It might not be the brightest champion of those virtues, but for some it will be nicely refreshing. If you have the taste for this material, you could do worse.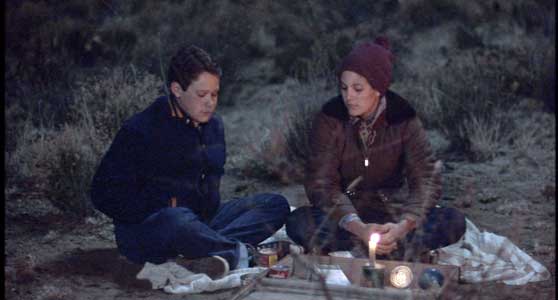 In the desert, Robin tells Rose that he cares for her.
Best Chucks Scene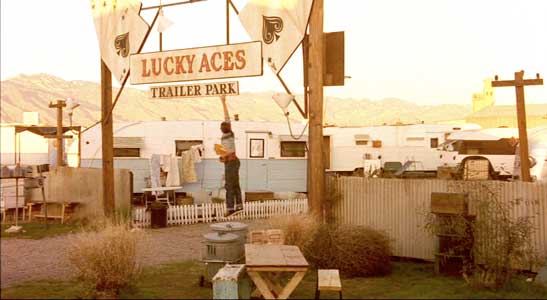 Robin celebrates a successful day with Rose.
Robin wears black high top chucks throughout. Every time he concludes a successful day with Rose he celebrates by leaping up and tapping the hanging sign above the entrance to the nearby trailer park where he resides. It's sweet.
Robin leaps up and taps the sign again after Rose goes swimming with him.
Desert Bloom. (1986) Anabeth Gish, Jon Voight, JoBeth Williams, Ellen Barkin, Jay Underwood. Directed by Eugene Corr.
Categories: Drama, Coming of Age.
ChucksConnection Rating:

MPAA Rating: PG
Support the film industry by purchasing genuine DVD, Blue Ray, or streaming copies of these films. Illegal copies only help profiteers. Make sure your money goes to the producers and artists who actually create these films. Still images from the film are used here as teasers to get you to view an authorized copy. If you have information about a film where a main character wears chucks, contact us at films@chucksconnection.com.